When is a dip not just a dip? When it's something transcendental. When it's born to be a superstar. When it's…  Spanakopita Dip. (And that is NOT anticlimactic. It isn't. Let me expound.)
Spanakopita Dip is the dip that can do it all. A meal-of-a-dip full of spinach, studded with feta cheese, garlic, onions and various herbs and spices it is wonderful at topping chips, crackers and veggie sticks. But it doesn't stop there. With very little effort, a bit of phyllo dough, and some olive oil, it can be transformed into a beautiful and flavor-packed amuse bouche or finger food. (With just a little more tinkering, it can be made into actual, honest-to-goodness spanakopita. But more on this in a future post.) No magic required!
This falls into that coveted family of recipes that take little to no know-how or work yet still impress the most finicky, jaded food snobs. Spanakopita Dip starts with the same simple, five minute batch of the Dill-icious Greek Yogurt Dip that I featured on Friday. Here's the skinny*  on three of Spanakopita Dip's many talents.
*And yes, it is indeed skinny. For details, see Friday's post.
Dip it. Dunk it. Eat it on a spoon. But for the love of Pete, wherever he may be, don't use some weak little chip. Use a ridged or kettle-cooked chip or a sturdy carrot stick or a broccoli florette. This is a serious dip. It will crush the milquetoast chip dust in the yellow bags.
Scoop it into crisp, brown phyllo cups. Sure, you can buy these in the store, but for the same price you can make twice as many and they'll be four times as good!
It improves your health, so eat as much as you want. That creamy, decadent mouth feel from the dip is pure Greek yogurt, baby! And eating yogurt improves your ability to digest all the food you eat. Not only that, it's crammed full of spinach. That equals iron, calcium, anti-oxidants, folate, niacin, and Vitamins A, C and B6, among other goodies, so dig in!
I'm giving you a two-fer here today. First is the Spanakopita Dip recipe. Left by itself it can make you very, very happy. My dear friend Melissa would be a happy girl left alone with a bowl of this and a spoon. But below the recipe for the dip is what you can do to dress it up into a stunning and savoury amuse bouche or finger food for Thanksgiving and Christmas buffets and parties. 'Tis the season, after all. (Nobody needs to know just how very good this is for you unless you want to tell them. Your secret is safe with me!)
For photo-free, printer-friendly versions of these recipes, click here!
Spanakopita Dip
Ingredients:
1 (17.6 ounce) container Greek yogurt
1 pound frozen chopped spinach (thawed and lightly squeezed to remove excess moisture.)
1/3 cup feta cheese crumbles (You can increase or decrease this according to taste.)
2 Tablespoons minced fresh parsley leaves (or 2 teaspoons dried parsley flakes)
2 Tablespoons dry minced onion flakes
2 teaspoons garlic salt
1 teaspoon minced fresh garlic
1 teaspoon dried dill weed
½ teaspoon paprika
¼ teaspoon freshly ground black pepper
1/8 teaspoon fresh ground nutmeg
As in the Dill-icious Greek Yogurt Dip, begin by combining yogurt with spinach and all other ingredients in a large bowl.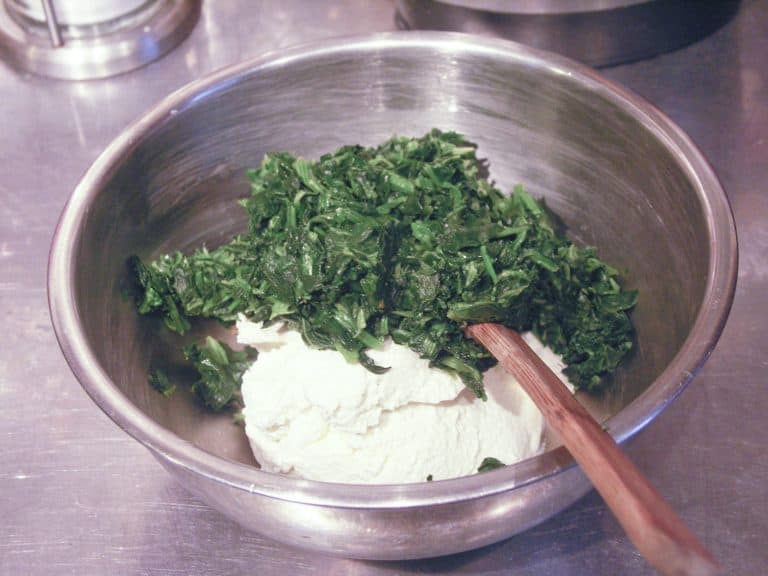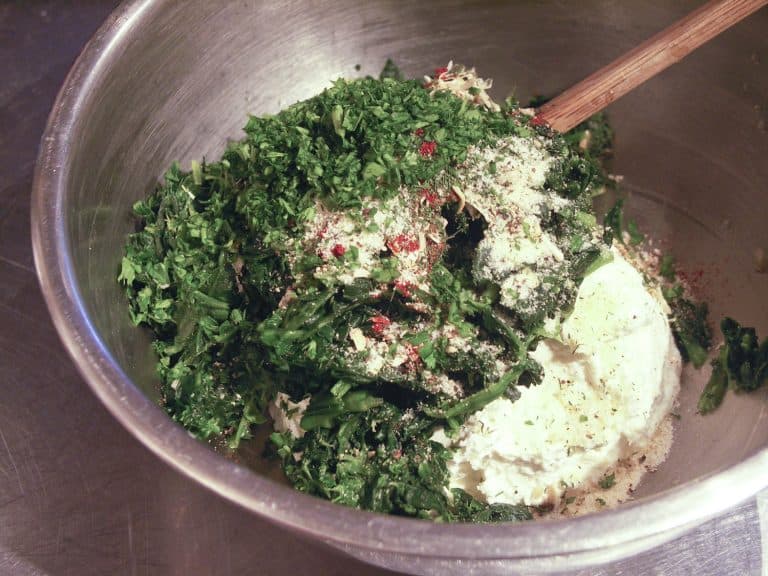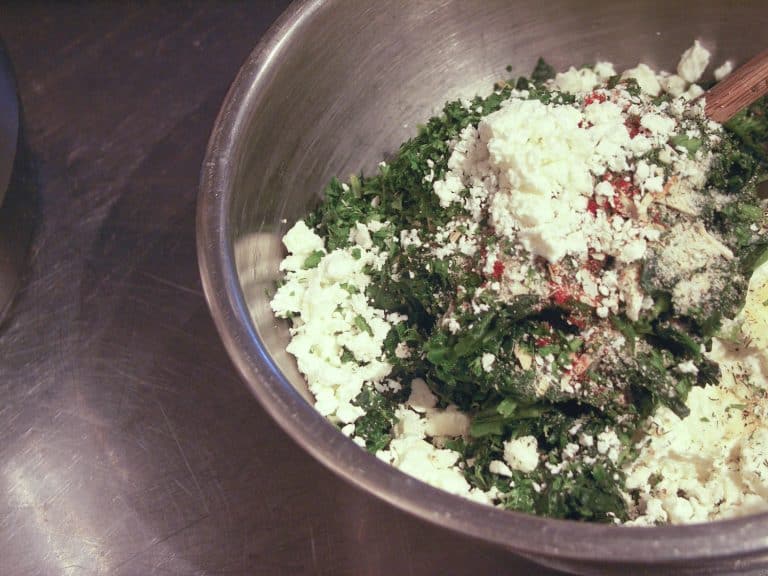 Now see this? This is fresh nutmeg. It's my friend. My close, close friend. If you do not have fresh nutmeg don't substitute the ground stuff in jars here. It just wouldn't be right. If you don't have the fresh nutmeg, just skip the nutmeg all together in this case. Trust me.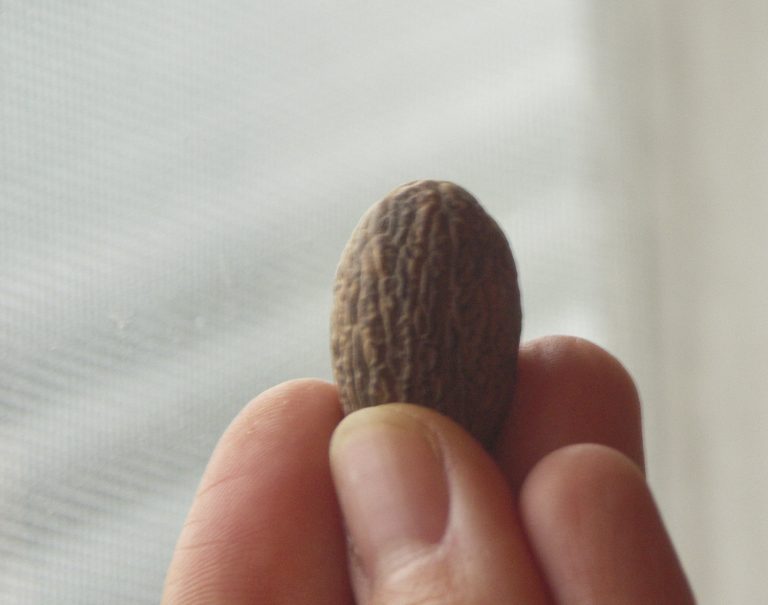 Stir well until evenly combined.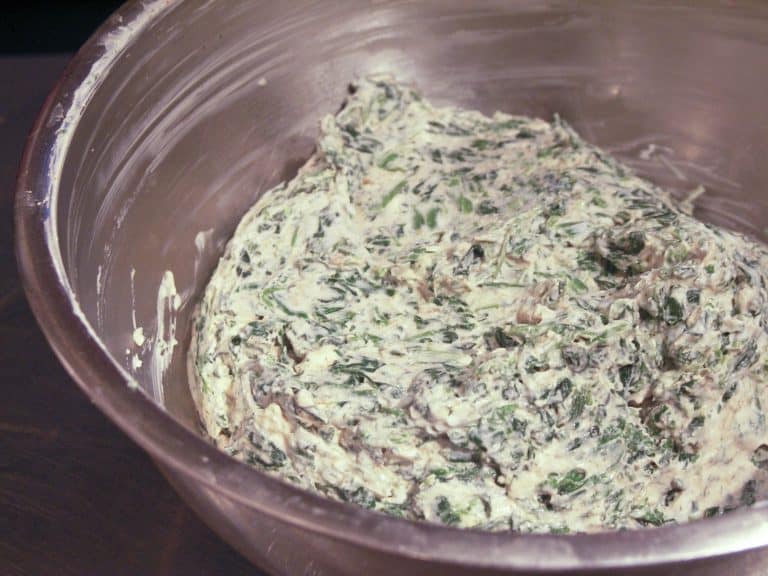 Store, tightly covered, in the refrigerator for at least 1 hour prior to serving. Serve with sturdy chips, crackers, vegetable sticks or spread on bread.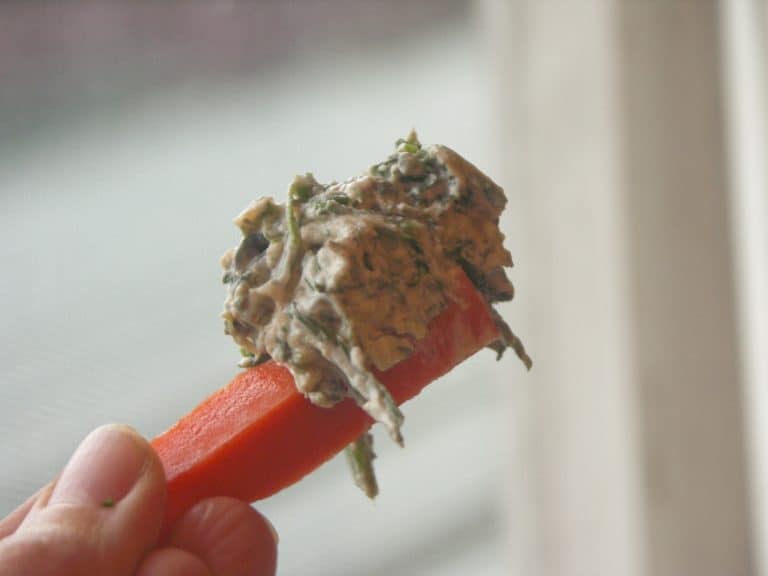 This, alone, is a wonderful reason to look forward to your weekday lunches or football viewing snacks. But we're coming upon the most wonderful time of the year, folks. In just a couple weeks you're going to need more bang. You're going to need more bling. You're going to need to make Mini Spanakopita Phyllo Cups.
Mini Spanakopita Phyllo Cups
Don't fear the phyllo. It's not as scary as you might think. Just proceed carefully, don't freak out if it tears a bit (you're laying it after all) and have a little patience. Your rewards will be great!
Ingredients: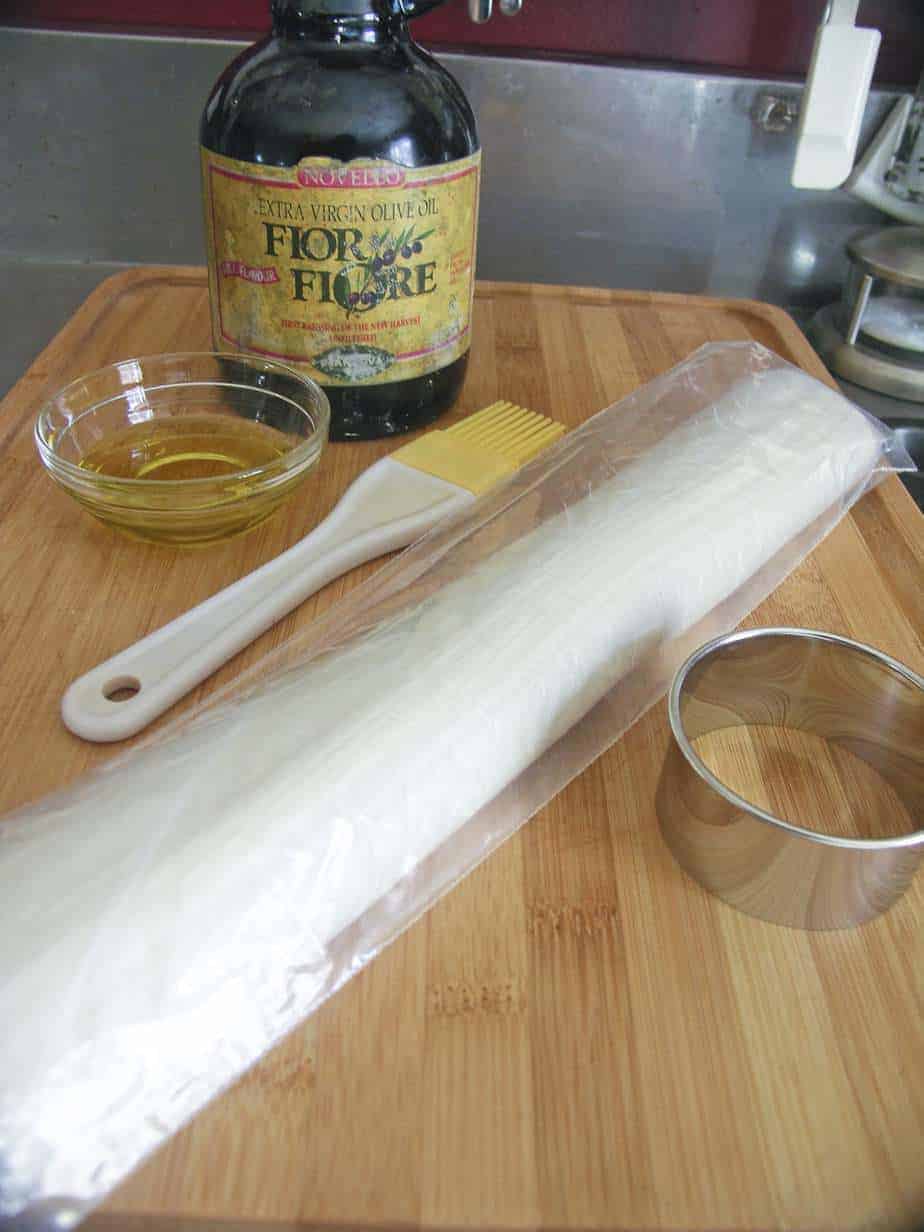 One batch Spanakopita Dip
5 sheets thawed phyllo dough
2 Tablespoons extra-virgin olive oil
Preheat oven to 375F. Unwrap phyllo dough, taking care not to tear the dough.
Lay one sheet of phyllo dough out on a cutting board. Brush lightly with olive oil.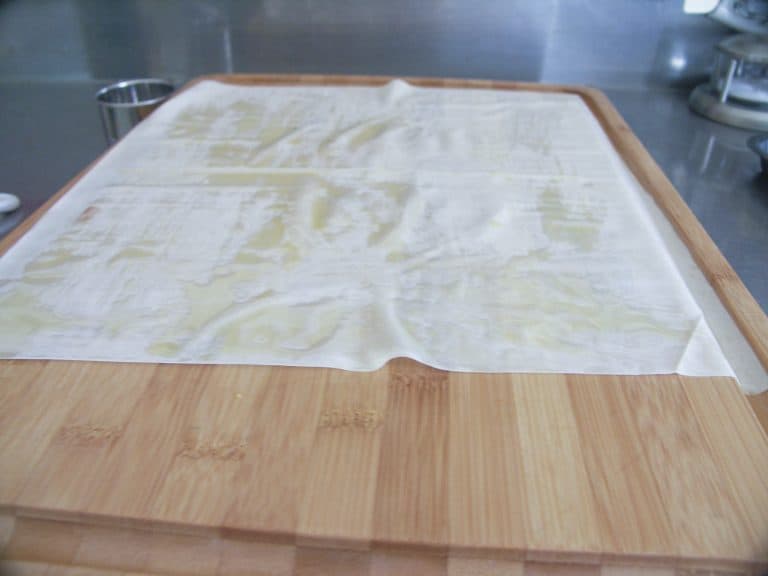 Carefully lay another sheet of phyllo dough over the first and repeat with olive oil and remaining phyllo dough.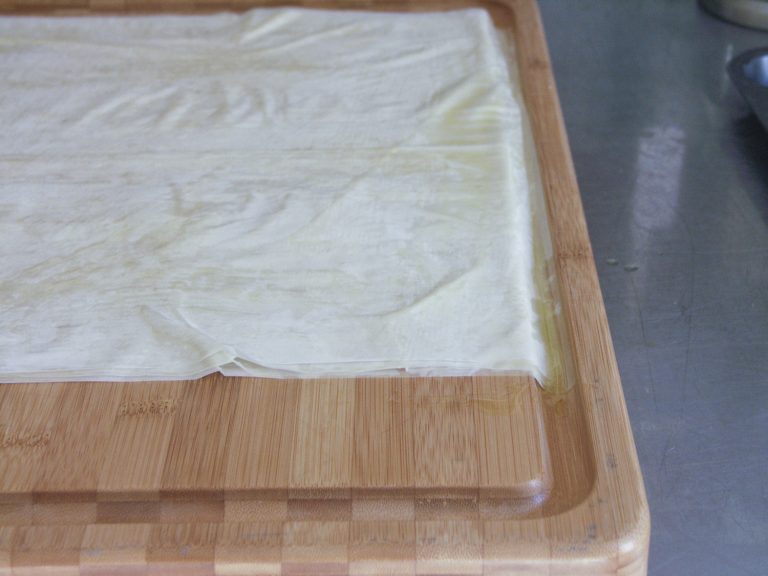 Using a 2 ¾" round biscuit or cookie cutter, cut through the layered phyllo dough.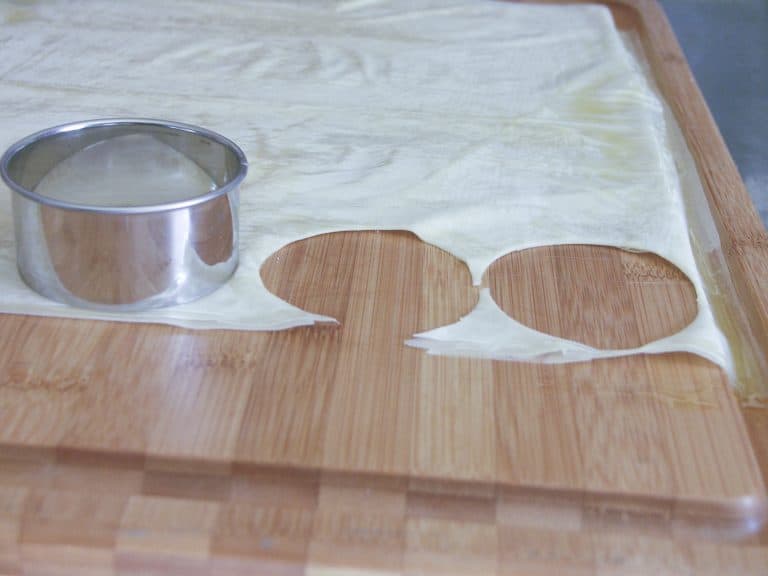 Gently press the layered phyllo dough rounds, olive oil side down, in mini-muffin tin cups.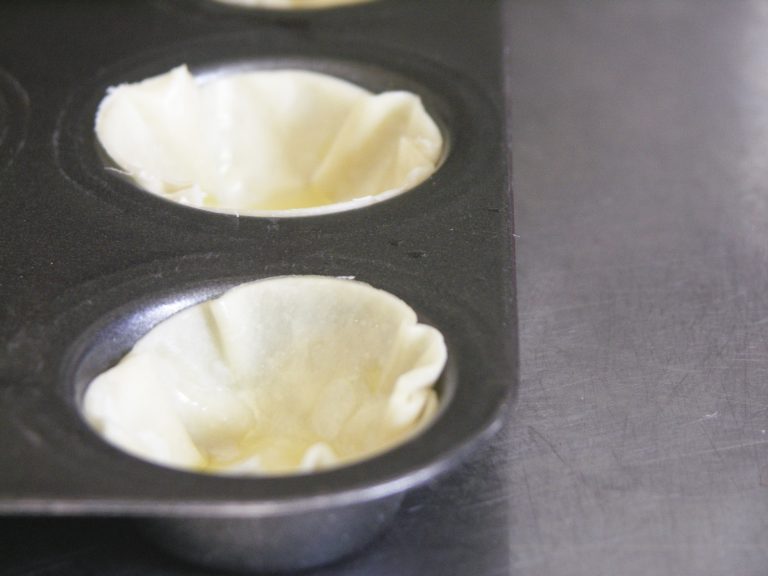 Place on the center rack in the oven. Remove the pan after it has baked for five minutes. Press the center down, carefully, if it is beginning to puff up.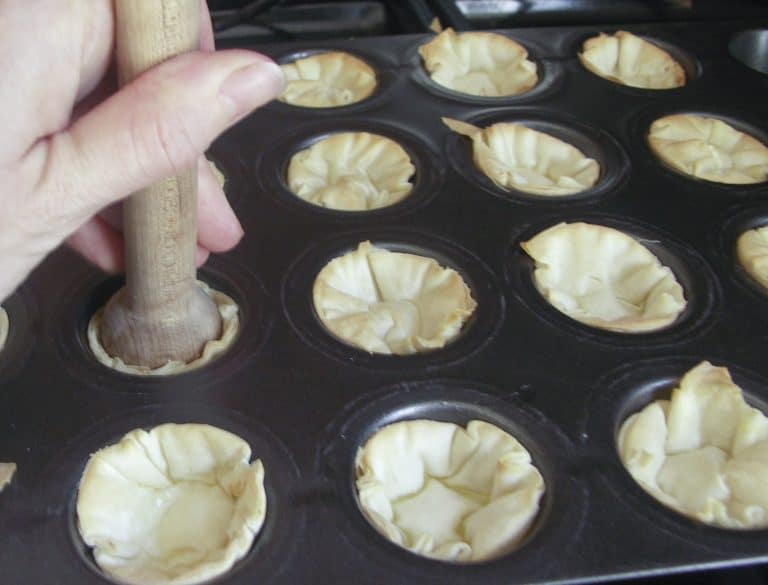 Place pan back in the oven and bake for five more minutes or until golden brown. Remove from oven. Remember that the cups will continue to brown a bit as they cool. Transfer cups to a rack and cool completely.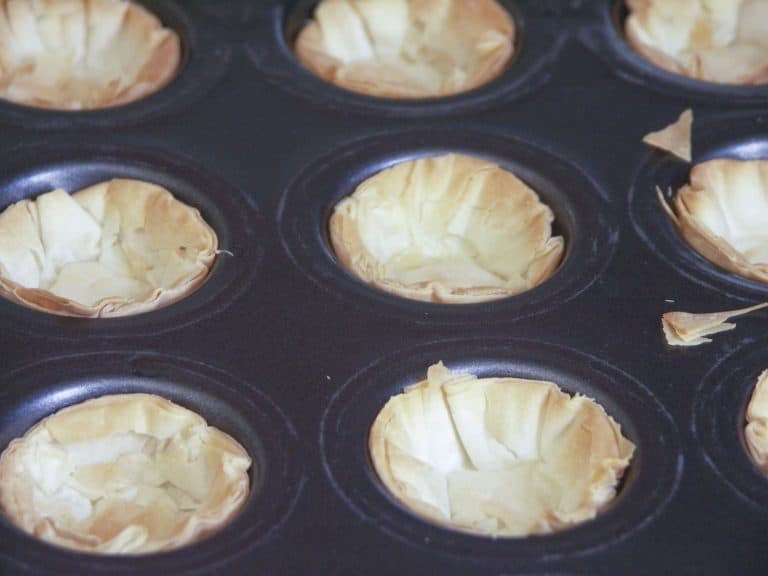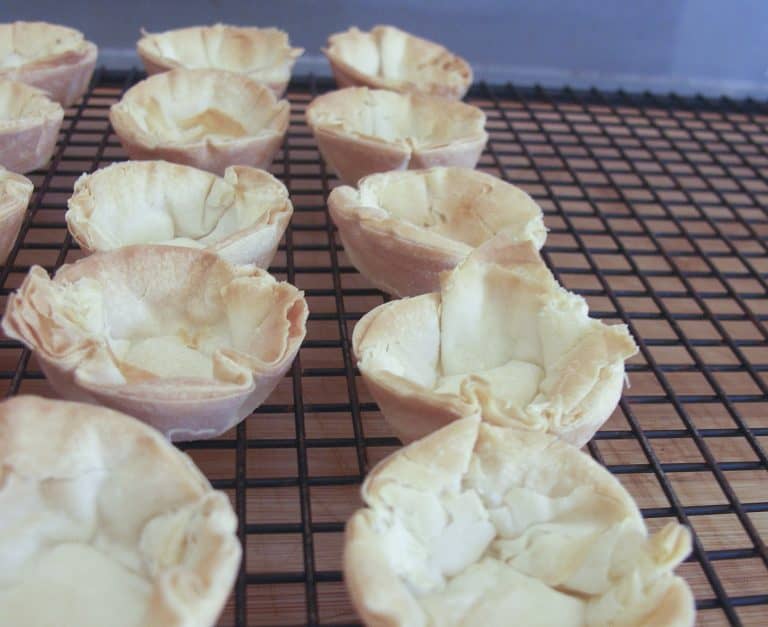 Spoon about two teaspoons of the Spanakopita Dip into each cup and serve. The phyllo cups will remain crisp at room temperature for about three hours at room temperature. Now sit back and watch them disappear. You can do this because you ate fifteen in the kitchen before you took them out to the table.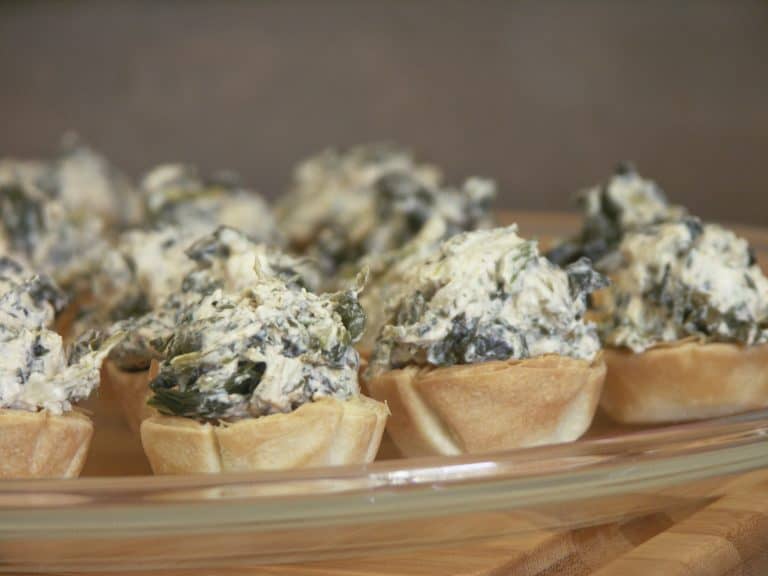 I hope you remembered to check your teeth for spinach…