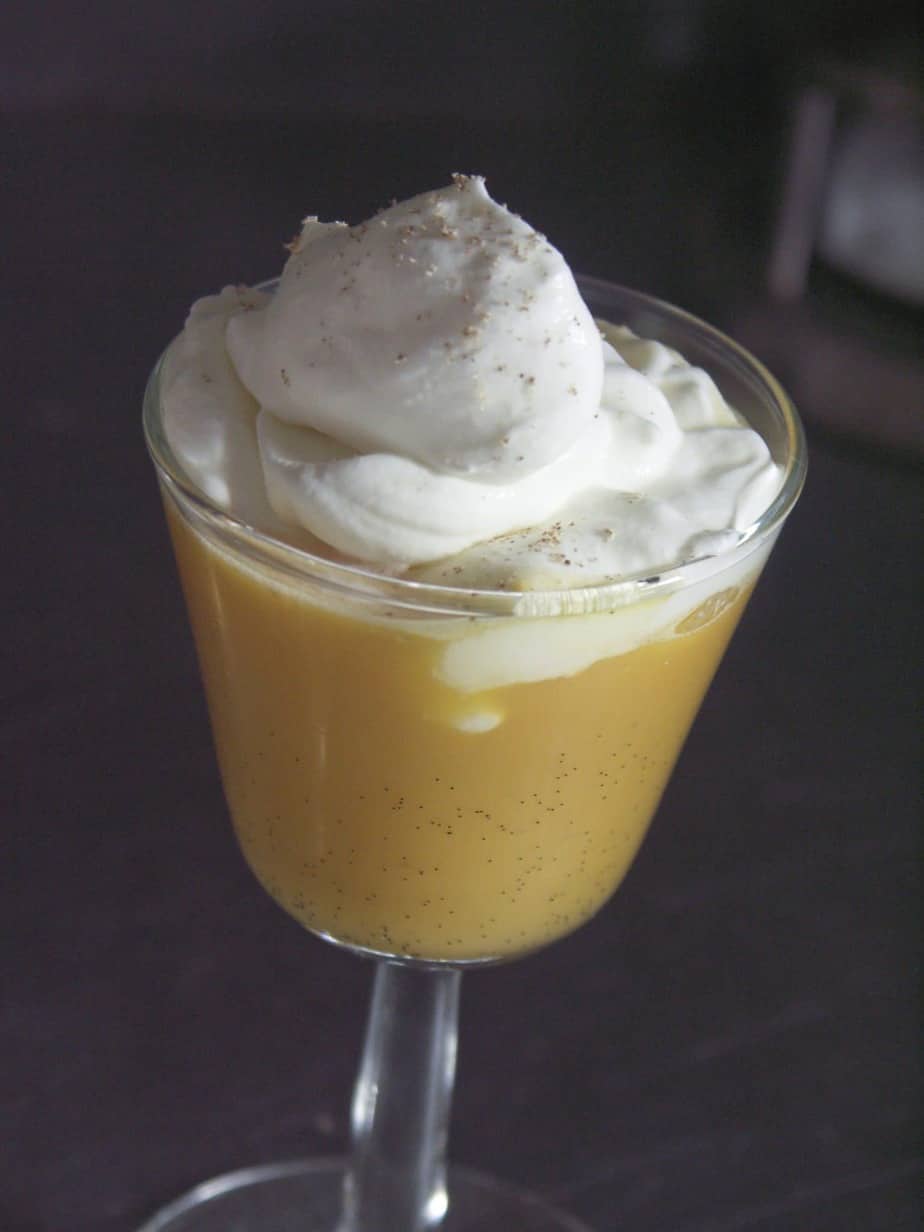 If I were to list the five foods that I thought of as being most representative of Thanksgiving and Christmas I'd wager that my list would be pretty similar to those chosen by most North Americans; cranberry sauce, pumpkin pie, turkey, cookies and eggnog. And while I love each of those foods individually, my heart is devoted to eggnog. Whilst others entertain visions of sugarplums dancing in their heads I have glistening punchbowls of creamy, yellow, spice-flecked eggnog tripping the light fantastic in my brain.
I am no eggnog snob. I love it in every form; from the kid-friendly light yellow stuff in the cardboard quart at the grocery store to the adults-only, deep yellow, super thick  homemade stuff laced with whipped cream. I have even enjoyed Rice Nog And Soy Nog (the key I found with those was not to think of them as a 'real' nog, but as a 'nog' product.) After much consideration -which included the consumption of indecent amounts of all sorts of eggnogs- I realized what makes me love it so; magic.
The bewitching comfort that results from the physical closeness to loved ones who you don't always get to see as often as you'd like. The conjuring of flavors that reach so far back into our collective cultural memories. The alchemy of the holiday spirit on everything around us. Everything tastes just that much better, looks just that much more beautiful and seems just that much more meaningful.
This one is for the grown-up eggnog lovers.
Eggnog Liqueur is everything that is good about eggnog; plus a little extra kick. It is mellowed in the fridge for two weeks before you can start sipping, so do plan ahead to have this available at your holiday goings-on. And there are worse things than putting your feet up in front of the wood stove with a good book and a small glass* of Eggnog Liqueur and a bite or two of something sweet.
*Oh yes, my friends. A small glass. This is rich, velvety and smooth and goes down just a wee bit too easily.
For a printer-friendly, photo-free version of this recipe, click here!
Eggnog Liqueur
Inspired by the Advocaat recipe in the book "Classic Liqueurs" by Cheryl Long and Heather Kibbey
Ingredients:
1 1/4 cups brown sugar (lightly packed) or raw sugar
1 vanilla bean, sliced in half lengthwise
1/2 teaspoon orange extract
1 cup vodka
5 whole eggs
1 additional egg yolk
2/3 cup evaporated milk
1 scraping of fresh grated nutmeg
Using the blunt edge of your knife, scrape the insides from the vanilla bean.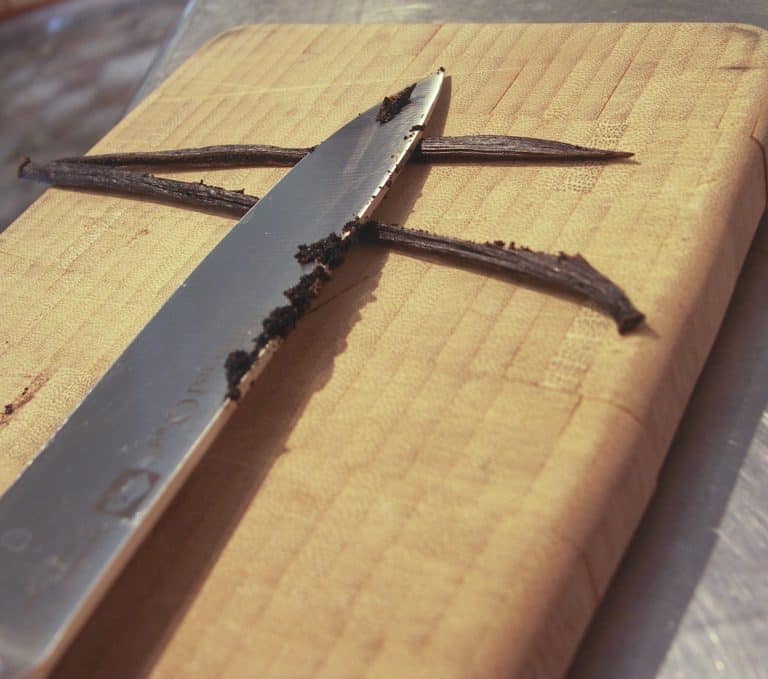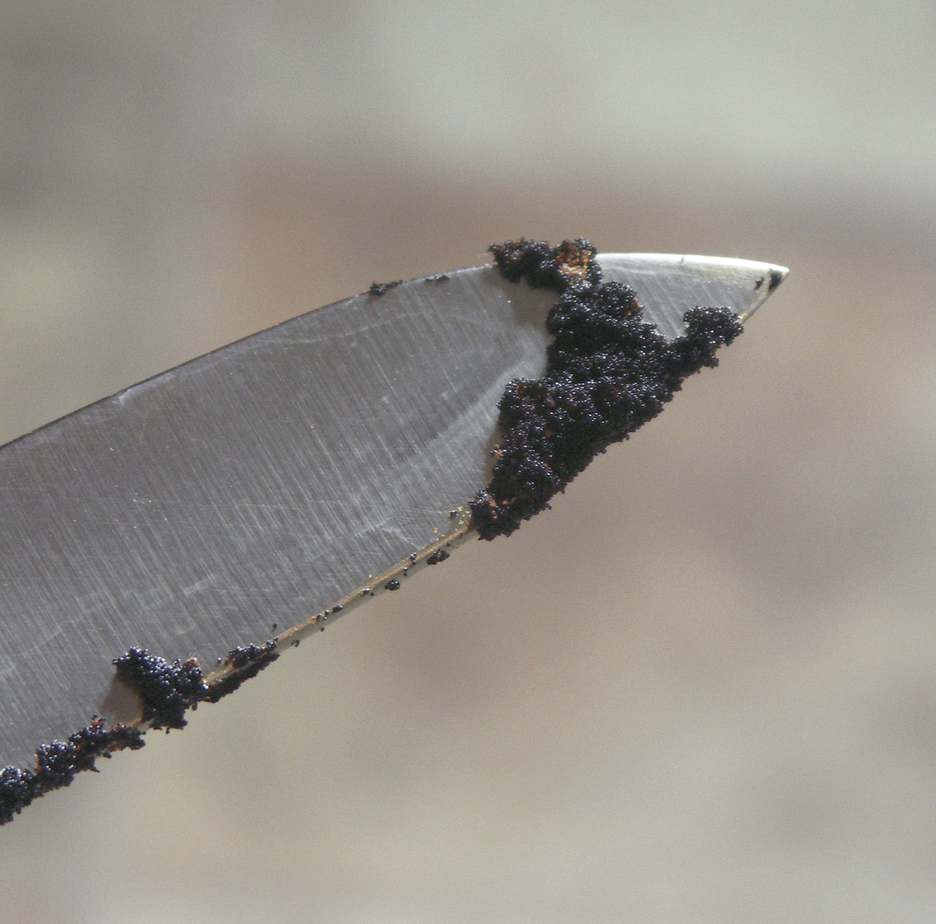 Have another look at the 'guts' of the vanilla bean. There are few things more beautiful than this… Can't you almost smell it?
Set vanilla pod aside** and add the vanilla scrapings to the blender. Add remaining ingredients and blend for about 45 seconds on high, or until thoroughly combined and smooth.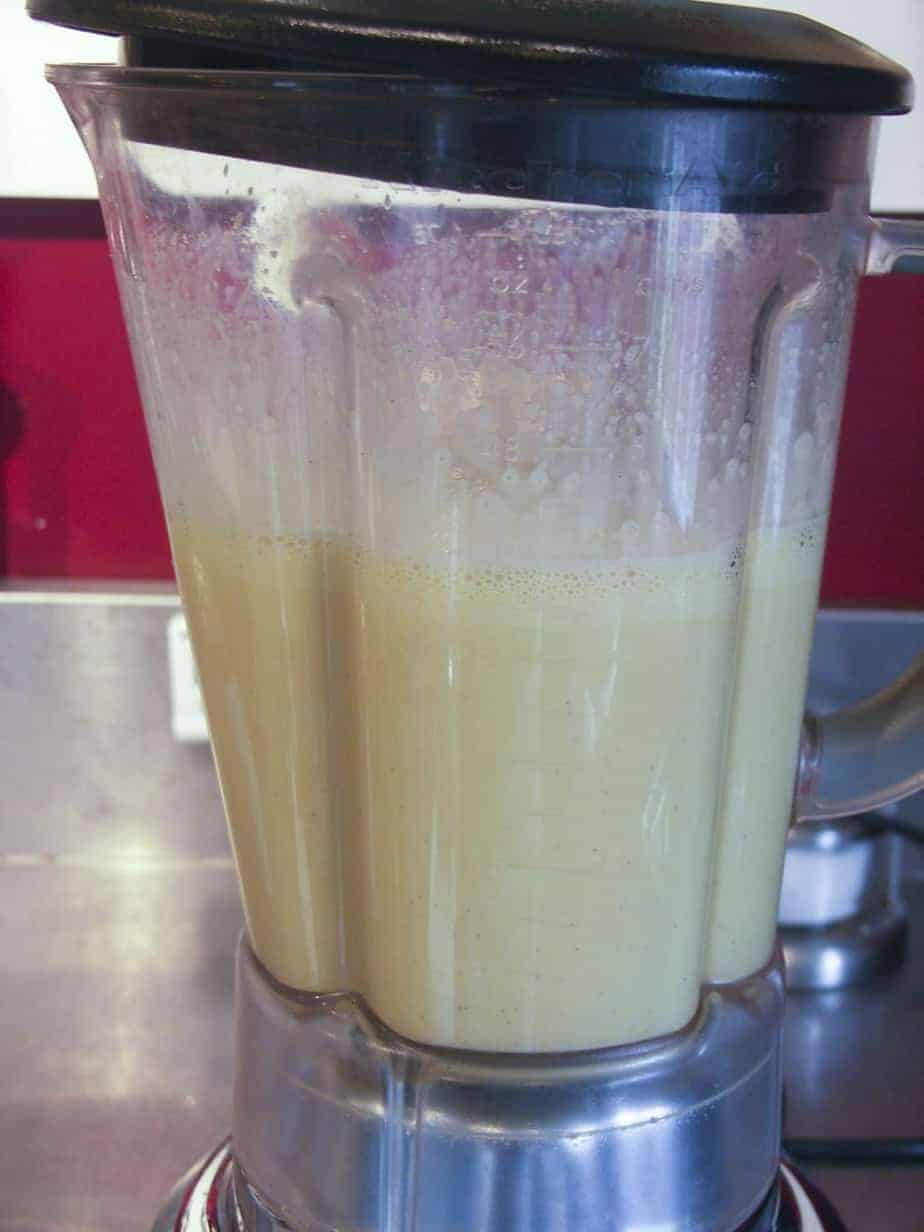 You have frothed this up a good deal by this point. Take this into account when choosing whatever you will use to store it. Pour into a clean bottle with a tight fitting lid or a clean canning jar with a tight fitting lid.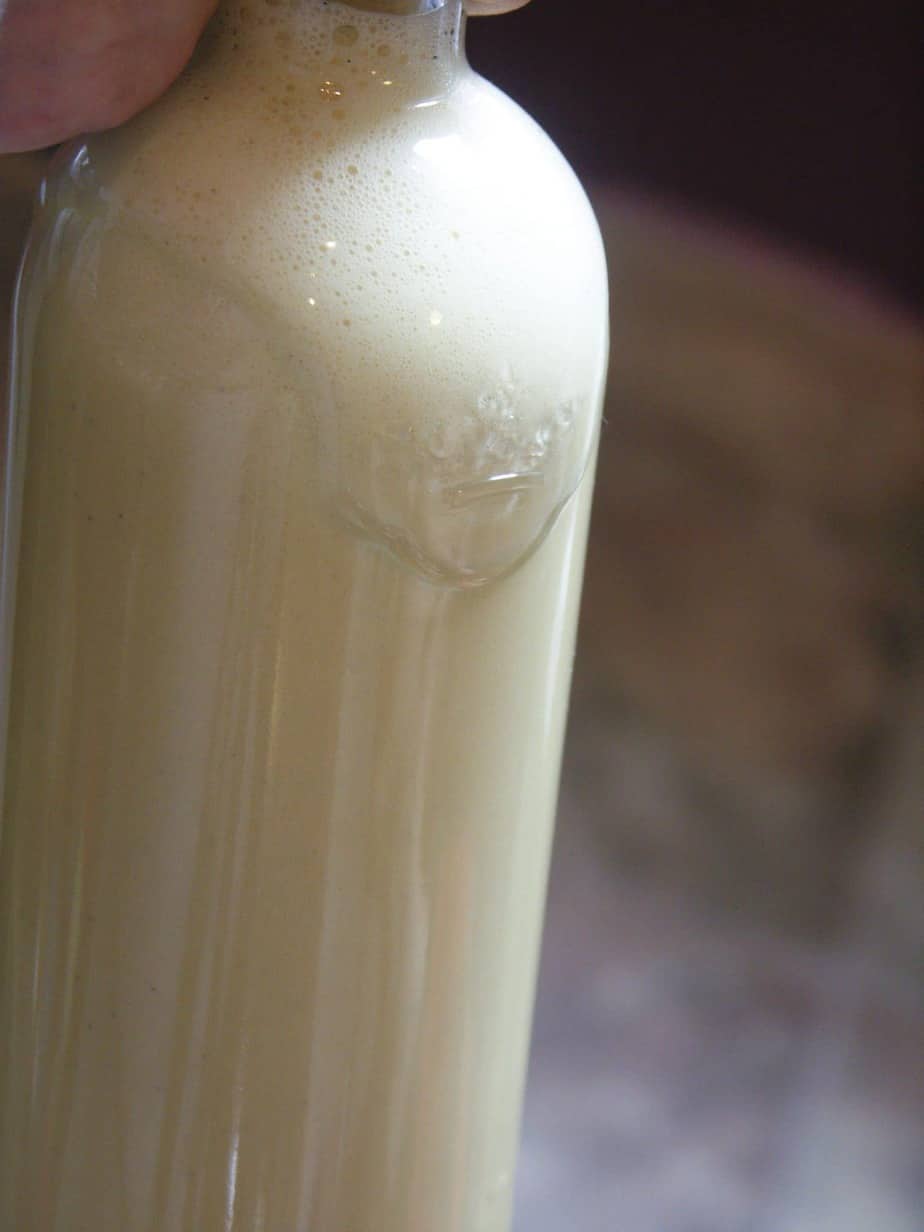 Place in the refrigerator and allow it to mellow for at least two weeks prior to serving. The longer it ages, the smoother the flavor will be. Another little bit of magic; as it ages, it will deepen not only in flavor but in color. If you use eggs from your own chickens -or from the chickens of a generous farmer friend- the liqueur will reach an almost orange color. This is good for two months in the refrigerator. Look at my bottle after two weeks in the chill chest…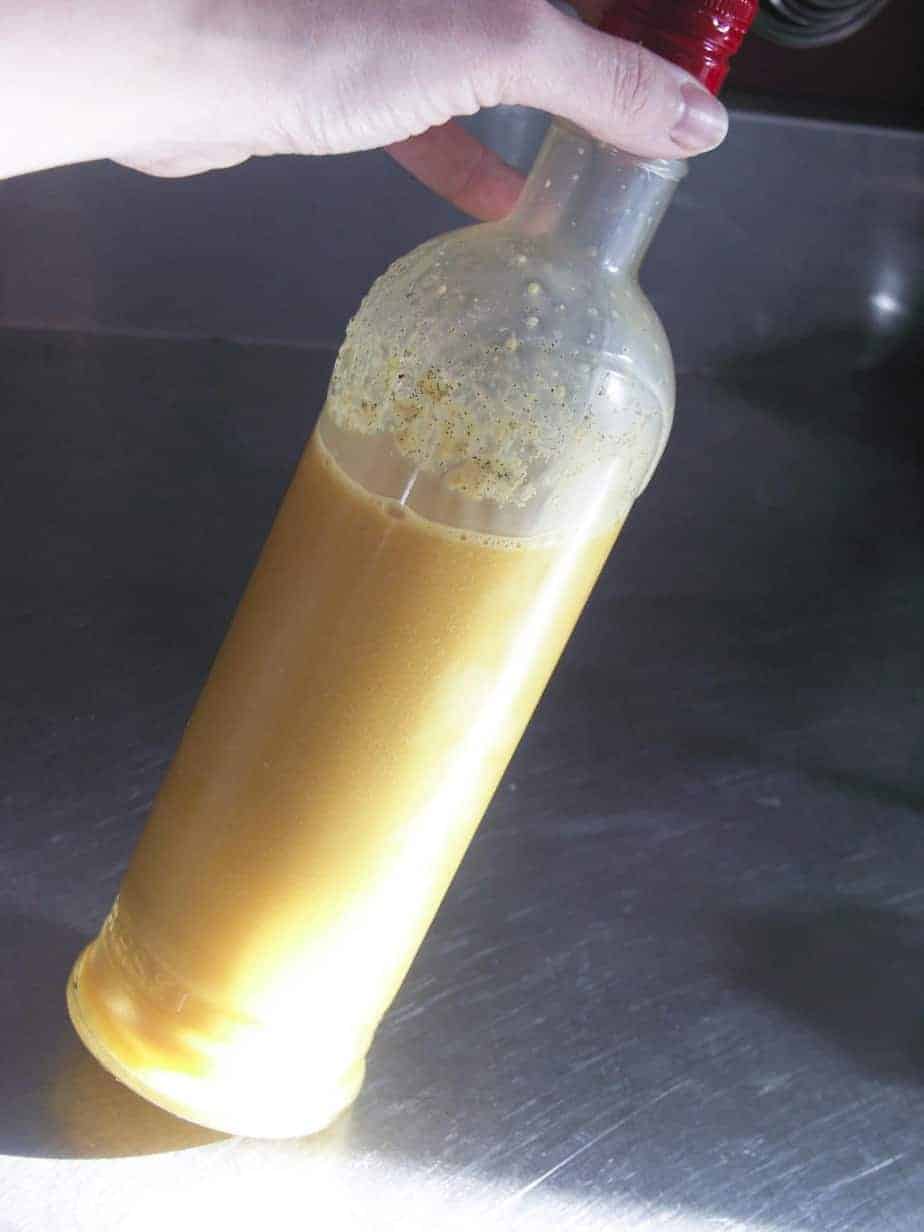 And what to do with this golden elixir? Oh. Oh me. Look at all those flecks of vanilla.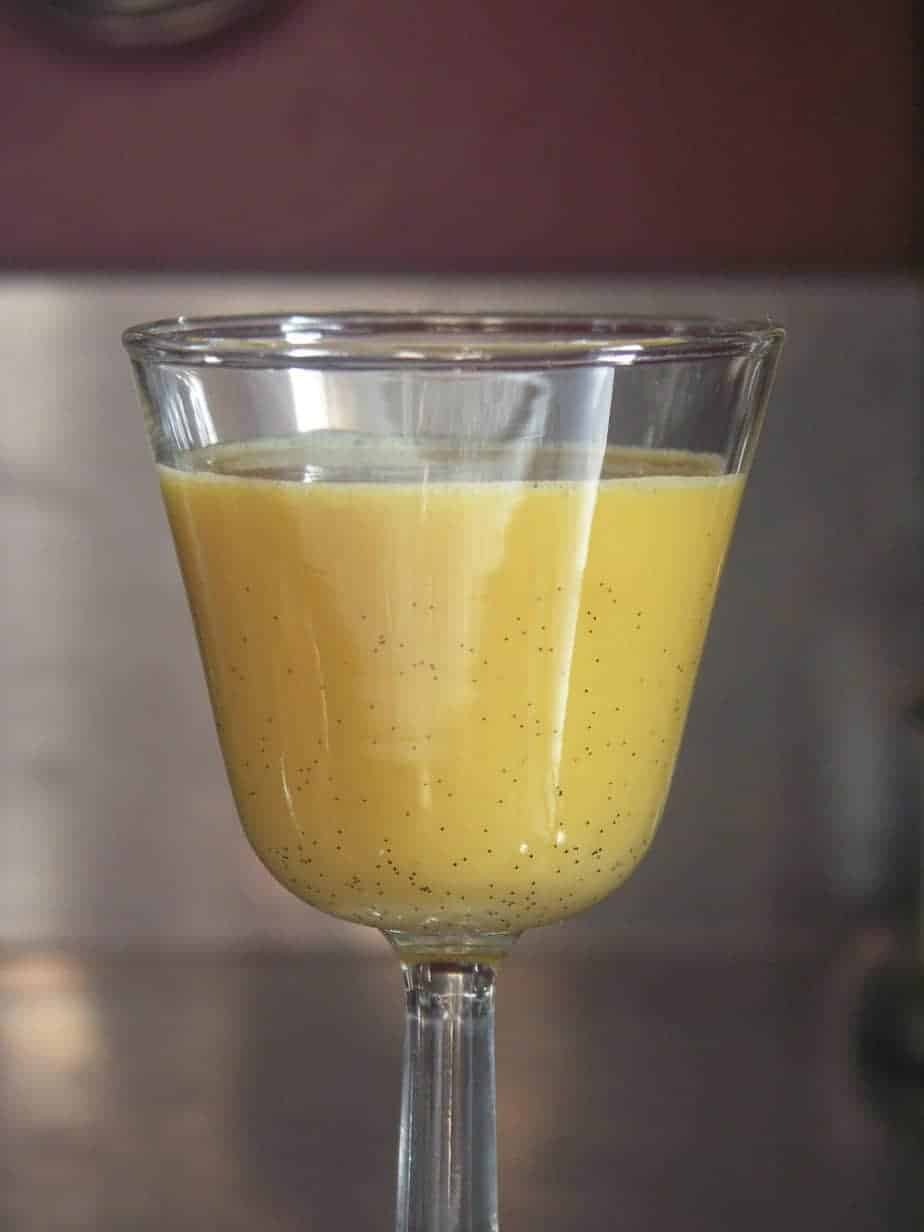 How about a scoop of whipped cream and a little dusting of fresh grated nutmeg and a little extra from me to you… I dunked my poundcake in the eggnog liqueur and whipped cream. It was heavenly.
**Take your scraped vanilla bean pod and put it in a jar with a couple cups of plain sugar. Put a tight lid on it and stick it in a dark place. In a week you'll have vanilla sugar. As you use it up and start running low, just add additional sugar and shake the jar. Voila! Never ending vanilla sugar!