My bonus mom, Val, was an amazing cook. She had the ability to take the most humble ingredients and turn them into food that wasn't merely great, it was an experience. Val's Soy Sauce Eggs are the perfect example of her ability to make comfort food exciting. How can egg possibly be exciting? Val made them magical by plunking plain old hard boiled eggs into a mixture of soy sauce, vinegar, brown sugar, garlic, ginger, and green onions and left them there until they soaked up all the goodness those delicious things had to offer. Those regular eggs transformed into umami bombs. Depending on how long they stayed in the brine, they could deliver anything from a delicate whiff of soy and aromatics to a serious umami punch of flavour. They were always a welcome sight at the table.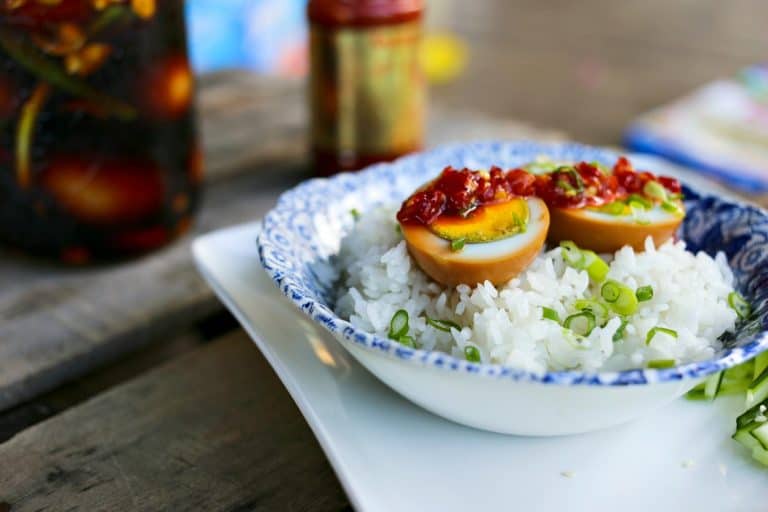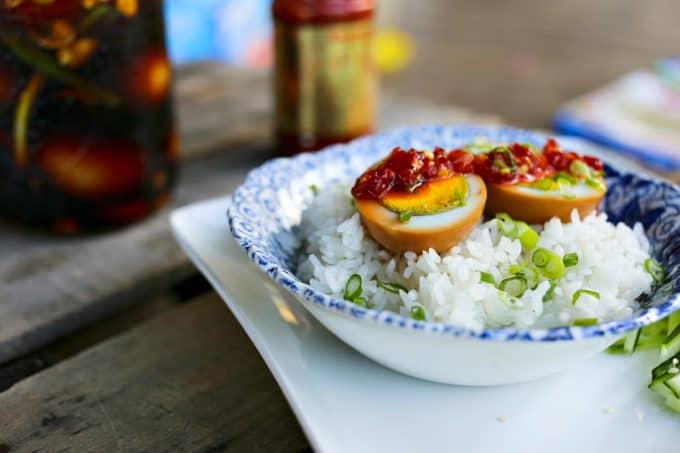 Normally, Val's Soy Sauce Eggs were served over congee (jook or juk) with a host of other simple odds and ends like sliced green onions, leftover chicken, a bottle of toasted sesame oil, and steamed broccoli. This is a meal that defies modern convention where complicated things rule the day. Normal ingredients that can be found in small towns take a little international trip to Comfort Land. Hyperbole? Why don't you try a batch of Val's Soy Sauce Eggs and tell me?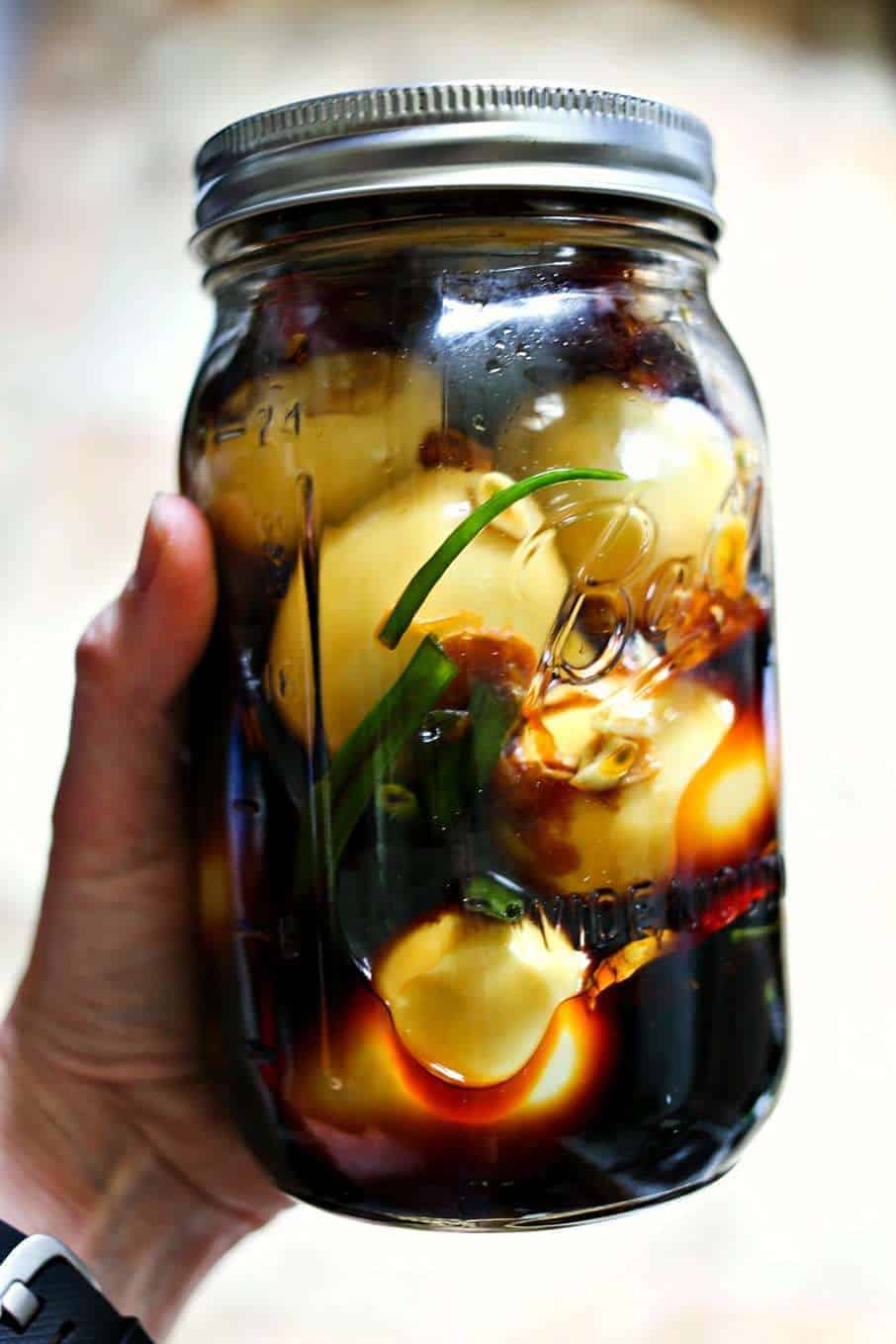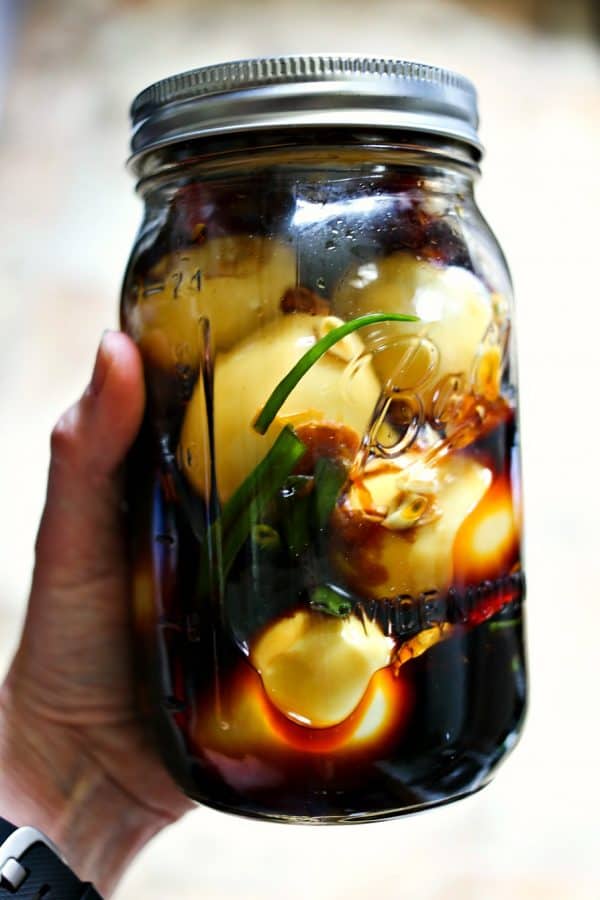 Cook's Notes
Val's Soy Sauce Eggs are as easy as can be to make, but I have a couple of tips to help the process along. If you have trouble peeling hard-boiled eggs, your issue may be how you're cooking them. I've recently found that a trick that is the only fool-proof way of getting the same-day fresh eggs from my hens to peel beautifully. It's an easy trick, but requires the use of a pressure cooker. Add 1 cup of water to your pressure cooker, place a vegetable steamer basket over the water, and pile high with fresh eggs. Fix the lid in place, bring up to low pressure, and time for 4 minutes (for a dark, moist center) or 6 minutes (for a center that is cooked to a uniform colour). Slide the pressure cooker to a cool burner and let it come back to atmosphere naturally. Don't use a quick release as this will make the eggs burst. When it comes back to normal pressure, remove the lid, take to the sink, and run cold water over it for 5 minutes (or put the eggs in an ice water bath) or until they are cool to the touch. Tap the fat, then narrow end, then roll over the counter to break up the shell. Voila! They should peel like a dream.
You can leave Val's Soy Sauce Eggs to soak for as few as 2 hours (for a gentle soy sauce flavour) or up to two days for a stronger, saltier flavour. I always leave mine to soak for at least a day, because I find eggs have a tendency to swallow other flavours unless I have them there in large quantities. Even at 24 to 48 hours, I don't find the soy sauce presence overwhelming. Val started making these years upon years ago after reading a Madhur Jaffrey cookbook. Over time, she had changed the recipe so much that it was truly hers. I modified Val's recipe ever so slightly to account for my higher desire for a very strong soy presence in my egg.
How do you serve Soy Sauce Eggs? My husband likes them for snacks. I love them on congee like Val served them. We both love them chopped up and tossed into an Asian chopped salad, or over a BIG GREEN SALAD of any kind. The whole family loves them as shown above, simply sliced in half and served on a bowl of rice with sambal oelek or another hot sauce, a handful of sliced green onions, and a giant serving of Asian Marinated Cucumber Salad. This is one of our household's favourite last-minute meals; it's perfect for busy nights when we don't want the gut-rot of a fast-food meal, but we have to be quick about procuring and eating food.
Word to the wise: You'd be hard pressed to find a better accompaniment to a cold beer than a Soy Sauce Egg.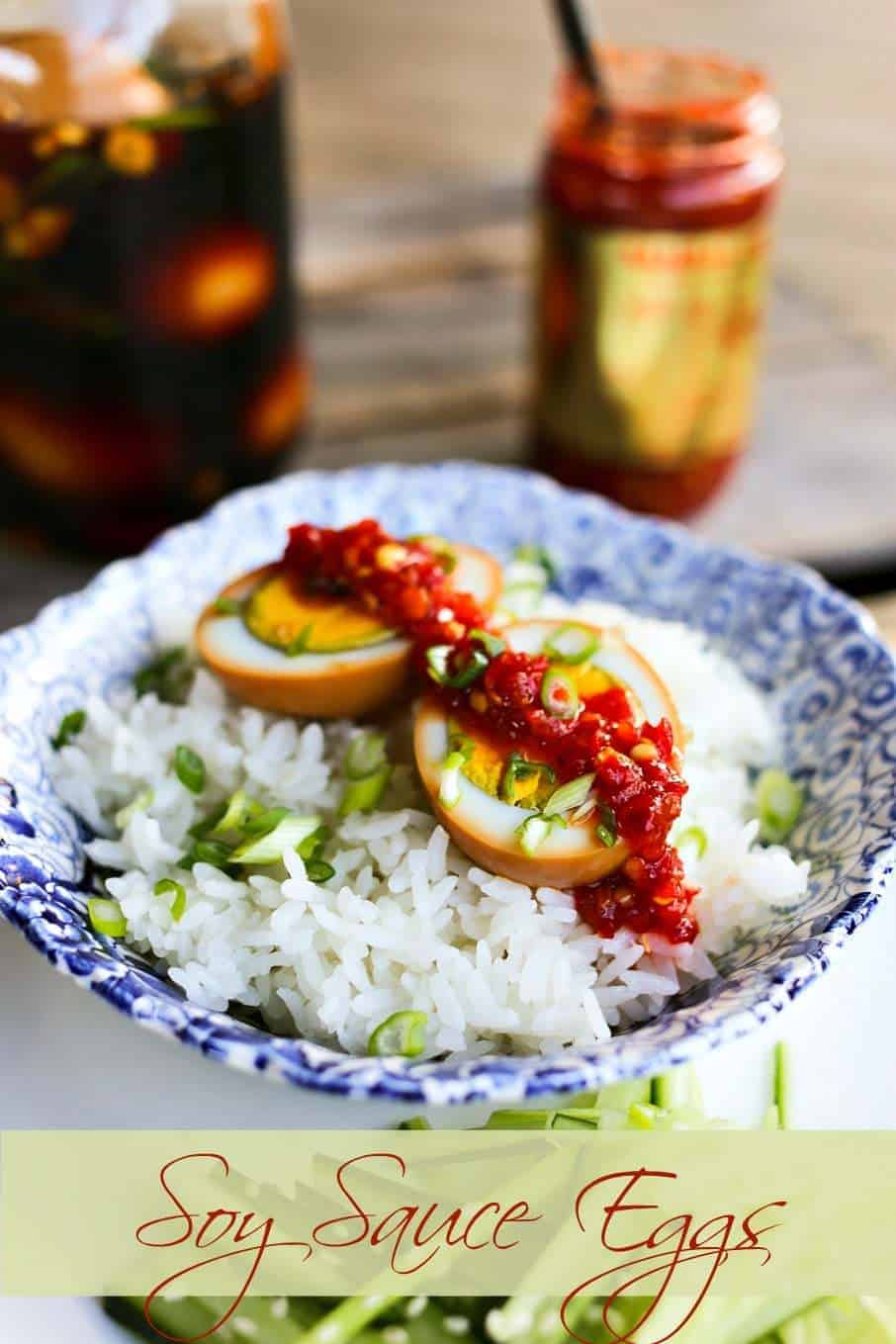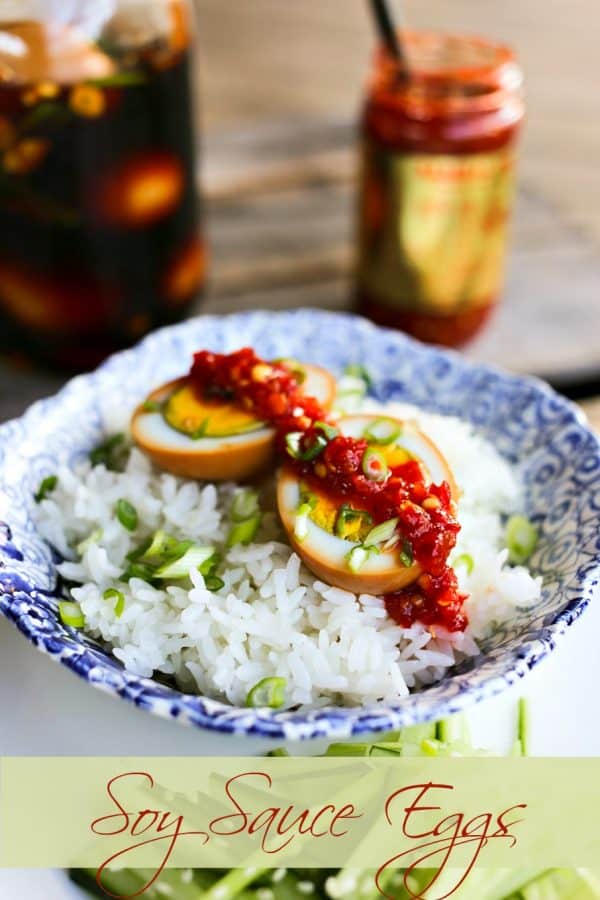 Connect with Foodie with Family
facebook | pinterest | instagram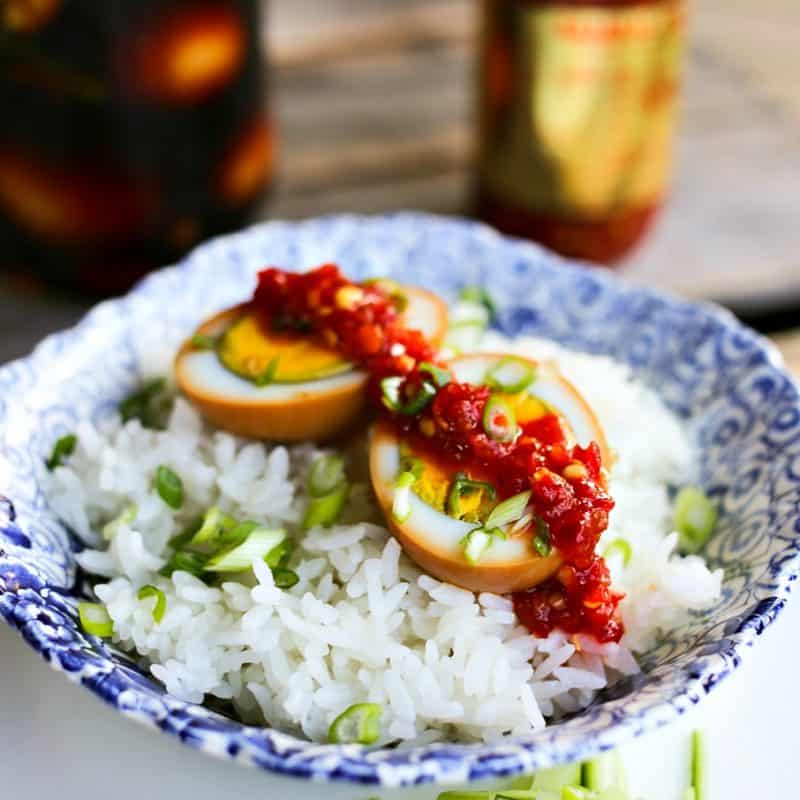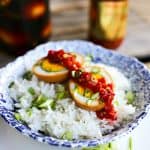 Print
Val's Soy Sauce Eggs
Ingredients
2

packed tablespoons brown sugar

4

garlic cloves

peeled and minced

2

green onions

trimmed and cut in half

1/2-

inch

piece of ginger

sliced thinly or smashed with a meat tenderizer to loosen up the juices

1/2

to 1 whole hot pepper

jalapeno, fresno, bird chile, etc... your preference, washed and thinly sliced

3/4

cup

soy sauce

2

tablespoons

rice vinegar

6

tablespoons

boiling water

8

hard cooked eggs

peeled
Instructions
Add the brown sugar, garlic cloves, green onions, ginger, and hot pepper to a clean quart sized jar. Pour the boiling water over the top and swirl to dissolve the sugar and release the aroma from the aromatics. Pour in the soy sauce and rice vinegar. Swirl gently. Plunk the eggs into the mixture, pressing gently to make sure they're all submerged. Lid tightly, invert the jar a couple of times, and stash in the refrigerator. They can be used as soon as 2 hours after soaking, but can be left up to 24 hours in the mixture to enhance and deepen the soy sauce flavour.

Serve cold, room temperature, or heated up, alone with a little sprinkling of togarashi or black pepper, or over rice, congee/juk, ramen, salad, or any other place you think an umami-packed, fragrant, soy sauce flavoured egg would be welcome.