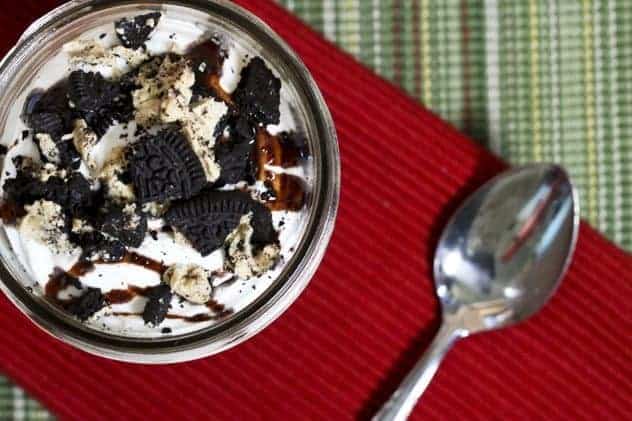 Before we go one step further, I'm going to need you all to raise your right hand, put your left hand on the Bible and repeat after me:
I solemly promise not to hold Rebecca responsible for the calories I am about to consume when I make this recipe, because I WILL make this recipe. I will not even peek at the calorie count on the back of the ice cream container or the Oreo box or the heavy whipping cream carton or the chocolate syrup bottle. I certainly will not do the math and add up the total.
In exchange for the oath you just swore, I promise to do another installment of tasty penance this week.
Alright. Are we good? Good. Let's proceed.
You see, I used to work in an ice cream place. I know I've mentioned this. I was a pale, scrawny whip of a girl with Sally Jessy Raphael glasses and a long chestnut ponytail. I manned the counter at a walk-up joint called 'The Whippy Dip'. It was a sweltering summer and even though the tiny ice cream shack was situated on a rural route, the place kept pretty busy. In between rushes, I swept. I swept the counters, floors, sidewalks and walls.
Yes.
I said I swept the walls.
There was a gypsy moth invasion that year. It seemed like the cottony tents stretched over the branches on every tree and everywhere you looked there were caterpillars. They were gross.
Each time I opened the screen door to go out with my broom, about fifty of those nasty little critters bit the dust courtesy of the screen door of doom.
I sat on the stool at the counter after chores were done and between rushes, book on my lap, daydreaming of caterpillar-free living and eating hot dog rolls stuffed with mustard, pickles and onions*.
*I'm sure I had delightful breath.
We served the usuals; regular or sugar cones, bowls, soft-serve, dipped cones, sundaes, shakes, franks or sausages cooked on metal rollers under hot lights, and the like. There was something that was still pretty new on the ice cream scene the summer I worked there, too: Blizzards. Dairy Queen had introduced Blizzards just two years before and our little Whippy Dip crew (the owner, his daughter and I) was eager to cash in on the bonanza. My boss was savvy enough to know that he couldn't call them Blizzards because it was a trademarked name, so he decided to call our version of the treat Flurries. Kind of a mild term comparatively, but it got the point across effectively. They sold hand over caterpillar over fist.
Our most popular choice was cookies and cream; vanilla ice cream, a splash of milk and crushed Oreos. Boy, those were good. In the years I've spanned between the caterpillar fighting, ice-cream flinging late eighties and now, I have to admit I haven't given much thought to the Whippy Dip's confections. Then yesterday, I saw a Shamrock Blizzard by Three Many Cooks over on Tasty Kitchen and it was all over but the crying. And the eating. The eating more than the crying. Have you ever tried crying over ice cream? It's pretty darned near impossible.
I decided to do an extreme version, in honour of my caterpillar sweeping, onion and pickle chomping youth and my former boss, Mr. Worley. Into my blender went a big scoop of crunchy peanut butter, chocolate peanut butter cup ice cream, and crumbled peanut butter Oreos. (Am I alone in not having known these dangerous things existed? Oh the humanity!) Zap! went the blender. The result was a hybrid of soft and hard ice creams- thick enough to stay in the cup when flipped upside down- flecked with broken cookie bits. I scraped the contents into two waiting jars, capped them with a solid two inches of whipped cream, a drizzle of chocolate syrup and -oh dear- more crumbled Oreos.
THUD. (That was the sound of me passing out from the incredible indulgence of this not-at-all-quiescently frozen happy bomb.)
Honestly, though, I couldn't call it a Blizzard. See, Mr. Worley? I paid attention. Blizzard? We've already covered that. It's trademarked. And Flurry? Just too tame. I decided to call it a -as if there could be any other name- Whippy Dip. God bless you, Mr. Worley, wherever you are.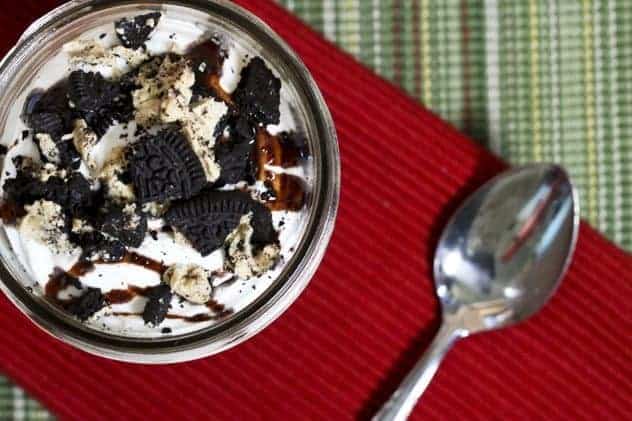 This indulgent hybrid of soft and hard ice creams- thick enough to stay in the cup when flipped upside down- is flecked with crumbled peanut butter chocolate cookie bits,capped with a solid two inches of whipped cream, a drizzle of chocolate syrup and -oh dear- more crumbled Oreos.
Ingredients
1/2

cup

crunchy or creamy peanut butter

1/4

cup

milk

4

cups

packed, chocolate peanut butter cup ice cream

6

peanut butter Oreos

or regular chocolate cream sandwich cookies

whipped cream

chocolate syrup
Instructions
Add the peanut butter and milk to the carafe of a blender. Add the lid and blend until completely combined. Remove the lid, add the ice cream and 4 of the Oreos (lightly crumbling with your hands as you add them to the blender.) Once again, add the lid to the blender and blend on high, stopping to stir the contents occasionally, if necessary, until you have a very thick smooth ice cream mixture (somewhere in the thickness neighborhood of very cold soft-serve ice cream) flecked with crumbled cookie bits. Do not be tempted to add more milk. It will make your Whippy Dip into a milkshake!

Divide the Whippy Dip between two serving glasses, top with a generous amount of whipped cream and a drizzle of chocolate syrup. Crumble one of the remaining cookies over each Whippy Dip before serving.
Nutritional information is an estimate and provided to you as a courtesy. You should calculate the nutritional information with the actual ingredients used in your recipe using your preferred nutrition calculator.