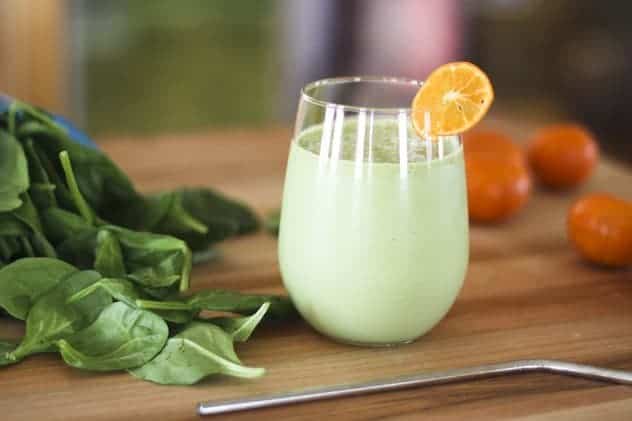 This has been one seriously weird weather winter. From a green, warm Christmas to a rainy, snow-free February, I've been sitting around tapping my foot waiting for the weather to turn frightful. Tap tap tap. Nuttin'.
While my husband and sons have been running around outside singing rapturously about the weather and twirling with their arms à la Julie Andrews in the opening scene of "The Sound of Music", I've been checking and double checking my yak trax, gloves, scarf and parka just in case I need them. Thirty something Northern Michigan and Western New York winters will do that to a girl.Instead of the clear and obvious signs of quiet -blankets of snow covering everything and icicles dangling from roofs- there has just been this kind of stasis or suspended animation. Everything looks muted and like it's waiting on the edge of its seat for snow to fly. And hard. I can't seem to let go of the idea that we're going to get slammed with the mamma jamma of all winter storms at some point.
We're less than three weeks away from the official start to spring, though; the maple trees are flowing and there is smoke and steam rising from all the maple shacks dotting the countryside. That is an irrefutable sign that things are perking up and that even if the winter that has been hanging about at the edges of the room shows up, its life will be short. That means that even my cold, winter loving and fearing heart has to start the thaw, too.
The only thing that has been "wintery" around here is my like-clockwork-late-winter-craving; greens. I need green food and I don't mean Shamrock Shakes faux green. (Although I'm pretty fond of one or two of those per season, too.) I mean food that looks fresh and leafy and full of life. Since I got a G.O.R.G.E.O.U.S. and super thoughtful Vitamix from my husband for Valentine's Day, I've jumped onto the green smoothie bandwagon so hard I rattled the wheels.
Sidebar for those who haven't yet tried a green smoothie: I know some of you are ready to pull a face and think I've jumped the shark for throwing spinach into a smoothie, let me tell you something. You don't taste the spinach in these. I promise. It's the wackiest thing ever. And if you're wondering why in the world I would want to do such a thing as spinach in smoothies let me just ask this; do you get enough vegetables in your diet every day? Do your kids? Because even as a vegetable lover, I've had a hard time meeting my daily recommended veggie intake. When you consider my two youngest anti-veg kiddos, I know for a fact I wasn't getting enough into them. But then came green smoothies. They love them. LOVE. My gruesome twosome is getting about two hundred percent more vegetables than they got before we started with the green smoothies. I count that a win.
I've blended spinach into just about every kind of smoothie I can possibly think to try, but it was just this last week that I stumbled upon our favourite. I saw someone on pinterest post a green orange julius smoothie, and I knew it was a great idea. I made a completely different green orange julius smoothie, but Green Lite Bites provided the inspiration.
So now a word to those who aren't familiar with Orange Juliuses. Or should it be Orange Julii? Aw shoot. I don't know. Whatever the plural of an Orange Julius is, that's what I'm going for. Orange Julius is a mall-centric chain of beverage sellers that specializes in the most luscious thick, sweet, orange slushy/shake thingies ever. For years, I've been making an Orange Julius smoothie for my kids that uses frozen bananas as both a sweetener and thickener. It didn't take a whole lot of messing with to turn it into a green smoothie. In fact, it only took the addition of a couple fists full of spinach.
These Green Orange Julius Smoothies are screaming, "SPRING YOU FOOL!!! Spring is COMING. Look alive!" These are responsible for me finally embracing the fact that spring is about to, well, spring! This is my new favourite spring recipe. It's creamy, vibrant, sweet, vanilla-y and oh so orange even though it's green. If you think about it, with St. Patrick's Day next weekend, there's no better way for this mostly Irish American girl to celebrate both the coming of spring and my heritage than to whirl together the green and the orange.
This time of year and with this recipe, I truly, deeply wish you all slàinte mhòr!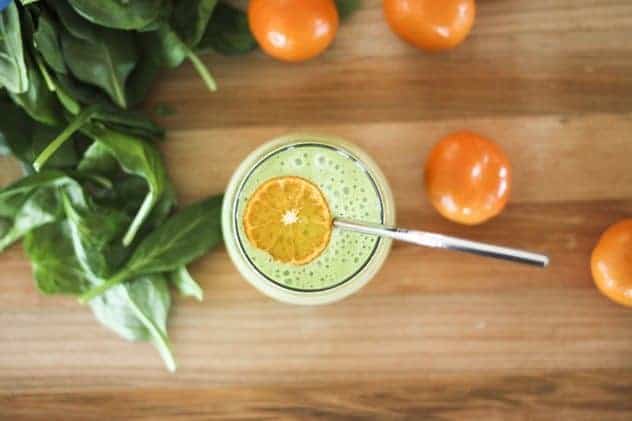 This fun twist on both green smoothies and a classic Orange Julius is my new favourite spring recipe. It's creamy, vibrant, sweet, thick, vanilla-y and oh so orange even though it's green. I promise, you won't taste that spinach. Go ahead and take the plunge! To your very good health!
Ingredients
1

cup

fresh baby spinach

washed

1

cup

100% orange juice concentrate

1 1/2

cups

milk

whole, 2%, 1% or skim

1

large frozen peeled banana

broken into chunks

1

teaspoon

real vanilla extract
Instructions
Pour milk into a blender carafe first and then add the remaining ingredients. Fix the blender lid in place and blend on high until smooth*.

*If you have a less high-octane blender, you may want to stop the blender and move things around with a wooden spoon or spatula a couple of times.
Nutritional information is an estimate and provided to you as a courtesy. You should calculate the nutritional information with the actual ingredients used in your recipe using your preferred nutrition calculator.