You're probably familiar with the Southern tradition of eating black-eyed peas on New Year's Day so I'll spare the cultural lesson. Being married to a man born well south of the Mason Dixon and being the granddaughter of two very southern grandparents, black-eyed peas are part of my family's heritage and I don't mean the Fergalicious variety. We always have one sort of black-eyed pea dip or another for our first day of the New Year; most often Recession Caviar a.k.a. Texas Caviar. This year, however, the annual bowl of chilled black-eyed pea salsa has been dethroned by our new favourite black-eyed pea recipe; Slow-Cooker Black-Eyed Pea dip with Corn + Bacon.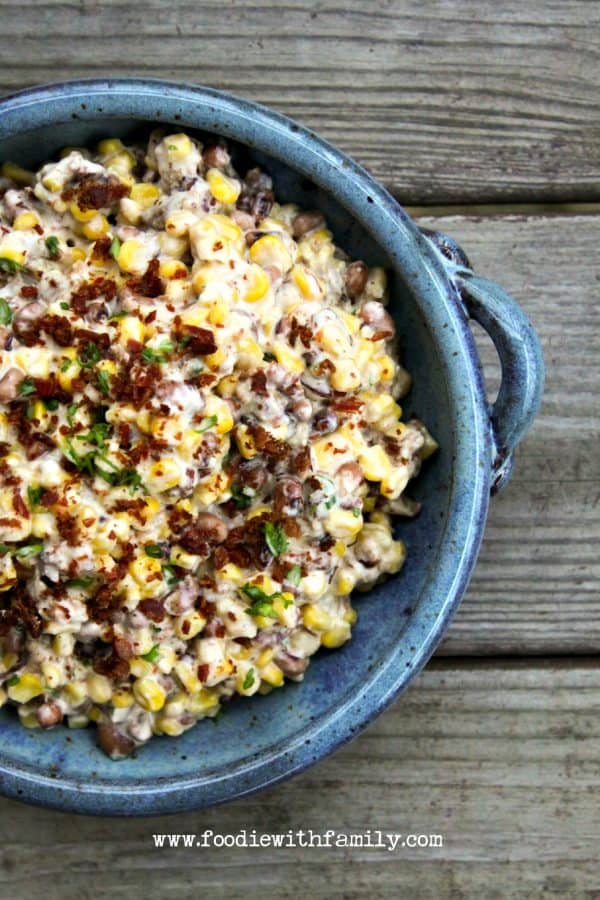 Ooooh, mama. This is how you start a new year. This warm dip is absolutely BURSTING at the seams with sweet corn, crispy bacon, buttery textured black-eyed peas, and garlic, all in a creamy sauce of melted Monterey Jack, cream cheese, sour cream, and crushed red pepper flakes, with some minced green onions stirred in at the end for a fresh POP of flavour. Given that you stir everything but the bacon and green onions together at the beginning in a slow-cooker, cover it, and let it go on low for 2 to 3 hours, it's pretty difficult to think of an easier addition to a New Year's Eve buffet table or a New Year's Day brunch or get -together.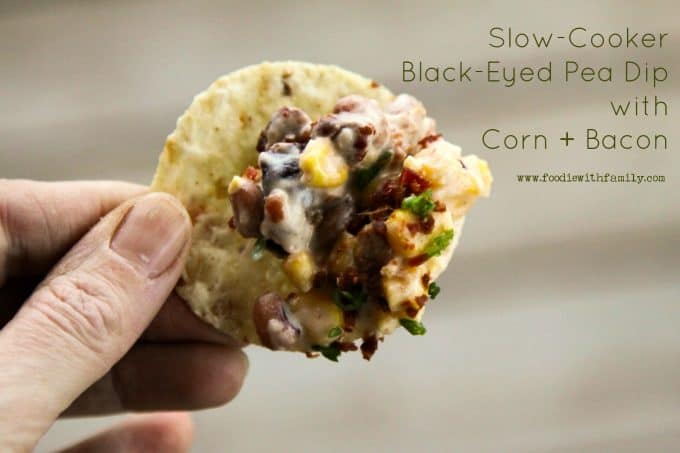 While we love it as a dip with tortilla chips or vegetable sticks, it's equally wonderful as a side dish to any multitude of proteins; grilled, roasted, broiled, or pan-fried pork, chicken, beef, or fish.
Cook's Notes
I use frozen corn here, because it's a darned fine substitute for fresh corn on the cob in Western New York in December. Truth: when I make this in June, I also make it with frozen corn. I find that the frozen corn holds up better structurally than corn shaved from the cob. In short, use frozen corn. Could you use canned corn? Probably, if you drain it and rinse it, but I haven't tested it that way!
There is absolutely no need to thaw the frozen corn first.
You will need to spray the inside of your slow-cooker crock before adding ingredients or you may find your cheese likelier to stick to the crock than the corn. That would be very sad. Not a fan of non-stick cooking spray? Butter it generously.
Please note there is a range of measurements given for the crushed red pepper flakes. It probably goes without saying, but I'll say it anyway: use the lower end of the measurement if you don't love spicy foods and the higher end of the measurements if you like it spicier. Go somewhere down the middle if you're unsure. You can always adjust upward on the heat quotient by adding hot sauce to individual servings.
After the 2 to 3 hour cooking time is up, you can turn the heat to the "Keep Warm" setting if your slow-cooker is so equipped, for up to 2 hours. Beyond that, you'll probably want to transfer the contents to a bowl with a tight fitting lid and refrigerate. The leftovers are good for up to 5 days after cooking.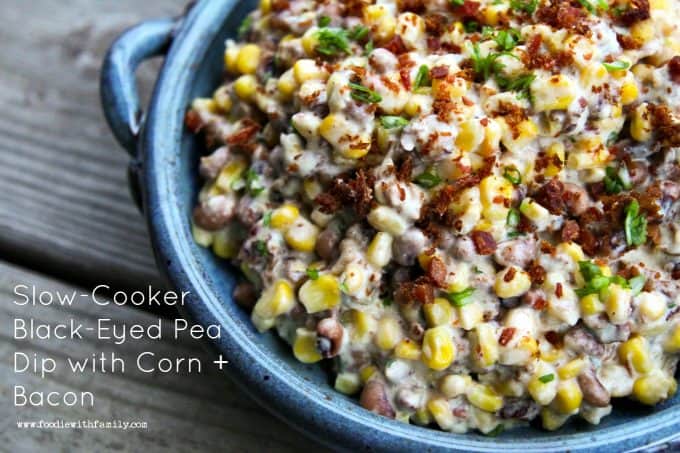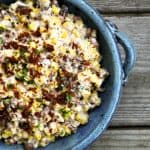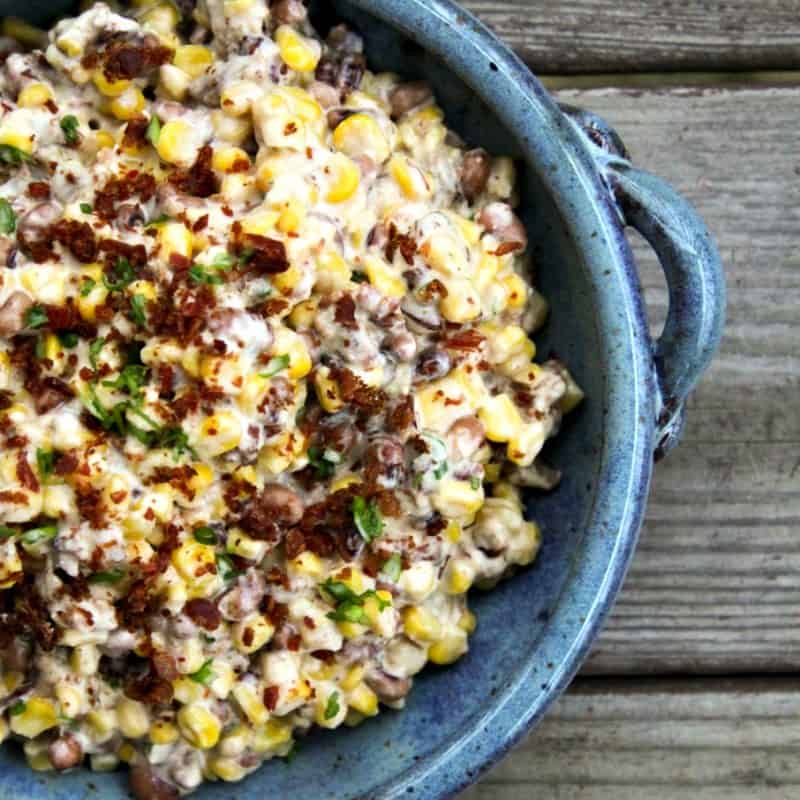 Slow-Cooker Black-Eyed Pea Dip with Corn + Bacon
Ingredients
2

bags frozen sweet corn

1 pound each

2

cans black-eyed peas

or 3 cups home cooked black eyed peas, drained and rinsed., drained and rinsed

1

brick neufchatel cream cheese

8 ounces, labeled 1/3 less fat, cut into cubes

1

brick Monterey Jack cheese

8 ounces, grated

3/4

cup

sour cream

6

garlic cloves

peeled and minced or pressed through a garlic press

1

teaspoon

kosher salt

1/4

to 3/4 teaspoon of crushed red pepper flakes

1

pound

of bacon

cooked until crisp

6

green onions

green parts only, thinly sliced, then minced
Instructions
Lightly spritz the crock of a slow-cooker with non-stick cooking spray or generously butter it. Stir together the sweet corn, black-eyed peas, cream cheese, Monterey Jack cheese, sour cream, garlic, salt, and crushed red pepper flakes. Put the lid on the slow-cooker and set the cooker to LOW. Cook for 2-3 hours, or until the contents are uniformly hot, the cheese is melted, and the corn and black-eyed peas are coated with a creamy sauce. While the mixture is cooking, finely chop the crispy bacon and reserve 1 tablespoon of the chopped bacon along with 2 teaspoons of the minced green onion. Stir the remaining bacon and green onion into the hot dip then scoop the dip into a serving dish. Sprinkle the reserved bacon and green onion over the top and serve with chips or as a side dish.

Leftovers can be stored, tightly wrapped, in the refrigerator for up to 5 days. Reheat covered but vented in a microwave on HIGH until hot all the way through.