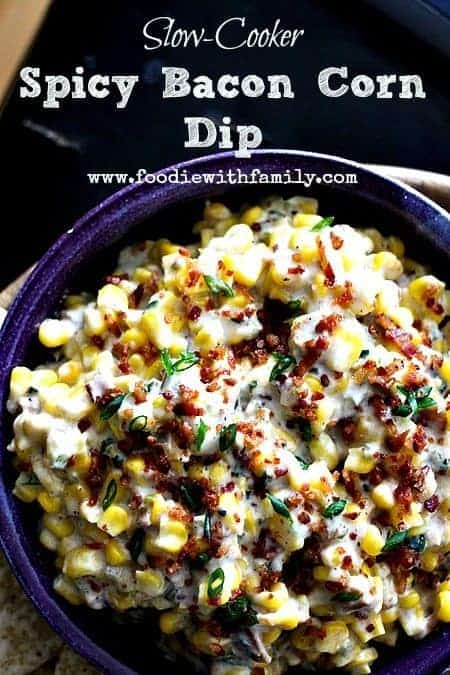 You may have noticed that I have a snack fixation.  My recipe index certainly reflects it. I just can't help myself around snacks. There's something so profoundly satisfying to me in nibbling the day away. In fact, if I had to choose to give up meals or snacks, I'd TOTALLY keep snacks any day of the week. Yeah, it's probably a borderline clinical obsession.
When I can take a snack and make it do double duty as a side dish? Even better! Such is the case with today's dip. Oh this dip. OH THIS DIP, PEOPLE! It's almost sinfully easy and it's DEFINITELY habit-formingly good.
Let's go backward and talk about why it's so ever-loving tasty first, shall we? The base of this dip is sweet corn -bursting with wonderful corn flavour- but the next ingredient on the list is a full pound of crispy bacon. HELLO! Do I have you now? That'd be good enough all by itself, but it's enrobed in a sauce made of cream cheese, sour cream, Monterey Jack cheese, minced jalapeños, garlic, and green onions. Mercy.
A word of warning: this smells so obscenely good while it's cooking. I kept finding my fourteen year old son sniffing around the kitchen. I caught him with a spoon in one hand and the other hand on the lid at one point. I shrieked his name and the lid clattered back down. He looked at me with his big brown eyes and moaned, "WHEN is it going to be DONE? I can't HANDLE it!" In short, you may want to have distraction techniques planned while it's bubbling away or you may have to beat them out of the kitchen with a stick. When I asked him after the dip was long gone whether it had been worth the wait, he said, "Yes. Definitely. It makes me shivery to think about it."
What makes it so easy? It's like this… you throw all the ingredients except for the crispy bacon and green onions in the slow-cooker, stir it, put the lid on, plug it in (yes, I've forgotten to do that before), turn it on, and walk away. When you come back, it's done. You stir in the bacon and green onions. Tada! You could, if you so desired, eat it straight out of the crock. We've certainly done that more than I'd like to admit.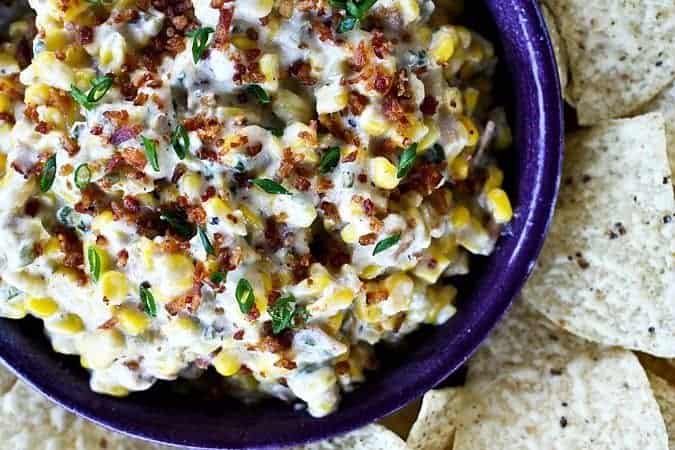 If you're feeling civilized, you can pile it into a bowl and garnish with a little bit of chopped bacon and green onions and serve it with tortilla chips or crackers. Feeling wild and crazy? Make it a side dish for grilled pork chops or chicken. It will blow your mind. If you serve it as a side dish intentionally, it wipes away the shameful sneaking spoons of dip into your mouth while no one is looking. It's okay because it's on purpose, you see…
 Cook's Notes:
This is a pretty fast recipe as far as slow-cookers go, but if you want to speed the process along even more, you can heat the corn up in the microwave or a saucepan before adding to the crock.
Yes, this recipe yields a pretty good amount. For a family our size, it's nothing to eat through this in two days for major weekend snack attacks. It stores for up to 5 days beautifully and reheats like a dream.
If you still think that's too much for you to get through, you can absolutely halve the recipe, but you'll want to watch the cook time. It may be done far faster than the larger amount. Or you can just make the whole recipe and send half to us. We'll polish it off for you.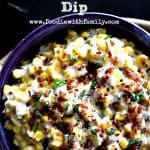 Slow-Cooker Spicy Bacon Corn Dip
Ingredients
2

bags frozen sweet corn

1 pound each

1

brick neufchatel cream cheese

8 ounces, labeled 1/3 less fat, cut into cubes

1

brick Monterey Jack cheese

8 ounces, grated

3/4

cup

sour cream

3

jalapeno peppers

stem and seeds removed, finely chopped

3

garlic cloves

peeled and minced or pressed through a garlic press

1

teaspoon

kosher salt

1/2

teaspoon

of freshly ground black pepper

1

pound

of bacon

cooked until crisp

6

green onions

green parts only, thinly sliced, then minced
Instructions
Lightly spritz the crock of a slow-cooker with non-stick cooking spray or lightly grease it with oil. Stir together the sweet corn, cream cheese, Monterey Jack cheese, sour cream, jalapenos, garlic, salt, and pepper. Put the lid on the slow-cooker and set the cooker to LOW. Cook for 2-3 hours, or until the contents are uniformly hot, the cheese is melted, and the corn and jalapeno are coated with a creamy sauce. While the mixture is cooking, finely chop the crispy bacon and reserve 1 tablespoon of the chopped bacon along with 2 teaspoons of the minced green onion. Stir the remaining bacon and green onion into the hot dip then scoop the dip into a serving dish. Sprinkle the reserved bacon and green onion over the top and serve with chips or as a side dish.

Leftovers can be stored, tightly wrapped, in the refrigerator for up to 5 days. Reheat covered but vented in a microwave on HIGH until hot all the way through.