I came down the hill with a piece of paper folded carefully in my pocket. As I walked in the door, I removed it, unfolded it and waved it like a victory flag in front of my husband's nose. "I got a new recipe from Anna! She calls them Selfish Bars!" My husband's eyes widened with an expression I couldn't nail down; was it fear or wonder or both? He said, "Oh my gosh. If Anna thinks it's decadent enough to be called Selfish Bars, I don't stand a chance. I'm going to weigh 5000 pounds!"
I understood his fear. Our dear Amish friends are not known for their diet-friendly dessert options, but for them to make a dessert so good that they didn't even want to share meant it was seriously indulgent. And so we looked at the ingredient list; a pound plus four tablespoons of butter, half a cup of white sugar, one cup of brown sugar, a can of sweetened condensed milk, and a few other odds and ends. We were BOTH in trouble. As I baked the sugar cookie bar base and the smell of warm butter and sugar filled the air, kids started filing through the kitchen wondering aloud what I was making. When I told them it was "something Anna calls Selfish Bars" they whooped, rubbed their hands gleefully, or breathed in sharply asking "when will it be done?" depending on the kid. People drifted in and out of the kitchen as the aroma of the bubbling caramel layer reached the far corners of the house. Everyone was banished while the chocolate layer melted and hovered during the seemingly interminable wait for the chocolate to firm back up to solid. Eventually, when they saw I wouldn't budge, they drifted back into the den to watch a movie.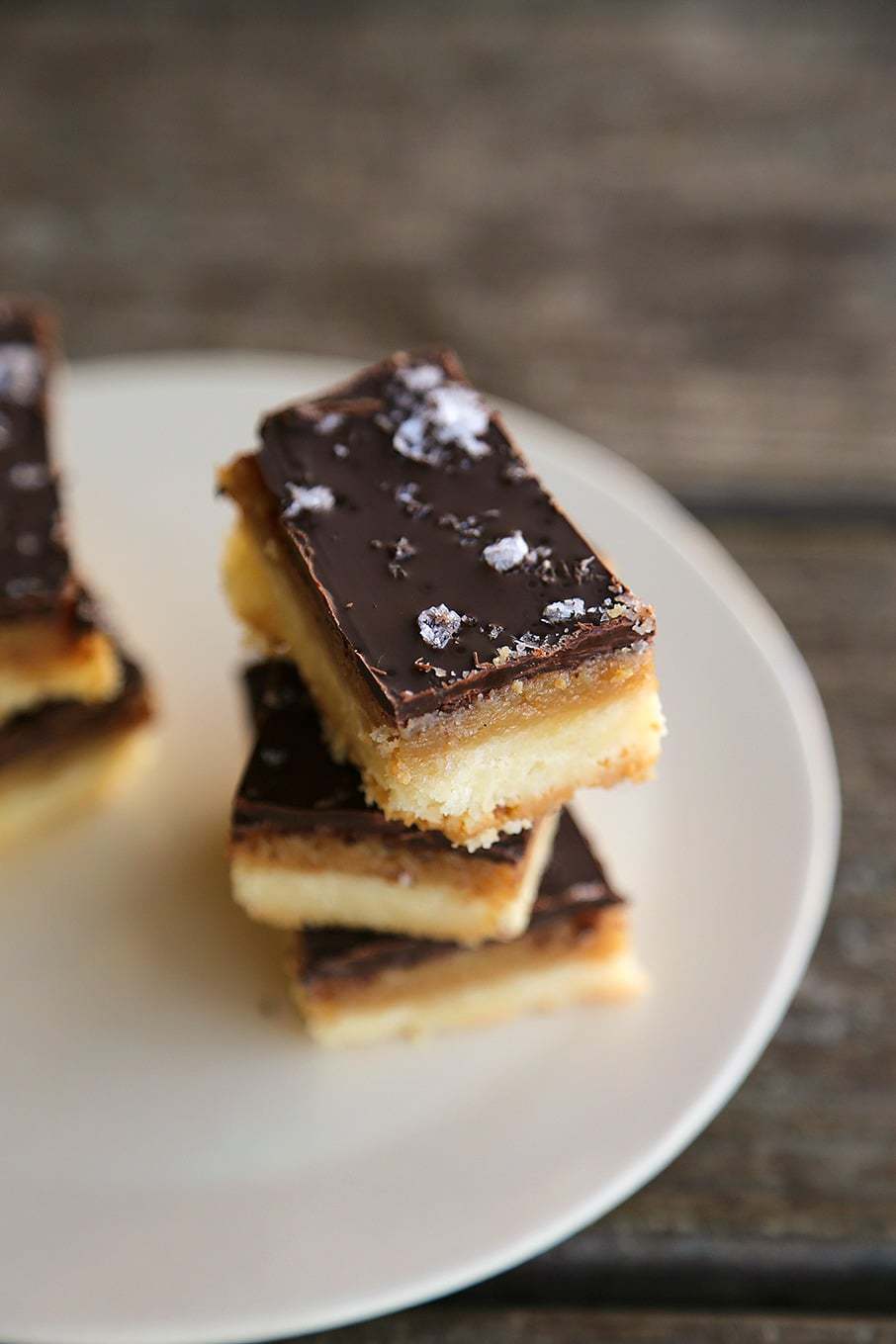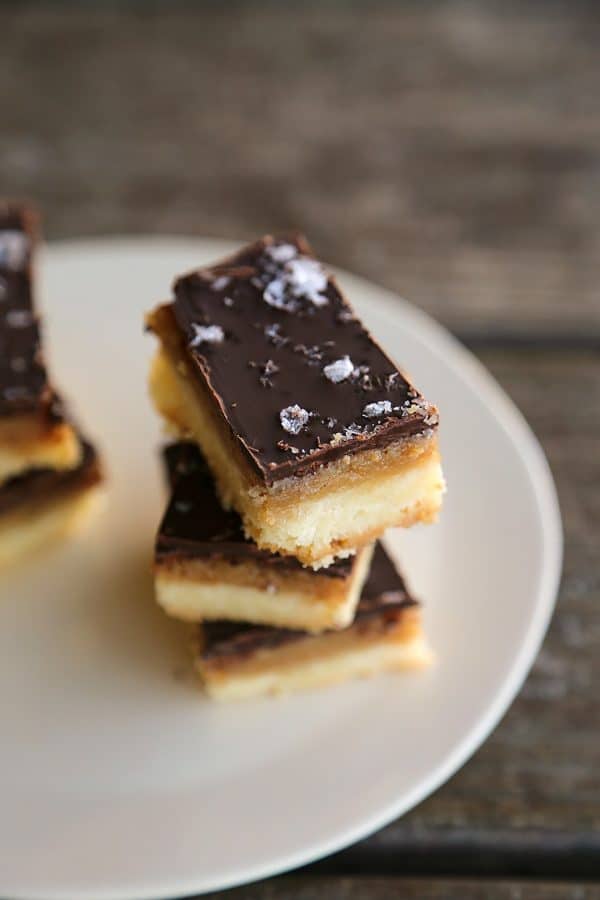 When I finally brought a plateful of them into the room and asked, "Anyone for a Selfish Bar?" there was a great WHOOSHing sound as all of them leapt from their seats and clamored for a Selfish Bar or two. Then a great silence descended on the room which was broken only when they finished their bars and broke into a chorus of "Can we have more please?". I gently pointed out that they probably shouldn't because the cookie bars were awfully rich. My 12 year old piped up with "But MOM! They're called SELFISH BARS."
I gave in.
Wouldn't you?
Cook's Notes
You need to press the crumbly dough firmly into the pan, but don't break your wrist to do it. As the butter and sugar melt in the hot oven, they'll hold the works together.
Do NOT walk away from the bubbling caramel. If you do, you are quite likely to find a scorched, smoking, sad old pan of burning caramel. It isn't a hard job, it just requires you to stand there and stir.
Don't drop the chocolate chips on the caramel as soon as you've poured it. You want to give the caramel an opportunity to firm up a smidgen on the surface before plunking the chocolate onto it.
Wait to attempt spreading the chocolate until it has all turned shiny all over. This means it has melted. I find an offset spatula is the best tool for evenly spreading the chocolate. If you don't have an offset spatula, you can use a flexible silicone spatula. In a pinch, you can use a butterknife for the job… Just please, don't use your tongue. WHAT? Am I the only one who thinks of those things?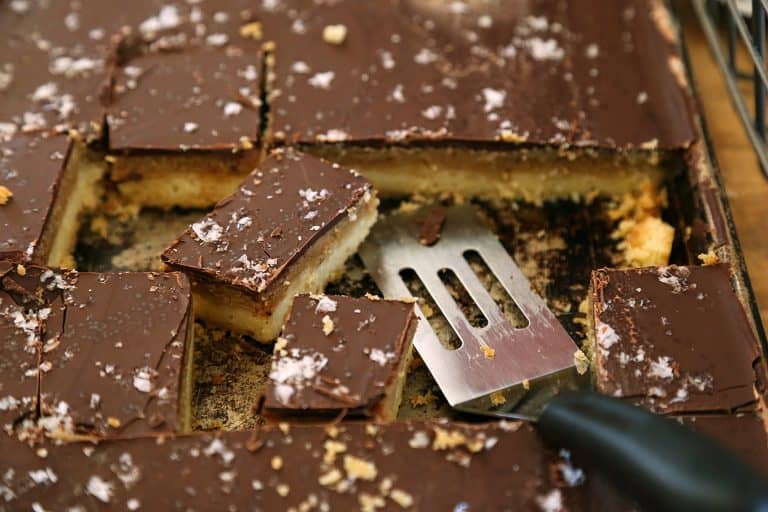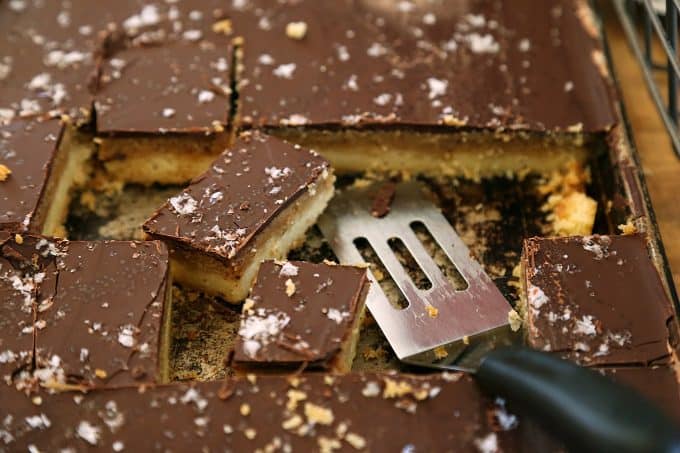 Use these to help make Selfish Bars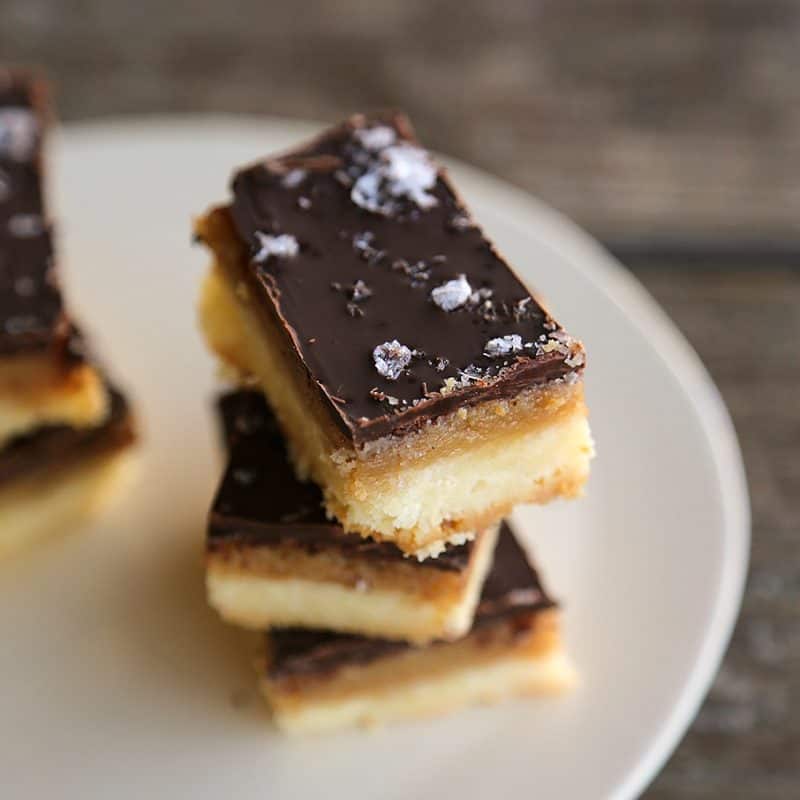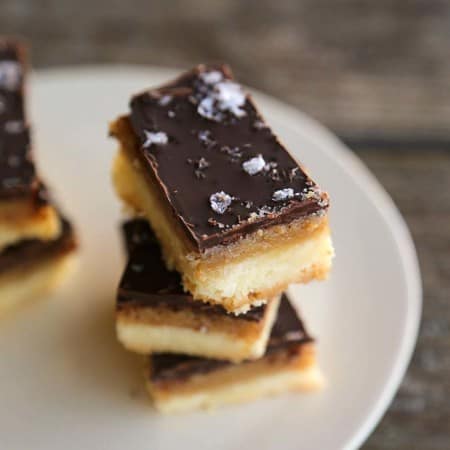 Selfish Bars - Chocolate Caramel Sugar Cookie Bars
Rate Recipe
Decadent is the word for these Selfish Bars -Chocolate Caramel Sugar Cookie Bars. Sugar cookie bars covered with creamy brown sugar caramel, dark chocolate and sea salt.
Ingredients
For the Sugar Cookie Bars:
2 1/2

cups

all-purpose flour

1/2

cup

granulated sugar

pinch of salt

1

cup

plus 4 tablespoons butter
For the Caramel Layer:
1

cup

butter

1

cup

light brown sugar

packed

4

tablespoons

light corn syrup
For the Chocolate Layer:
1

bag semi sweet or bittersweet chocolate chips

12 to 16 ounces

Maldon sea salt flakes
Instructions
Preheat oven to 350F.

Use a food processor fitted with a metal blade or a mixing bowl with two forks to whisk together the flour, sugar and salt then pulse or cut in the butter until it is crumbly. Press into a buttered 9 x 13-inch pan or a quarter sheet pan. Bake for 20 to 22 minutes or until the crust has set and is golden brown at the edges. Remove the pan from the oven and place on a heatproof surface.

In a medium saucepan over medium high heat, combine the ingredients for the sauce and bring to a boil, stirring frequently. As soon as it reaches a boil, set your timer for 5 minutes and stir constantly, scraping the bottom and sides of the pan to prevent scorching. Pour the hot caramel over the sugar cookie base and spread gently and evenly to the edges of the pan. Let stand for 10 minutes before sprinkling gently with the chocolate chips. Let the chocolate stand for 6 minutes, then use an offset spatula or silicone spatula to gently spread the chocolate into an even layer then sprinkle lightly with coarse sea salt. Let stand until firm, at least 2 hours or more, depending on room temperature. If you are impatient, you can refrigerate them to firm them up but this may cause the chocolate to have a dusty or chalky appearance. It will not make it taste bad, it just won't look as pretty.
Nutrition
Calories:
244
kcal
Carbohydrates:
25
g
Protein:
1
g
Fat:
15
g
Saturated Fat:
9
g
Cholesterol:
40
mg
Sodium:
140
mg
Potassium:
30
mg
Sugar:
15
g
Vitamin A:
475
IU
Calcium:
15
mg
Iron:
0.7
mg
Nutritional information is an estimate and provided to you as a courtesy. You should calculate the nutritional information with the actual ingredients used in your recipe using your preferred nutrition calculator.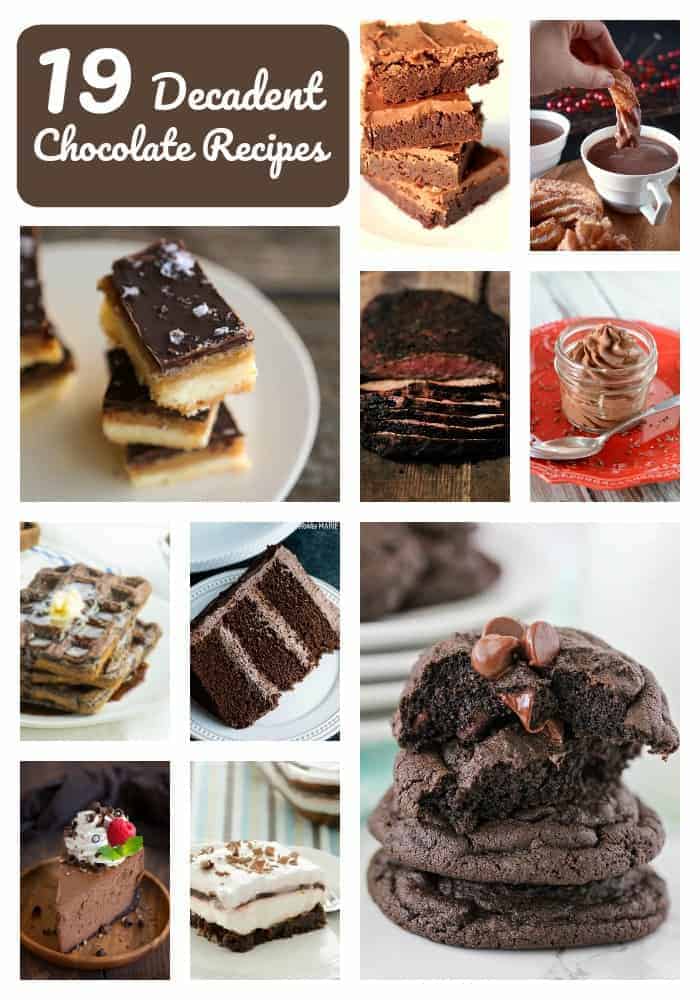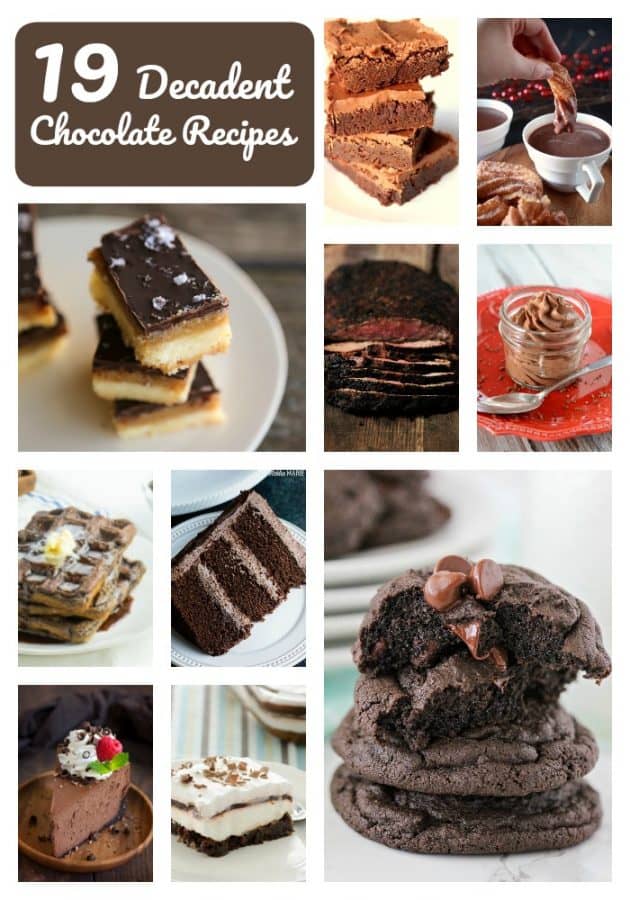 Want more decadent chocolate recipes like Selfish Bars?
Celebrate National Chocolate Day with us and try these great recipes!

Originally published October 26, 2015. Updated October 2017 with links and information.
Save
Save
Save
Save