Chocolate Cherry Doughnut Bread Pudding is arguably the best possible reason to deliberately overpurchase doughnuts and let them go stale. We all know bread pudding is comfort food, but when you add dark chocolate chunks, sweet black cherries, and glazed doughnuts into the mix? Mercy. We're talking about a comfort food so powerful it might need to be registered as a mood-enhancing drug.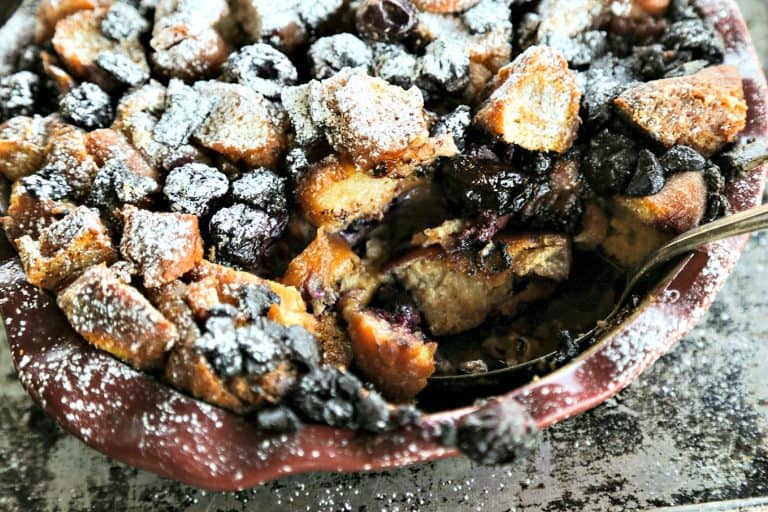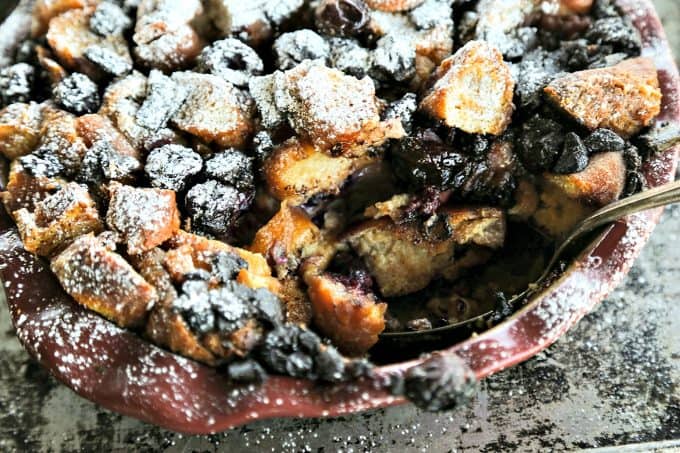 While I've insisted time and again that doughnuts do not usually ding my chimes, I may need to change my tune a bit. It turns out that while I could take or leave a doughnut in everyday life, doughnuts in bread pudding most certainly do not only ding my chimes; they also flick my Bic, make my skirt fly up, float my boat, and -in short- make me very happy indeed. A well made bread pudding is rich, creamy, and souffle-like. Chocolate Cherry Doughnut Bread Pudding is rich, creamy, and souffle-like, courtesy of that magical ability doughnuts have to render an utterly perfect bread pudding, but what makes it almost mystical in its comfort food abilities is the presence of juicy, sweet, black cherries and melted dark chocolate chunks. It is like the best of bread puddings, doughnuts, candy bars, and fruit all in one single dessert. One could argue -and I do- that bread pudding is also a completely legitimate choice for breakfast. The truth is that I don't feel you can go too far amiss by having Chocolate Cherry Doughnut Bread Pudding as an afternoon snack with a hot cup of tea or coffee, either. Obviously this isn't an every-day-of-the-week kind of treat, but everyone needs a little self-care sometimes!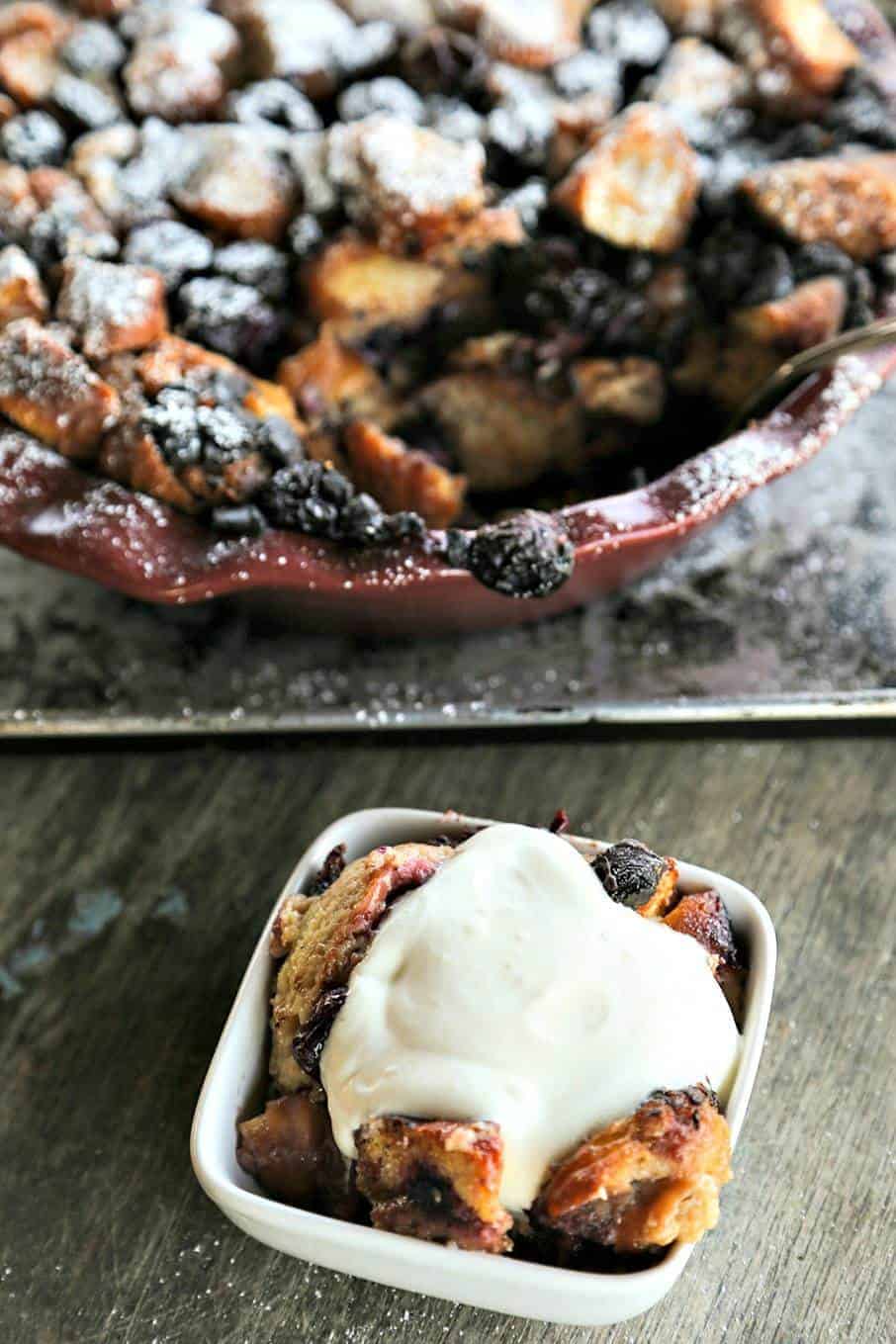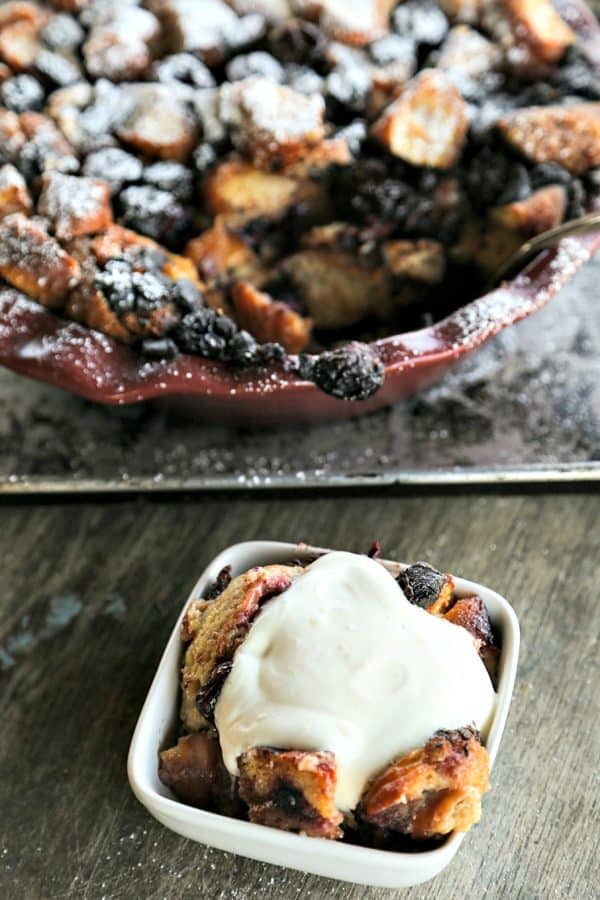 Cook's Notes
Yes, you need glazed, yeast doughnuts like Krispy Kremes or some such. This recipe is only tested using them. I have no idea how cake doughnuts would perform in the recipe.
I prefer for my doughnuts to be at least 3 days old before making bread pudding with them, but if you're in a hurry, you can chop your doughnuts up and let them be exposed to air overnight to help dry them out. If you're in an even bigger rush, you can do that and lightly toast them in a 250°F oven just until dry to the touch.
If you can stand the wait, you can mix the doughnuts up with the custard base overnight before baking. This allows the doughnuts to soak up the custard for a more even end product. If you can't wait, it's okay. It'll still be delicious, just not quite as perfectly perfect.
If you're opting against waiting for the overnight soak, you'll want to make sure your cherries are thawed before mixing them into the chopped doughnuts with the chocolate, otherwise your bread pudding may take an inordinately long time to bake through.
While I prefer bittersweet chocolate chunks because I love the irregular size of them and the pockets of melted chocolate they leave, you can certainly substitute in dark chocolate chunks or semi-sweet chocolate morsels. My guys are after me to try this with milk chocolate chips. Maybe some day I will, but I'm a dark chocolate gal. I'd love to know your results if you sub in milk chocolate chips.
Pssst. Yes, you can definitely double the recipe and bake it in a 9-inch x 13-inch baking dish. It will, of course, take longer to cook… It may take up to 110 minutes. Just keep an eye on it. It is done when it is uniformly puffy and set but still jiggles a little in the center. If you have an instant read thermometer, you can remove any guesswork; it is done when the center measures 165°F to 170°F.
For this bread pudding, I prefer to spoon or dispense cream that has just been whipped long enough to thicken it slightly. I don't want pillows of whipped cream perched on top, but I want thickened cream to coat it and run into the crevices left by the sweet cherries then mix with the pockets of melted dark chocolate.
Use this to make Chocolate Cherry Doughnut Bread Pudding!
Connect with Foodie with Family
facebook | pinterest | instagram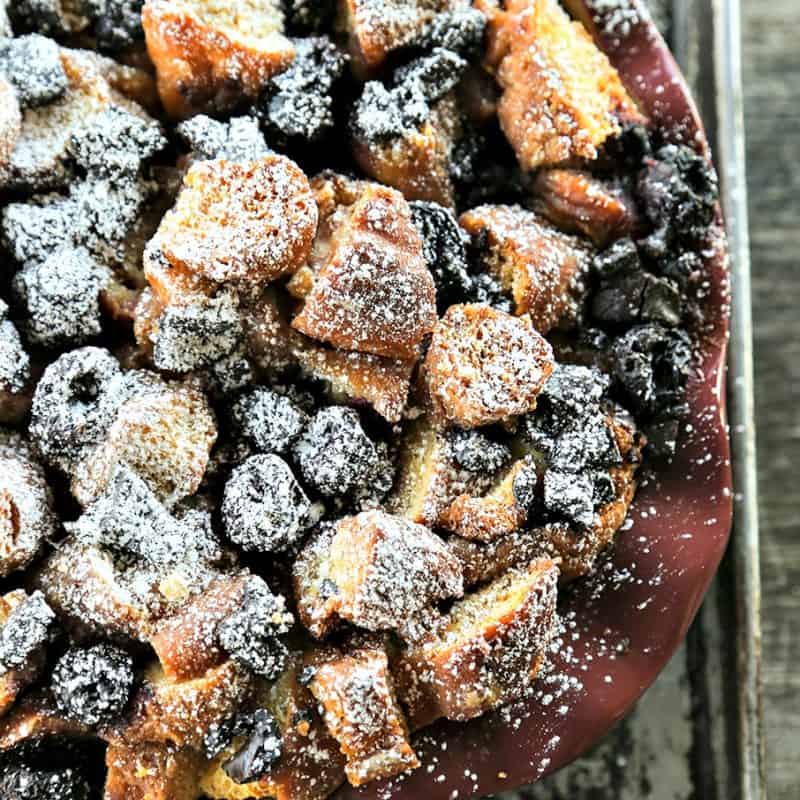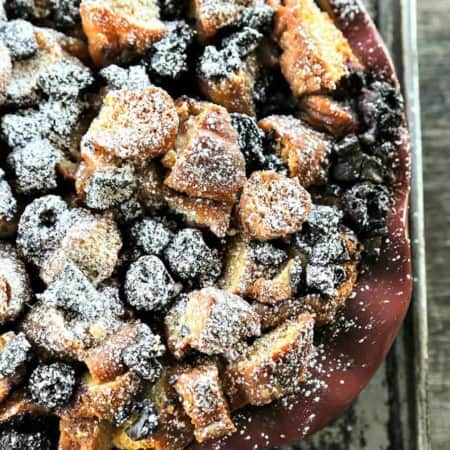 Chocolate Cherry Doughnut Bread Pudding is rich, creamy, and souffle-like, and studded with sweet, black cherries and pockets of melted dark chocolate.
Ingredients
4

eggs

2 1/2

cups

whole milk

2

tablespoons

melted butter

plus extra for the pan

1

tablespoon

Whiskey Vanilla Extract or Pure vanilla extract

1/8

teaspoon

freshly ground nutmeg

½

cup

sugar

5

cups

stale glazed yeast doughnuts

cut into 1-inch cubes

1 1/2

cups

frozen black cherries

3/4

cup

bittersweet or dark chocolate chunks

non-stick cooking spray
Optional for serving:
a dusting of powdered sugar

whipping cream whipped just long enough to slightly thicken it
Instructions
Beat the eggs, then add the milk, melted butter, vanilla, and nutmeg, whisking to combine evenly. Add sugar and whisk until sugar is dissolved. Toss together the bread doughnut cubes, cherries, and chocolate chunks. Generously butter a 9-inch baking dish. Arrange the doughnut bread cube mixture tightly in a nine-inch baking dish or deep dish pie pan. Pour liquid over the doughnuts. Press down lightly on the stale doughnuts to help them absorb the custard. Spray a piece of foil with cooking spray and place sprayed side down over the dish. Allow it to rest in the refrigerator for at least an hour or overnight so the doughnuts can soak up the custard.

After the mixture has soaked, let the pan rest on the counter top while you preheat the oven to 325°F. Place a bread or cake pan full of boiling water on the lower shelf. Bake the bread pudding on the upper shelf for 55 to 70 minutes, removing the foil after the first 40 minutes, or until the bread pudding is puffy and the crust is golden brown all over the top. Remove the Chocolate Cherry Doughnut Bread Pudding from the oven and allow it to cool and set up for 30 minutes before scooping and serving. If desired, dust with powdered sugar and spoon barely thickened cream over the bread pudding before serving.
Nutritional information is an estimate and provided to you as a courtesy. You should calculate the nutritional information with the actual ingredients used in your recipe using your preferred nutrition calculator.