Remember all the salad bar goodies mentioned in my last post? Well, I decided I really needed to use up a lot of those carrots, and being a lover of warm soup on cool days, I naturally went in that direction. The soup I ended up making is fairly simple and quite flexible, and is a good way of using up some of those leftover veggies. I also had a small amount of yogurt which always works well with creamy soups, as well as a couple lonely slices of bread, which would work well for croutons. The bread had sesame seeds, which made me think of toasting some sesame seeds to sprinkle on top of the soup, as well as adding a little sesame oil to the yogurt for flavor. As a lot of you are already most likely aware, one thing leads to another in the kitchen…and using up all these bits and pieces gave me sort of a warm, frugal feeling all over, if you know what I mean. Anyway, to the soup…
Carrot Cauliflower Soup with Sesame Yogurt Cream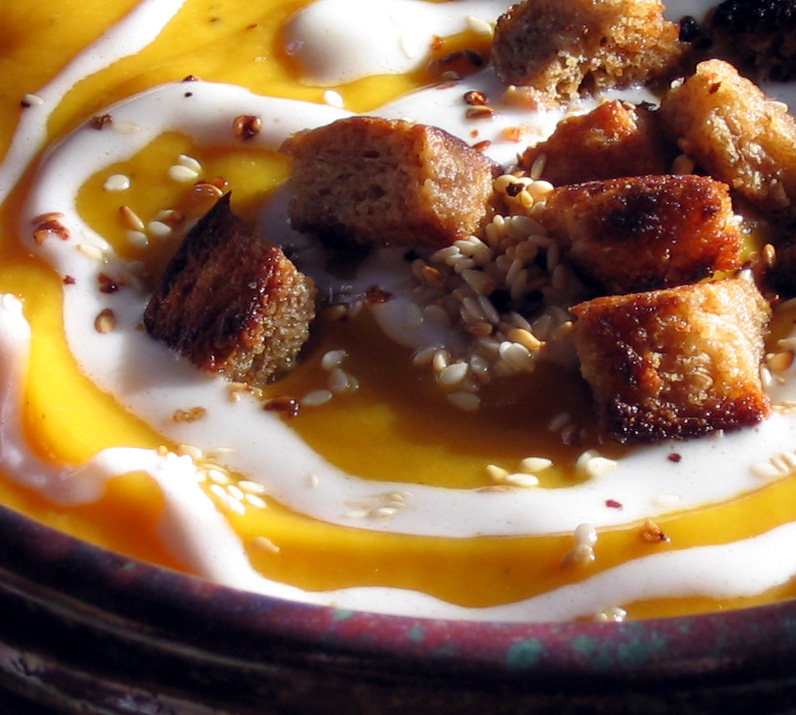 The instructions for all the condiments for this soup are at the bottom of this post, and they can easily be prepared while the soup is simmering away.
For the soup:
1 large onion, chopped
3 cloves garlic, chopped
2 tablespoons olive oil, or half oil and half butter
2 lbs. carrots, chopped, peeled or not, as you like
1 to 2 cups cauliflower florets
2 medium potatoes, cut in large chunks, peel left on
6 cups water, veggie broth or chicken broth
1 teaspoon dried thyme leaf (1 tablespoon if fresh)
Salt and pepper to taste
In a large pot, heat oil, then add onion and garlic, saute for 3 or four minutes. Add the remaining vegetables, water or stock and seasonings, bring to a boil, and simmer till the vegetables are soft, about 20 to 25 minutes. In batches, carefully puree soup in a blender or food processor: NOTE: IF YOU ARE USING A BLENDER, LEAVE THE LID PARTIALLY OPEN, AND HOLD LID WITH A DISHTOWEL–YOU NEED TO LEAVE SPACE FOR THE STEAM TO ESCAPE WHEN BLENDING. IF YOU PUT THE LID ON TIGHTLY, IT WILL EXPLODE OFF THE TOP AND WILL COVER YOU AND YOUR KITCHEN WITH VERY HOT SOUP.
Once the soup is pureed, correct for seasoning, and ladle into warm bowls. Drizzle with sesame yogurt cream, and sprinkle with croutons (recipes follow) and toasted sesames seeds. Sit in a comfortable chair, preferably by a warm fireplace or woodstove, and slowly savor the goodness.
For the cream:
1/2 c. yogurt
1 t. sesame oil
pinch of salt
Whisk together all ingredients, and put to one side.
For the croutons:
2 slices whole grain bread
2 T. olive oil, or half oil and half butter
Heat oil in a large skillet, large enough to hold the bread cubes in a single layer. While the oil heats, cut bread into 1/2 to 3/4 inch cubes. Toss in hot oil, and toast in the pan, tossing now and then, till the croutons are crunchy and a nice deep golden brown. Set aside.
Toasted Sesame Seeds:
For this recipe, I used 3 tablespoons of sesame seed. Whenever toasting seeds or nuts, be sure to have a small bowl or plate handy to put the seeds on as soon as they are toasted; this will allow the toasting to stop immediately, for if you keep the seeds in the pan even with the heat off, they will continue to toast.
Place the seeds in a skillet large enough to hold them in a single layer and begin heating over medium high heat, gently stirring now and then. It will take a while for them to brown but be patient–once they begin to brown, they finish very quickly. You will see the pan begin to show signs of an oil appearance as the seeds begin to release some of their oil. The browning should begin shortly thereafter. As soon as they have browned to your liking, pour them into a small bowl to cool, and set aside.