One of the things that can happen to me now and then when preparing food for groups is ending up with LOTS of veggies from the salad bar or veggie trays, and while we don't mind munching on carrot and celery sticks from time to time, as well as other fresh veggies, there are times when the amount left is rather daunting, at least it would be if we felt we HAD to eat these raw veggies before they begin to enter that tossable stage. Soups and sauces to the rescue!
We inherited a pile of leftover veggies and crudites from a recent event, and my stove has had a busy couple of days. The vegetables involved included piles of carrots, both baby and stick fashion, celery sticks, cherry tomatoes and ripe-on-the-vine tomatoes and a couple of sweet peppers. First I started with a pasta sauce that I like to make, and which turns out differently every time I make it. It ends up being a nicely chunky sauce, not too tomatoe-y, and it's quite versatile. The amounts vary depending on what is at hand, but the basic ingredients remain the same. You will need your food processor, which will do a lovely job of chopping everything into bits, and you can have this in your pot, simmering away for a couple of hours, in as little as 15 minutes.
Vegetable Pasta Sauce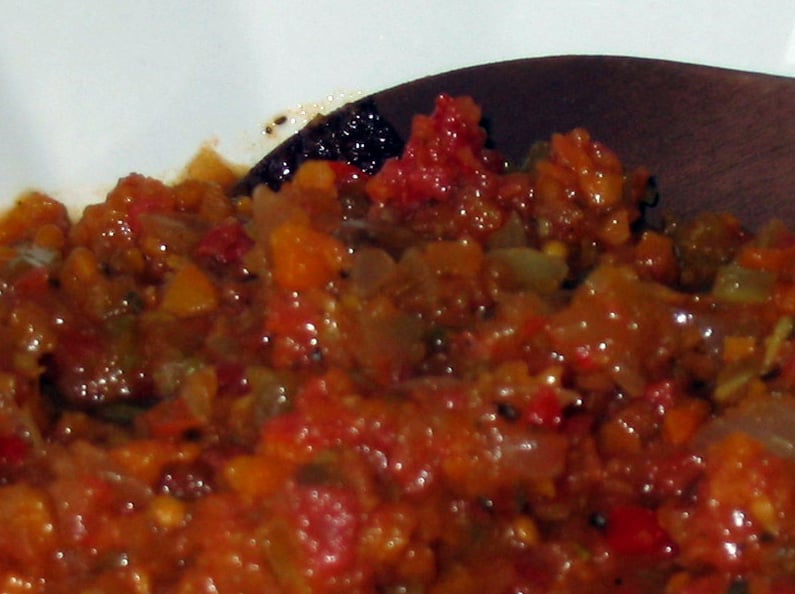 1/4 cup olive oil
1 lb. carrots, cut into chunks (or baby carrots or carrot sticks)
1/2 lb. celery sticks or chunks
2 medium onions (or 1 large)
6 cloves garlic
2 sweet peppers
4 to 5 pounds of tomatoes, any variety or mix of varieties
Pinch of sugar if tomatoes are too acidic
Salt, pepper to taste
Thyme, fennel, rosemary, oregano (I use about 1 t. each if dry, larger amounts if herbs are fresh)
Begin to heat oil over medium heat in a 3 quart or larger heavy bottomed pan. In batches, beginning with onions and garlic together, place vegetables in food processor with the chopping blade and chop until small pieces are formed, about the size of corn kernels. Don't overprocess, or the sauce will resemble a mush. As soon as the onions are chopped, place them in the hot oil, and adjust heat so that onions will begin to saute gently without burning. Chop the carrots, celery and peppers, adding them to the onions and garlic and letting that cook together while you prepare the tomatoes.
The tomatoes are the one exception to the processing rule–blend away until they are completely pureed. They will be very watery, but a good amount of that liquid will evaporate as the sauce simmers together. Pour over the vegetables in the pan, stir to combine, bring to a boil, and then lower to a simmer; do not cover the pan. Allow the sauce to simmer for a couple of hours. If it is thick enough for you at that time, add the seasonings and let simmer slowly for another half hour; if not thick enough, let it continue simmering until it is close to your desired thickness.
This can be serve as is over cooked pasta, baked potatoes, rice, polenta, whatever strikes your fancy.