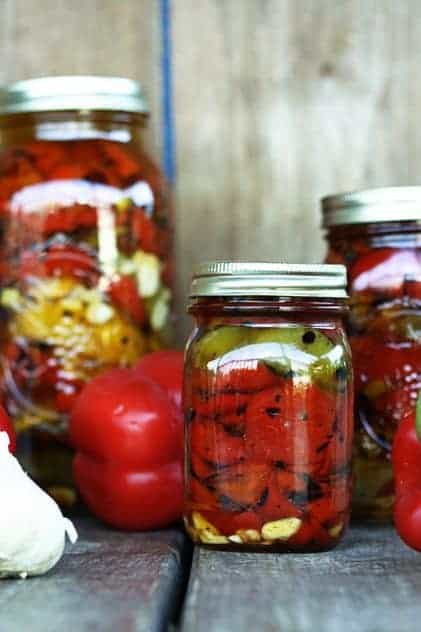 I hope you're having a relaxed and happy Labor Day. I'm almost giddy with excitement. I took…
Wait for it…
I took a nap.
I'm serious.
Maybe that doesn't sound like a big deal to you, but I have to tell you that between one thing and another, I didn't nap (excluding illnesses) for almost fourteen years. If you've been around here for a while, and you're the astute type, you may have noticed that is quite nearly the age of my eldest son. This is not a coincidence.
I was a napper before children, and my specialty was the power nap. Fifteen or twenty minutes on a couch with a comfortable blanket was all it took to pick me up when I started wilting.
When my eldest was almost a year old, we became pregnant for our second son. That little pink line on the pregnancy test spelled cuddles but also doom for my naps for many years.
One kid you can make to take a nap. Two kids?
Well, all I can say is good luck if you're bent on getting your little ones to nap without medication. And I was.
The point is this… My baby is now six years old and will be turning seven this fall.
I'm bringing back the power nap. The now twenty to thirty minute power nap (I'm older and tired-er with five kids) is what's getting me through canning season and the buckets and bushels and boxes of produce I'm putting up like a little old ant for the winter while my grasshopper kids get in their last day of summer vacation.
The nap gets a little assist from recipes like the one I'm sharing today that require almost no special equipment, no canning whatsoever, and so little effort that it almost makes itself. My farmers' market compatriot and friend, Halle Reed, of Vandermark Farms in Scio, New York provided me with almost a bushel of various bell peppers that couldn't make it to another market.
Almost as valuably, she also told me how she preserved the peppers (and that she already had more than plenty up for the winter.) She said to cut the good pieces away from the core and toss 'em on the grill. She went on to instruct me to stuff them into canning jars, heat olive oil and pour the olive oil over the peppers, then lid and refrigerate them.
Wow.
And to think all this time all I did was sautee and freeze them. Thank you, Halle!
The beauty of this recipe is multi-faceted:
It takes very little hands on time to prepare this recipe and you don' t need a canner to do it. (Yes, I have a canner, but it's nice to let the thing rest for a few hours this time of year.)
You have roasted peppers in the refrigerator to use on a whim. Say hello to roasted red pepper, smoked bleu cheese and garlic stuffed kalamata pizzas, or roasted red pepper pasta, or grilled chicken and roasted bell pepper sandwiches. Hubba hubba.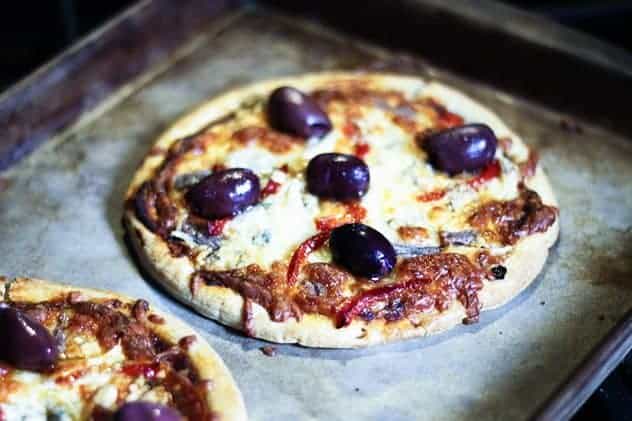 Yes you have peppers, but look at the medium in which those peppers are swimming. See all that beautiful olive oil? That is a pantry staple in itself.
Brush the flavoured oil on pizza crusts, on bread for some pretty spectacular garlic bread, use it to sautee vegetables or drizzle a little over a salad. The possibilities are almost limitless.
I'm not going to give you exact quantities of peppers and olive oil, because honestly? It all depends.
I started with almost a bushel of multi-colour peppers. Some of them had parts that needed to be trimmed away, and my final yield was exactly one half-gallon jar, one quart jar, and one pint jar. It took about four cups of olive oil to submerge the roasted peppers. This will vary, though, so be prepared to have more or less.
There are loads of peppers still out there at markets, folks. Go on! Lay your hands on a big old box of them and get a jar of this in your refrigerator. You'll be so glad you did!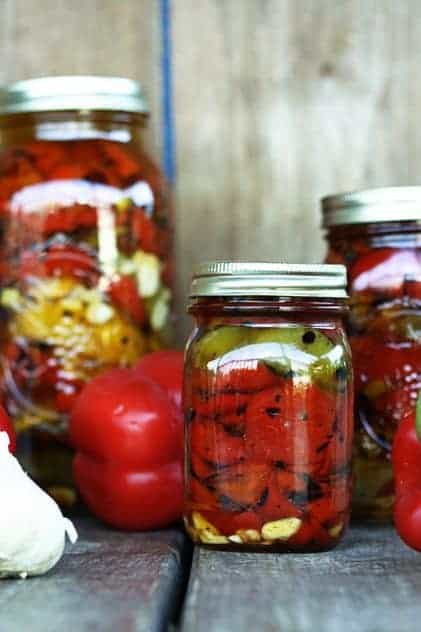 Fire Roasted Red Peppers Preserved in Olive Oil
Rate Recipe
Use the bounty of bell peppers available at local farmers' markets -or from your own garden- to prepare a jar or two of delectable fire roasted peppers to add to everything from pizza to pasta to salad to pimiento cheese to sandwiches through the cold months. It's like a jar full of summer. Store in the refrigerator for up to three months or in the freezer for up to a year.
Ingredients
Red or multi-colour bell peppers

1-2

cloves

of garlic

peeled and thinly sliced

pure olive oil

not extra virgin
Instructions
Preheat your grill to medium high.

Stand a bell pepper on its bottom on your cutting board. Use a sharp knife to cut slabs of pepper away from the seedy stem and core. Discard the cores and set the pepper pieces in a bowl. Repeat until you've prepared all of your peppers this way.

Lay the pepper pieces, skin side down, on the heated grill. Grill until the skin is blistered and black, flip the pieces and cook for just 1 minute. Transfer the cooked pieces to a 9-inch x 13-inch rimmed baking dish. Cover gently with plastic wrap or foil and let them cool until they are easy to handle, about 20 minutes.

Put a wide-mouthed canning funnel into a large jar, drop the slices of garlic into the jar and set it near your work station on the counter. Slough the blistered, blackened skin off of each pepper slice, then slide the slice into the jar via the funnel. Repeat until you've done all of the pepper slices. Don't cram the peppers in, they will compact themselves sufficiently and you want to leave room for the oil to circulate.

Heat some olive oil in a heavy-bottomed saucepan over medium heat until it registers 200°F on an instant read thermometer. Ladle the olive oil into the canning funnel until the peppers are completely submerged. Use a long chopstick or skewer to slide down the sides of the jar to release air bubbles. Add more oil to keep the peppers covered if necessary. Add a new two-piece lid to the jar and let cool for about an hour before sticking into the refrigerator.

These peppers will keep for 3 months as long as they are properly refrigerated. For longer storage, transfer the peppers and their oil to a zipper top bag and freeze for up to a year.
Notes
Note: Close to a bushel of red peppers yielded about 3 quarts of fire roasted peppers.
Nutritional information is an estimate and provided to you as a courtesy. You should calculate the nutritional information with the actual ingredients used in your recipe using your preferred nutrition calculator.