I'm sharing Roasted Garlic Cauliflower Puree with you today. I could call it skinny mashed potatoes, cauliflower 'mashed potatoes', healthy mashed 'potatoes' or any other combination of buzzwords and quotation marks. But you know what the problem is with labeling something as 'low-carb' or 'healthy' or 'skinny'? It makes me want to run in the other direction with my hands over my ears while I scream, "NONONONONONO!" Okay, it's true. I have a little oppositional thing when it comes to people telling me what to eat. I think I've been fed entirely too many dishes described that way that had nutritional value that was nearly off the charts but came in somewhere between dirt and curdled milk on the flavour spectrum.
Sigh. I have an authority problem, I guess. I'm sorry. Unless you tell me to be sorry in which case I'm VEHEMENTLY unrepentant.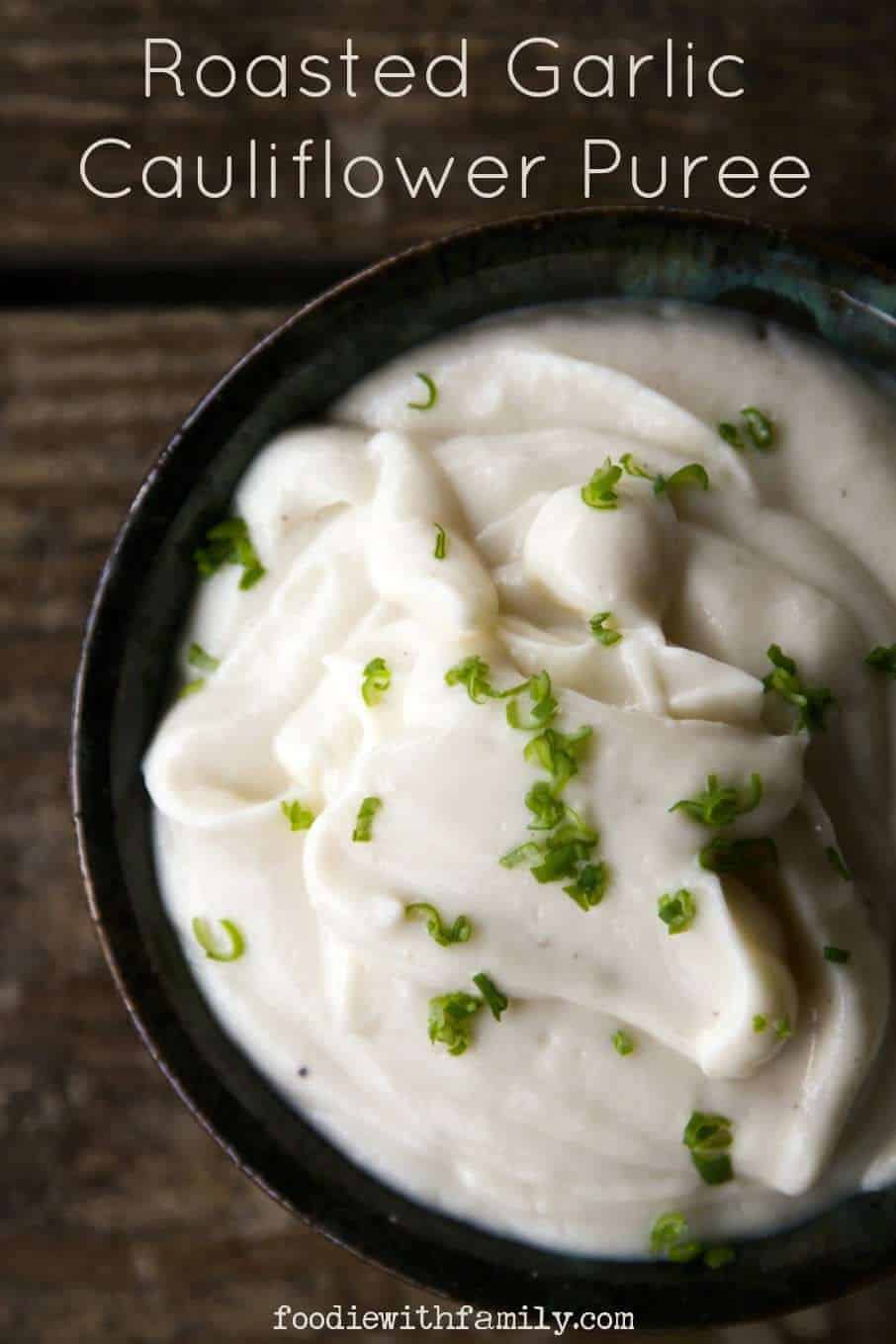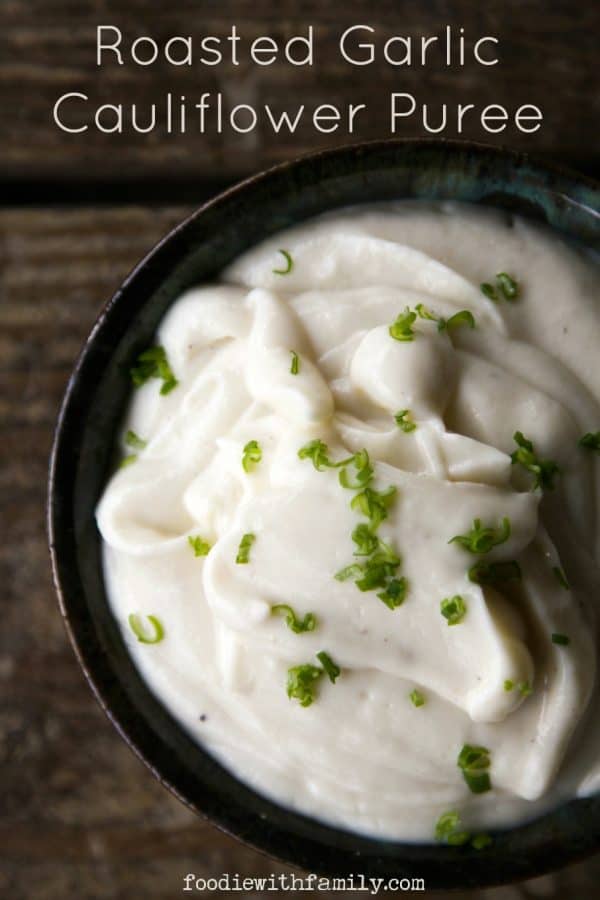 So goes my attitude toward most cauliflower purees/rices/etc… Any time you attempt to replace a potato (Food of God) with a "tastes just like it!" cauliflower version, I'mma gonna squawk. The problem with this is that my objection is based entirely on false expectations. I know it's not going to taste EXACTLY like a potato. You know it's not going to taste exactly like a potato. So why do we keep doing this little dance? If you want to serve me pureed cauliflower, please just tell me it's cauliflower puree and it's good. Because today? I have a Roasted Garlic Cauliflower Puree and it is magnificent. What it ISN'T is skinny mashed potatoes, cauliflower mashed potatoes, or some other such nonsense. Roasted Garlic Cauliflower doesn't need any selling point other than the fact that it is absolutely divine.
What makes it so good? Every single thing about it makes it killer from its super silkiness to its subtle roasted garlic punch to its light texture to its versatility as a side dish. We ate this with meatloaf last week and enjoyed it like MAD. It would be a wonderful addition to any Thanksgiving meal. If you think I'm going to tell you to replace your mashed potatoes with this, though, you're wrongity wrong wrong. There's always enough room for two white mashed thingies at a Thanksgiving feast in my world! Besides that, the Roasted Garlic Cauliflower Puree also has doubled as a 'cheese sauce' over broccoli for us before, so I imagine it would be loverly on TOP of mashed potatoes. Go big, I say!
P.S. Dangit. This IS healthy. It's made with cauliflower, roasted garlic, and Greek yogurt, after all. But that's the last time I'll say anything about it!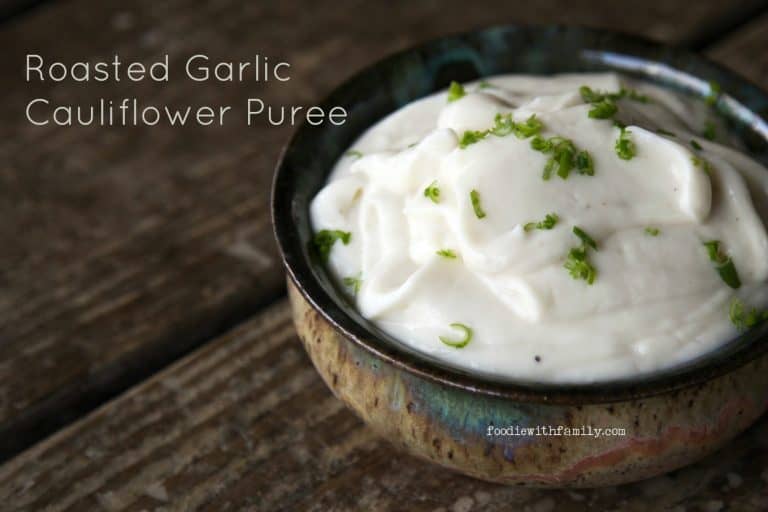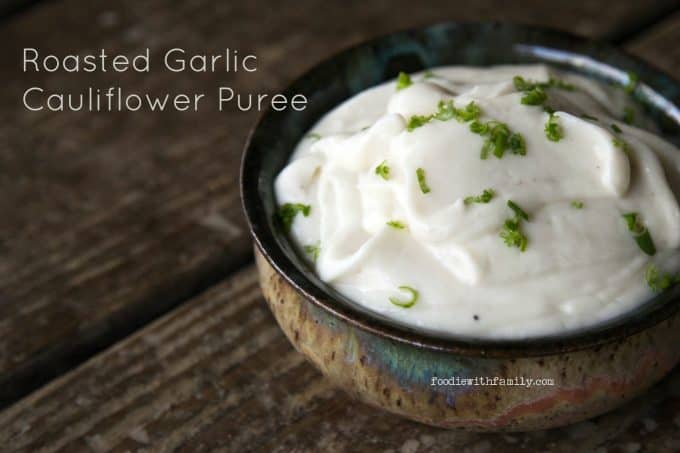 Cook's Notes
You don't have to fuss too much in terms of breaking down the cauliflower for this. The key is to remove the core and the leaves. Everything else can be used for the puree. Just try to keep the pieces roughly the same size so they cook at the same rate.
Don't skip the draining process or shorten it or you will end up with super liquidy puree. That might be nice if you're going strictly for sauce, but if you want something creamy that can stand in a mound on your plate and be eaten with a spoon, you have to drain it!
As for the roasted garlic portion of the programme, I like it STRONG, and so I go with 8 cloves of roasted bliss garlic. If you like it a little more subtle or mild, drop it down to as few as 2 cloves of roasted garlic. Any way you do it, it'll be delicious.
I have a Blendtec blender that comfortably fits the whole batch in it in one shot. If you have a smaller blender or a smaller food processor, you may need to puree your stuff in two batches.
This is wonderful as a stand alone side dish, but doubles beautifully as a creamy sauce over other vegetables.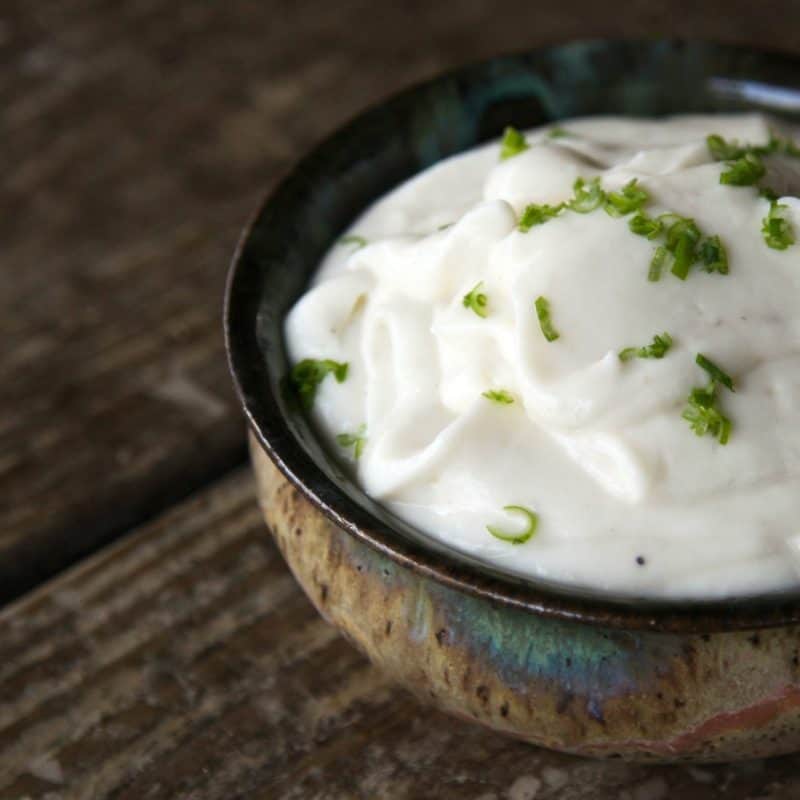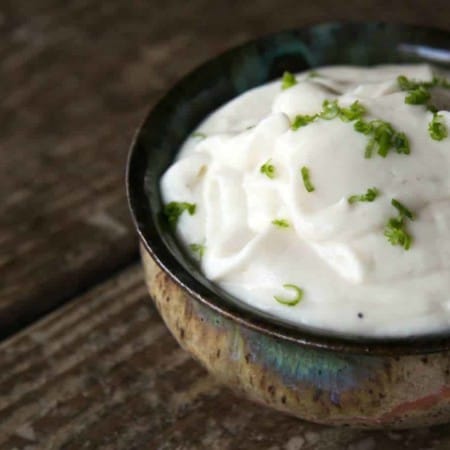 Ingredients
1

head cauliflower

leaves and core removed, cut up into evenly sized florets

2

cups

milk

8

cups

water

1 1/2

teaspoons

kosher salt

2

to 8 cloves roasted garlic

2/3

cup

plain Greek yogurt

1/2

teaspoon

freshly ground black or white pepper

1/8

teaspoon

freshly grated or ground nutmeg
Optional:
minced green onions for garnish
Instructions
Add the cut up cauliflower, milk, and water to a stock pot or deep saucepan. Bring to a boil, lower the heat, and simmer, uncovered, for 10 to 15 minutes, or until the cauliflower is easily pierced with a fork or sharp knife. Pour into a colander and let it drain for a full 10 minutes. When the 10 minutes are up, puree the cauliflower, roasted garlic, Greek yogurt, black pepper, and nutmeg in a blender or food processor fitted with a metal blade until silky smooth. Taste and adjust with salt if needed.

If desired, serve with minced green onions on top.
Nutritional information is an estimate and provided to you as a courtesy. You should calculate the nutritional information with the actual ingredients used in your recipe using your preferred nutrition calculator.
This is my twenty fifth post in my commitment to post every. single. day in November for NaBloPoMo (National Blog Posting Month), or NaBlahBlahBlah as I prefer to call it. Follow the craziness all month as I share recipes, family anecdotes, and throw a couple of giveaways in for good measure!