I don't know about the rest of you, but I have every intention of overeating on Thursday. I plan on eating so much that my stomach will need a little comforting after the fact. Is it wrong? Perhaps. Will that stop me? Not for love nor money. I have a little trick up my sleeve, though, that I'd like to share with you today: Ginger Stomach Soother.
This strong ginger syrup is made ahead of time and can be mixed with fizzy, plain soda water (seltzer) or with still, tap water (if you prefer) and does a yeoman's work of soothing my poor overwrought tummy. It's not strictly a Thanksgiving saver, though… I serve this up any time our household's stomachs are objecting in ways large or small.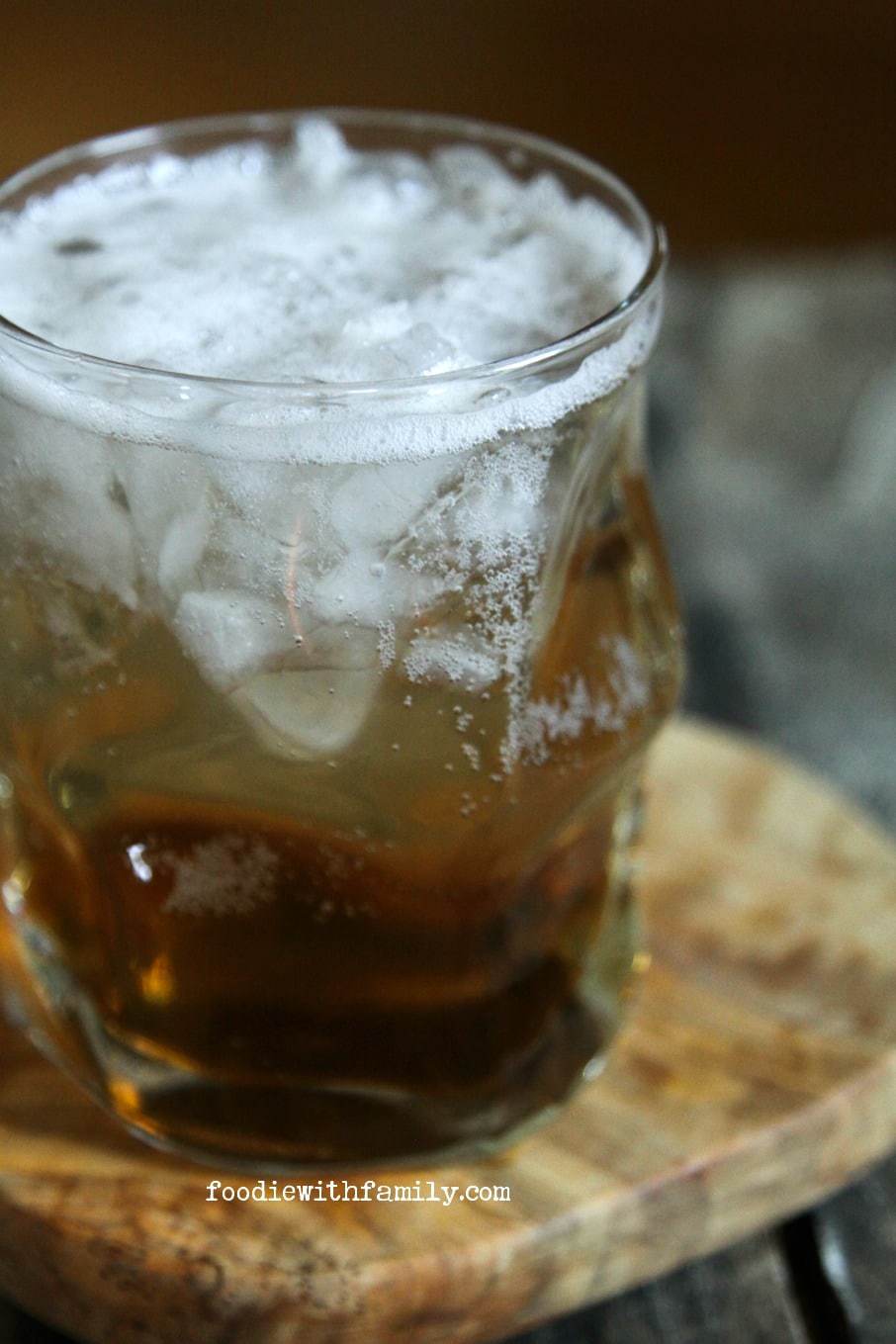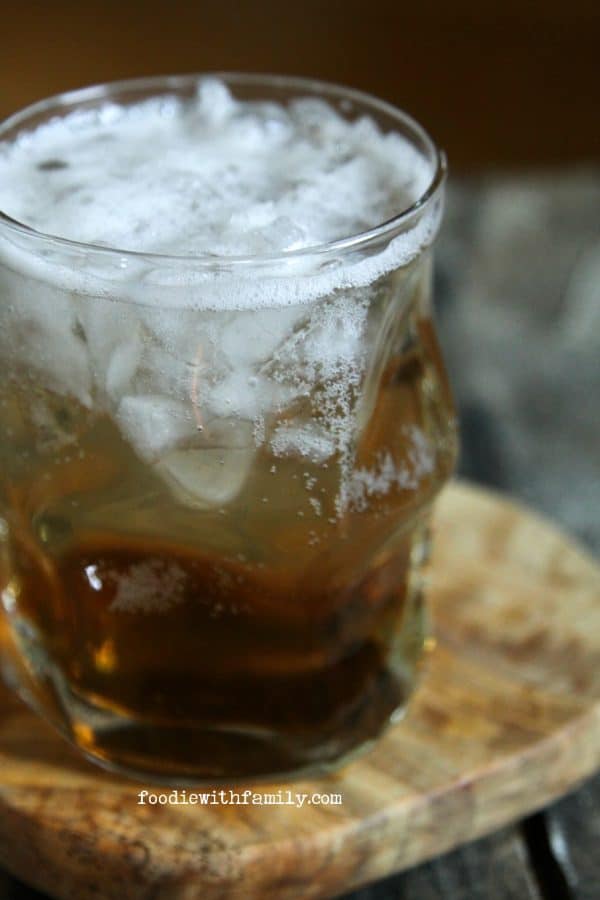 Ginger is known to help alleviate nausea and indigestion, whatever their causes. Mixing it with fizzy water gives you something of a ginger ale effect but it's different in three important aspects.
The strength of the syrup allows you to create a fizzy ginger beverage FAR stronger in ginger than anything but the most robust ginger beer on the market. The bigger the ginger presence, the more effective it is at calming the stomach.
There's no junk in this Ginger Stomach Soother: no preservatives, no food dyes. It's just things you recognize and stuff you can pronounce.
Because this Ginger Stomach Soother is originally made as a syrup, you can decide just how strong you want it and how fizzy (if at all) you'd like it to be. When my kids are feeling particularly green around the gills, they've been known to swallow a straight up spoonful of the Ginger Stomach Soother Syrup.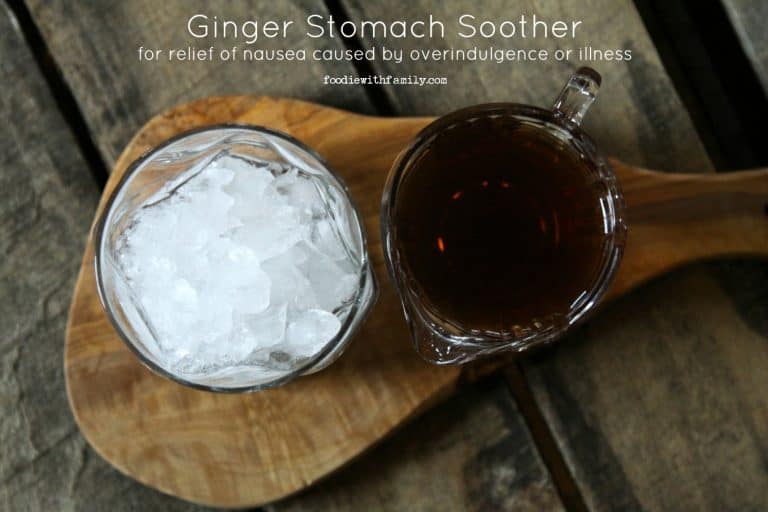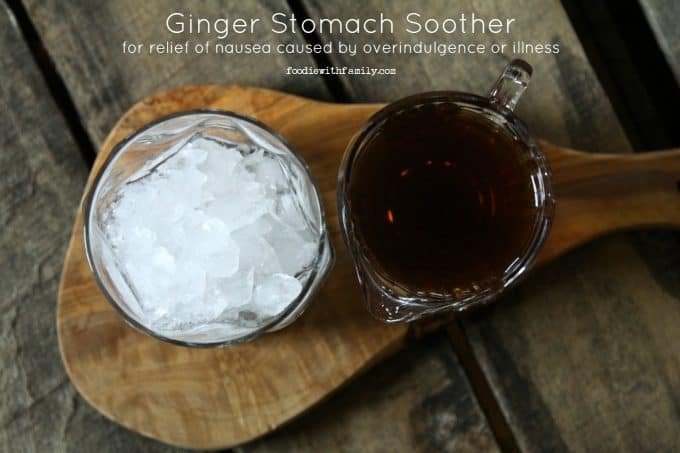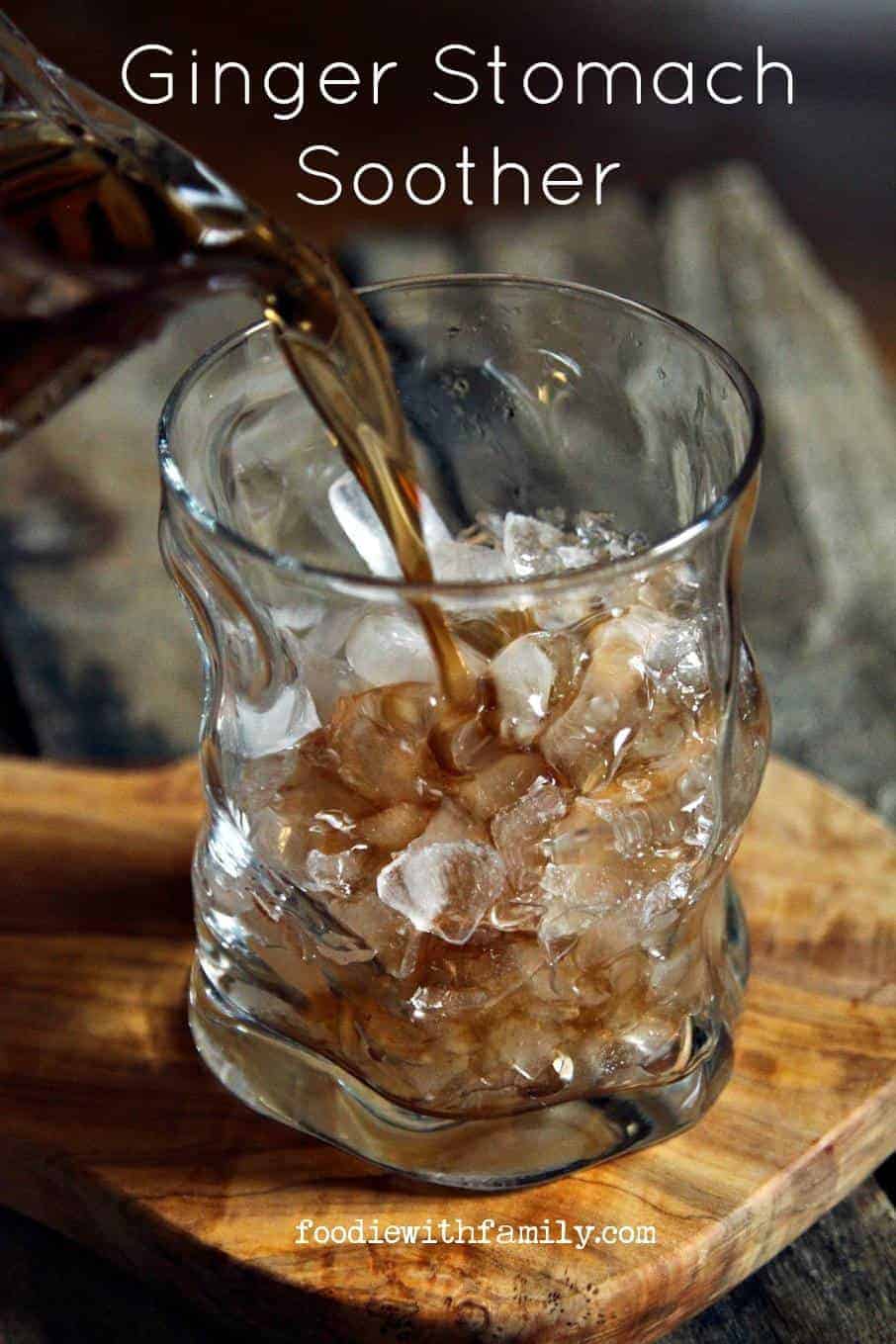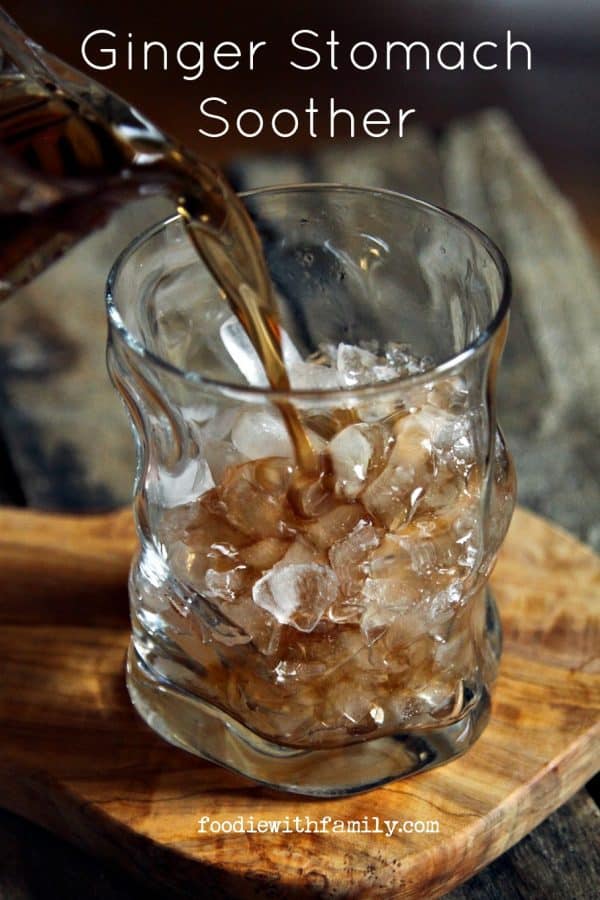 I prefer it mixed with fizzy water, but then I'm a bubble lover. And once your stomach is back to rights, you can use this same fizzy water Ginger Stomach Soother combo to mix up one mean Moscow Mule.
Cook's Notes
The easiest way to peel fresh ginger root is to use the side of a regular old teaspoon. Just hold it in your hands and use the 'bowl' of the spoon to scrape the skin away. For this recipe, you don't need to scrape it perfectly clean, just mostly clean.
I prefer this made with raw sugar, but you could substitute white granulated sugar if you'd like. If you're looking for a 'cleaner' version of the recipe, use maple syrup, but the maple may compete a little with the ginger for flavour dominance.
The reason you add the ginger in two 'installments' is because you want to infuse the syrup with a couple of levels of ginger oomph. The one that simmers longer will give a deeper background ginger flavour while the one added after boiling will give it some fresh bite.
If kept in a tightly lidded jar, the Ginger Stomach Soother Syrup should last up to two weeks.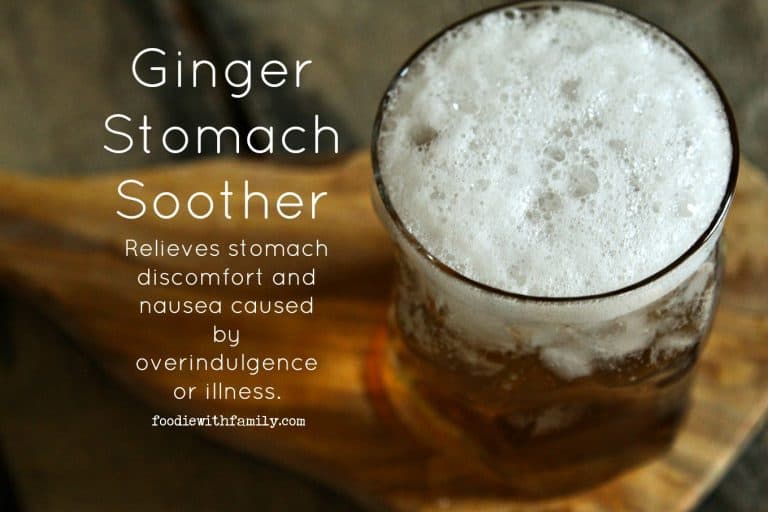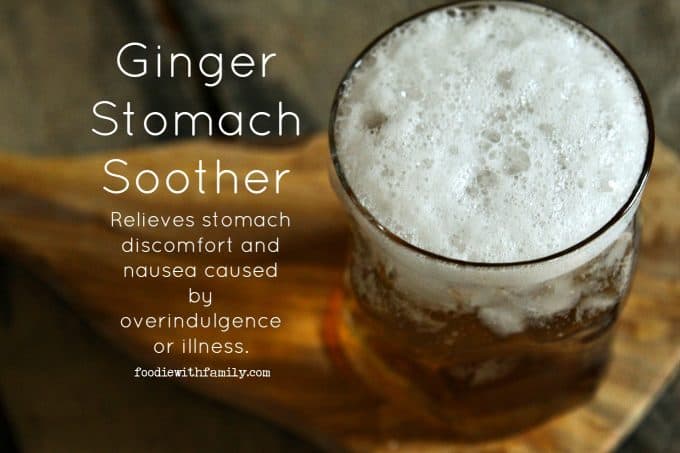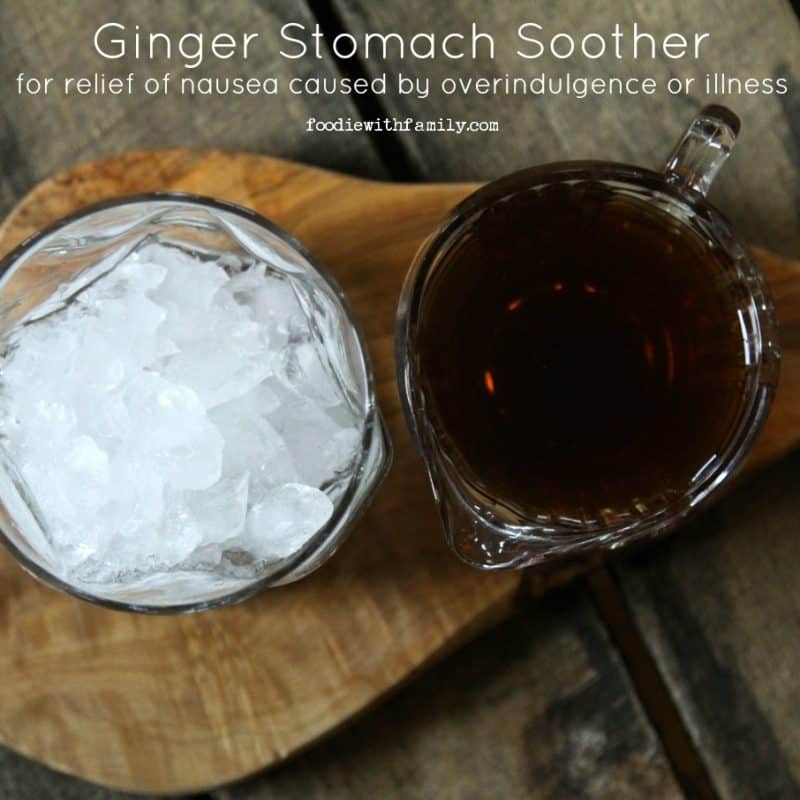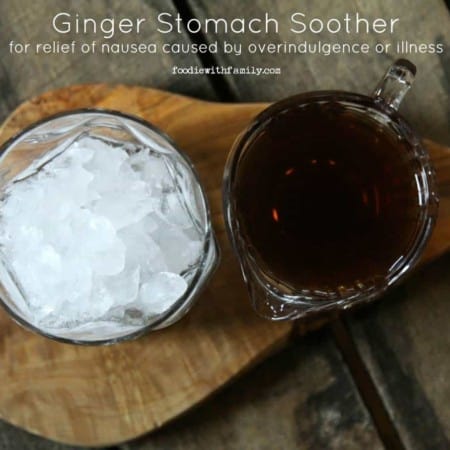 Ingredients
1

cup

raw sugar

1

cup

water

1

pound

fresh ginger root

scraped mostly clean of its skin and roughly chopped then smacked with the side of a knife or meat tenderizer, divided
Instructions
To Make the Ginger Stomach Soother Syrup:
Stir the raw sugar and water together in a saucepan over medium high heat until the sugar is dissolved. Add about 2/3 of the ginger root and bring the mixture to a boil. Simmer for 5 minutes, then carefully add the remaining ginger root, remove the pan from the heat, cover and let stand for 30 minutes. Strain the syrup into a jar. Fix a tight fitting lid on the jar and store in the refrigerator.
To Make a Ginger Stomach Soother Drink:
Pour about 1/4 cup of the Ginger Stomach Soother over ice. Top off with fizzy or still water, as desired. Stir gently and sip to relieve an overindulged or sick stomach.
Nutritional information is an estimate and provided to you as a courtesy. You should calculate the nutritional information with the actual ingredients used in your recipe using your preferred nutrition calculator.
his is my twenty sixth post in my commitment to post every. single. day in November for NaBloPoMo (National Blog Posting Month), or NaBlahBlahBlah as I prefer to call it. Follow the craziness all month as I share recipes, family anecdotes, and throw a couple of giveaways in for good measure!