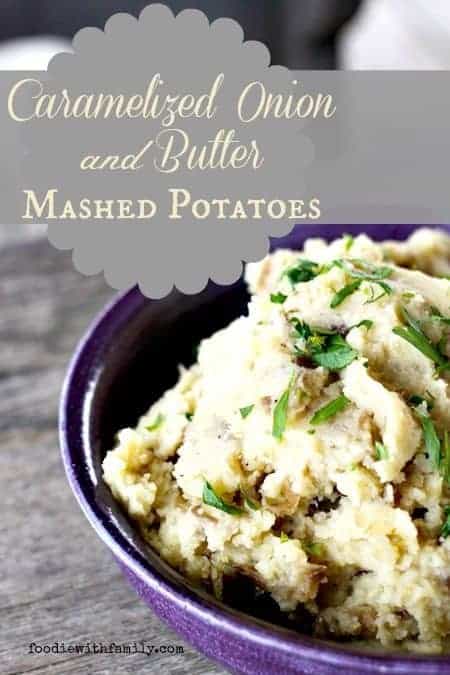 I remember hearing once that the über-chef Joël Robuchon believed the ideal ratio of potatoes to fat in mashed potatoes was 2-to-1 by weight. I also remember thinking it was nutty. Two pounds potatoes to one POUND of butter? Sure, Joël. Sure.
…Then one day I was making mashed potatoes -as in, I had already peeled and boiled five pounds of potatoes- and realized that I was out of cream, milk, and half and half. A halo clad little Chef Robuchon flitted angelically around my head and settled on my right shoulder. "Use zee buttayhr," he stated confidently. I started peeling away the wrappers from ten (HOLY COW, TEN STICKS OF BUTTER) while shaking my head and praying my husband didn't come into the kitchen to witness my capers since I wasn't at all as confident as the Robuchon-on-my-shoulder.
He did.
My husband -who is most decidedly not a gasper- gasped audibly, "WHAT are you DOING? Ten sticks of butter? Are you cooking twenty pounds of potatoes?" I kept unwrapping butter and turned to him and said in the best self-assured voice I could muster, "Robuchon says the ideal mashed potato ratio is equal parts by weight of potato and butter. " He said, "Does Robuchon own controlling stock in Land O'Lakes?" and wandered out of the kitchen absolutely convinced I had lost my schmidt.
I did it, though, and mashed the ten sticks of butter into the potatoes, using only my hand masher instead of passing it through a sieve four or five times as Robuchon specified. The finished mashed potatoes were the obvious things, rich and buttery, but they were also magical. They were smooth, creamy, and somehow more potato-y than any other mashed potatoes I'd ever made before. It's hard to explain just how perfect these potatoes were. Those potatoes were the best thing I had ever eaten. My husband willingly admitted that the were the best mashed potatoes HE had ever eaten. I high-fived my Robuchon-potato-conscience and haven't looked back since.
Mashed potatoes are always a blank canvas, though. Much as I love plain old mashed potatoes -if you can even CALL Robuchon's potatoes plain or old- I do love a good stir-in and at the top of the mashed potato mountain sits caramelized onions. They add that sweet nuttiness that only caramelized onions can deliver but they serve a second purpose. I use thawed, previously frozen caramelized onions that I make in bulk. While Robuchon's original recipe specifies that you can add up to a cup of milk to help smooth out the potatoes, I find the liquid that accompanies the thawed caramelized onions does an incredible job of standing in for the milk. It's pure flavour and if you can find something that tastes better with a roast or steak or fried chicken or pork chop than a giant mound of Caramelized Onion and Butter Mashed Potatoes, then I'd like to know what it is.
Are you intrepid enough to listen to the Robuchon in the Room? Will you butter up your mashed potatoes? Will you give this a try?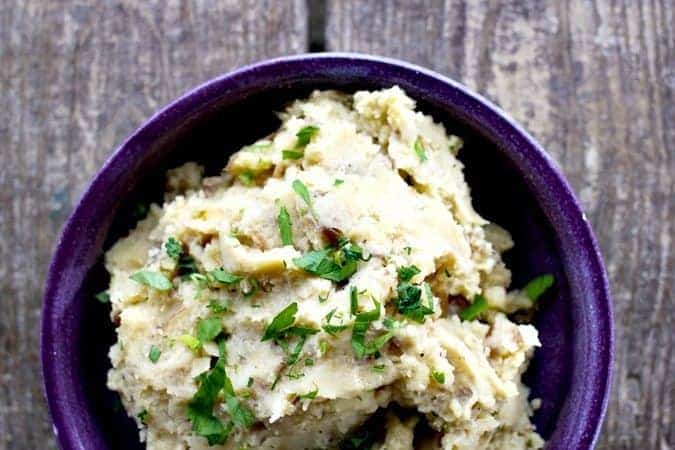 Cook's Notes:
If you use a different version of caramelized onions than these, you may need to add a splash of hot milk or cream to help keep the potatoes creamy.
I like to use Yukon Gold or white potatoes for this recipe. I think the finished potatoes are creamier that way.
You can ABSOLUTELY halve or double this recipe if you so desire.
Leftover mashed potatoes are perfect in Vareniki. 
Completely optional is the addition of a little fresh parsley to the top of the bowl before serving. I think most foods benefit from the presence of fresh herbs, so I go for it.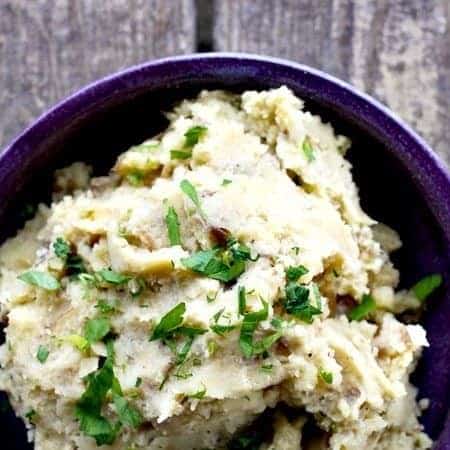 Caramelized Onion and Butter Mashed Potatoes
Rate Recipe
These Caramelized Onion and Butter Mashed Potatoes are based on Chef Robuchon's ideal ratio of two parts potato to one part butter. Rich, creamy, indulgent, and full of tender caramelized onions, these mashed potatoes make any meal an occasion to remember.
Ingredients
2 1/2

pounds

Yukon Gold or white potatoes

peeled and cut into quarters or eighths

water for boiling

1 1/4

pounds

butter

5 sticks of butter or 2 1/2 cups butter, softened to room temperature

1

cup

caramelized onions

Salt to taste

Optional: chopped fresh parsley for garnish
Instructions
Bring a pot of water to a boil and generously salt it. Add the potatoes and boil until very tender. Drain all of the water from the potatoes in a colander, letting them air dry a bit but not cool. Return the potatoes to the pan. Add the sticks of butter and caramelized onions, mash until the potatoes are smooth and the butter has melted and incorporated completely. Taste the potatoes and adjust with salt if necessary.
Nutritional information is an estimate and provided to you as a courtesy. You should calculate the nutritional information with the actual ingredients used in your recipe using your preferred nutrition calculator.