I'm exceptionally fond of combining my obsessions.
Sometimes it's not so great. Take Homer Simpson's fabled "Nuts and Gum",  par example…
Sometimes, however, it works great.
When you put together dark chocolate ganache and pie crust you get Dark Chocolate Truffle Tarts. A happy accident if ever there was one…
I might've mentioned that I'm obsessed with Autumn. (Here, here or here…)  At one point or another, I might have also mentioned that I'm obsessed with baked custard. (See here for evidence.)
These marvelous obsessions combine to result in the Pumpkin* Pots de Crème (baked pumpkin custards) that I made a couple days ago. The Evil Genius likes them just like this. Simple and lovely.
*Can you think of anything that screams 'Fall' more than pumpkin?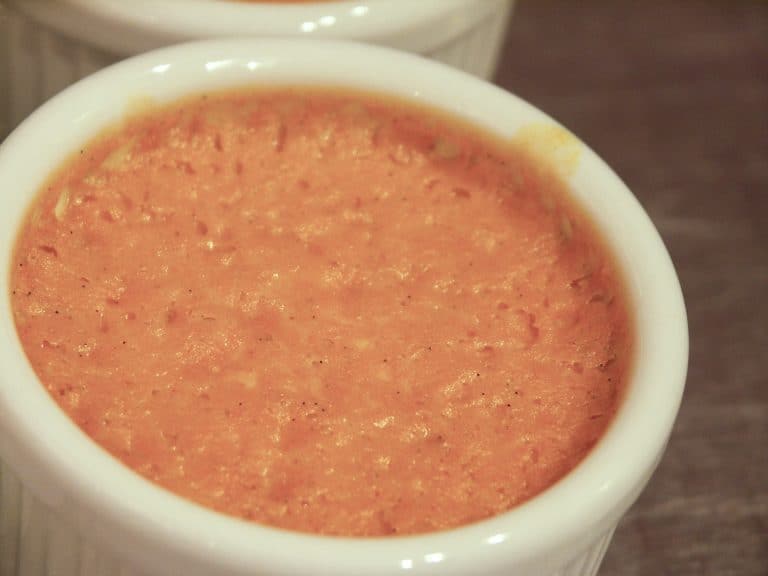 I did some naughty, wicked things to it. I turned one (or several) into the fiercest, most autumnal crème brûlée ever made.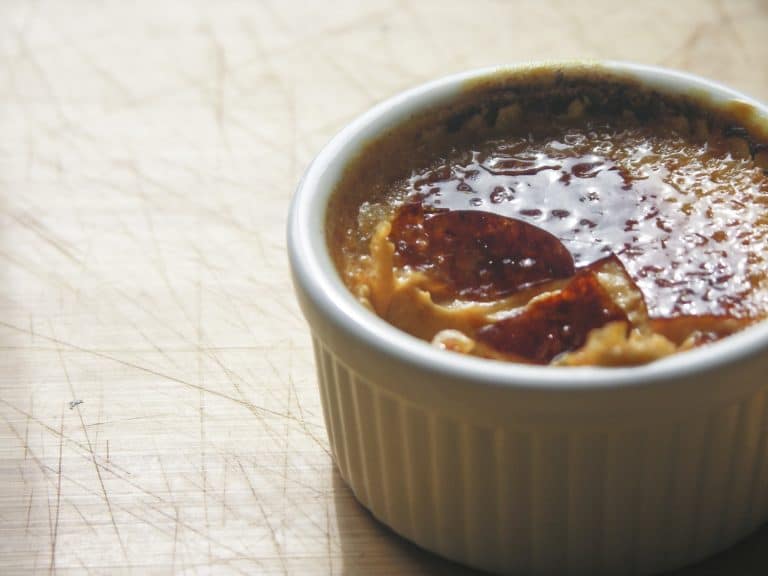 Since I was already on the road to a much wider backside, I took another one (or five) and topped it with whipped cream flavored with brandy and vanilla. I sneaked some chopped, toasted walnuts in there and shaved a little fresh nutmeg over the top. Yes, I did. So help me.
I love all you readers so much that I took the bullet for you and ate at least three of each kind:  You know, to make sure they were good enough to post here. And then I made a mad dash for the treadmill where I promptly sat down and took a long Fall nap. (The treadmill is nice and long. Plus, you can incline your head so it's a great place for a seriously comfortable snooze.)
After the aforementioned research, I can attest to three things:  One- these things are lip-smacking, toe-tapping good. They're good enough to make whoever eats them love you forever. Two- They're light and fluffy to the point where they're almost like a pumpkin mousse. Not to get all Iron Chef-y on you, but it's like a pumpkin cloud singing in your mouth. Three- It's entirely too easy to eat an entire batch of these by yourself but it's a blissful way to go.
For a printer-friendly, photo-free version of this recipe, click here!
Pumpkin Pots de Crème (Baked Pumpkin Custards)
Yield: 6 (5 ounce) custard cups
Ingredients:
1 cup heavy cream
1/2 cup skim milk (Because skim milk cancels out the heavy cream, right? I'm pretty sure that's scientific.)
4 egg yolks
1/4 cup sugar or vanilla sugar
3/4 cup pumpkin puree (either homemade or canned)
1 Tablespoon pure vanilla extract
1/4 teaspoon ground cinnamon
1/8 teaspoon fresh grated nutmeg
Optional toppings: Sugar for brûléeing or additional heavy whipping cream, brandy, vanilla, nutmeg and toasted, chopped nuts.
Preheat oven to 325F and put a kettle of water on the stove over high heat to boil.
Bring cream and milk just to a boil in a heavy- bottomed pan. Shut heat off immediately and set aside off of the burner.
Blend egg yolks and sugar on high speed in the bowl of a stand mixer or with a hand blender or whisk until the yolks are a light lemony color and thickened. Add vanilla extract, cinnamon, nutmeg and pumpkin puree to the egg mixture and blend until smooth. Slowly add hot cream while the mixer is running (or while whisking constantly.) Continue blending in cream until it is all incorporated. Now here's a little exercise in free-will. You can choose to skim the foam off the top or you can choose to leave it. Removing the foam gives you a smoother texture on top of your custard. I kind of like the little foamy bubbles, personally, so I usually leave it where it is. More custard is always a good thing, right?
Divide evenly between custard cups or ramekins. Place ramekins in a roasting pan.
I usually leave a couple of the ramekins out until I've poured the boiling water so that I don't have to worry about accidentally diluting that glorious custard with water. If you try it my way, just be sure to remember to leave the water level slightly lower since it will rise when you add the two or so extra cups. Carefully pour boiling water into the pan so that it comes about 2/3 of the way up the sides of the ramekins. Lay a sheet of foil over the top (do not crimp the foil- it should be loose!) and place pan in the oven. Be careful when transferring to the oven. We're talking about a lot of hot, sloshy liquid here. Feel free to put the pan IN the oven before adding the boiling water, but you'll have to move more quickly if you do that to prevent the oven from losing too much heat!
Bake for 40 minutes or until the custard is mostly set but not hard. Remove from oven, carefully transfer ramekins over to a cooling rack using tongs or your hand in a silicone oven mitt and allow to cool until you can easily handle them.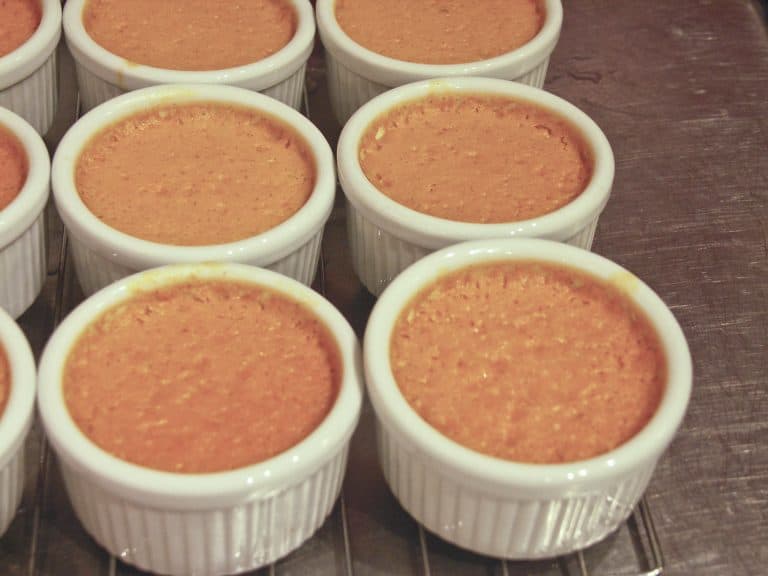 Lay plastic wrap directly on the surface of the custards to prevent them from forming a skin and refrigerate until completely cool (at least 2-3 hours.)
To brûlée:
Set up a heat-proof surface on which you can place the custard-filled ramekins while you attack them with a torch. A good, safe way to do this is to place a stainless-steel cooling rack over an empty broiler pan on top of the stove or other heat-proof area.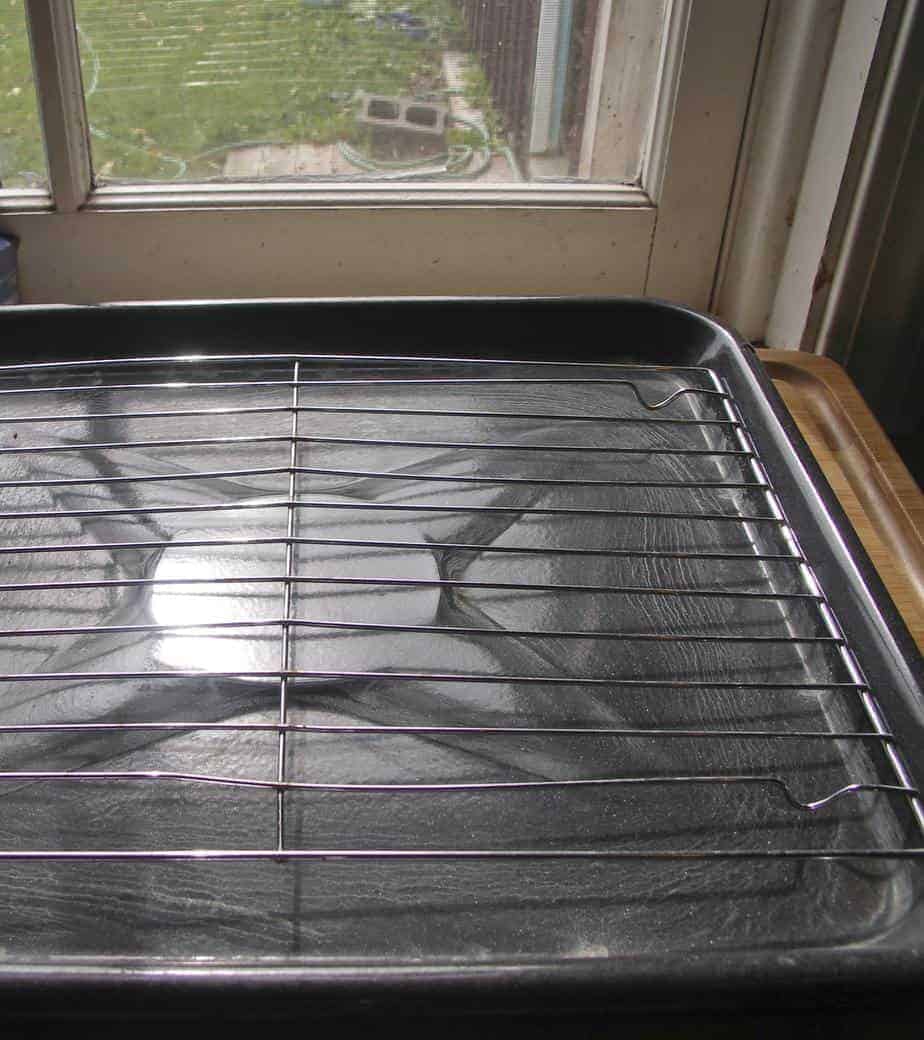 Remove plastic wrap from one ramekin and sprinkle about 1 Tablespoon of sugar in an even coat over the surface of the custard.
Tilt the ramekin around so that the sugar completely covers the custard.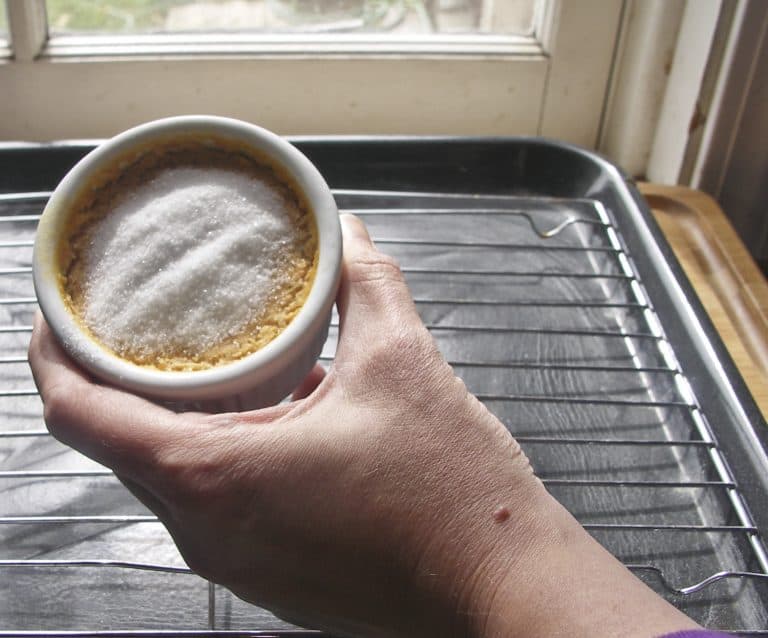 Use a butane torch or broiler to melt and caramelize the sugar. Please take note that I don't have a fancy-pants culinary torch. I have a big old camping torch that does the job beautifully. And it only cost me $20 at my local Walmart. That's just how I roll, people.
It is easiest to control the degree of caramelization with a hand-held torch. Allow to sit for 2 minutes to let the sugar crust harden before serving.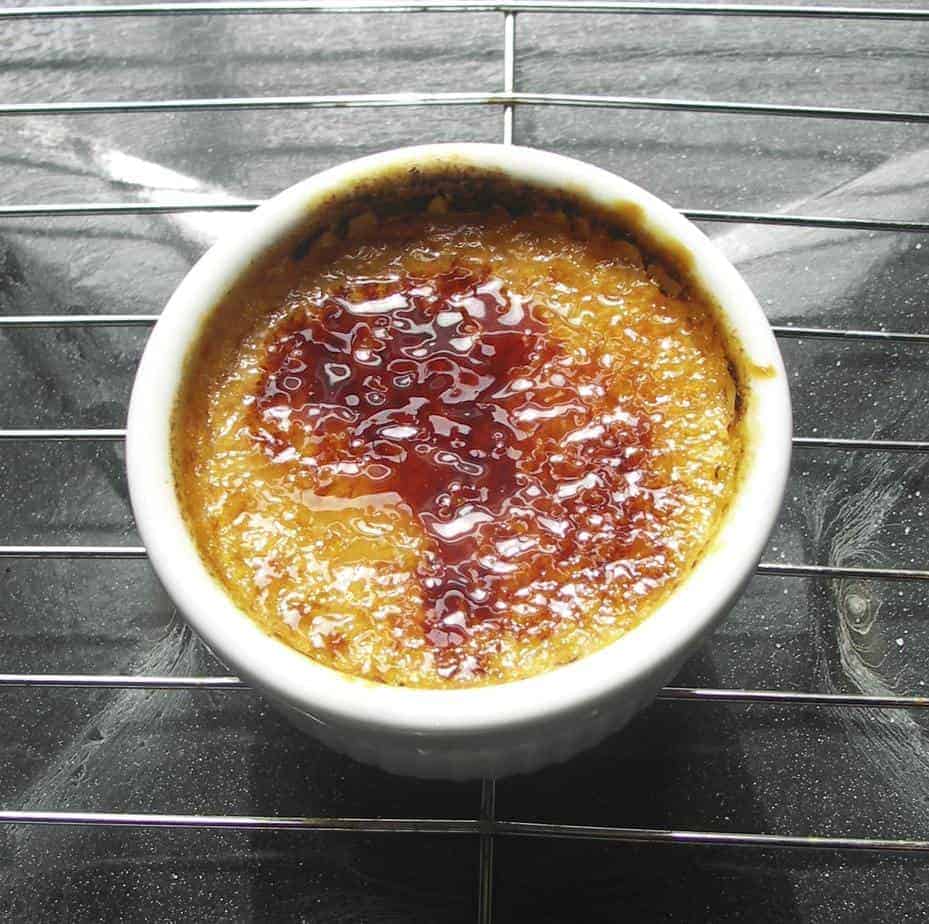 And then you're going to want to do this.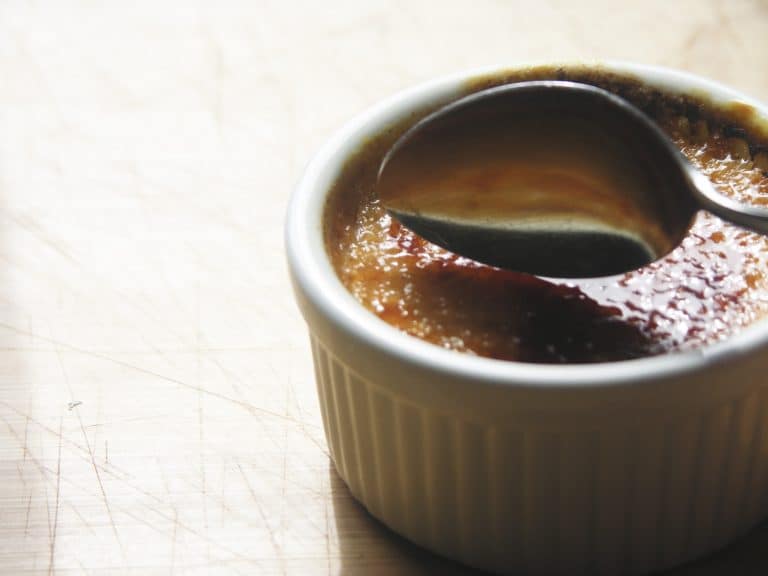 And this.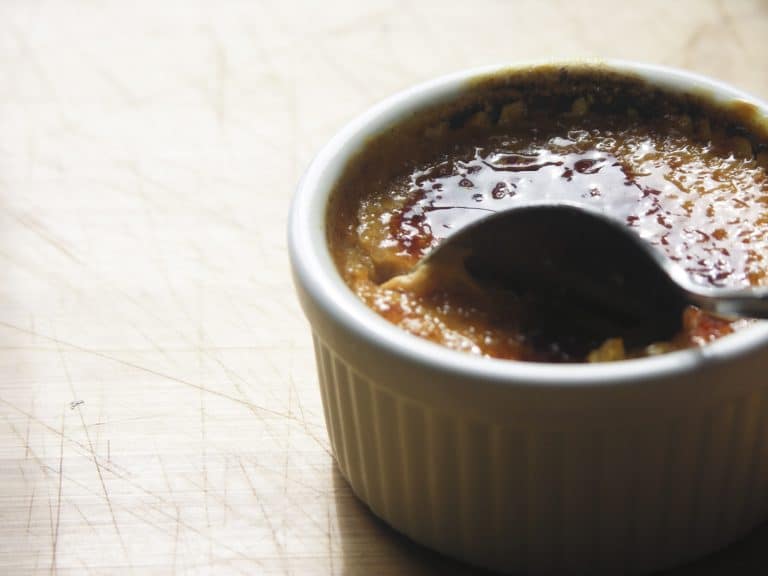 And, oh help me! This.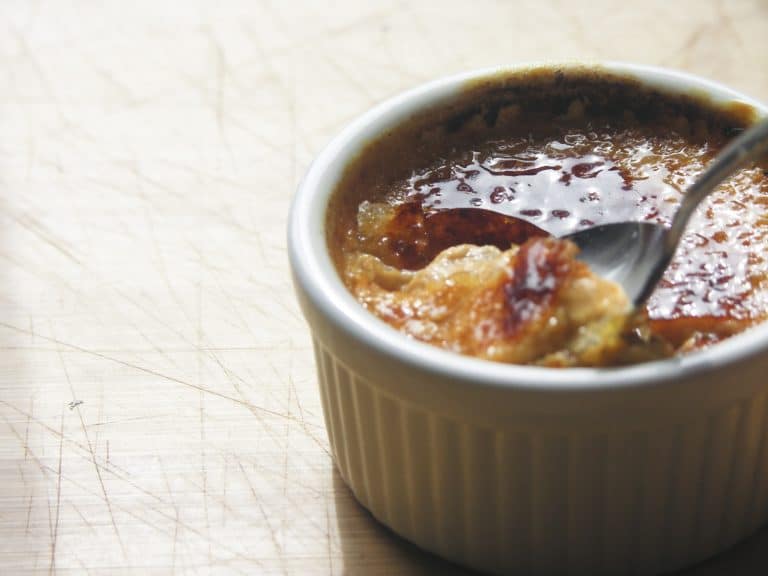 Sigh.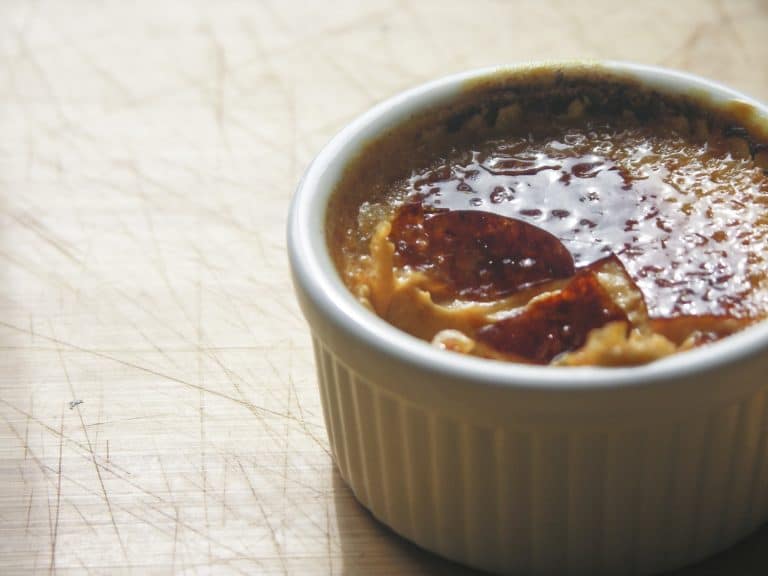 Mmmmm…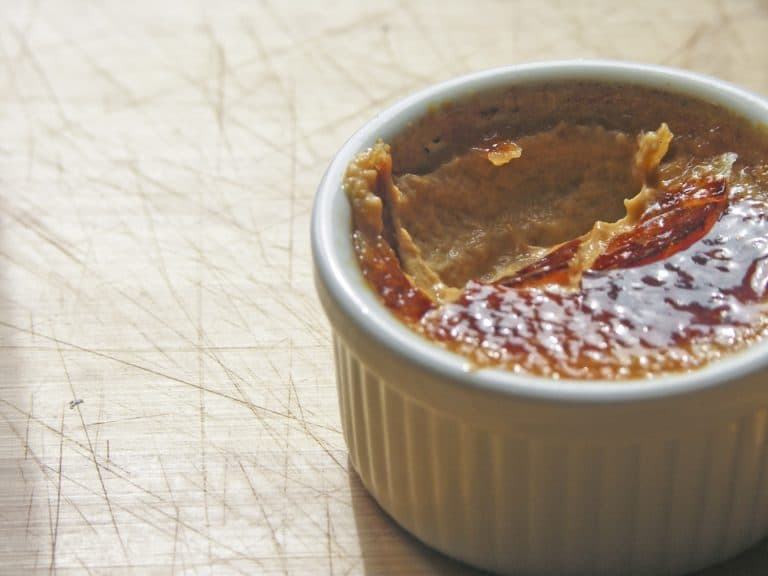 Okay. Bliss. Pure bliss. But there's more…
For brandy and vanilla whipped cream:
Add 1/2 cup of heavy cream to a metal bowl and whisk until soft peaks form. Add 1 Tablespoon of sugar, 1/2 teaspoon of pure vanilla extract and 1-1/2 teaspoons brandy. Continue to whisk until firm peaks form. Spoon on top of the custards. Dust with a little fresh grated nutmeg (and chopped nuts, if desired.)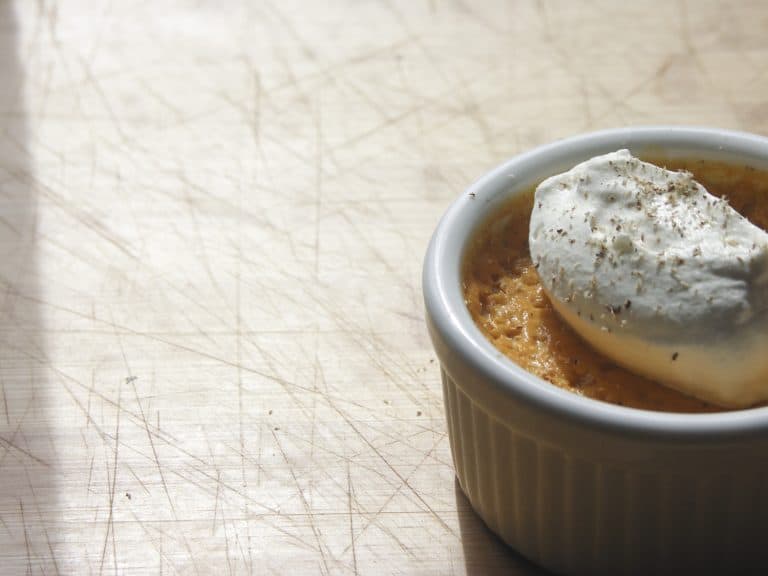 See that pretty little doll0p of brandy and vanilla whipped cream and the delicate sprinkle of nutmeg? That's how you serve it for company. This is how you serve it for yourself. Or me, if I happen to be visiting.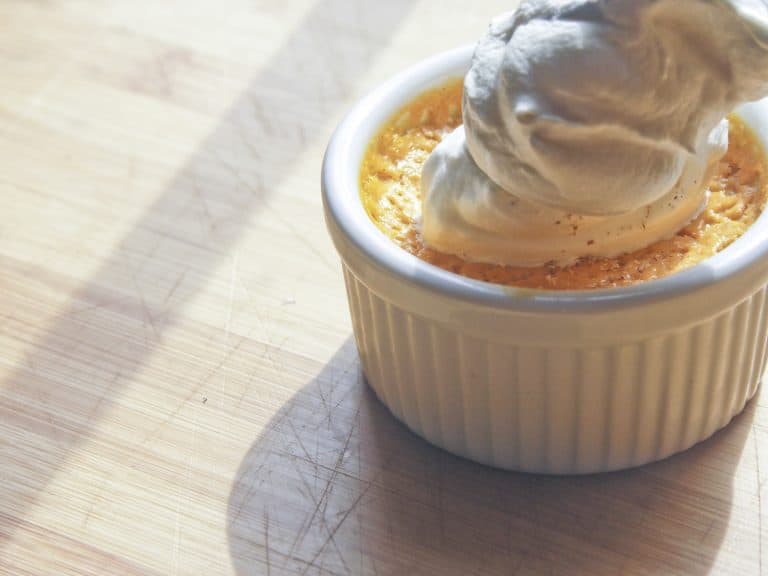 Hey. Did I ever tell you the story about how my mom used to serve mixing bowls of ice cream to people when they asked for "just a little bit in a bowl"? It was hilarious because they were trying to be demure and my mom gave them a whole bunch. Everybody protested, but they secretly loved her for her generous hand with the ice cream.
"Oh gee, you shouldn't have added that extra dollop. Really, I was just telling a story about my mom. I couldn't possibly eat that…"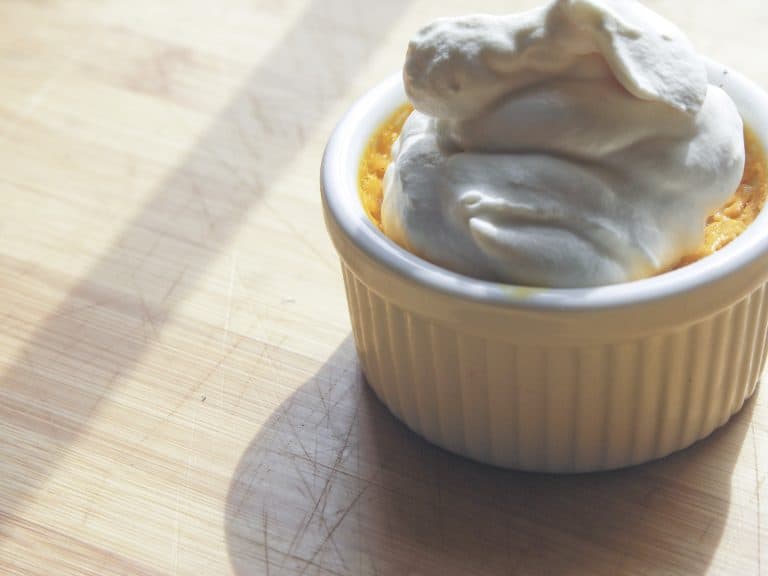 (Phew. I'm glad she picked up on that. I was beginning to think I might have to distract her and grab the bowl of whipped cream myself.)  Carry on…