Visit our Bread Recipes page for more fantastic homemade breads!
I think we can all agree that a fresh loaf of bread straight from the oven is thing of joy, right? And we can probably also reach consensus on the fact that soft pretzels are one of life's great pleasures. Pretzel rolls? Delicious, too. Now how about we combine all of that in one perfect, lovely, tempting, chewy yet tender loaf of deep, dark brown Pretzel Bread sprinkled with coarse salt? I think that a giant loaf of soft Pretzel Bread is something I had no idea I needed until I made it.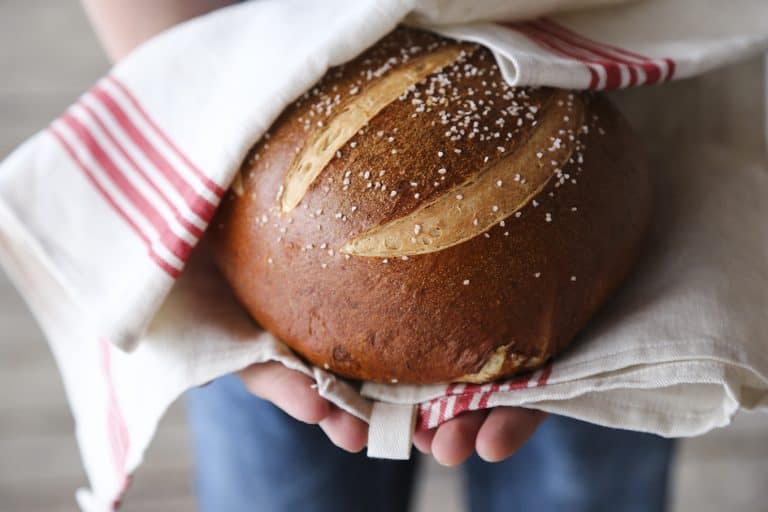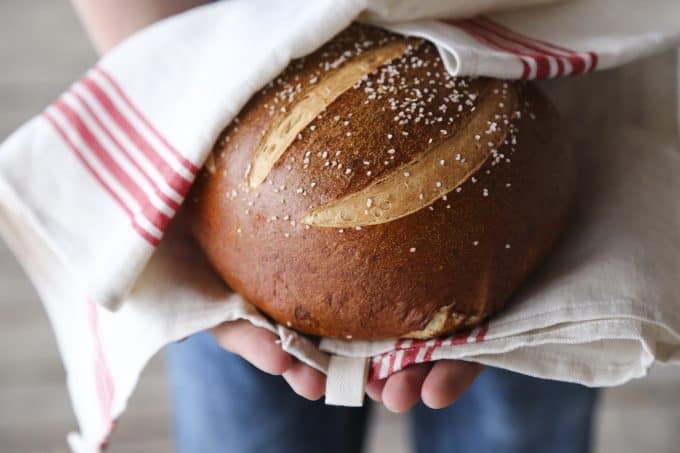 We are talking about eating happiness. Mercy.
Imagine eating a fried egg sandwich or grilled cheese on toasted Pretzel Bread. How about a Pretzel Bread roast beef sandwich? Perhaps you'd prefer a wedge of pretzel bread to dunk into broccoli cheddar soup or slow-cooker beef stew with bacon. All of those are good. I won't lie, though… I've cut a slab straight from the loaf and simply dropped it into a frying pan over a melted pat of butter and let it brown up a little on just one side. Crunching through that crispy, buttery, toasted side into the perfect crumb of the pretzel bread and finding that chewy bit of crust studded with pretzel salt on the side is reason enough to make the bread. Everything else is gravy, friends.
Cook's Notes
Forming the loaf is not difficult, but it is a slightly different process than your average sandwich bread. After the initial rise, you will turn the dough out onto the counter. Lift the dough and stretch one quarter of it down around the edge of the dough wad toward the bottom. Turn the dough a quarter turn and do the same thing. Repeat this until you have a smooth-ish ball. Place the ball on the counter or dough mat and rotate the dough ball in one direction, using the edges your hands at an angle to ease the dough into a tighter and tighter ball. The dough ball should be covered by a smooth, tight surface. At this point, place it on your silpat or non-stick foil coated pan and cover lightly with a damp tea towel to rise a second time. I've made you a video to help!
Please note that the video features a double batch of dough. This means that if prepared as directed in the recipe, you'll only have to shape and boil one loaf.
While the dough is rising, preheat the oven to 400°F and prepare your pretzel boil.
While using brown sugar isn't necessarily traditional in pretzel boils, I like to use it because I prefer a darker, shinier crust. It is true that you can get a darker crust with an egg wash, but my fancy turns to the brown sugar crusts these days. It doesn't really lend sweetness to the crust as much as gives the exterior a little boost of sugar to help with browning in the oven.
When it comes to storing your cooled Pretzel Bread, don't use an airtight bag. While pretzel salt resists melting, it isn't impervious to it. You want to walk the fine line between leaving it completely exposed to the air which would make it stale too quickly and wrapping it up like a mummy which will trap too much moisture and ruin your lovely crust and possibly melt your salt. How to do this? I prefer a plain old paper grocery bag. Cool the loaf completely to room temperature. This is most easily ascertained by the use of an instant read thermometer. If you don't have one, you can always just kill it with certainty by letting the loaf cool for several hours at room temperature. When it is completely cool, plunk the loaf into a paper grocery bag and lightly fold the end of the bag under the loaf. Voila. You keep the elements (and counter surfing pets) off of the loaf and still protect it enough to store it for a day or so.
P.S. If by some miracle it starts getting stale before you can inhale it, please don't throw it out. It makes the most magnificent toast or grilled cheese sandwich or croutons. No Pretzel Bread left behind!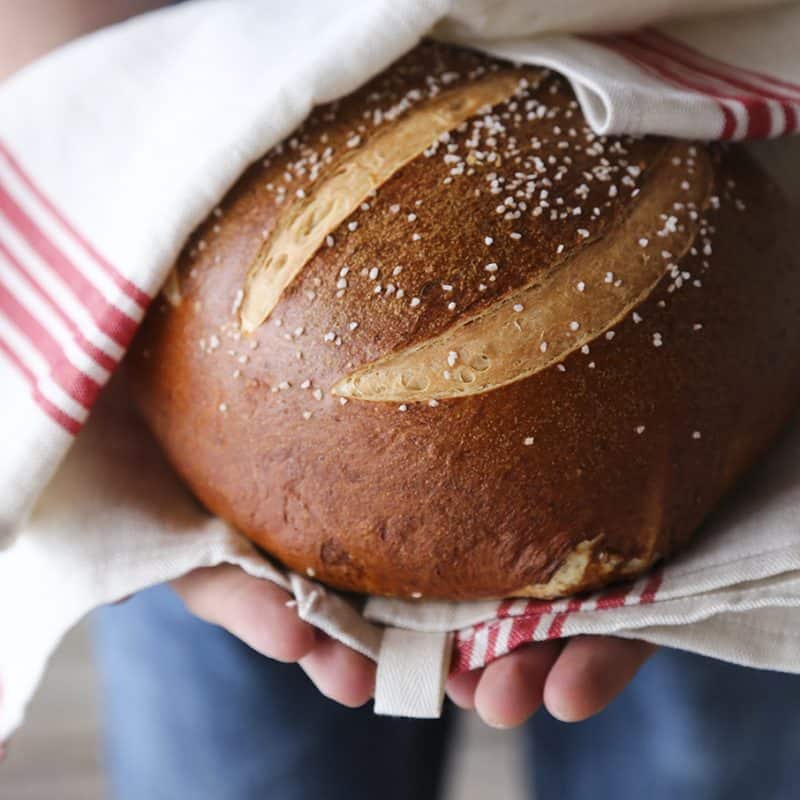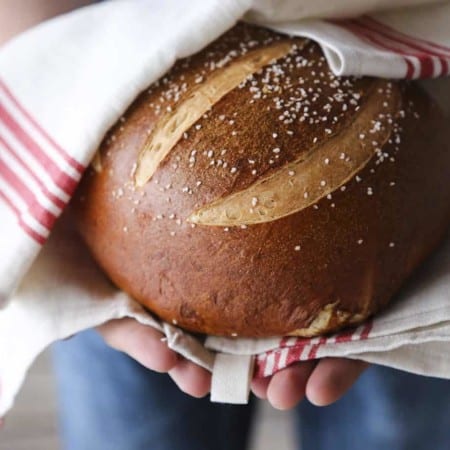 What's better than a soft pretzel? A bigger soft pretzel... in this case, an entire loaf of soft pretzel bread.
Ingredients
4

cups

bread flour

1 pound 1 ounce, by weight

1

tablespoon

sugar

2

teaspoons

instant yeast

1 1/4

teaspoons

kosher salt

1

cup

whole milk

1/2

cup

hot tap water
For the pretzel boil:
2

quarts

water

3

tablespoons

brown sugar

2

tablespoons

baking soda
For topping:
water in a spray bottle

pretzel salt
Instructions
To Make the Dough by Hand:
In a large mixing bowl, whisk together the flour, salt, sugar, and yeast. Set the whisk aside and switch to a sturdy wooden spoon. Stir in the milk and tap water until a soft dough forms. Turn onto a generously floured surface and knead, adding small amounts of flour as needed to keep the dough from adhering to the counter. You do not want a firm dough… it should be fairly slack, a little tacky and soft, yet smooth. Place dough in a clean bowl, cover with a damp tea towel and set aside to rise in a warm, draft-free place until nearly doubled in bulk and puffy, about an hour or so.
To Make the Dough by Stand Mixer:
In the work-bowl of a stand mixer fitted with a dough hook, combine the flour, salt, sugar, and yeast. Mix on low just to combine dry ingredients. With mixer still on low, carefully pour in the milk and water. Continue mixing on low until you have a smooth, soft, slightly tacky dough. Remove bowl from the mixer, cover with a damp tea towel and set aside to rise in a warm, draft-free place until nearly doubled in bulk and puffy, about an hour or so.
To Make the Dough by Bread Machine:
Add the milk, water, flour, sugar, and yeast to the pan of your bread machine in the order recommended by the manufacturer. Select the "Dough" or "Dough Only" cycle and hit start. Allow the cycle to complete.
To form, boil, and bake the pretzel bread:
Preheat oven to 400°F. Line a baking sheet with a silicone baking mat (a silpat.) or non-stick foil.

Turn the dough out onto a clean surface. Lift the dough. Gently pull the edge of the dough down and tuck under. Turn the dough 1/4 turn and repeat. Do this until you've formed a cohesive round. Place the round on the clean surface and use your hands to gently turn and tighten the dough down over the surface. Place on the prepared pan, cover with a clean tea towel, and allow to rise while the oven preheats.

Bring 2 quarts of water to a boil in a stainless steel or other non-reactive pan (enameled cast-iron, tempered glass, etc…) When water boils, add the brown sugar and baking soda. Gently lift the loaf and ease the dough top side down first into the boiling water. Let simmer for about 3 minutes, flip the dough using two spatulas or slotted spoons and simmer for another 2 minutes. Use two spatulas or slotted spoons to lift the dough out of the water quite carefully and transfer back over to the silpat or nonstick foil lined baking sheet.

Spritz the bread with water and sprinkle with coarse salt. Use a sharp knife to slice along the contours of the bread about 1/4-inch thick. Place the pan in oven and bake 35 minutes or until deep brown and at least 185F in the center of the loaf according to an instant read thermometer. If you want a crustier loaf, let the internal temperature rise to 205F.

Transfer the baked bread to a cooling rack and let it cool completely before slicing.
Nutritional information is an estimate and provided to you as a courtesy. You should calculate the nutritional information with the actual ingredients used in your recipe using your preferred nutrition calculator.
Save