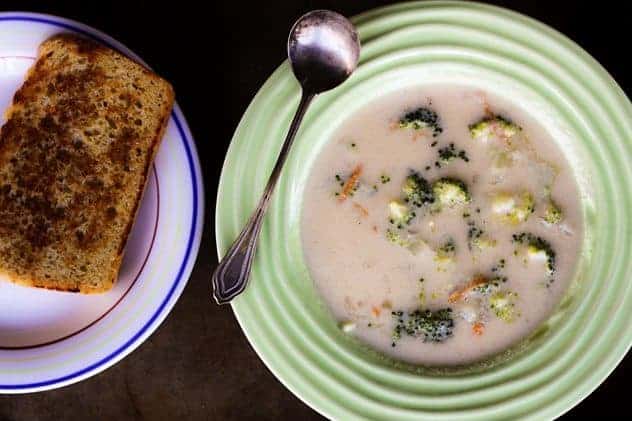 Soup equals my bonus mom, Val. She is the Soup Queen. Almost without fail, anytime someone is invited over for dinner -whether family or friend- soup and muffins were on the menu. Val said that was because soup and muffins were almost always inexpensive, easy to make, and delicious. Val is the soup queen.
Her soups are a marvel of resourcefulness, deliciousness and beauty.
I've been fortunate enough to be able to learn at her elbow for more than twenty years and here are some of the most important soup tips I've gleaned from her over the years.
A little bit of this and a little bit of that equals a lot of soup. It doesn't take much of any one thing to make a massive pot of excellent soup.
Don't overthink it. Soup shouldn't be difficult.
Keep tasting and  keep adjusting. Don't be afraid to toss something else in there if it doesn't taste the way you want it. If you can't fix it, ask Val. She'll know how.
Chances are good that if your soup needs adjusting what it really needs is nutmeg. Freshly grated nutmeg. Ask Val.
Soup hides many sins. Overcook your roast? Char your roasted veggies? Got something that is just about to be past its prime? Toss it into soup and say amen.
Soup plus bread or muffins equals a happily fed crowd. Really.
Speaking of soup, Panera contacted me a few weeks ago and offered me the chance to visit one of their restaurants. I was pretty excited. After all, I am a soup nut. I'd heard people rave about the place for years and just had never gotten the chance to visit one.
Oh, the wares. Soup and bread and pastries. This is my kind of restaurant. There simply is nothing better than a homey bowl of soup served up with a hunk of tasty baguette bread. My Mom got black bean soup because it's vegetarian and so is she. I opted for the Broccoli Cheddar Soup because, well, it had broccoli and Cheddar; two of my favourite things in the entire world. I told mom I needed to taste her soup for research purposes. She allowed me to do so. When I went to dip back in for more research, though, I'm pretty sure I saw a steely glint in her eye. I backed off and attacked my own soup with vigor. Just look at that. How could you NOT want to dive in head first?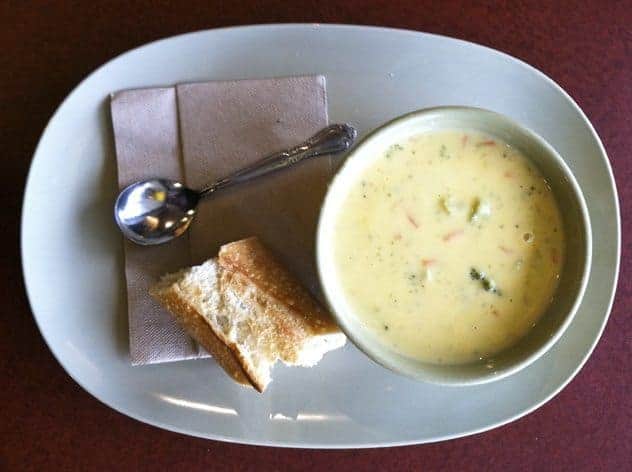 Panera is my new go-to place for a quick bite on the town. Mom and I agreed that we'll check their website every single time we venture to the big city to see just what the soup is of the day. I was inspired by my visit to Panera's "Good Goes In" philosophy to finally introduce my favourite winter soup here.
Broccoli Cheddar Soup has been on my rotation for many, many years in some form or another and is just about the perfect thing for this time of year. Oh sure, it's indulgent, creamy, rich, comforting and whatnot, but it also has broccoli. That makes it health food. I think. I'm pretty sure it does, anyway. I'll ask Val.
Long may soup and the Soup Queen reign!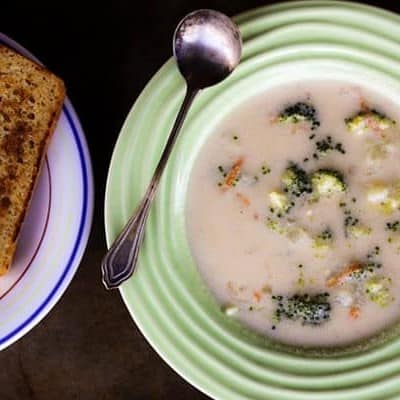 There is really nothing more comforting than a bowl of soup on a cold winter day and this Broccoli Cheddar Soup is exceptionally good at the job. Creamy, rich, and distinctly cheesy, it doesn't skimp on tender broccoli and has gorgeous little flecks of sweet carrot hiding in it.
Ingredients
1

stick unsalted butter

8 tablespoons, 4 ounces by weight

2

medium onions

peeled and finely chopped

3

cloves

garlic

peeled and minced or pressed

1/2

cup

all-purpose flour

2 1/8 ounces by weight

4

cups

chicken broth or stock

2

broccoli crowns

cut into small bite-sized pieces, no larger than can comfortably fit on a spoon

6

cups

milk

1

cup

coarsely shredded carrot

1

tablespoon

Worcestershire sauce

2

teaspoons

ground mustard powder

1/4

teaspoon

grated nutmeg

3-4

cups

grated Cheddar cheese

salt and pepper to taste
Instructions
In a large, heavy-bottomed stockpot or soup pot, melt the butter over low heat. Stir in the chopped onions and garlic and a pinch of salt and let it cook 'til the onions and garlic are tender and translucent around the edges, about 4 minutes.

Sprinkle the flour over the top and stir it in until evenly coating the onions and garlic then cook for 1 minute. Pour the chicken stock into the pan, raise the heat to high, and stir well until evenly combined. Add the broccoli in, stir well, and bring the mixture to a gentle boil. Boil for 3 minutes.

Lower the heat to medium and stir in the milk, carrot, Worcestershire sauce, mustard powder and grated nutmeg. Cook the mixture gently, lowering the heat if necessary to prevent boiling, until the broccoli is tender, but still has body. Remove the pan from the heat and stir in the cheese until it is fully melted into the soup. Taste and adjust with salt and pepper to your preference.
Nutritional information is an estimate and provided to you as a courtesy. You should calculate the nutritional information with the actual ingredients used in your recipe using your preferred nutrition calculator.
Disclosure: As part of the Foodbuzz Tastemaker's Disclosure, I was given a gift card to try Panera bread as well as a stipend to pay for ingredients used in my recipe development. All opinions and thoughts, as well as the recipe, are my own.