Someone recently pointed out to me that I describe a lot of foods as my 'favourite'. I realized immediately that they were completely right. I had a micro existential crisis. Did this mean that I was fickle? That I really didn't love any food? Upon reflection about 30 seconds later, I felt better. I concluded that I am endlessly thrilled at discovering new foods and infinitely excited at how wonderful food tastes. I guess I'm just programmed to get pumped up about food, folks. I'm okay with that. Mini crisis averted in time to tell you about this gorgeous and habit-formingly delicious Persian Herb Frittata better known in ole Persia as Kookoo Sabzi that is DEFINITELY being added to my extensive list of favourite foods.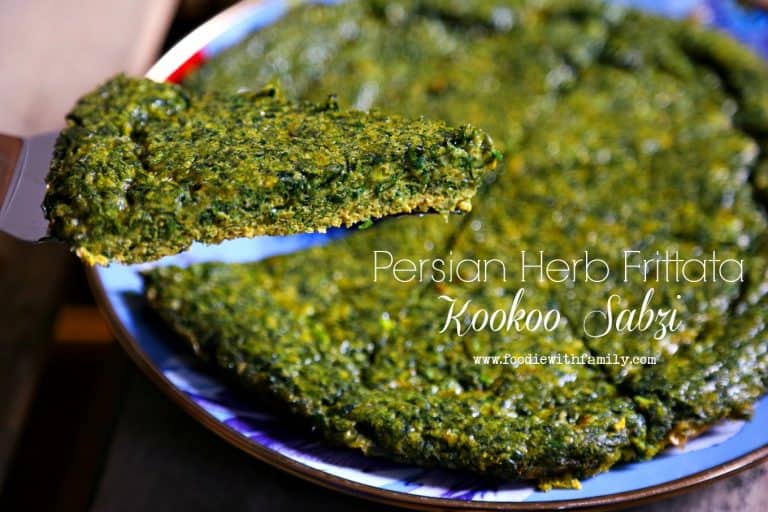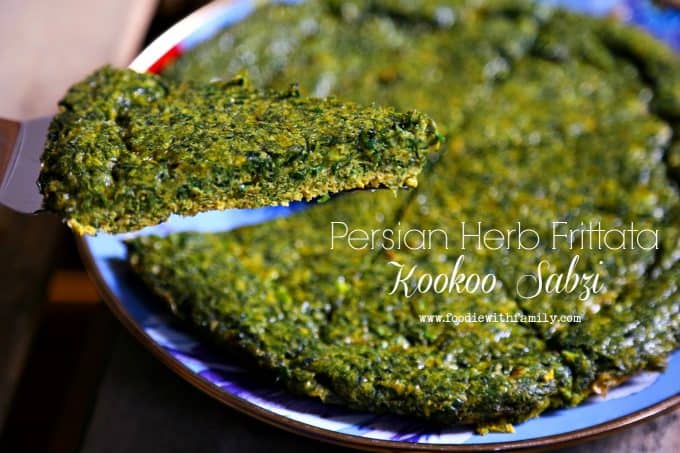 Clearly it's an egg dish, but it requires a little more explanation. It is a frittata type dish that is absolutely, positively bursting with fresh herbs. It's beyond fresh, it's beyond flavourful. One of my friends deftly described it as being an omelet combined with a salad. That spring-green omelet/frittata is then cut into wedges and served hot, warm, or cold with a generous dollop of plain yogurt on top as sauce. I prefer Greek yogurt because I just do generally, but you could as easily use plain 'regular' yogurt if that's your desire. When you taste this Persian Herb Frittata, you'll see why it's a traditional food for the first day of Spring in Iran. Not being Iranian, I make zero claims about the authenticity or lack thereof in my Persian Herb Frittata/Kookoo Sabzi, but people… it's good. Just make it.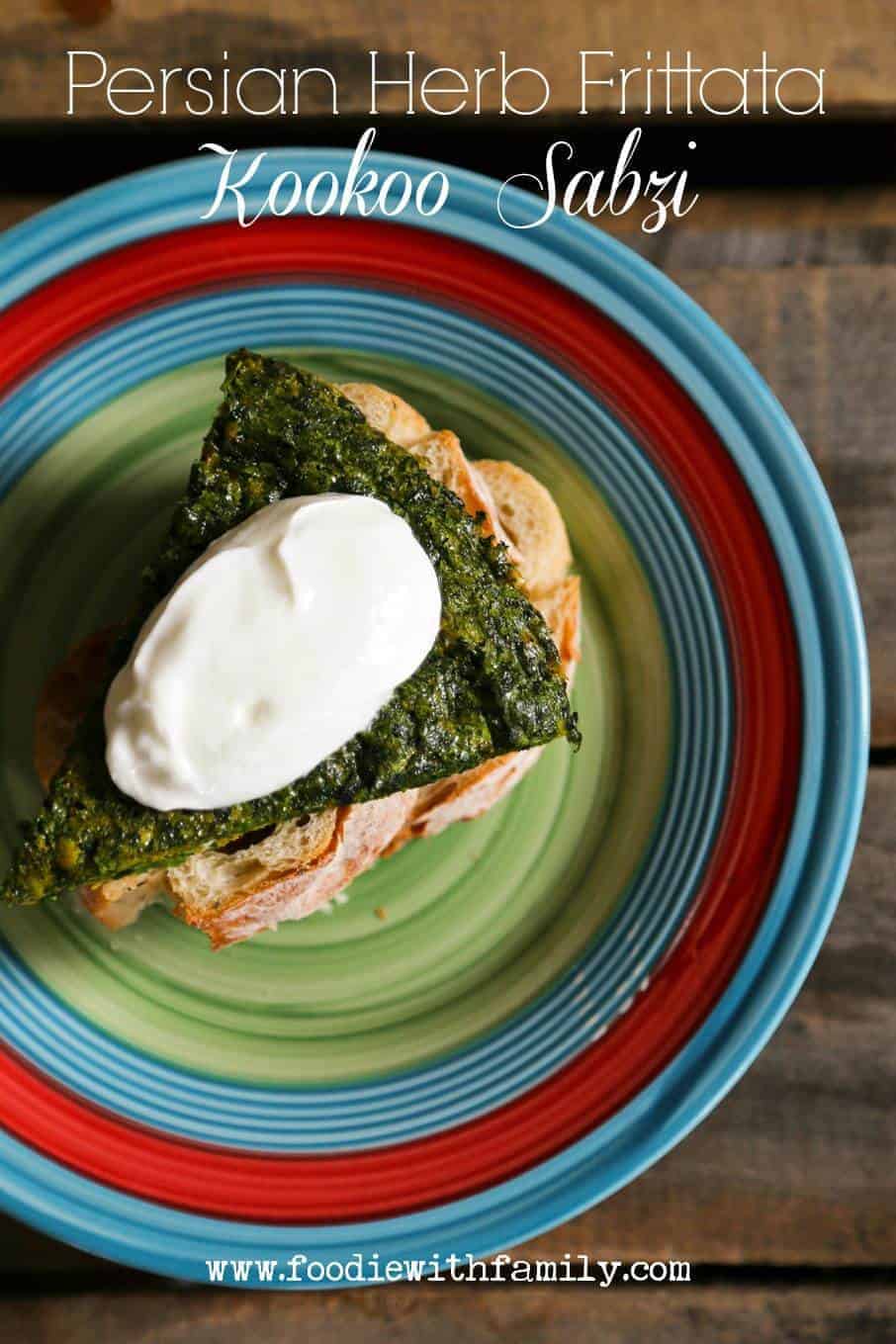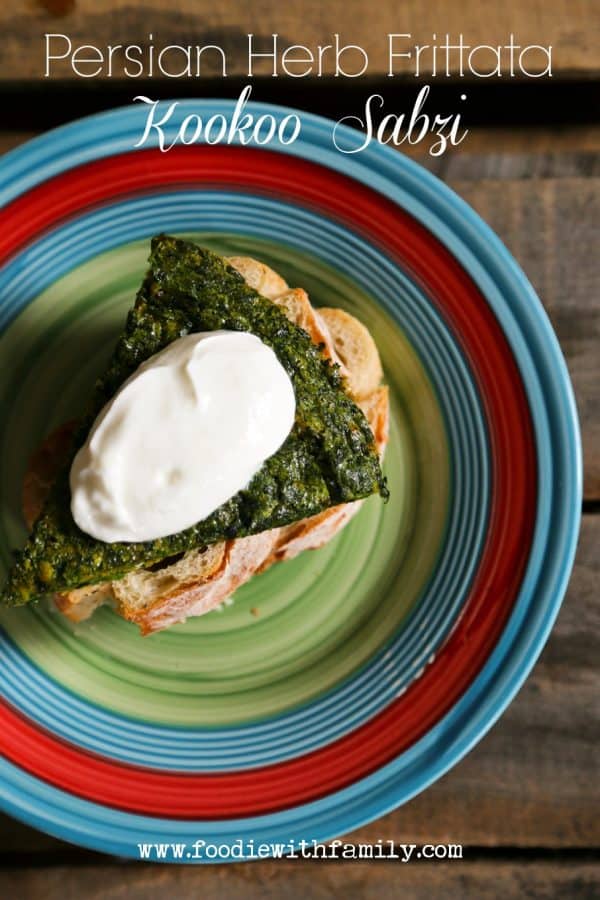 Besides all that fresh deliciousness and cultural educational value, how could you NOT want to eat a food called Kookoo Sabzi? It just plain sounds fun, doesn't it? I'm Kookoo for Persian Herb Frittatas, and I think you will be, too.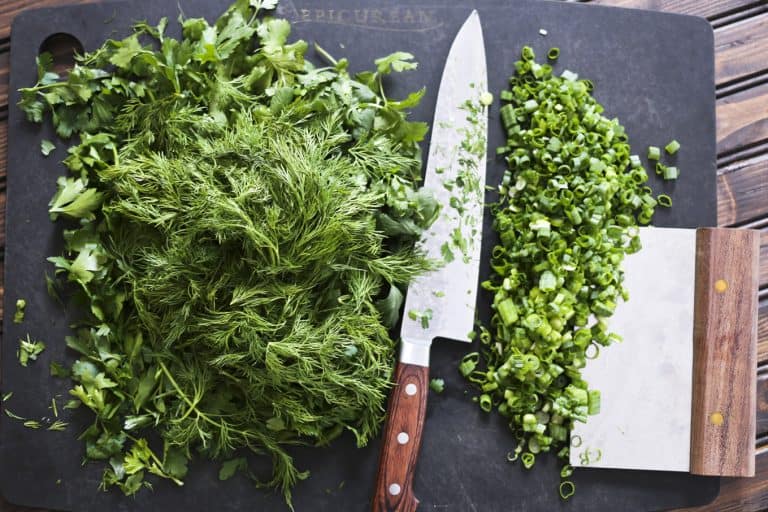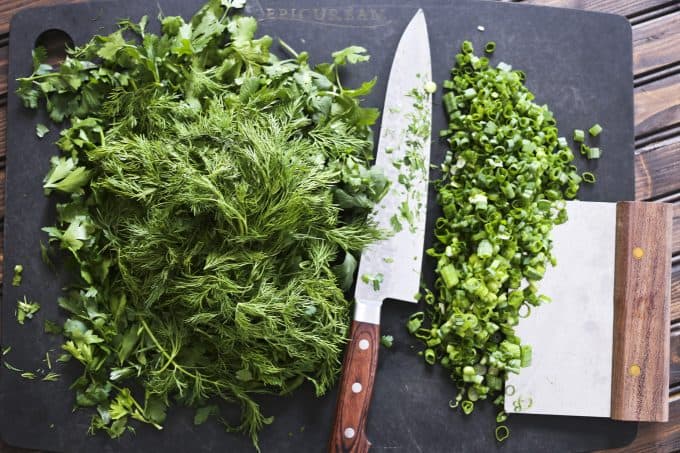 Cook's Notes
I'm aware that this recipe calls for an absurdly large amount of fresh herbs. It is indulgent when it's not "grow-herbs-in-your-backyard-season" to be sure, but it is so worth it. Don't be tempted to reduce the herbage in here. It really is the defining characteristic of the Persian Herb Frittata.
When it comes to preparing the herbs, you don't need to be quite as fussy as you might be with a dish where the herbs are served uncooked. Of course, you'll wash them as usual, but when it comes time to pull them from the stem, you can include some of the smaller, more tender stems without worrying. Don't allow any thick, woody stems in, though, as their texture will be displeasing in the final Kookoo Sabzi/Persian Herb Frittata.
Be sure to choose a frying pan that is oven safe if you wish to make this a one-pot dish. If you don't have a frying pan or skillet that fits the bill, grease and use an 8-inch by 8-inch square baking dish or an 8- or 9-inch round cake pan for the baking part of the recipe.
Connect with Foodie with Family
facebook | pinterest | instagram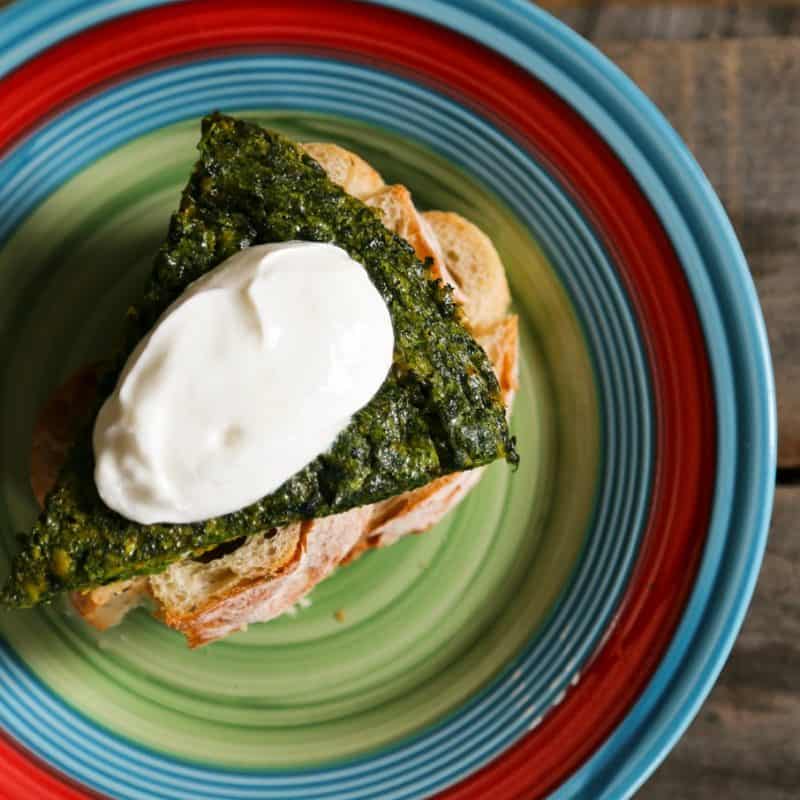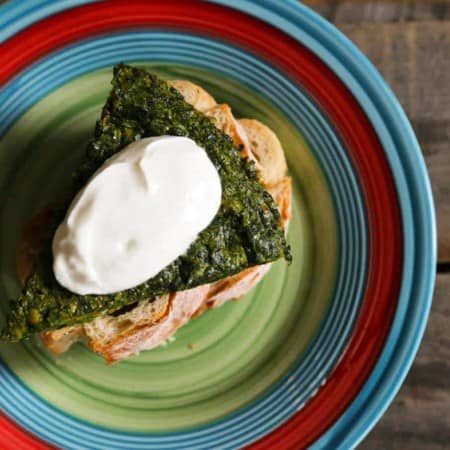 Ingredients
1

bundle green onions

about 9 to 12 green onions, washed, trimmed of root ends, thinly sliced

1

large bunch parsley

cleaned, woody or large stems removed, chopped

1/2

a bunch of fresh dill

cleaned, woody or large stems removed, chopped

1/2

a bunch of cilantro

cleaned, woody or large stems removed, chopped

4

tablespoons

butter or ghee

vegetable or canola oil

10

large eggs

1

teaspoon

ground turmeric

1

teaspoon

kosher salt

1/2

teaspoon

freshly ground black pepper
To Serve:
Plain Greek or 'regular' yogurt
Instructions
Preheat the oven to 350°F.

Melt the butter or ghee in a 10-inch diameter, heavy-bottomed frying pan or skillet over medium heat. Add the green onions, parsley, dill, and cilantro and cook just for 1 minute, or until the herbs are fragrant and beginning to wilt a bit. Scrape the herbs onto a clean plate in a thin layer to cool somewhat.

Use a pastry brush to spread a thin layer of vegetable or canola oil across the bottom and around the sides of the frying pan. If your frying pan is not oven-safe, prepare an 8-inch by 8-inch square baking dish or 8- or 9-inch round cake pan by brushing generously with the oil. Set aside.

Crack the eggs into a mixing bowl, add the turmeric (passing through a sieve first if it is clumpy), kosher salt, and black pepper. Whisk until the eggs are quite loose and even in colour. Whisk in the cooled herb mixture and immediately transfer back into the frying pan or a prepared baking dish. Bake for 18 to 25 minutes, or until the eggs are completely set in the middle. Pull the pan from the oven and run a flexible, heat-proof knife or spatula around the edges of the pan. Lay a plate or cutting board over the pan and carefully invert to allow the Persian Herb Frittata or Kookoo Sabzi to release from the pan. Lay another plate or serving dish on top of that and invert again so the side that was facing up in the pan is facing up on your serving dish. Cut into wedges and serve hot, warm, or room temperature with dollops of plain Greek or regular yogurt.
Nutritional information is an estimate and provided to you as a courtesy. You should calculate the nutritional information with the actual ingredients used in your recipe using your preferred nutrition calculator.