For a multitude of reasons I don't buy soda. Please don't get me wrong. I'm not going all judgy-judgerton on soda. It's just that over the years, I have gotten to where I don't really like most of it. It's just too derned sweet for me. Once a year or so I'll grab a Pepsi when I'm out on the town (Hmmm… Perhaps I only get Pepsi once a year because I only get out on the town once a year or so. Please excuse me for a moment or two while I go mourn my lost ability to go where I want when I want…) but that's about the extent of it. I am, however, a big fan of ginger ale.
A few years back, my Dad found a recipe online and started making his own ginger ale so, naturally, we started teasing him.
(*This is a side note to give you a very important piece of information about interacting with people to whom I am related. We are a teasing family. It's how we show you we love you. If we tease you we care. What that says about us I cannot tell you. Perhaps someone with a bent for psychology could tell you weird and horrible things about our collective psyche based on that, but, eh… We is what we is.)
"Ah," said us, "You're home-brewing, eh Dad?" (My Dad does not drink alcohol.) "Sooooo, Papa, you're moonshining? Making hooch?" And thus was born the name of Dad's ginger ale, "Papa's Hooch". When Dad came to visit, he brought four bottles of "Papa's Hooch" with him. I had ignored my Dad's recommendation to open it over the sink and found myself wearing the top third of the contents of a very pressurized bottle.
Wow! It was REAL ginger ale. You could taste the ginger, lemon juice and lime juice that he had used, and boy howdy it was fizzy. There was actual citrus pulp and ginger in the bottle.
Have you ever had a real, honest-to-goodness homemade soda? As in one that was made from scratch? I have to tell you that if the sum of your soda experience is contained in the fizzy-drinks aisle at the local grocery store that you are missing out. Big time. I feel obliged to warn you that homemade ginger ale is worlds different than  Canada Dry, Schweppe's or fill-in-the-blank brand. It tastes closer to what most folks would consider a ginger beer (like a Reed's Ginger Beer) and is somewhat similar to Vernor's, which is about the only bottled ginger ale worth buying and drinking. (Uh oh. Look out! My native Michigander is showing…)
*Science Content Warning!

Papa's Hooch is a home fermented product. That means that there will be a little sediment in the bottle. And since it's brewed with real, grated ginger and fresh squeezed citrus juice, there will be a small amount of pulp in the finished product. If you pour carefully, the sediment should remain in the bottle. If you find pulp objectionable (I personally find it really tasty and will fight anyone for their pulp) you can pour the hooch through a fine mesh strainer into your glass.
Since this is a fermented product, there is a miniscule amount of alcohol produced as a by-product of the yeast. The original recipe called for a full cup of sugar, but Dad reduced that to a half cup. Since there is less sugar to be eaten by the yeast, there will be less alcohol in the finished product than there was in the original recipe. To give you an idea of how much (or rather, how little) alcohol there really is let me share with you a quote from the page where Dad originally got the recipe (and if it sounds like it's written by a scientist, that's because it is.)
"We have tested in our lab the alcoholic content which results from the fermentation of this (ginger ale) and found it to be between 0.35 and 0.5 %. Comparing this to the 6% in many beers, it would require a person to drink about a gallon and a half of this (ginger ale) to be equivalent to one 12 ounce beer. I would call this amount of alcohol negligible, but for persons with metabolic problems who cannot metabolize alcohol properly, or religious prohibition against any alcohol,  consumption should be limited or avoided."
This means, that the final alcohol content of Papa's Hooch is going to be roughly half of what the original recipe's alcohol content was. Translation: You'd need to drink 3 gallons of Papa's Hooch to get the alcohol that is in the average 12 ounce beer.
Also. You'll want to keep in mind that the bottle in which you ferment the hooch will be under a great deal of pressure. It's best to use an empty plastic two-liter seltzer or soda bottle with a tight fitting screw top for the process. You wouldn't want to use an empty milk jug, glass bottle or mason jar for this project. If you use glass you run a very real risk of explosion. Heck, there's bit of a risk of explosion with the plastic bottle, too. But you're a lot less likely to incur injury or property damage from an exploding plastic bottle than an exploding glass one. And using a plastic bottle along with the safety precautions laid out in the recipe makes it a pretty safe bet that you'll be fine. But, really… I'm not asking you to fillet and eat your own fugu. It's just ginger ale. As long as you use a plastic bottle, the biggest risk you're flirting with is that you'll have a puddle to clean up and you might have to wipe down a wall or two. I'd say that's worth it!
Onto the ginger ale. If you make this tonight, it should be ready to drink by Sunday morning.
For a photo-free, printer friendly version of this recipe, click here!
Papa's Homemade Hooch
Ingredients: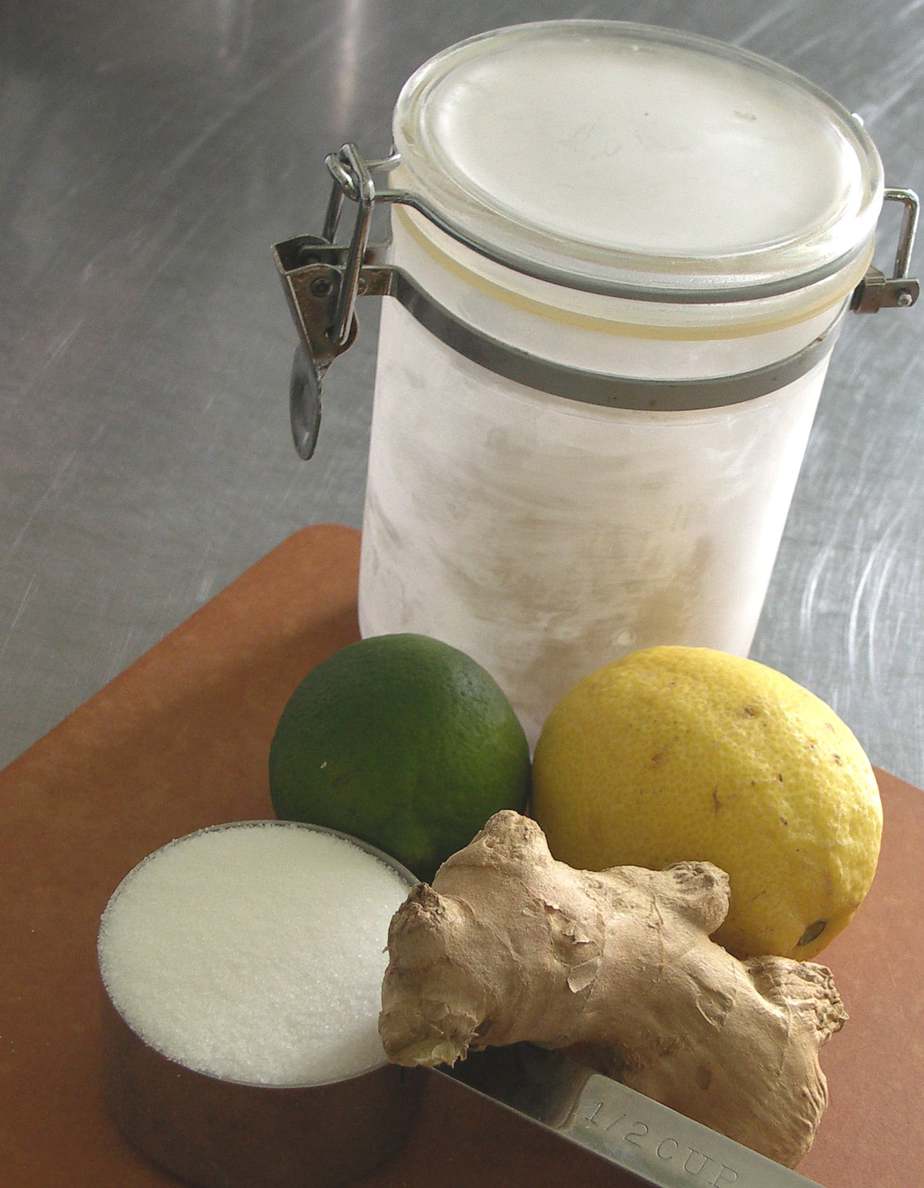 1/2 cup granulated sugar
One lemon or one lime (or half of each)
2 inches of fresh gingerroot
1/4 teaspoon of yeast
Fit the top of a clean, dry, empty 2-liter soda bottle with a funnel. Pour the sugar and yeast into the bottle.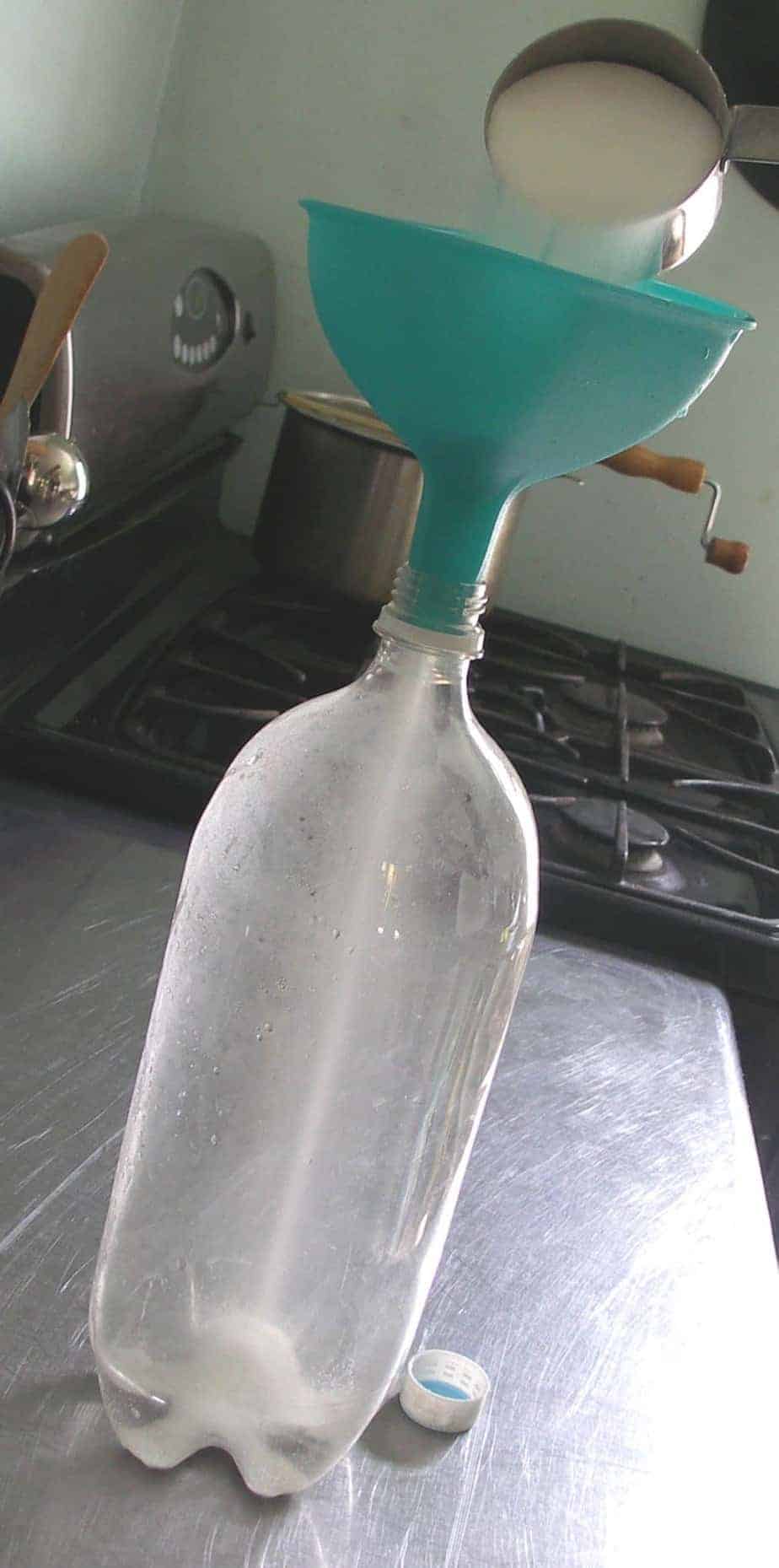 Swirl gently to distribute the yeast through the sugar. Leave the funnel in the bottle and set aside.
Grate the ginger into a measuring cup.
Juice the lemon and/or lime. I prefer to use half each of a lemon and a lime.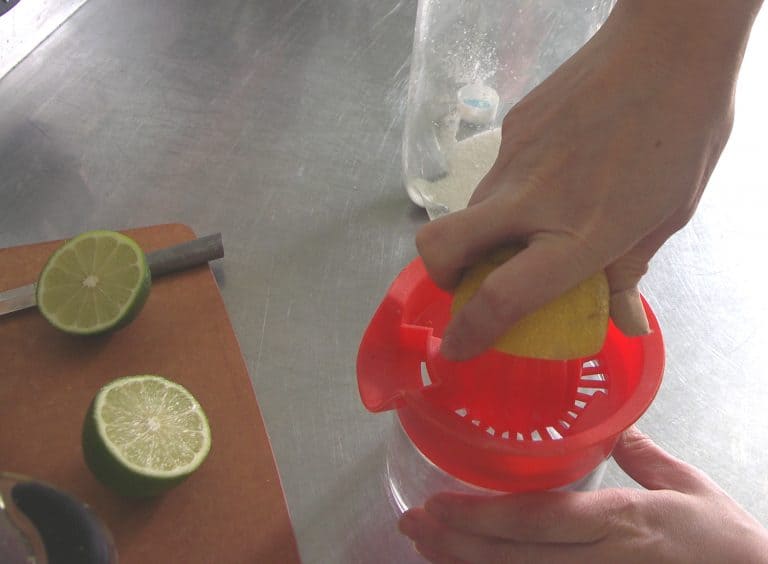 Combine the citrus juice and the grated gingerroot in a measuring cup and swirl to mix.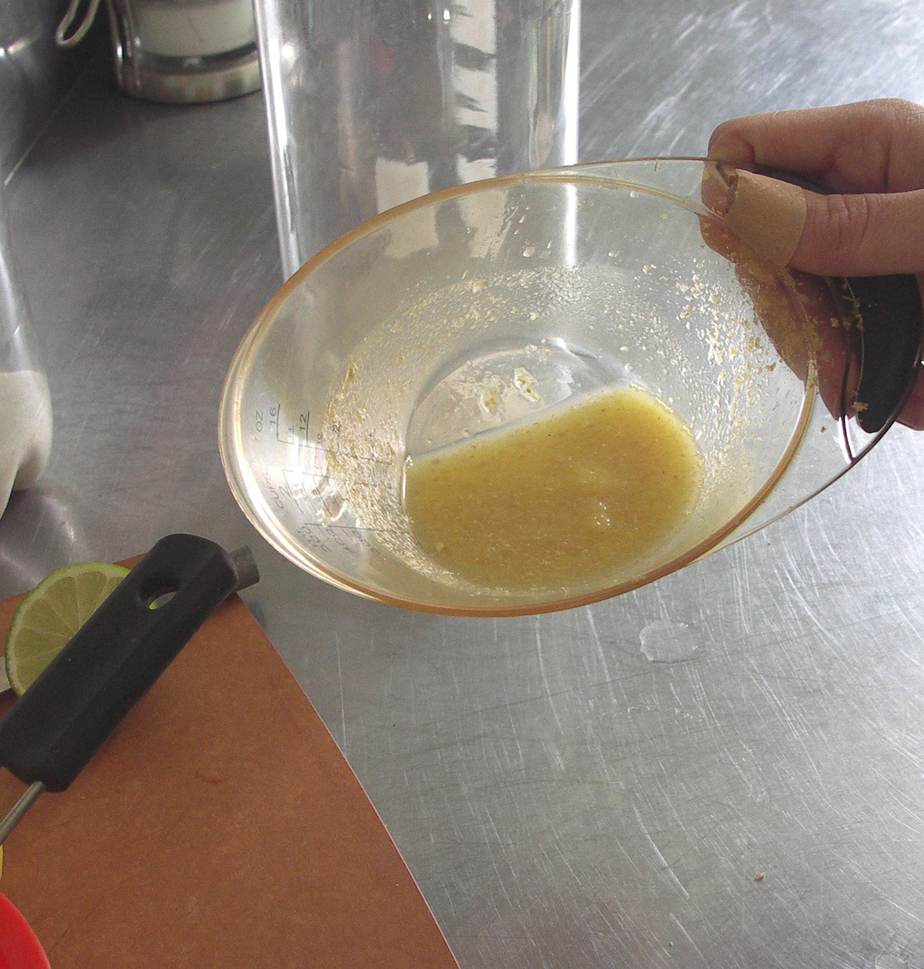 Pour through the funnel into the bottle.
There will be some ginger and citrus pulp left in the funnel and measuring cup.
We'll take care of that right now! To rinse the additional pulp out of the measuring cup and into the bottle add clean drinking water to the measuring cup and swirl.
Pour this through the funnel. That should have cleaned out the measuring cup and the funnel.
Remove the funnel and screw the cap on tightly. Shake the bottle vigorously to mix. Remove the cap and fill the bottle to within an inch of the top (that should be just about where the bottle starts to narrow at the neck), cap tightly and invert repeatedly to dissolve sugar.
Use your thumb to press in the side of the bottle and take note of how far it gives under the pressure.
Place bottle in a warm (but not hot) place for about 24-48 hours, or until the bottle is very firm. When the bottle does not yield to firm pressure it is time to refrigerate!
Do not leave the bottle out for more than 48 hours as you run the risk of it bursting after that point. Chill completely, preferably overnight. When it is completely chilled, caaaaaarefully loosen the lid…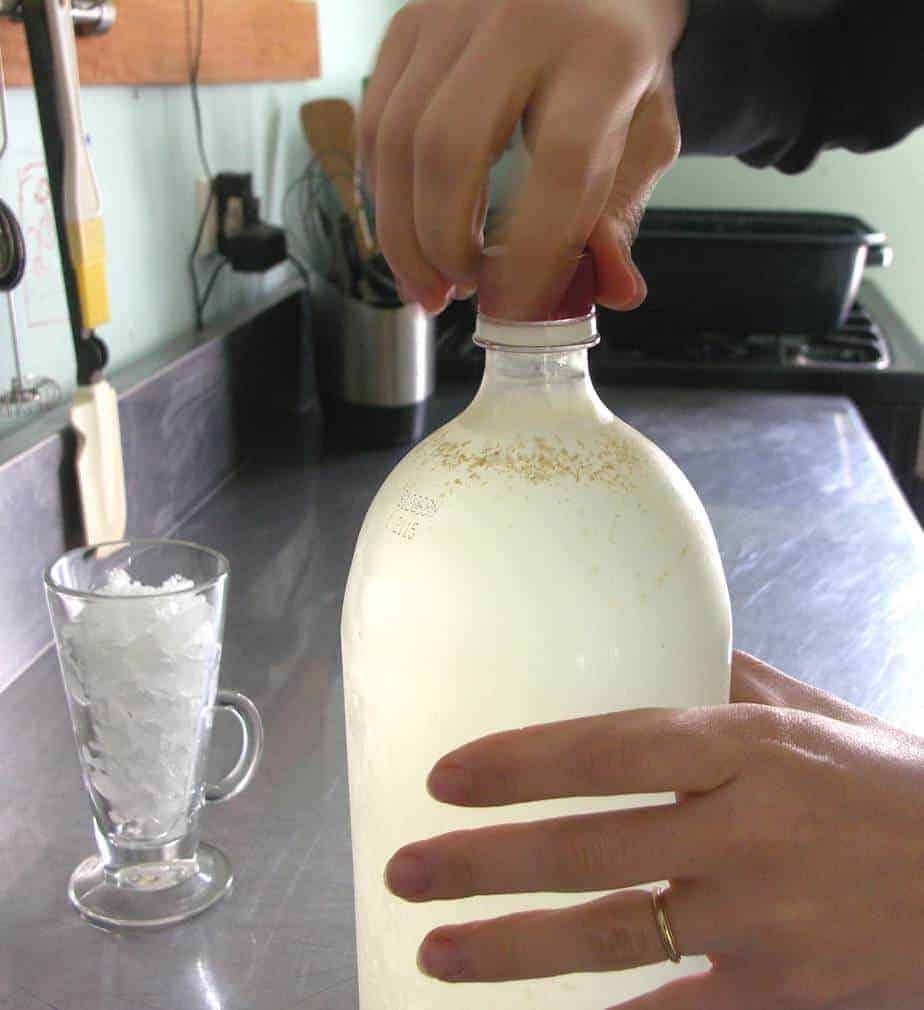 and pour over ice.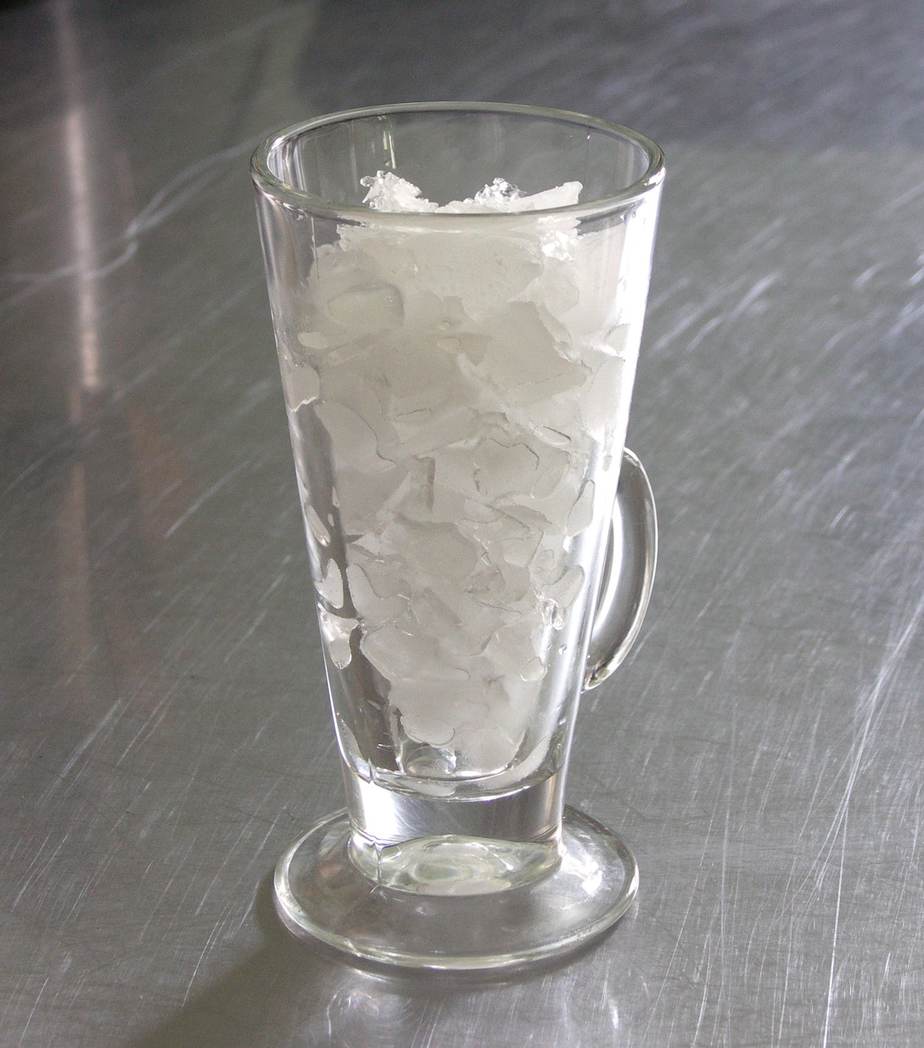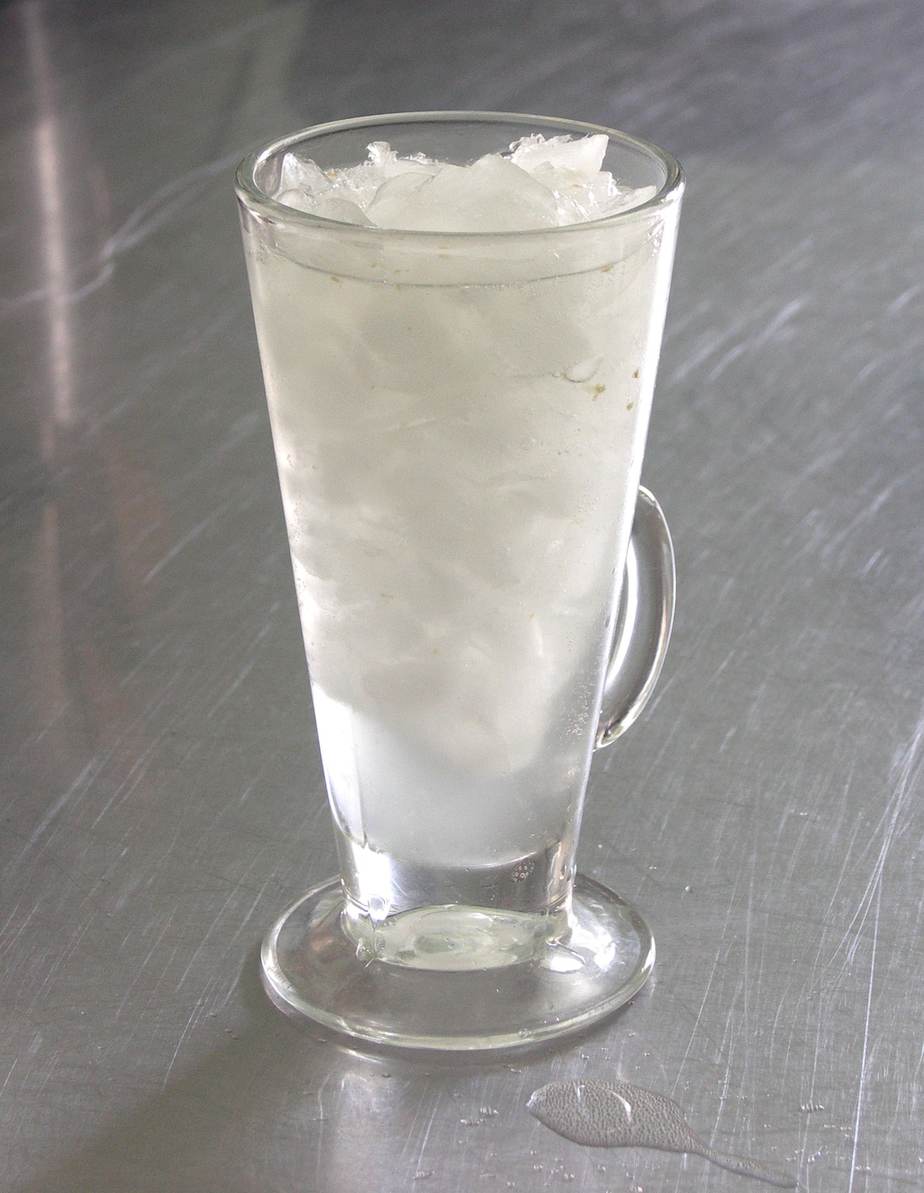 If you find pulp and small bits of ginger objectionable, strain your soda into the glass.
This last bit of advice comes straight from my Dad. Heed him well. "Rinse the bottle out with water immediately after pouring your last glass. Otherwise you'll never get the dad-burned stuff out of there." He's right. I tried washing out an empty hooch bottle after it had sat out, capped- I might add, overnight. I ended up recycling the blasted thing. When will I learn to listen to my Dad the first time?