With this Trashed Up Barbecue Turkey Pizza, I'm going to be bringing you my favourite turkey or turkey leftovers recipes all this week in the lead-up to my favourite holiday of the year: Thanksgiving! If you're looking for a whole bird recipe, try this EXCELLENT and popular tutorial on "How to Smoke a Turkey".
That's not all, though, we are packing in the fun today; this is also my addition to the virtual baby shower for my sweet gal Jessica of How Sweet Eats. Jessica has a sweet little bun in the oven and has 6 weeks to go, so her blogging buddies (self included) are celebrating Jessica with a bunch of goodies we think she'd like very much and we're trashing them up, Jessica style!!! Extra exclamation points all around!!!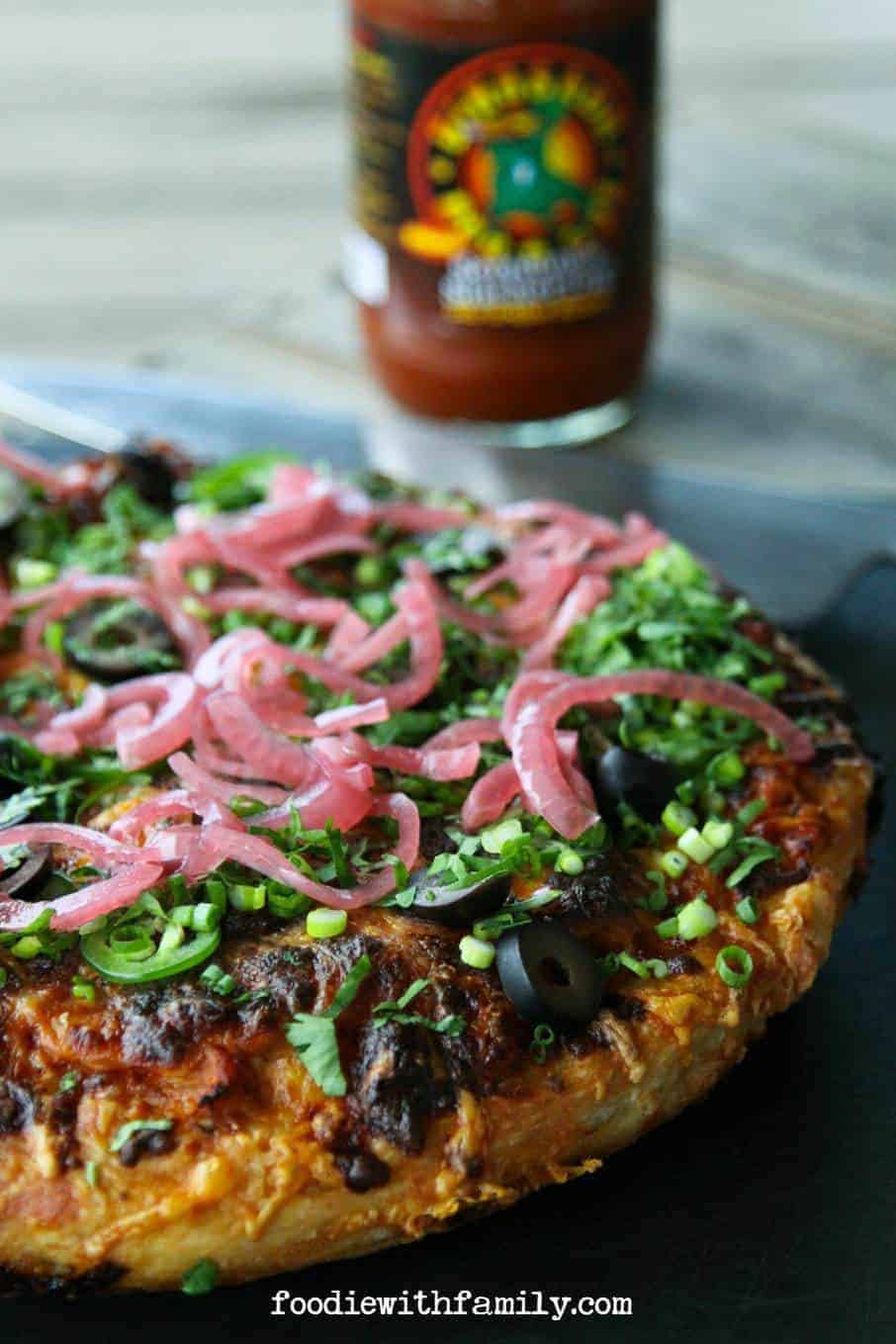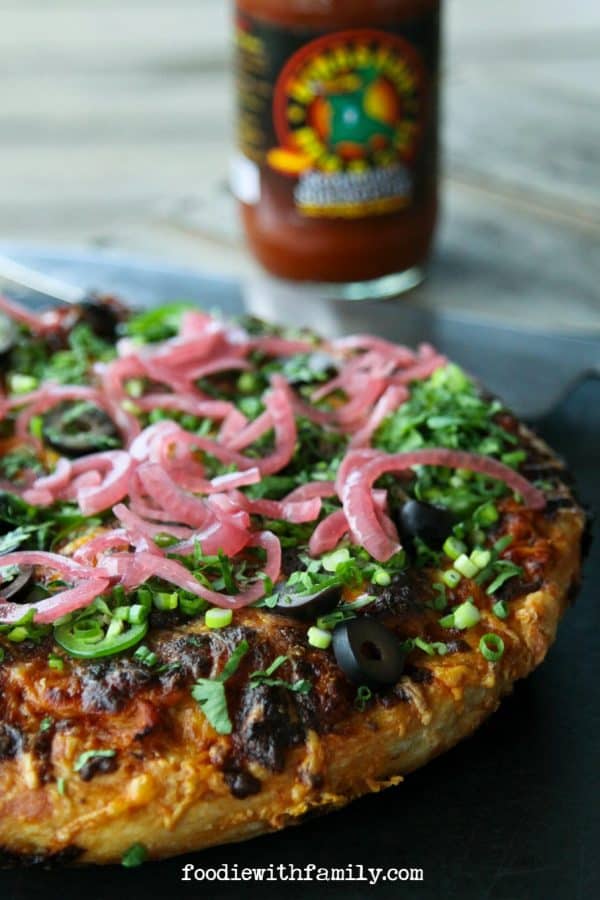 I first met Jessica in Oregon at a Harry & David event and loved her immediately. She was spunky, gorgeous, and the only one brave enough to dive in and try a bleu cheese chocolate truffle with me. What can I say, we bonded over stinky cheese. On the flight home, Jess was seated about five rows ahead of me and on the opposite side of the aisle. I people watched as folks boarded the plane -like you do- and noticed one particularly unkempt passenger who looked like they hadn't seen the inside of a shower in the last month or two walking down the aisle, looking at the numbers above the seats. PLUNK! He dropped into the seat right. by. Jessica. and it was a very full plane. Throughout the looooooooooooooong flight, I watched as her row buddy fell fast asleep and flopped his upper half into the aisle where the flight attendant gently pushed him back upright so she could pass through with the cart. That guy stayed out COLD even when pushed into an upright seated position. He teetered a little then PLOP… his head dropped right. onto. Jessica's. shoulder.
Oh, gosh. I was feelin' it for Jess at that point. There was no waking that dude until the plane came to a landing. Had that been me, I might've freaked out and pushed the flight attendant's call button until someone came and removed that smelly stranger from my shoulder. But Jessica? She sat there stoic and strong and not at all freaky-outy. That's just the sort of forbearance, patience, and straight-up kindness that will make her such a wonderful mother.
In honour of her (as she says) knocked-up state and impending birth, I'd love to offer a Trashed Up Barbecue Turkey Pizza that seems right up Jessica's culinary alley. Pile all the goodies on! This is a fantastic use for leftover turkey and changes things up from the normal, boring casserole routine. Just like I can't wait for Thanksgiving leftovers, I can't wait to see Jessica's photos from when she first gets to hold her little bundle of joy. Congratulations, Jessica, Eddie, and Little How Sweet!
Cook's Notes
I made this cast-iron, pan-pizza style, using my Best Pan Pizza method, but you can use the sauce/toppings combo on whatever your favourite pizza crust is.
I made this with chopped leftover turkey because, hello!, #TURKEYWEEK, but you can also make it using leftover roast, grilled, broiled, deep-fried, or rotisseried turkey or chicken. Use whichever fully-cooked poultry you have on hand! It's easy like that!
As cheeses go, I like a combo… mozzarella for stretch and that classic pizza cheese texture, pepper jack for stretch and some flavour punch, and a little Cheddar for its tangy, sharp qualities.
You can stop there if you like, with the pizza just as it is when it comes from the oven -barbecue sauced turkey with scandalous amounts of melted cheese and it'll be plenty delicious and good- or you can go all in and  'trash it up' by piling on all sorts of fun things like sliced black olives, pickled onions, fresh cilantro leaves, and slices or cubes of ripe avocado. One way or the other, you'll be eating large!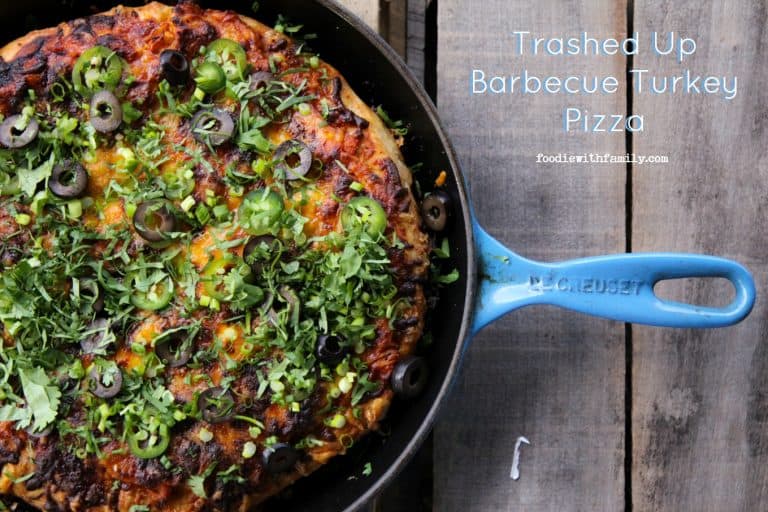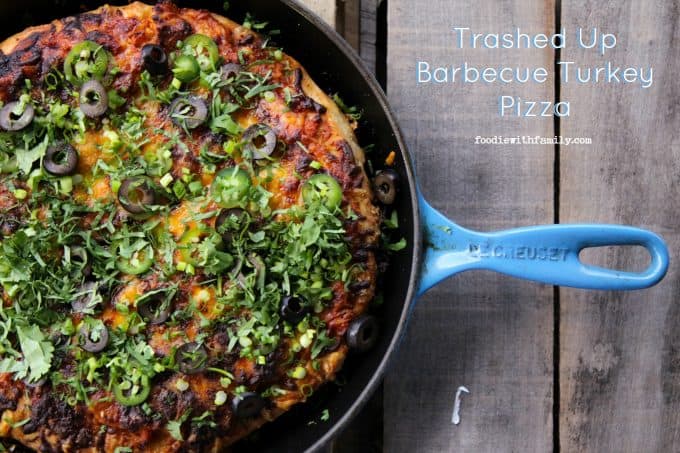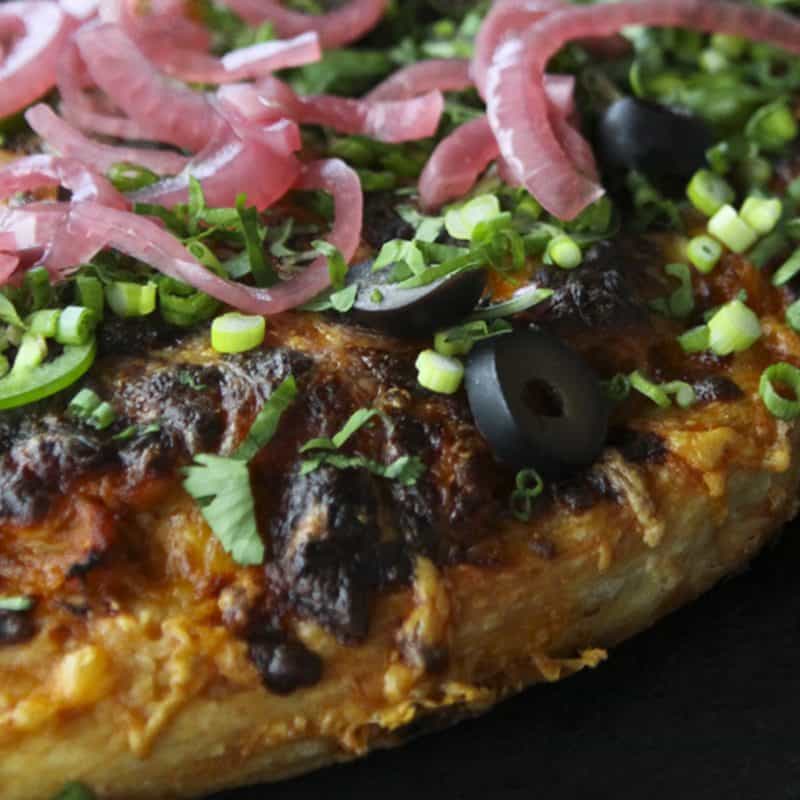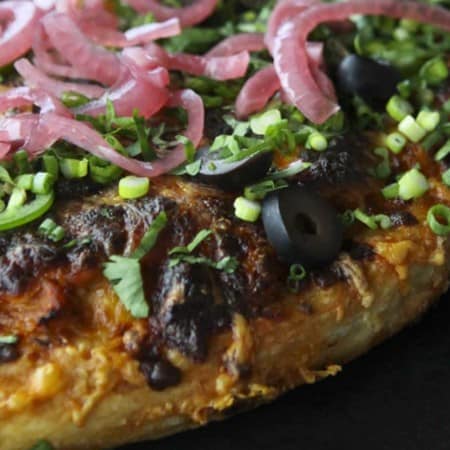 Ingredients
For the Pizzas:
4

tablespoons

olive oil or neutral oil with a high smoke point like grapeseed

not extra virgin, peanut, or canola, divided

1

batch of dough from The Best Pan Pizza post

2 1/2

cups

shredded or cubed leftover turkey

1 1/2

cups

barbecue sauce

1 1/4

cups

shredded mozzarella cheese

1/2

cup

shredded Pepper Jack cheese

1/4

cup

shredded Cheddar cheese
Optional but tasty:
fresh cilantro leaves

sliced black olives

pickled red onions

slices

or cubes of ripe avocado

thin slices of fresh jalapeno peppers

thinly sliced green onions

scallions
Instructions
To Prepare the Pizzas:
Preheat oven as high as it will go, preferably to 550°F. Remove plastic wrap from the pans with the pizza dough in them. The dough should now have spread itself (or nearly spread itself) to the edges of the pan. Simply lift the edges of dough to pull toward the sides of the pan if necessary. This will help loosen any trapped air under the dough as well. If there are any large air bubbles, nudge them down with the back of a knuckle.

In a mixing bowl, toss together the cubed or shredded turkey and barbecue sauce. Spread half of the mixture on each pizza right to the edges of the dough. Divide the cheese and top each pizza evenly to the edge.

Put into the hot oven and bake for 12-20 minutes (depending on how well done you want your pizzas.) You can check the underside of the pizza crust for doneness by lifting the edge gently with a flexible spatula (like a fish turner). A finished pizza will have a crisp, deep-brown bottom and a bubbly, golden- to deep-golden brown top. I pull my pizzas when the edges have some deeply caramelized (read: lightly charred) edges and some dark brown bubbles on top.

Use your flexible spatula to slide under the pizza and edge it out onto a cutting board, top with any remaining desired toppings. Let rest for 5 minutes before slicing into wedges, then let it rest without moving it or prying the pieces apart for another 3 minutes before serving.
Nutritional information is an estimate and provided to you as a courtesy. You should calculate the nutritional information with the actual ingredients used in your recipe using your preferred nutrition calculator.
Would you like to read more of the fan-flippin'-tastic recipes for Jessica's Baby Shower? Check out this amazingly awesome with glitter and sprinkles list!
trashed up salads
Gimme Some Oven – Asian Broccoli Salad with Peanut Sauce
The Lemon Bowl – Brussels Slaw with Tahini Dressing and Za'atar Crostini
With Style & Grace – Kale Salad with Apple, Hazelnuts & Bacon
trashed up cocktails
trashed up burgers
trashed up tacos
trashed up desserts
trashed up pizza
This is my fourth post in my commitment to post every. single. day in November for NaBloPoMo (National Blog Posting Month). Follow the craziness all month as I share recipes, family anecdotes, and throw a couple of giveaways in for good measure!