When it comes to desserts, I'm a creamy, chocolatey devotee. If it's pudding-like (or ice cream like) I'm in. If it combines pudding or ice cream-ish qualities with chocolate? I am all over it. Such is the case with Kahlua Chocolate Cream Pie. I made this, ostensibly, for my husband's birthday last week. He wanted a chocolate cream pie. I decided you only get one shot at each birthday, and so slipped a little coffee liqueur into the mix because chocolate always tastes great with a little hint of coffee. Thus, Kahlua Chocolate Cream Pie was born on my husband's birthday.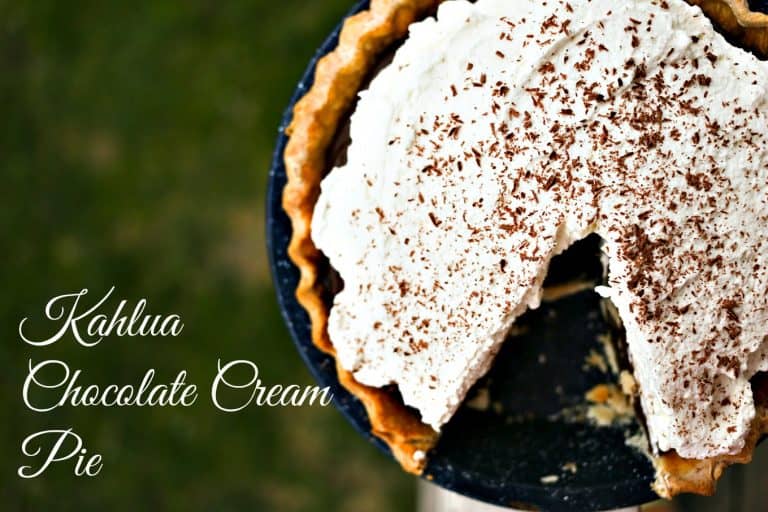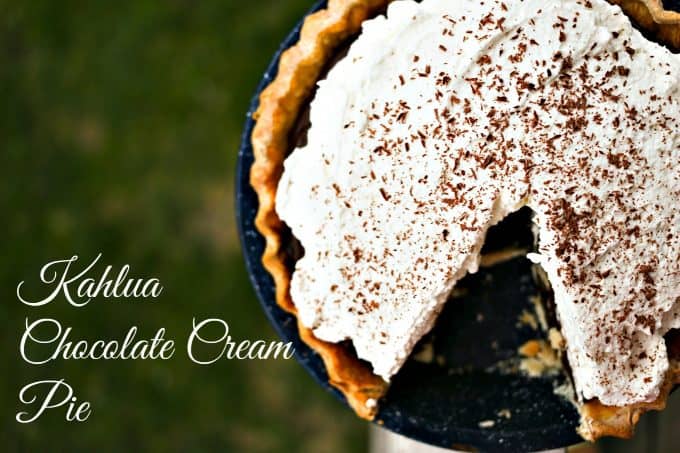 He declared it awesome.
Now, I'm going to get a little food snobby here for a minute. Please understand that I have eaten more than my share of pudding-pie-made-from-a-boxed-mix, and I guarantee I will eat and love many more slices of it. However, if I stuck a slice of my homemade pie-from-scratch Kahlua Chocolate Cream Pie on one plate and a slice of pudding-from-a-box pie on another and you tried a bite of both, I'm willing to bet my pride that you'd prefer the pie-from-scratch. The texture is silky smooth and velvety. The chocolate is rich and powerful. The cream is REAL and glorious. Kahlua Chocolate Cream Pie is what every chocolate cream pie wants to grow up to be.
Cook's Notes
This is homemade pudding. Don't be intimidated by it, there are a few insurance policies in place to make sure we have a smooth pudding. First, you're whisking the cornstarch and cocoa powder into the sugar and salt before any liquid hits it. This will prevent dry pockets of powdery ick.
Second, before the liquids hit the dries, we'll be whisking those together, too. This will evenly disperse the eggs in the milk, keeping it from having little chunks of pudding poached egg hiding throughout.
Don't walk away and do anything else while you're cooking the pudding. Your job here is simple. Stir well and stir constantly. Scrape the sides and bottom of the pan with your whisk as you keep the pudding moving. This is another measure to help avoid scrambling the egg yolks.
Next on the list of whys and wherefores is the fact that we'll be straining the pudding. The reason for this is that despite our best efforts, some little bits of egg or cocoa powder may escape us. Biting into these is not pleasant, and therefore we strain it through a fine mesh sieve. Easy peasy and the ultimate guarantee, right?
Let's talk about the whipped cream topper, shall we? I give instructions for making stabilized whipped cream in the recipe. The reason for this is that the gelatin in the whipped cream helps keep the texture light and fluffy for three or four days vs. needing to be eaten immediately. If you expect that your pie will be eaten the same day it's made, you can skip the stabilizing process and just whip the cream with the sugar.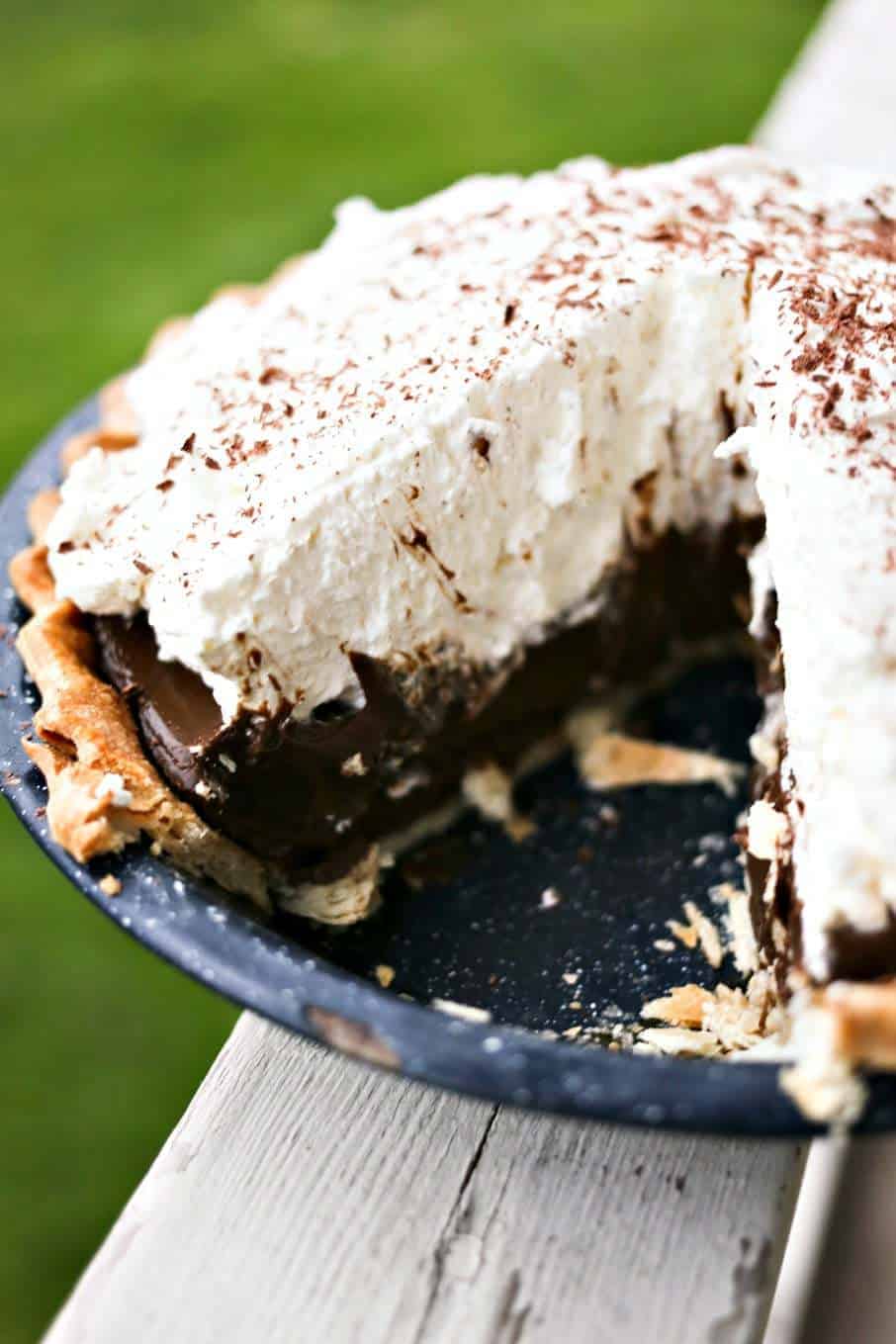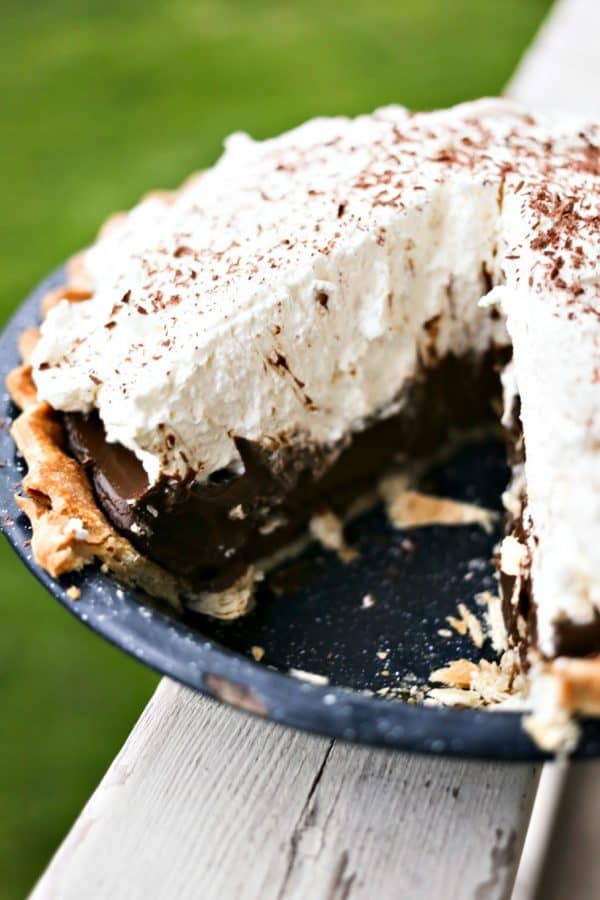 Connect with Foodie with Family
facebook | pinterest | instagram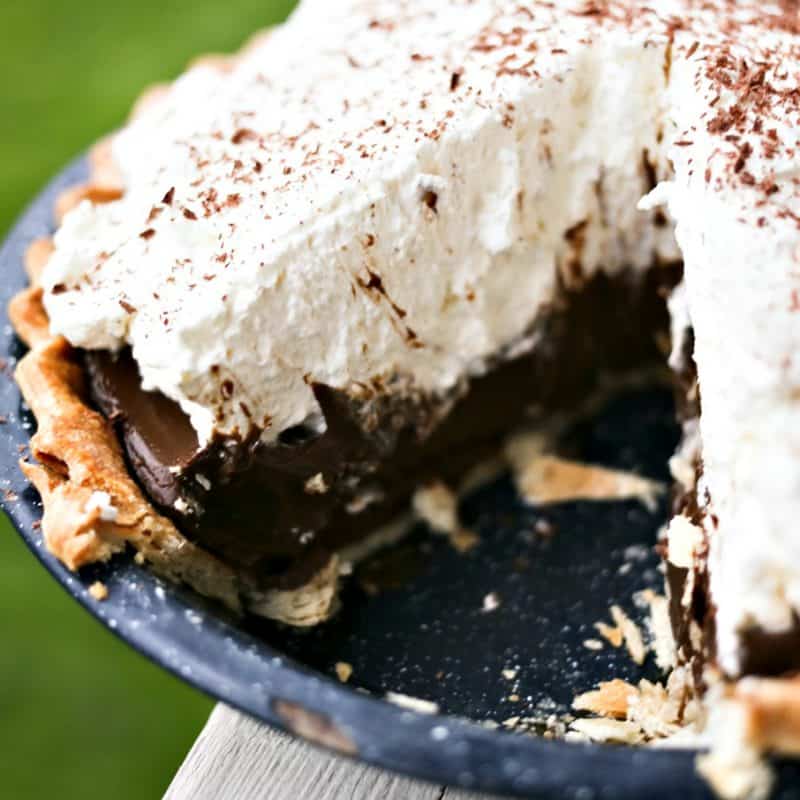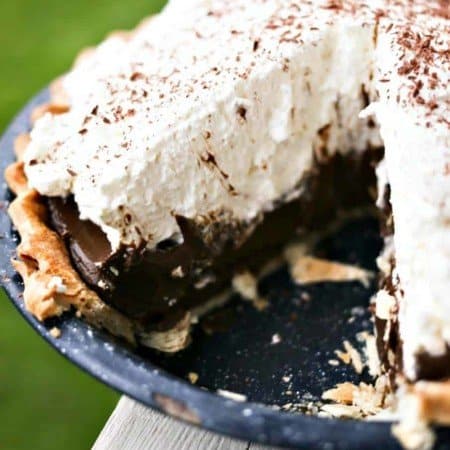 Ingredients
For the pie:
2/3

cup

granulated sugar

1/4

cup

cornstarch

1/4

teaspoon

kosher or sea salt

3

tablespoons

unsweetened dutch process cocoa powder

4

large egg yolks

3

cups

whole milk

4

ounces

bittersweet chocolate chunks

or a 4 ounce block of bittersweet chocolate chopped

1/4

cup

Kahlua

or other coffee liqueur

1

teaspoon

pure vanilla extract

1

fully baked pie crust
For the topping:
2

teaspoons

unflavoured gelatin

2

tablespoons

plus 2 teaspoons cold water

2

cups

whipping cream

1/3

cup

granulated sugar

dark or bittersweet chocolate for grating
Instructions
To make the pie:
Whisk together the sugar, cornstarch, dutch process cocoa powder, and salt in a 2 to 3 quart, heavy-bottomed saucepan until evenly coloured. In a separate measuring cup or bowl, whisk together the egg yolks and whole milk until evenly yellow. Slowly whisk that into the sugar mixture, drizzling in the milk mixture while whisking constantly. Place over medium heat and whisk constantly until it is thickened and bubbly, about 6 to 8 minutes. Immediately drop the heat to low and let it bubble for 1 more minute. Remove from the heat and whisk in the chocolate until it is fully melted. Pour through a fine mesh sieve into a heat proof bowl. Whisk in the Kahlua and vanilla until smooth. Pour the pudding into the fully cooked pie crust, lay plastic wrap directly on the surface, and cool for at least 5 hours, or until it is thoroughly chilled and set.
To Make the Whipped Cream Topping:
Sprinkle the gelatin over the water in a small saucepan. Let stand for 10 minutes. Place the saucepan over medium heat and whisk until the gelatin is dissolved. Set aside to cool to room temperature while you begin whipping the cream. Do not let this stand long enough to solidify.

Add the whipping cream and sugar to the bowl of a stand mixer, or into a bowl using a hand mixer. Whip on high until the cream starts to thicken. Pour in the cooled gelatin liquid and continue whipping until you reach stiff peaks. Remove the plastic wrap from the surface of the pie and spread the whipped cream to within 1/4- to 1/2-inch of the edges so some chocolate still peeks through. Grate some bittersweet or dark chocolate over the top. Can be served immediately, but the stabilized whipped cream should hold up for up to 3 days in the refrigerator.
Nutritional information is an estimate and provided to you as a courtesy. You should calculate the nutritional information with the actual ingredients used in your recipe using your preferred nutrition calculator.