This Apple Upside Down Cake is one simple-to-make tender, rich, indulgent-tasting cake that is absolutely covered in apples that bake to being meltingly soft in a pure, dark maple syrup caramel sauce. And bonus: It's vegan friendly!
Maple Apple Upside Down Cake is quite possibly the best cake I've ever made. Bold words, I know, but I mean them.
I held off on boarding my Crazy Fall Train as long as I possibly could. I *KNOW* there are people out there (like my husband) who just can't HANDLE the fact that the leaves are going to turn colours and fall to the ground and the air is going to become crisp, cold, and lovely.
All my resolve crumbled in nanoseconds when I walked into my favourite farm stand and saw the first Jersey Mac new crop apples. Gorgeous, crisp, tart, new FALL apples.
I gave up, because I am what I am. I bought a tote bag of apples and went home to contemplate the glory of the upcoming autumn.
The first thing I did was work on this cake that's been baking away at the back of my mind just waiting for the fresh apple crop. Maple Apple Upside Down Cake combines my two favourite seasons of fall and spring -or, as I refer to them- apple and maple seasons.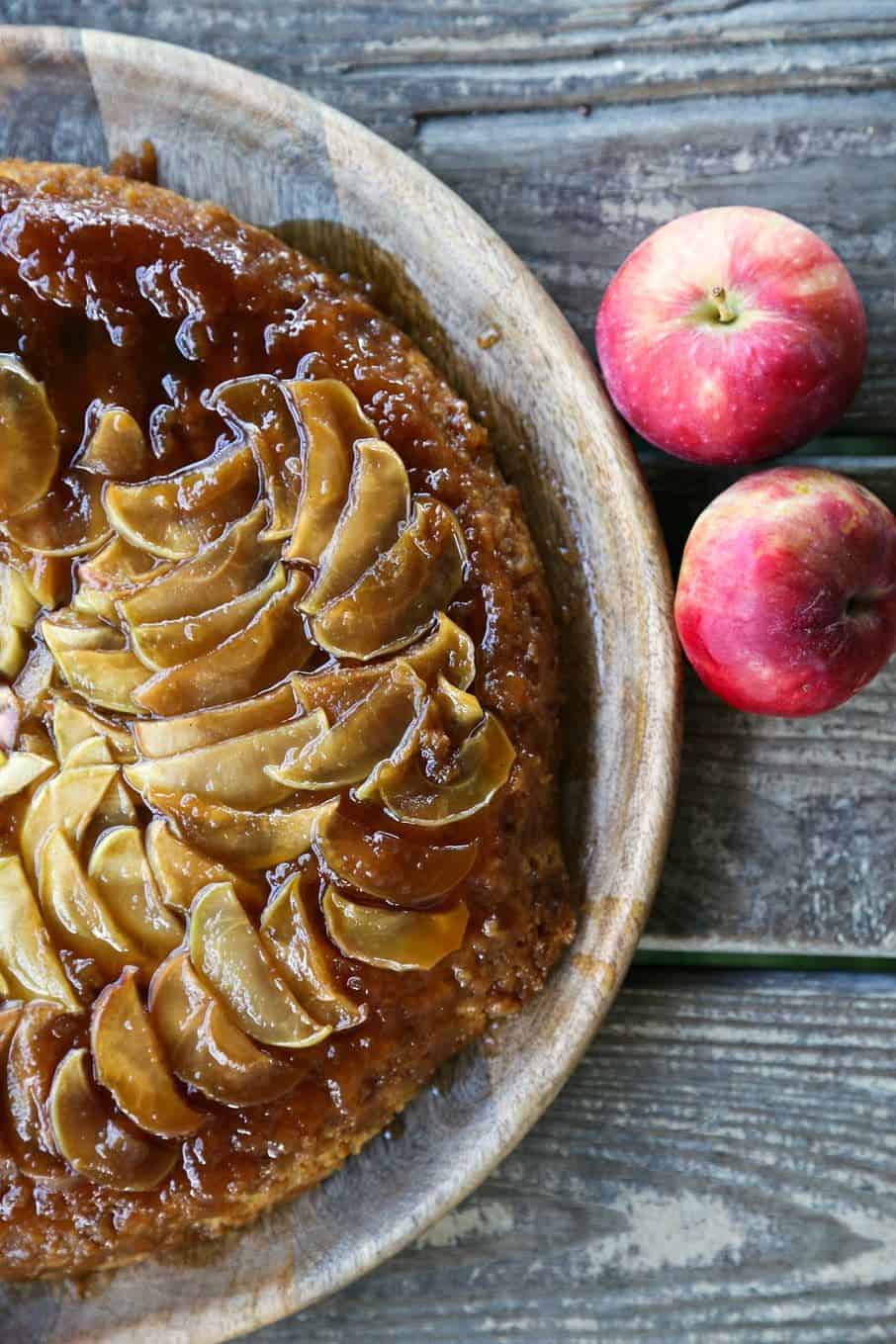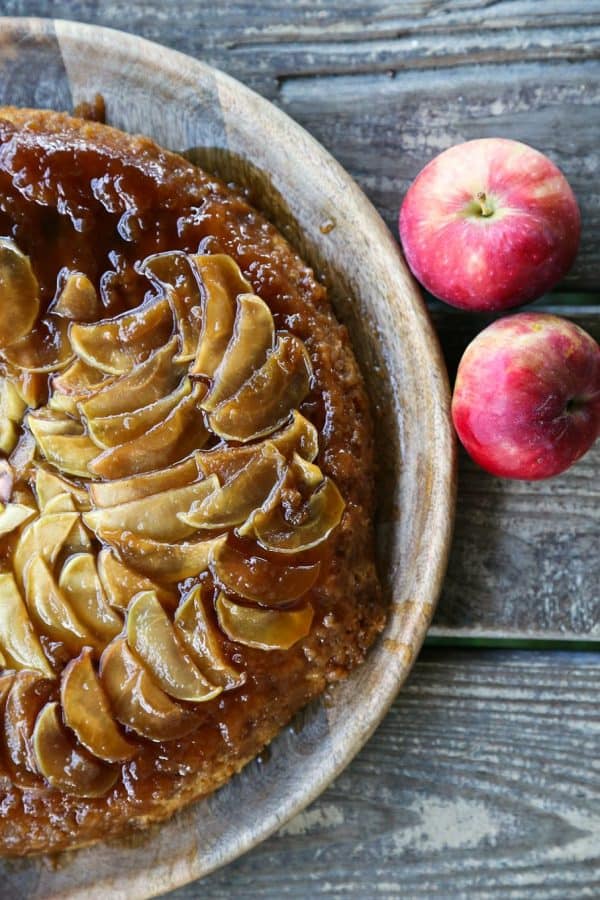 Maple Apple Upside Down Skillet Cake is everything wonderful about Western New York in one lush cake. It's tender, rich, indulgent-tasting. It is absolutely covered in apples that bake to being meltingly soft in a pure, dark maple syrup caramel sauce.
Oh… and hey… it just happens to be egg and dairy free, making it *gasp* vegan. Don't look at me like that.
This cake rocks the Casbah, baby. My husband was absolutely shocked when I told him it was a vegan cake.
"Seriously? You're kidding me. This thing tastes like you put a pound of butter in it!" It took some convincing for him to believe me.
I dropped a piece off with my friend at the dance studio. She called me to tell me that it was the best cake she'd ever eaten and it "tasted like it had magic in it."
Big words for a grand cake, folks. If you don't take my word on anything else this year, take it on Maple Apple Upside Down Skillet Cake.
Maple Apple Upside Down Skillet Cake is almost sinfully easy to make, the slicing of the apples being by far the most complicated portion of the process, but that has never stopped me from over-clarifying things before, thus…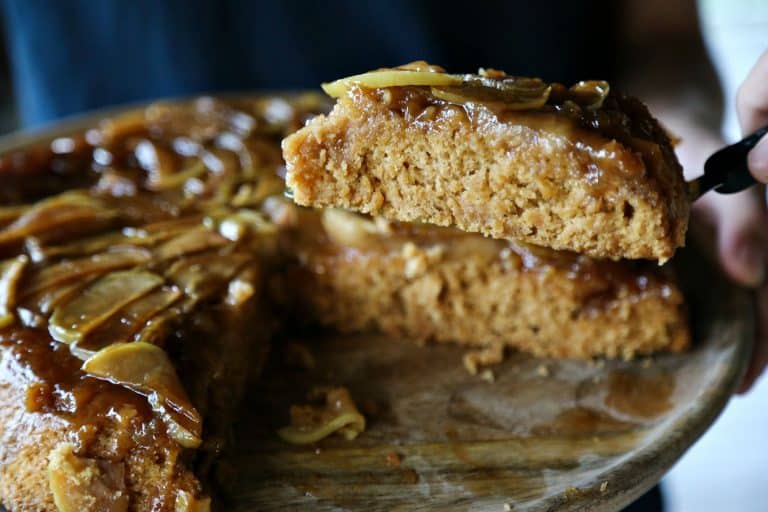 Should I use real maple syrup in my apple cake?
Let's start at the top. I used Dark Grade B Maple Syrup in Maple Apple Upside Down Skillet Cake because (as I've said here, here, and here) it just plain packs more maple punch.
If you don't live in maple country, I'm happy to let you know that you can purchase it online. If you can't /won't order it, you can substitute real Grade A amber maple syrup, but it won't have those deep caramel notes that Grade B maple syrup has.
Fun fact: Grade A syrup and Grade B syrup do not refer to the quality of the syrup, but rather the colour and the concentration of flavour. Grade A Maple Syrup is lighter in colour and has a less concentrated flavour than Grade B.
I'm relatively sure you probably already know this, but I'm going to say it anyway to head this question off at the pass. It's a no on subbing pancake syrup for the dark maple syrup.
Just don't do it. Not even 'maple flavoured pancake syrup'. This is a job for the real deal.
Which apples do I use for my apple upside down cake?
There is a whole world of apple varieties out there from which you can choose. I used a combination of two super fresh apples: Jersey Macs and Ginger Golds.
Try to pick a tart, firm apple that won't brown so quickly when cut and is known to be a good baking apple. Some other nice choices are Empires, Honey Crisps, Idareds, Romes, Jonamacs, and Paula Reds, just to name a few.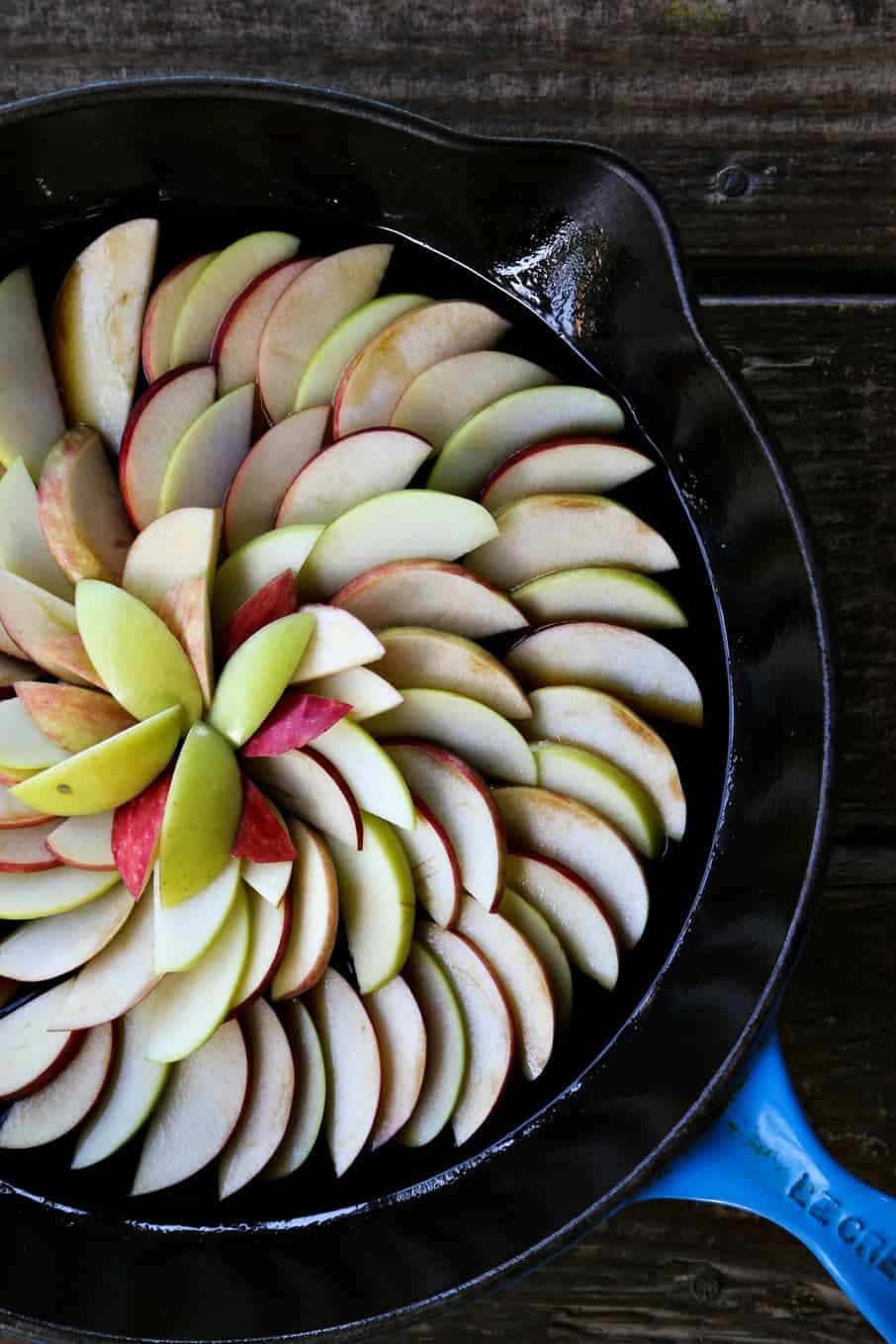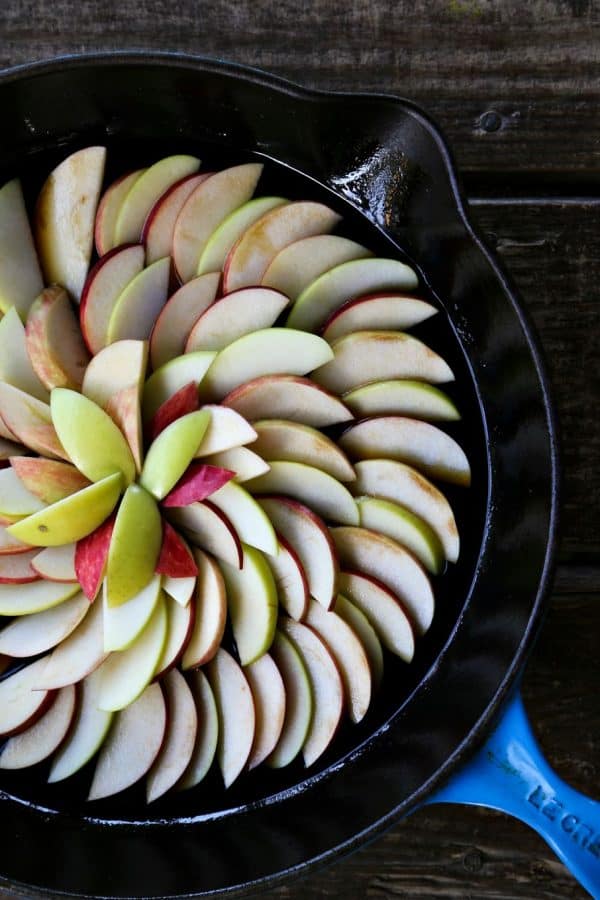 Truth: I like pretty things, so I took my time and arranged the apple slices in concentric circles. Do you need to sweat this?
Nope. As long as you cut them all roughly the same size and thickness (please shoot for 1/8-inch thick), you can toss them all in the pan on top of the maple syrup and not worry about the pattern. Trust me.
You're going to want to use an oven-safe 11 3/4-inch or 12-inch skillet. Ideally, you'll be using a cast-iron skillet because it's so darned good at conducting and retaining heat evenly.
If you don't have a skillet that large, I'd advise halving the recipe and putting it in an 8-inch cake pan, adjusting the baking time accordingly.
Begin testing for doneness around 23 minutes if you downsize the recipe. If you want to use my absolute favourite skillet for the job (the one pictured in this post), it's available for ordering here. I
f you're worried that your skillet or pan is undersized, please place your pan on top of a rimmed cookie sheet to catch any spill-over. My 11 3/4-inch skillet was the perfect size for the job.
What sugar do I use for my apple cake?
I prefer Sucanat. It's short for Sucre de canne naturel. I know, it sounds like a high-falutin' French ingredient unless you grew up in a household with hippie parents (ahem) and/or you're into health food.
Don't let the health food associations fool you, though, it's ridiculously delicious with front notes of caramel and molasses. Once you've tried it, you'll try to find ways to slide it into food as often as you can.
It makes sugar seem insipid. That being said, if you can't find it/won't order it, you can sub in an equal volume of granulated sugar or raw sugar.
What milk do I use for my cake?
Unsweetened almond milk is what this recipe calls for. Just about every mid-sized grocery store in America carries this now.
If you can't find it, and have no objection, you're welcome to sub in whole dairy milk or another unsweetened, non-dairy milk. I have personally made it with dairy milk and with soy milk quite successfully.
Can I use extra virgin coconut oil to make cake?
This stuff is basically my be-all-and-end-all. I cook with it almost as often as butter, pop my popcorn in it exclusively, and use it in place of butter for holiday/special occasion treats for my non-dairy friends.
PEOPLE, it's like the bass-o-matic of fats. I also use it for an all-natural make-up remover, moisturizer, and other crunchy beauty treatments (see above hippie parent reference.)
Again, most moderately stocked grocery stores will carry extra virgin coconut oil (solid up to 76°F, then magically liquid), but you can (as I do) order it from Amazon.com, as well. Heck, folks, I have it auto-shipped monthly. That's how much I love it. And mes amies, if you can't/won't order coconut oil, you can sub in butter, but I prefer this made with the coconut oil.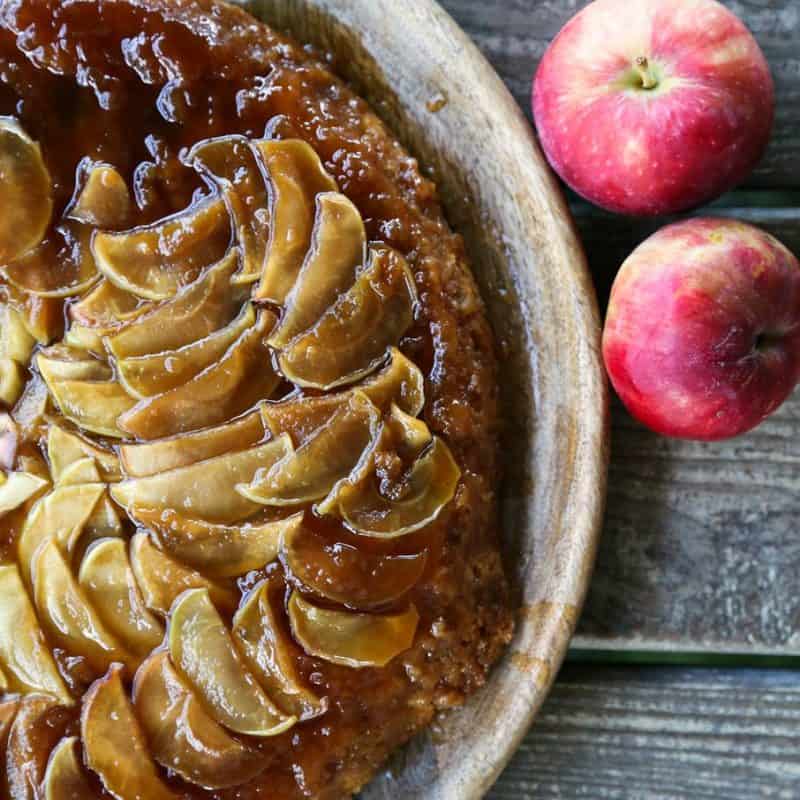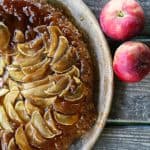 Print
Maple Apple Upside Down Cake
Apple Upside Down Cake is baked in a cast-iron skillet and is tender, rich, and covered in apples that bake to meltingly soft in a pure, dark maple syrup caramel sauce.
Ingredients
1

tablespoon

pure vanilla extract

1

cup

dark Grade B maple syrup

3

large

fresh, firm apples, cores removed, cut into 1/8-inch thin slices

4

cups

all-purpose flour

1 pound 1 ounce by weight

2

cups

sucanat

can substitute granulated sugar if necessary

4

teaspoons

baking powder

2

teaspoons

kosher salt

1 3/4

cups

unsweetened almond milk

1/2

cup

extra virgin coconut oil

melted, plus extra for the pan
Instructions
Preheat oven to 350°F. Generously grease the inside of a 11 3/4-inch or 12-inch cast-iron skillet with extra virgin coconut oil. Pour the maple syrup into the bottom of the pan. Arrange the apple slices in concentric circles on the bottom of the pan.

In a mixing bowl, whisk together the flour, sucanat or sugar, baking powder, and kosher salt until even. In a separate bowl, whisk together the almond milk, coconut oil, and vanilla extract. Pour into the flour mixture and use a silicone spatula or wooden spoon to stir the two mixtures together until no dry pockets remain. Scoop in dollops over the apples and gently spread toward the edges to level. Bake for 35 to 38 minutes, or until the top has browned a bit and a toothpick inserted in the center comes out clean. Let the cake cool for 10 minutes on the stovetop.

To transfer to a plate or cake stand, run a thin knife or spatula around the inside of the pan. Invert a plate or cake stand that is larger than the circumference of the pan over it. Carefully hold the plate to the pan as you invert the whole shebang. The cake should come out of the pan easily, but if it needs a little encouragement, smack the back of the pan firmly with your hand a couple of times. Carefully remove the pan. The maple syrup will run down the sides of the pan onto the platter. Serve warm, room temperature, or cool. Leftovers can be stored tightly wrapped at room temperature for up to 5 days.
Nutrition
Calories:
534
kcal
|
Carbohydrates:
101
g
|
Protein:
5
g
|
Fat:
12
g
|
Saturated Fat:
10
g
|
Sodium:
529
mg
|
Potassium:
299
mg
|
Fiber:
2
g
|
Sugar:
59
g
|
Calcium:
169
mg
|
Iron:
3
mg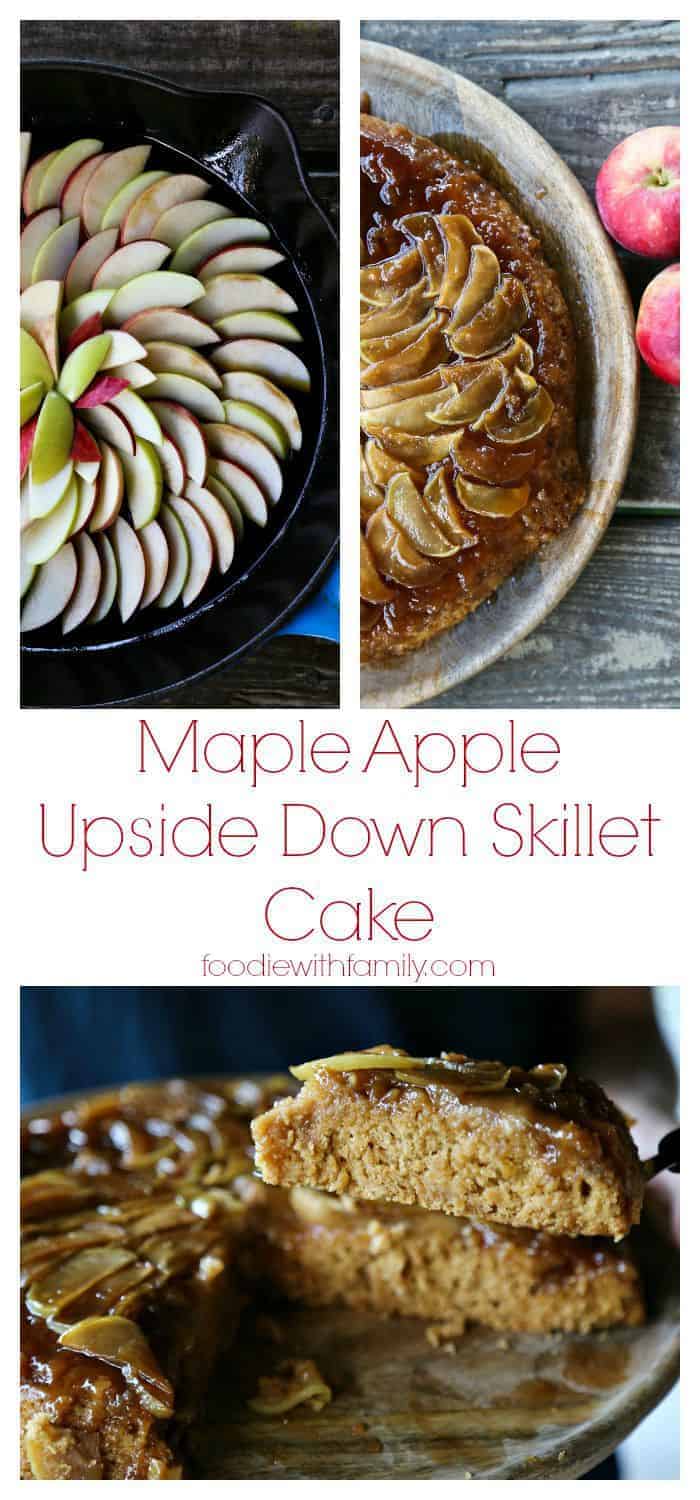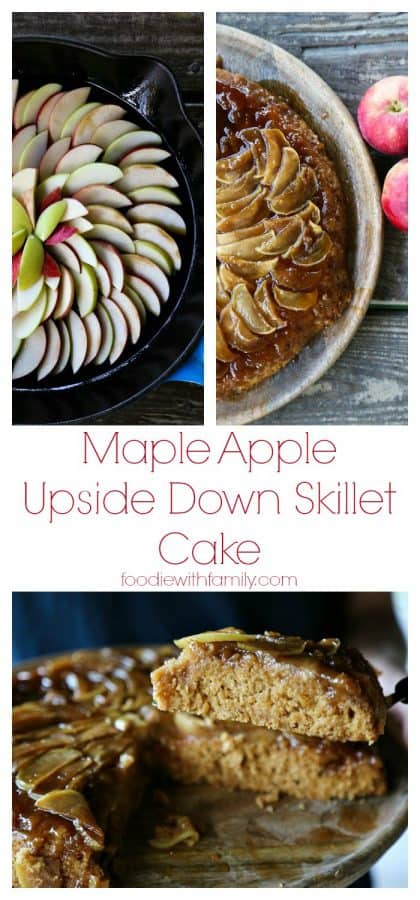 This post was originally posted August 25, 2015. Updated August 23, 2020 with improved cook's notes and nutritional information.