Cinnamon Toast Cake. It's a thing, and it is glorious. Introduced to me by my sweet friend Mary, these Cinnamon Toast Cake bars have become a staple in our snack food arsenal. And by staple, I mean I've made them 5 times in the past 3 weeks. Please don't calculate how much butter that means we've eaten. In my defense, I HAD to make it 5 times, because every time I left the room for more than 5 minutes after cutting one of them up, I came back in to find the pan appeared to have been attacked by savages who had a major collective sweet tooth.
Actually, that's a pretty good description of my husband and kids when it comes to this Cinnamon Toast Cake. "Ambrosia!" That's what my husband said when he had his first bite. Then he looked at it and said, "Oh my gosh. Is this soaked in butter and covered in cinnamon sugar?" When I responded that it was indeed, he make a little whimpering sound and finished the rest of the piece of cake off in one bite while reaching for another simultaneously.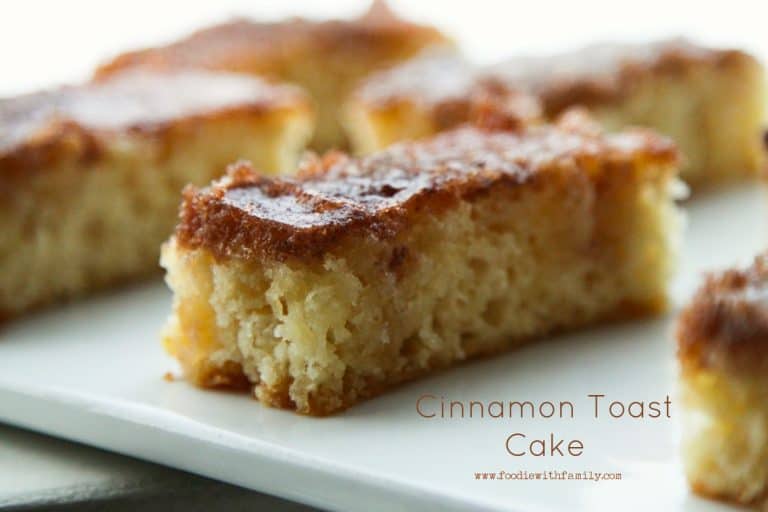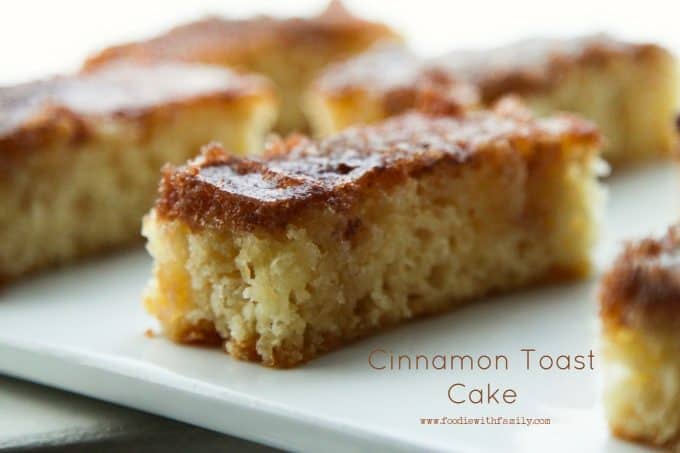 I can't blame him. What he was eating was a moist vanilla butter cake that was baked, doused with melted butter and sprinkled more than liberally with cinnamon and sugar, then popped back in the oven until the cinnamon sugar layer had become bubbly and crusty. Good grief. I mean, really.
Truth: It's hard to go wrong when you combine as much butter, sugar, and cinnamon as appear here. Really it is… But if you avoid dairy for whatever reason, I'm here to tell you there is some good news. Cinnamon Toast Cake is also BEYOND delicious when made with coconut oil and cashew milk (or another nut milk.) I mean "eat a whole plate before you know what you've done" good, a fact to which my good friend Sarah will attest.
Cook's Notes
Please don't forget to butter your pan generously before you do anything else. Really get into the corners and seams of the pan. Those are the places the caramelized sugar likes to cling and stuck cake is sad cake.
Speaking of pans, the size you want to use here is -in food service parlance- a half-sheet pan. The measurements of that pan are roughly 18-inches by 13-inches by 1-inch. If you don't have one, I advise you snap one or two up. They're DEAD handy in the kitchen and I even make whole meals on them at one time. You can grab them at restaurant supply stores or Amazon.com.
Whisk together your dry ingredients (flour, sugar, baking powder, and salt) to get them evenly distributed amongst each other, then switch to a silicone spatula for the addition of the wet ingredients. This should prevent you from overmixing the cake batter making the finished Cinnamon Toast Cake more tender.
The baking of Cinnamon Toast Cake goes in two stages. The first is 23 minutes of baking… just until it is set up and starting to pull away from the edges. You pull the pan from the oven, pour about 2/3 of your butter over the top, coat with the cinnamon sugar, and pour the remaining 1/3 of the butter over the top. Back into the oven it goes just until the cinnamon sugar layer is bubbly. This is what gives you the crusty cinnamon sugar top layer and seriously moist cake. Trust me.
VEGANS: Cinnamon Toast Cake is amazing when you sub in equal parts extra virgin coconut oil and cashew or almond milk for the butter and dairy milk. Please give it a try. My vegan buddies went nuts (GET IT?) for it.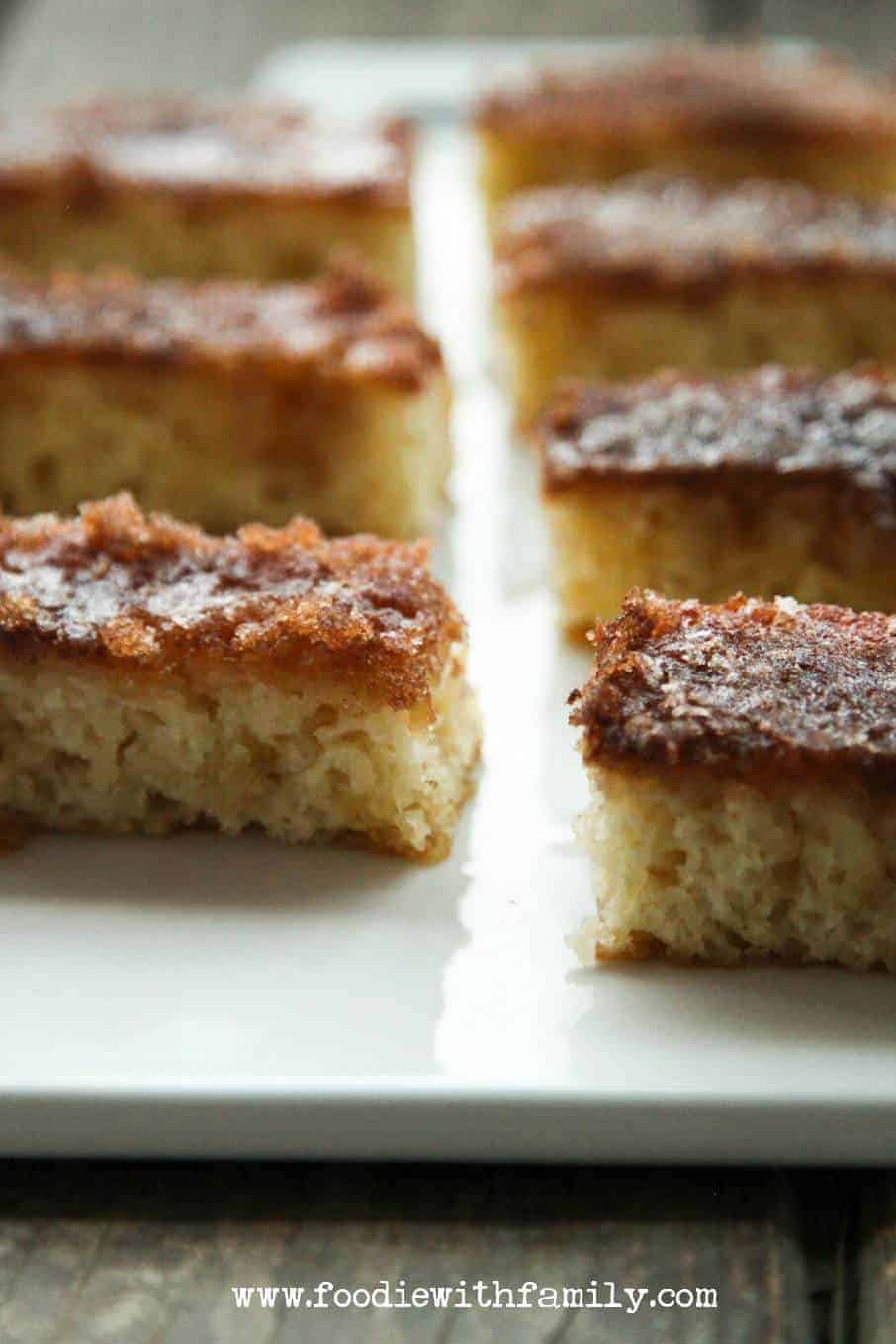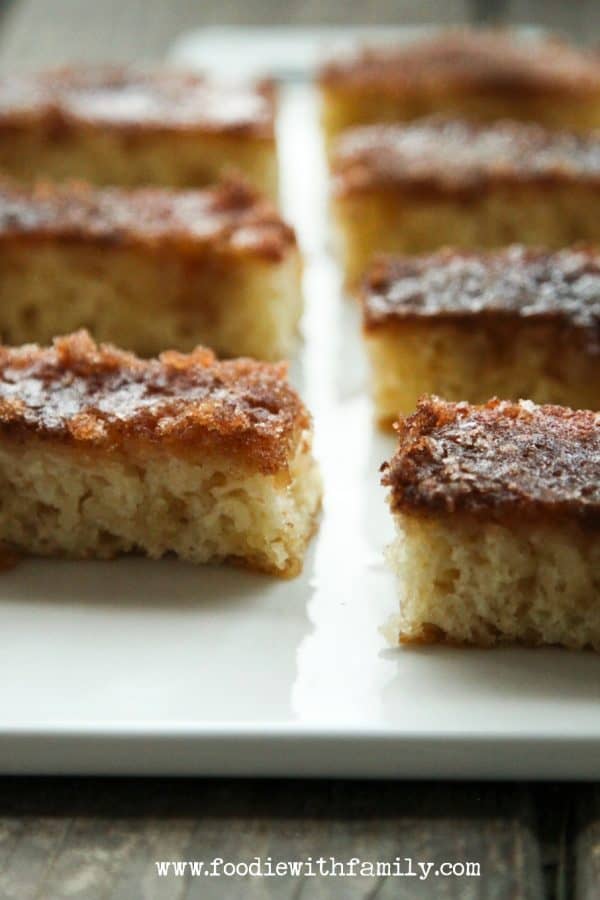 Connect with Foodie with Family
facebook | pinterest | instagram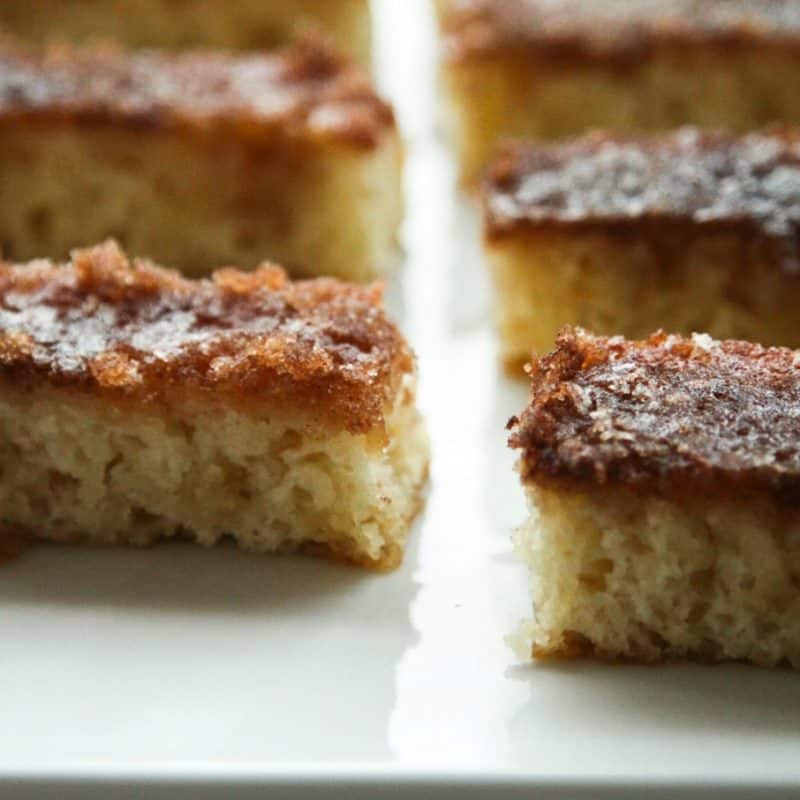 This recipe produces moist vanilla butter cake that has been baked, doused with melted butter and sprinkled more than liberally with cinnamon and sugar, then popped back in the oven until the cinnamon sugar layer becomes bubbly and crusty. Adapted gently from and with MASSIVE cinnamon thanks to
Barefeet in the Kitchen.
Ingredients
For the Cake:
4

cups

all-purpose flour

1 pound 1 ounce by weight

2

cups

granulated sugar

raw or white

4

teaspoons

baking powder

2

teaspoons

kosher salt

2

cups

milk

1/4

cup

melted butter

1

tablespoon

pure vanilla extract

additional butter for the pan
For the Cinnamon Toast Topping:
1 1/4

cups

melted butter

or extra virgin coconut oil

1 1/4

cups

granulated sugar

raw or white

2

generous tablespoons ground cinnamon
Instructions
Preheat oven to 350°F.

Generously butter a half sheet pan, taking care to get the corners and seams very well greased. Set aside.

In a large mixing bowl, use a whisk to combine the flour, sugar, baking powder, and salt. Switch to a silicone spatula, add the wet ingredients, and combine just until no more dry pockets remain and the mixture is even if not smooth. Scrape into the prepared pan and smooth to even it out. Bake for 23 minutes.

While the cake is baking, whisk together the sugar and cinnamon for the topping. After the cake has baked 23 minutes, remove it from the oven, pour about 2/3 of the melted butter evenly over the top, sprinkle all of the cinnamon sugar evenly over the butter, then drizzle the remaining butter over that. Return the pan to the oven and bake an additional 8 minutes, or until the cinnamon sugar and butter layer is bubbly. Remove the pan from the oven and let cool on a heat proof surface for at least 30 minutes before slicing into long bars, about 3-inches by 1-inch.

Store leftovers tightly wrapped at room temperature.
Nutrition
Calories:
223
kcal
Carbohydrates:
33
g
Protein:
2
g
Fat:
9
g
Saturated Fat:
5
g
Cholesterol:
24
mg
Sodium:
228
mg
Potassium:
89
mg
Sugar:
21
g
Vitamin A:
290
IU
Calcium:
46
mg
Iron:
0.8
mg
Nutritional information is an estimate and provided to you as a courtesy. You should calculate the nutritional information with the actual ingredients used in your recipe using your preferred nutrition calculator.
In case you doubt my description of this cake as being utterly habit forming, check out the discussion about it on the King Arthur Flour Baking Circle Community. Cinnamon Toast Devils, eh? I wholly concur.