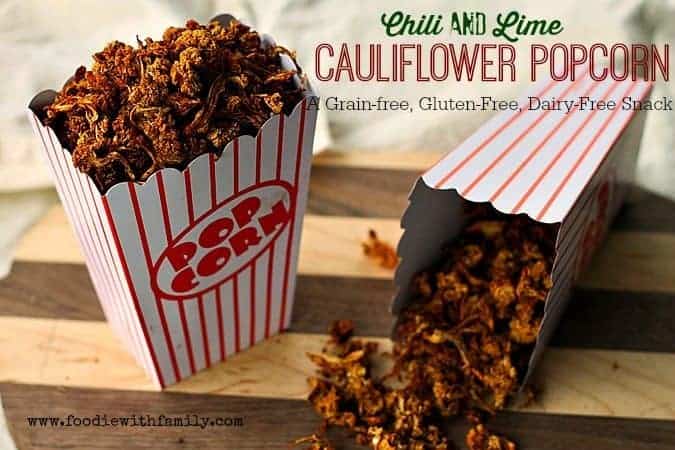 I'm in love with my dehydrator. I know what you're thinking.
You can't be IN LOVE with an inanimate object. You can't be IN love with something unless it/they can reciprocate. To that I say, "My dehydrator loves me."
I'm not crazy. Well, at least in THAT way.
Part of love is doing nice things for someone, right? It's folding laundry for you, picking a wild flower on a walk, foot rubs…
It's making tasty foods for you to make you happy. Clearly the dehydrator can't fold laundry, pick flowers, or rub my feet for me, but it surely turns out some of the tastiest foods to come out of my kitchen. That's love.
And my dehydrator does another sweet thing. It gets my most confirmed anti-veg child to eat them willingly. In fact, he BEGS for the vegetables from the dehydrator.
This same kid -who will put on a show worthy of the stage replete with gagging and neck clutching rather than eat vegetable at the dinner table- eats eggplant from the dehydrator in other-wordly amounts. Can we all just say, "Whoa!"?
He eats kale, apples, bananas, and pears from the dehydrator. The key is my little man likes the crispy, crunchy texture. O
f all the goodies that we make, there's one that stands head-and-shoulders above the rest: Cauliflower Popcorn.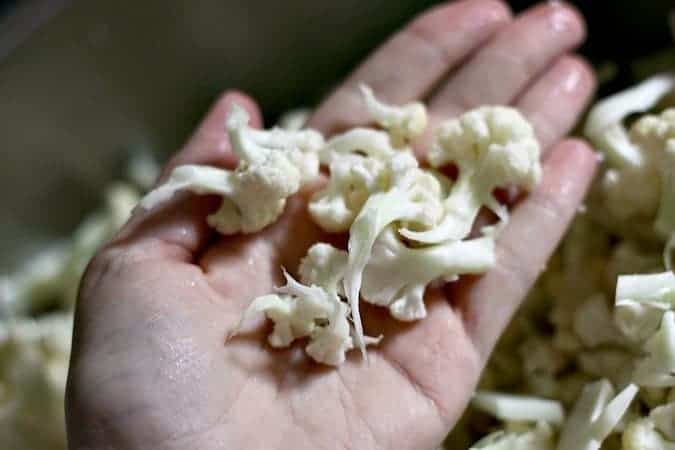 It's ridiculously easy, friends. You break down a head of cauliflower into florets the size you see in my weird pink paw there.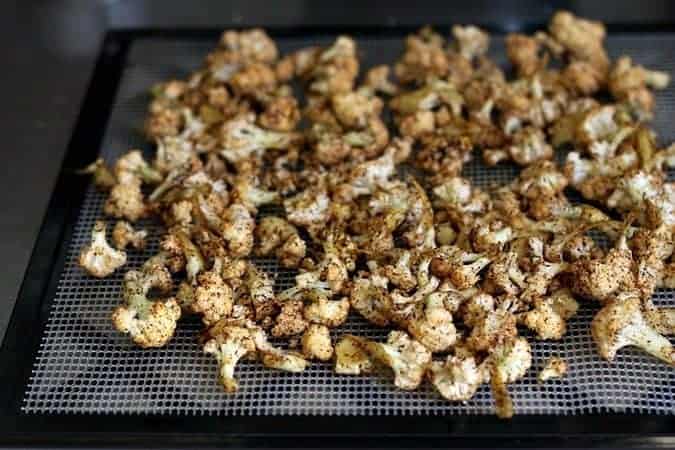 You toss the florets in extra virgin olive oil, the juice of one lime, chili powder, cumin, and salt, then you dehydrate it.
That's all there is to it. You dry the stuff out and it magically becomes one of the most snackable snacks ever to be snacked upon.
This is coming from a girl who loves Fritos, salty pretzel sticks, and potato chips, people. This Chili Lime Cauliflower Popcorn is something special.
It's so special, in fact, that I made two gigantic heads of cauliflower into it overnight and by noon the next day my dear husband and I had inhaled half of the batch.
In other words, we each consumed half of a head of cauliflower between breakfast and lunch at which point we suddenly found ourselves full of both now rehydrated cauliflower and regret. We metered our consumption after that day and confined ourselves to no more than a cup per day.
My little anti-veg boy, though? He's welcome to eat as much as his little stomach can possibly hold because HE. IS. EATING. VEGETABLES.
I try to keep these stocked for him, which is pretty difficult because everyone in the house loves it. Their little friends even dig into the jar when they come over.
I heard one of them saying, "I don't like cauliflower. Why is this so good?" I win and it's all because my dehydrator loves me.
Which Dehydrator should I buy?
Okay. There are two answers to this. If picking up a questionable old dehydrator at a yard sale is what gets you to make this recipe, snap that cheap Ronco piece of junk up and run it 'til it dies. If, however, you're more serious about putting up the bounty from the farmers' markets and your garden this summer, invest in the one I have.
Note that I said invest. It ain't cheap, but it's worth every penny and a few more. (This is an Amazon affiliate link which means that if you purchase it after clicking on it, I get a small commission from Amazon which in no way effects the price of the item for you.)

Just one more thing about this dehydrator. My mom owns one, at least two of my sisters own one, I think my brother owns one, and I own one.
My stepmom had TWO and my dad has put serious miles on those things with apple, banana, and pear slices over the course of nearly a decade. These things hold up to a mega-beating and can work almost constantly from June through October without missing a beat.
They dehydrate more evenly than the old round-stack variety, don't require any rotation of trays, and have variable, adjustable temperatures. If you're a gardener these things are absolutely indispensable in saving excess produce.
And if you're a parent, these things are dead handy. You can whip up fantastic fruit leathers and snacks that you don't feel even the slightest guilt in giving to your little folks.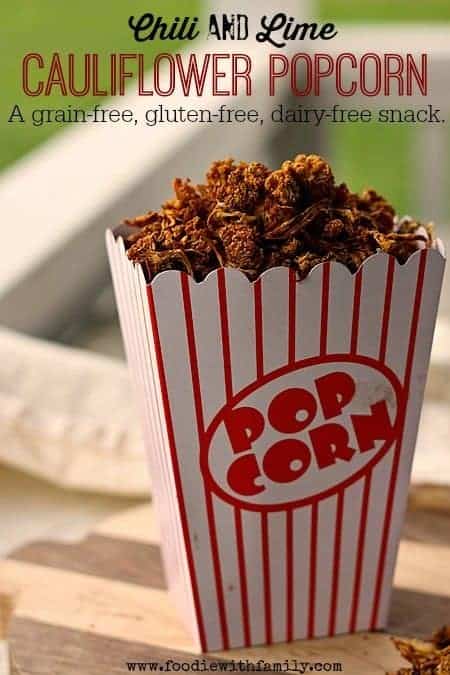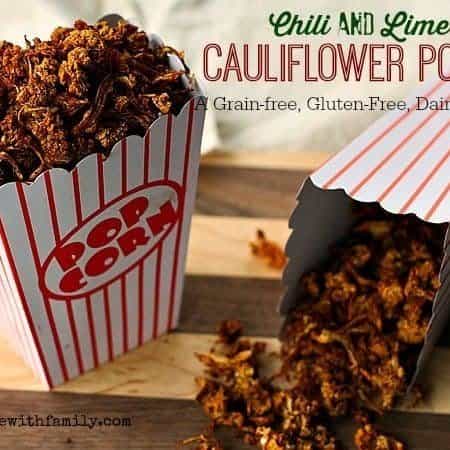 Ingredients
1

large head cauliflower

the juice of one lime

1

tablespoon

extra virgin olive oil

1

to 2 tablespoons chili powder

depending on strength of flavour desired

1

teaspoon

kosher or sea salt

1/4

teaspoon

ground cumin
Instructions
Trim the leaves from the cauliflower and pull off large hunks of florets. Break them down until they are in florets not larger than the tip of your thumb. Wash and drain them well. Transfer the florets to a large mixing bowl and toss with the remaining ingredients.

Spread them out in a single layer on dehydrator trays and dehydrate for 6-12 hours (at 135°F if you have an adjustable thermostat) or until the cauliflower is about the size of popcorn and is dried through. Open the dehydrator and let the cauliflower cool to room temperature. It will continue to crisp up as it cools. Store in an airtight container for up to a month. If it begins to soften, you can refresh it in the dehydrator for a couple of hours.
Nutritional information is an estimate and provided to you as a courtesy. You should calculate the nutritional information with the actual ingredients used in your recipe using your preferred nutrition calculator.