Love these Korean Style Teriyaki Beef Lettuce Wraps? Check out our other fabulous Korean Food Recipes!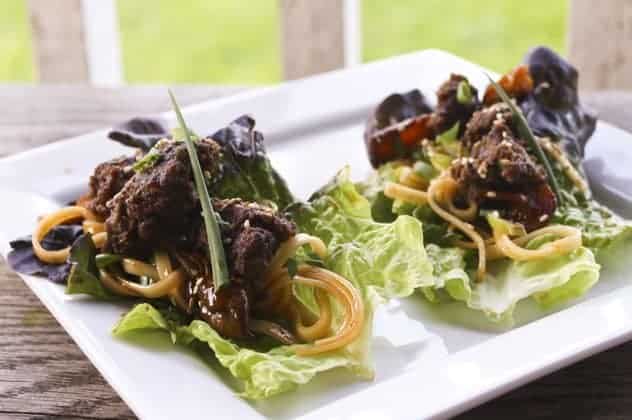 A couple months ago I was contacted by Back To The Roots, a company that sells grow-your-own-gourmet-mushroom kits using composted coffee grounds. Before I even got two sentences into the email from them I had hit reply with a message that went something like this:
"Yes! Whatever you're asking me, yes! I love mushrooms. LOVE 'em. What do you want me to do? I'll do it!"
And then I sensibly went back and read the rest of the email.
As it turned out, my original response was entirely suitable to what they had asked me. They offered me my own oyster mushroom kit, a kit to give away to my readers (that's YOU FOLKS!) and a ten-percent discount code for the rest of you to use so you can order your own kits from Back To The Roots. (Discount code: mushrooms4me10 ). And let me tell you, I was pretty impressed with the company.
I waited until I got back from the ranch to start growing my mushrooms and it's a good thing I did because eight days in, BAM. I had about a pound of giant, gorgeous oyster mushrooms shooting out of my kit. I got so excited that I sliced them all off and cooked them before it even occurred to me to take a picture. Ahem. I was excited. Did I mention I like mushrooms a lot?
Thankfully, the instructions told me  how to get a second crop from the kit and I wrote myself many little sternly worded notes about taking a picture before cooking the mushrooms. This was my second crop: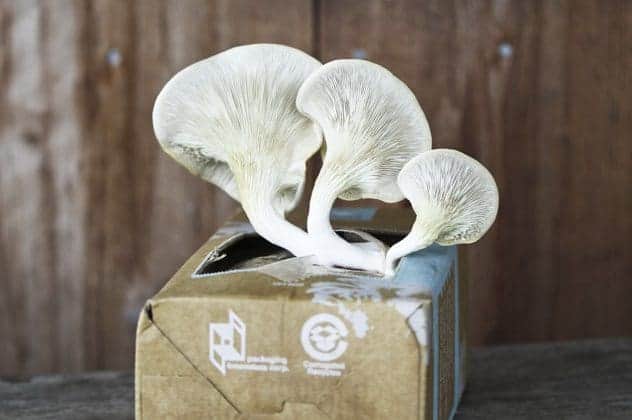 I had never noticed before just how pretty mushrooms are. They're so delicate and lovely that it was almost a shame to slice them up and cook them.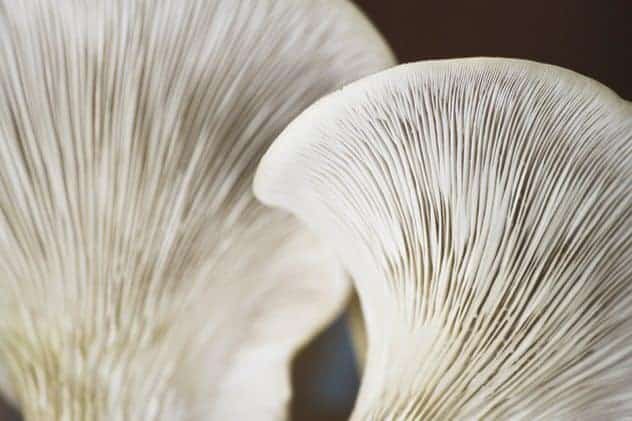 …Almost a shame. Not quite. No. Not really at all. I carried on and sallied forth and made one of the best summer meals we've had this year. Korean-Style Teriyaki Beef Lettuce Wraps*.
*If this beef looks familiar, it's because it is. This is a very gently adapted version of my Jangsanjeok recipe but served over garlicky oyster mushroom soba noodles and wrapped in lettuce.
Don't let the length of the ingredient list freak you out. The recipe is incredibly simple to pull together. Both the beef and noodles can be prepared as much as a day in advance of serving, making it a great solution for summer entertaining on steamy evenings. Substantial but not heavy, flavourful and exotic, these lettuce wraps are a crowd-pleaser. Alternatively, you could skip the crowd and eat it all yourself. Not that I've done that. I'm just saying.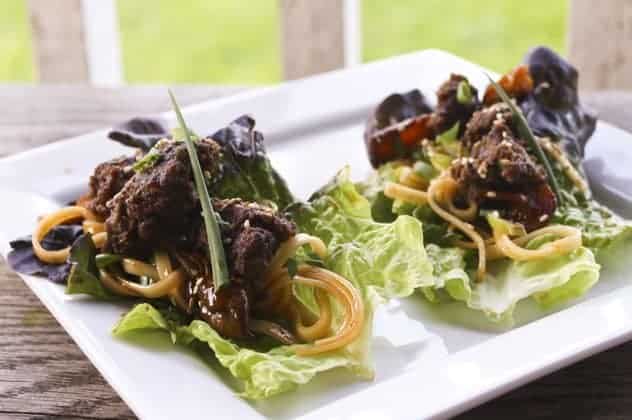 Spicy, sweet, garlicky, gingery Korean-style teriyaki simmered beef patties on a bed of garlic oyster mushroom noodles get the fresh leaf lettuce wrap treatment for the ultimate summer meal. This is the stuff of cravings. Best yet, everything can be done ahead of time and chilled, making this a great fit for entertaining on warm evenings.
Ingredients
For the Beef:
2

pounds

lean ground beef

2

tablespoons

soy sauce

2

tablespoons

sesame oil

2

teaspoons

salt

1

tablespoon

finely minced green onion

1

tablespoon

finely minced

or pressed in a garlic press garlic

4

tablespoons

raw sugar

can substitute white granulated sugar if necessary

3/4

teaspoon

freshly ground black pepper
Ingredients for Simmering Sauce:
3

tablespoons

soy sauce

1/4

cup

+ 2 tablespoons water

1/2

cup

+ 1 tablespoon unsweetened apple or pear juice

6

tablespoons

raw sugar

can substitute white granulated sugar if necessary

2

tablespoons

honey

10

cloves

of garlic

peeled and thinly sliced

1-1/2

? piece of ginger

thinly sliced*

3

whole small dried red chilis

can substitute 1 teaspoon crushed red pepper flakes, can also reduce to suit heat preferences.

2

whole green onions

ends trimmed
For the Garlic Oyster Mushroom Noodles:
4

tablespoons

olive oil

1-2

cups

oyster mushrooms

3

cloves

garlic

minced or pressed

6

tablespoons

raw sugar

8

tablespoons

rice vinegar

3

tablespoons

soy sauce

2

tablespoons

toasted sesame oil

1

tablespoon

gochujang

Korean chili paste or Asian chili-garlic sauce

1

pound

soba noodles

cooked 1-2 minutes less than package instructions, drained and rinsed with very cold water

6

green onions

sliced

1

tablespoon

toasted sesame seeds
Additional ingredients for serving:
12-20

large leaves of lettuce

Bibb, leaf or romaine, preferably rinsed and air dried

sliced green onions

toasted sesame seeds.
Instructions
To Prepare the Beef:
Preheat oven to broil (High Broil if your oven allows you to differentiate) with the oven rack between 6 to 8 inches from the heating element. (Alternately, you can heat your gas grill to High or lay a bed of hot coals in your charcoal grill.)

Combine beef with all the other patty ingredients in a medium size bowl. Mix well with your hands until the ingredients are evenly distributed. Divide the meat into two portions. Pat each portion into a square or rectangle that is about 1/2? thick on a rimmed baking sheet. The patties do not have to be shaped perfectly, but try your best to get them evenly thick in order to promote even cooking.

Broil or grill the beef for about 3 minutes on the first side. Carefully flip to prevent breakage. One spatula underneath and one spatula pressed lightly against the top works well for the manoeuver. Return the patty to the broiler or grill and cook until cooked through. This took 4 more minutes under my broiler. Remove the pan from the oven and cool completely.

While patties cool, combine all of the sauce ingredients in a large skillet or braising pot.

When the patties are completely cool, cut into squares that are about 1-inch to 1 1/2-inches in size. Bring the sauce ingredients to a boil over medium high. Stir well, then add the patties to the sauce. Lower heat to medium low and simmer, basting the patties and turning occasionally, until the sauce has been reduced, is thick and syrupy and has been mostly absorbed.

Serve hot or chilled.
To prepare the Garlic Oyster Mushroom Noodles:
Place a heavy-bottomed skillet over medium high heat with 2 tablespoons of olive oil in it.

When the oil is shimmering, add the mushrooms with a couple pinches of salt and stir to coat.

Cook, stirring frequently, until mushrooms are tender and golden brown.

Add garlic, raw sugar, the remaining tablespoon of olive oil, vinegar, soy sauce, sesame oil, and gochujang. Bring the sauce to a simmer, stirring constantly until mixture is smooth and somewhat thickened around the mushrooms.

Add the noodles to the pan and toss to coat.

Remove the pan from the heat and toss in the green onions and sesame seeds. Let cool to room temperature or colder before serving.
To Assemble Lettuce Wraps:
Lay out several large lettuce leaves.

Arrange about 1/8 cup of noodles on each leaf and top with two or so of the simmered beef patties.

Garnish with additional sesame seeds and green onions, if desired.
Nutritional information is an estimate and provided to you as a courtesy. You should calculate the nutritional information with the actual ingredients used in your recipe using your preferred nutrition calculator.
CONTEST CLOSED
So, this contest. You want the rules? Leave a comment. Tell me what you would do with your oyster mushroom bounty. Tell me how cool you think it is that they grow in composted coffee. Tell me you'd give this kit to your Aunt Marge because she loves mushrooms. Just tell me something! The winner will be chosen by random.org and announced here on Monday, August 15th. Good luck everyone!
Update: Our winner is lucky comment #50: Janis who will be naming her burl Roger 🙂 Please email me your mailing address, Janis and happy mycelium tending.

A free mushroom kit was sent to me and one is being provided for this giveaway by the generous folks at Back To The Roots but all opinions and experiences discussed here are my own. What can I say? I'm enthusiastic about this product.