Yesterday I posted a supercool giveaway along with a delicious recipe that apparently scared the knickers off of many readers with the length of the ingredient list. Never let it be said I don't listen. Today? We have a four ingredient recipe that'll leave your undies intact and knock your socks off. We're talking about good stuff people. It's fried. And it's cheese. Hello lovely.
We've discussed my deep-fried foods penchant before (here, here, here, here, and here among others…) Fried mozzarella sticks are one of those memory foods for me. When we moved to New York state, I was an awkward high school student moving from a tiny town to a slightly larger one, from Michigan to New York. I was a bundle of nerves and socially paralyzed. Combine the natural neurosis of a teenager with a big geographic move and you know I was probably really fun company. I thought we were going urban.
Going from a town of roughly four hundred to a town of about three thousand isn't exactly going urban, but I still felt like a big kid in the metrop between the swimming pool at the new camp my Dad ran and the plethora of pizza and wings joints peppered throughout the town. One such place was right up the road from the camp. They specialized in miniature golf, char-grilled burgers, ice cream and a variety of deep fried accompaniments that I had never seen before living in New York; fried mushrooms, cauliflower, and the magical -and new to me- mozzarella sticks. Those crunchy, gooey, stringy, salty mozzarella sticks were everything I loved in food. I spent more mad money than you can imagine running up the road for a double order or mozzie sticks and a medium loganberry* drink.
*Loganberry. Is this available in other parts of the country? I don't recall having it before moving here or seeing it anywhere else.
As an adult I've attempted many a homemade mozzarella stick recipe. They were all good, but boy were they futzy. Freeze the cheese sticks, dredge, tap, dunk, roll, freeze again and fry. Yeesh. When this gal has an urge to scarf a double order of mozzarella sticks, patience is not my most abundant virtue. Then one day, Pinterest came to my rescue. I saw a photo of a Taste of Home recipe for mozzarella sticks that made me stop in my tracks. They had simply wrapped mozzarella sticks with egg roll wrappers and fried them. Could it possibly be that simple? I had to know.
Armed with egg roll wrappers, individually wrapped mozzarella sticks, canola oil, some Italian seasoning (because my favourite mozzie sticks always had a hint of seasoning in them), and some homemade pizza sauce for dipping, I set the timer and tested myself to see just how long it took.
Holy wow.
In just twenty five minutes, I made twenty four fried mozzarella sticks and cleaned up everything but the hot oil because that needed to cool before I touched it. I'm not a machine. And the results were nothing short of perfect. It hit every single brain center that cried out for deep fried gooey cheese. It crunched. It stretched. It delivered that little hit of Italian herbs. It dunked and delivered a goodly amount of sauce with each bite. And yes. I double dipped. I figured it was my right.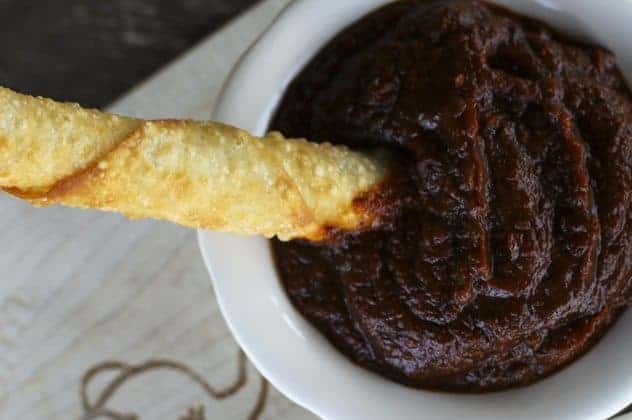 And you know what's even better? No more social awkwardness. Well, technically I'm every bit as awkward as I ever was, I've just ceased to care. It's a lot easier to work your way through a bunch of mozzarella sticks without worrying if cheese is hanging down on your chin. Ah freedom. You feel good…
Crunchy egg-roll wrappers stand in for breading around the gooey, stretchy mozzarella cheese center. Serve these with warm pizza sauce for the ultimate pizzeria experience. Gently adapted from Taste of Home
Ingredients
12-24

individual mozzarella sticks

12-24

egg roll wrappers

often available in freezer or produce sections of grocery stores

Italian seasonings

canola

vegetable or peanut oil for frying

pizza sauce pizza sauce for dipping

optional
Instructions
Add 1/2-inch of oil to a tall-sided skillet and heat to 375°F over medium to medium high heat.

While the oil is heating, lay a mozzarella stick near the bottom corner of an egg roll wrapper and sprinkle with a small pinch of Italian seasonings.

Fold the bottom corner over the cheese stick and roll it up about halfway up the wrapper.

Fold the sides in toward the center, moisten the remaining corner with a fingertip dipped in a bowl of water then tightly roll it the rest of the way to seal the wrapper.

Fry the sticks, working in batches if necessary and taking care not to crowd the pan, for between 30 and 60 seconds per side, or until deep golden brown. If your wrappers start to leak molten cheese, you can remove them earlier.

Use tongs or a strainer to transfer the cheese sticks from the hot oil to a paper towel lined plate or platter. Let them rest for at least two minutes before biting into them.

Serve, if desired, with pizza sauce for dipping.
Nutritional information is an estimate and provided to you as a courtesy. You should calculate the nutritional information with the actual ingredients used in your recipe using your preferred nutrition calculator.