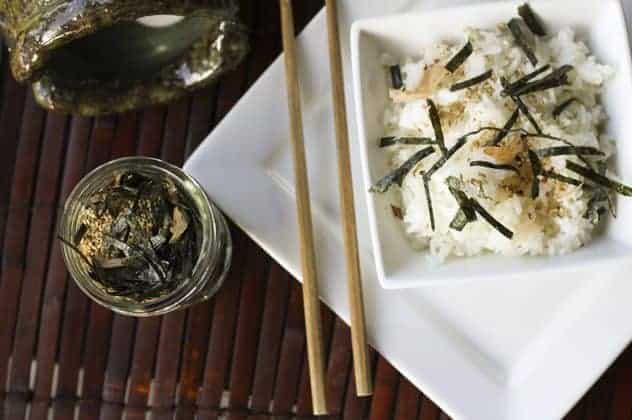 The first order of business on this post just plain has to be pronunciation. Foo-ree-kah-kay.
My boys, however, prefer to call it furry khaki. Why? Well, I assume it has something to do with being very silly boys.
Now that we're all on the same page, let's talk about what it is… Furikake is like salt and pepper in Japan.
It goes on bowls of rice, gets mixed into onigiri, sprinkled over noodles, on porridge and just about anything else that holds still long enough to get hit with it. This wanton flinging of furikake happens for an excellent reason; because it tastes great and delivers an instant explosion of umami to anything it tops.
I find myself looking for more foods to cover with this distinctive seasoning that is briny and earthy with just a touch of seafood essence. If you've had it before, you know that there's nothing to compare to the complete flavour added to dishes where this is present.
I'll be honest. I'm fixated on furikake.
I love this so much that I almost always make more rice than we'll need in a meal so I can form rice balls to sprinkle with furikake for late night snacks. Sometimes I just open the jar to sniff it a little bit. It's a weakness.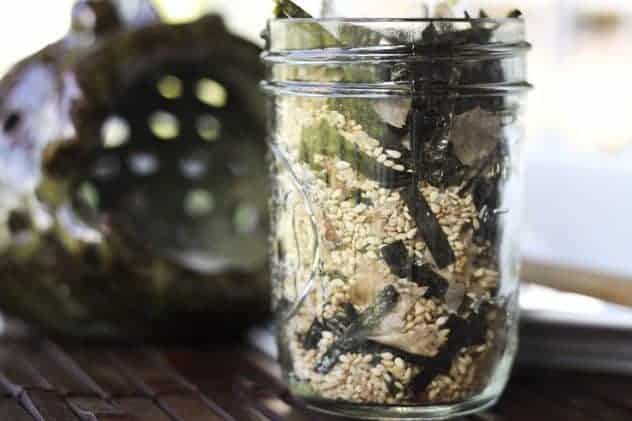 So what is it exactly? In it's basic form -the form I'm giving you today- it is toasted sesame seeds, sea salt, nori, bonito flakes and an optional pinch of sugar.
Bonito flakes are dried, paper-thin shaved flakes of tuna. They add a rich seafood taste to the furikake.
If you have trouble finding them, you can purchase them through this link
. (Full disclosure: This link will take you to Amazon.com. If you purchase the bonito flakes, I will receive an itty bitty commission. )
There are many, many versions of it sold, and just as many, if not more, versions of it made in homes but what I'm giving you today is a good basic leaping off point for adding that little special something to your meals or snacks. We start with raw sesame seeds here, but if all you can find is toasted sesame seeds, simply skip the toasting step and proceed from that point forward.
Do make this, though. Just do. I can't be the only one who obsesses over these things.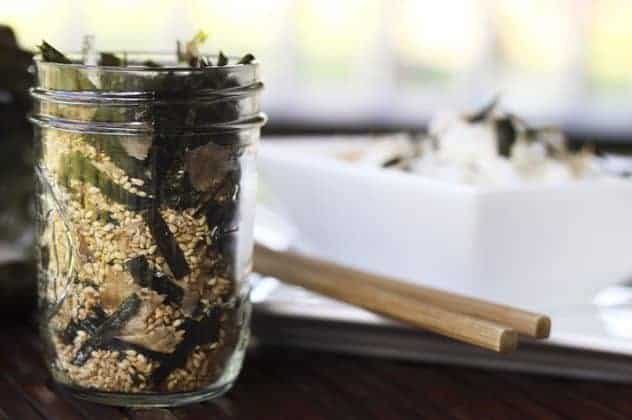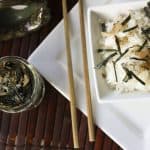 Print
Homemade Furikake |Japanese Rice Seasoning
Furikake: the salt and pepper of Japan. This crunchy, salty, nutty, earthy, briny topping that tastes slightly of seafood is a great all-purpose seasoning for rice, seafood, snacks, and more.
Ingredients
1/2

cup

raw sesame seeds

1

teaspoon

to 1 tablespoon sea salt

to taste

3

sheets nori

3

heaping tablespoons bonito flakes

1/2

teaspoon

sugar

optional
Instructions
Heat a dry, heavy-bottomed skillet over a medium high burner.

Pour in the sesame seeds and shake to distribute evenly over the surface of the skillet.

Toast, shaking occasionally, until the seeds are fragrant and begin making little popping sounds.

Immediately pour the seeds into a dry, clean bowl to cool and stir in the sea salt. Allow to cool completely before proceeding.

Use kitchen shears or clean, dry scissors to cut the nori into 1-inch strips. Stack the strips and cut cross-wise into very thin strips over the bowl of sesame seeds.

Use the kitchen shears again to roughly cut up the bonito flakes.

Add the sugar (if using) and stir all ingredients together, then transfer to a jar with a tight fitting lid.

This is ready to use immediately but can be stored in a cool, dry place out of direct sunlight for up to two months.
Nutrition
Calories:
28
kcal
|
Carbohydrates:
1
g
|
Fat:
2
g
|
Sodium:
146
mg
|
Potassium:
21
mg
|
Vitamin A:
25
IU
|
Vitamin C:
0.2
mg
|
Calcium:
46
mg
|
Iron:
0.7
mg