Are you looking to change things up a little? Need something extraordinary for your Memorial Day festivities? This Korean Inspired Kimchi Burger with Spicy Mayo is a hot ticket to excitement for dinner. Get your hands on some gochujang and kimchi and get ready for a flavour explosion!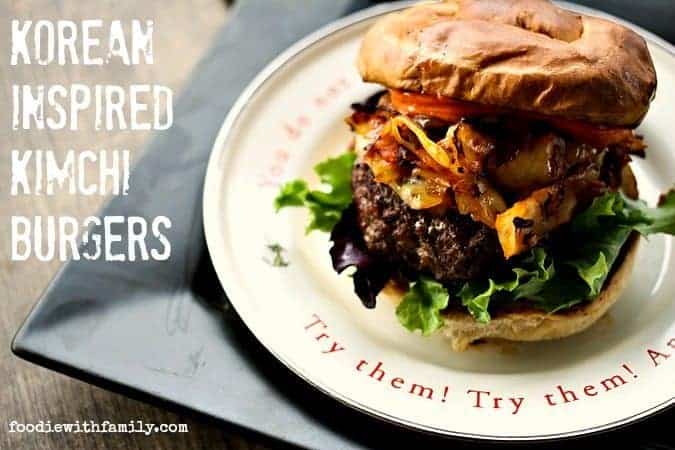 I'm a big old kimchi lover. Love the funk, love the spice, love the slight effervescence of an older batch. It's fair to say I like the hardcore stuff. BUT -and this is a big but- I know not everyone is. I teach a kids' cooking class called gross foods. The idea behind it is to take foods that have a reputation for being odd, unpalatable, or otherwise 'yucky' and show the kids that they're quite good in the right context. It's my mission to make adventurous eaters. Unless there is a legit food allergy, one prerequisite to taking the class is the willingness to try at least one bite of everything prepared in class and to keep an open mind while doing it.
It takes a certain personality to sign up for a class called "Gross Foods", so I am starting with an advantage, but I don't hold back on these kids. I survey them before the classes start to find out which foods they think they dislike. I try to work any common suspects on the surveys into class, but I also bring out what I like to think of as the big guns in the kid world: bleu cheese, onions, and kimchi. The kids are asked to touch, smell, and try each item straight up. Then I remind them of the scene in "Ratatouille" where Remy has his brother, Emile,  eat two foods together and see how exciting it can be. We perform some culinary magic, and VOILA!, in almost every occasion, the kids agree that the food is tasty.
Kimchi is a perfect example. With the exception of one of my students, all of them spit out  the bite of raw kimchi they tried. (I'm going to keep working on them on that one, folks…) Disappointing, but true. HOWEVER, when the kimchi was stir fried or cooked into savoury, crunchy, kimchi pancakes, they all not only ate it, but went back for seconds and thirds.
Kimchi is magically transformed from a funkalicious, spicy experience to a crisp-tender, garlicky something special when it's cooked . It has to be tasted to be believed. So when kimchi is stir fried and piled on top of a beautifully grilled beef burger and generously spread with gochujang (spicy Korean chili paste) laced mayonnaise, you KNOW it's got to be good.
Do you love kimchi? If you haven't tried it, are you brave enough to give it a go?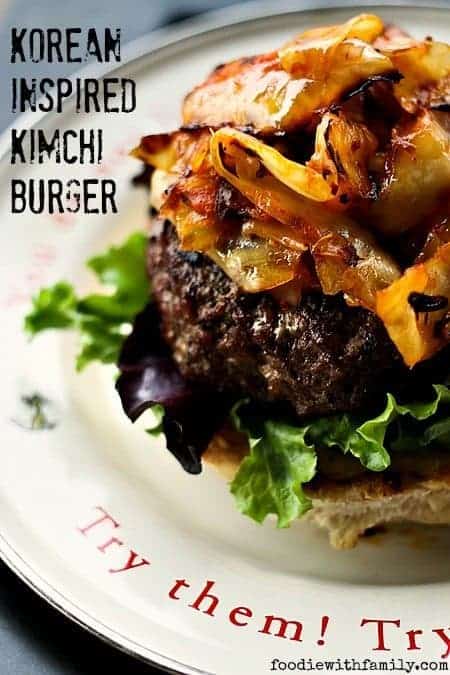 Cook's Notes
I use homemade Mak Kimchi for this dish. If you don't want to wait for the homemade stuff to be done, many moderately stocked grocery stores carry small jars of kimchi in the produce department. If you're lucky enough to live near an Asian market, please pick it up there!
I use my homemade frozen hamburger patties for grilling. You can make fresh patties OR use purchased ones. Keep in mind that the homemade frozen patties or fresh patties are going to be a higher quality every time.
Use whichever bun dings your chimes the most. I like a nice, soft bun that'll toast up nicely. Kaiser rolls are a good choice, as are pretzel rolls.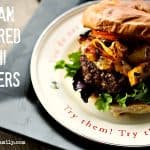 Korean Inspired Kimchi Burger with Spicy Mayo
Ingredients
1/2

cup

mayonnaise

2

tablespoons

gochujang or chili garlic sauce

1

tablespoon

plus 2 tablespoons grapeseed

canola, or vegetable oil, divided

6

large homemade pretzel sandwich rolls or purchased pretzel rolls

cut in half

2

cups

chopped mak kimchi

Napa cabbage kimchi, drained of most liquid

4

cups

mixed spring greens or arugula

6

freshly grilled or pan-fried beef burger patties
Instructions
In a small bowl, whisk together the mayonnaise and gochujang or chili garlic sauce until smooth and evenly coloured. Cover with plastic wrap and refrigerate until ready to use.

Add 1 tablespoon of the oil to a medium sized, non-stick skillet placed over MEDIUM HIGH heat. Add the drained kimchi to the pan and stir-fry until the kimchi is browned around the edges and fragrant. Transfer to a bowl and cover to keep warm. Brush the cut sides of the pretzel rolls with the remaining oil and grill or toast in the skillet until golden brown. Carefully remove the rolls.

Generously spread the spicy mayonnaise on the cut sides of both the top and bottom halves of each bun. Divide the mixed spring greens or arugula between the bottom halves of the buns. Lay one burger patty on each. Divide the stir-fried kimchi between the burgers and add the top halves of the buns. You may want to drive two skewers down about 1 inch apart near the center of the burger to help hold it together as you cut it in half. If you prefer to serve it whole, just use one skewer in the center.
Need help finding Gochujang? Get a big tub for a low price on Amazon because it lasts forever in the refrigerator!
Save
Save