There's no cookie that can compare to the perfection of crisp edged, chewy, gooey caramel bit, melted dark chocolate chunk cookies with a sprinkle of coarse sea salt flakes on top; Salted Caramel Chocolate Chunk Cookies are simply sublime. They please the kids and the gourmets!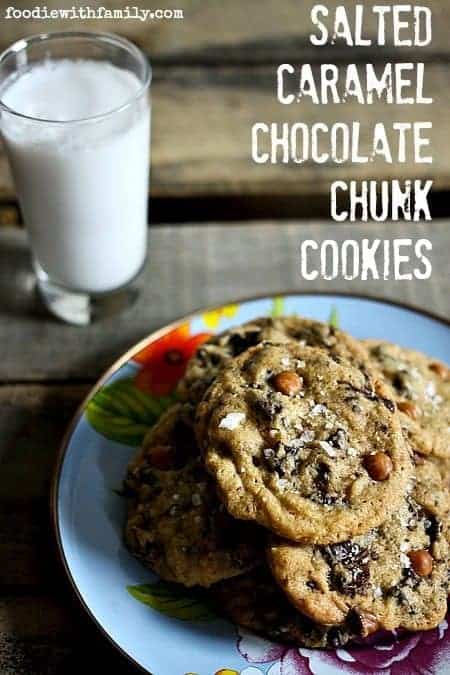 Who's ready for some cookies? I am ALWAYS ready for some cookies. My KIDS are always ready for some cookies. My husband BEGS me NOT to make cookies because he has no self-control around them. He argues- not entirely convincingly- that they leap into his mouth when he walks through the room where they're stored.
I don't know about all that, dear…
What I DO know is that when I make these particular cookies, I'd better hide a stash of them in a really excellent place or they will be gone baby GONE if I so much as dare to set one foot outside the door for more than five minutes. The last time I made a batch, I sat them on the cooling rack to -ya know- cool, walked down our five hundred foot driveway to get the mail, walked back up, and found two lonely cookies remaining. Not one of them looked like they felt even the tiniest bit guilty, either.
I think the thing that makes these cookies so special is that they are the perfect balance of sweet and salty. Chewy chocolate chip cookies with crispy edges with melted, gooey caramel bits and dark chocolate chunks and a sprinkling of coarse sea salt flakes. Hello. In my book, that's everything a cookie ought to be plus a little thrown in for good measure.

A word about the sea salt flakes… (And that is an affiliate link above, FYI.) This salt is the one salt to rule them all. It's a little pricey at about $6 for 8 ounces, but it's worth it! This isn't 'cooking' salt for me, it's salt that I use to finish dishes. In other words, a little sprinkle of this scrunched between the fingers over the dish right before it hits the table is all it takes. It's a little habit forming. Would you like to know something seriously dorky about me? I carry a little tin of this in my purse at all times JUST.IN. CASE I find myself eating out and need to salt something. Maldon Sea Salt coarse flakes have saved/made/elevated more than one dish for me. Yep. I just admitted to carrying my own special salt. I'm pretty sure that puts me in the upper echelon of high maintenance behaviour. Sigh.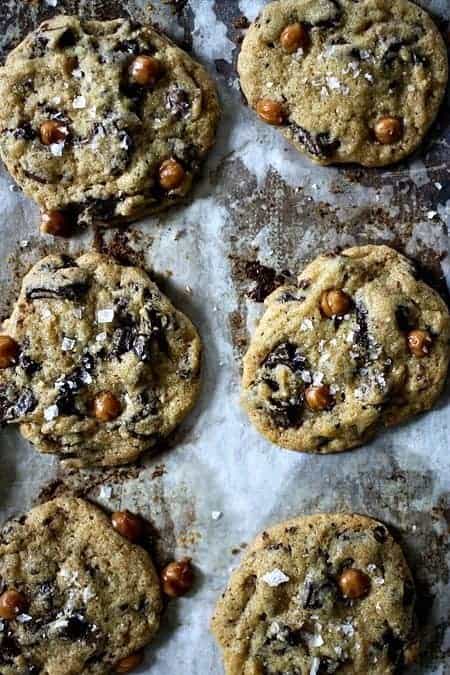 My husband usually doesn't like for me to 'mess with chocolate chip cookies' because they are, as I've mentioned, his very best beloved of all desserts. However, when he took a bite out of these, he conceded that these were ridiculously good and even asked for them to enter the regular cookie rotation before stopping himself and waving his hands over his head while walking away saying, "NO! Don't make COOKIES! I can't handle the temptation!"
Poor honey. I'll have to hide them better.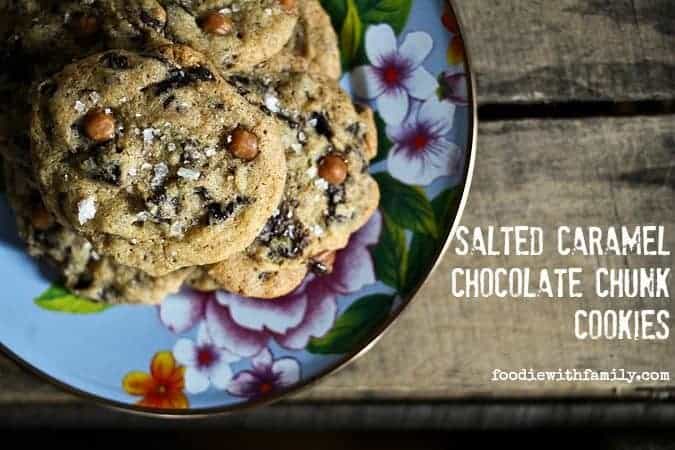 Cook's Notes
Use parchment or silpats to line your cookie sheets. This serves two purposes: 1) it keeps the cookies from sticking and, 2) allows you to scoop cookie dough onto parchment paper on the counter. Why is this handy? When you take your cookie sheets out of the oven from the first batch, you can use an oven mitted hand to slide that parchment OFF of the sheet and slide a fresh piece complete with pre-scooped dough ONTO the sheet. Tada!
The salt! If you don't have access to Maldon Sea Salt and prefer not to order it from Amazon (affiliate link above), you can substitute another coarse sea salt flake. If you can't lay your hands on coarse sea salt flakes, substitute kosher salt. It won't be the same, but it'll get your salty sweet working!
Let them cool on the parchment for at least 3 minutes before attempting to lift them onto a cooling rack. If you have one, use a flexible metal spatula to scootch under each cookie and transfer it.
Store at room temperature in a cookie jar or an airtight container for up to a week.
If you live for warm cookies, you can wrap one in a paper towel and microwave in 5 second bursts until the cookie is warmed through.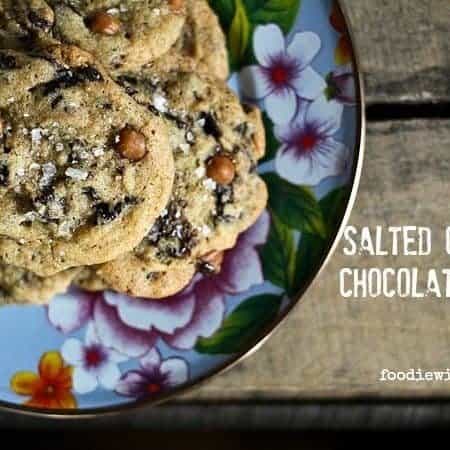 Ingredients
1 1/2

sticks unsalted butter

12 tablespoons or 6 ounces

1 1/4

cups

light brown sugar

10 ounces by weight, packed

1/4

cup

light corn syrup

or Lyle's Golden Syrup or honey

2

teaspoons

pure vanilla extract

3/4

teaspoon

baking powder

3/4

teaspoon

kosher salt

1/4

teaspoon

baking soda

1

large egg

2 1/4

cups

all purpose flour

9 1/2 ounces by weight

2

cups

dark or bittersweet chocolate chunks

3/4

cup

caramel baking bits

Maldon Sea Salt Coarse Flakes or other coarse sea salt flakes
Instructions
Beat together the butter, light brown sugar, and corn syrup until lightened in colour and fluffy. Beat in the vanilla extract, baking powder, kosher salt, and baking soda until even, then beat in the egg until completely even and combined. Beat in the flour, then stir in the chocolate chunks and caramel bits. Cover the bowl and refrigerate for 1 to 2 hours.

Preheat the oven to 325°F. Scoop rounded tablespoonsful of the chilled dough onto parchment or silpat lined baking sheets. Be sure to leave three inches or so of space between the cookies to allow them to spread. Sprinkle the tops lightly with the coarse sea salt flakes.

Bake for 14-18 minutes, or until the edge are set and golden brown. They will still look underdone in the center, but the edges should be firm. If you want them to stay chewy, be sure to pull them before they're completely set in the middle.

Let the cookies cool for at least 5 minutes on the parchment or silpat before using a flexible, thin spatula to lift them and transfer them to a wire rack to completely cool. Store in an airtight container at room temperature.
Nutritional information is an estimate and provided to you as a courtesy. You should calculate the nutritional information with the actual ingredients used in your recipe using your preferred nutrition calculator.