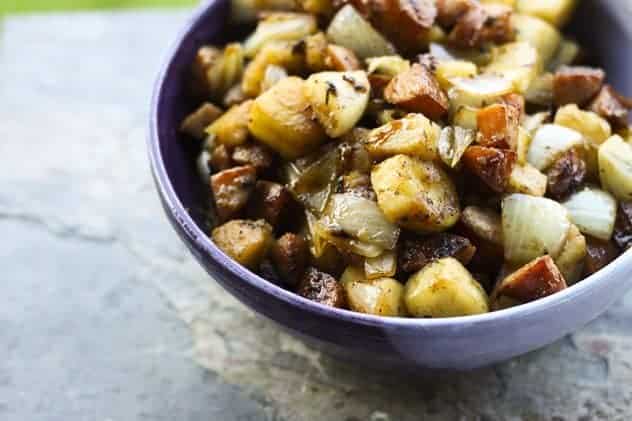 This is a good time of year to be an apple lover in Western New York. While it wasn't the best year ever for apples due to a late frost and weird weather, apples are still just about everywhere and I call that a very good thing. Roadside stands, farmers' markets, and even grocery stores are carrying apples that are just about as good as if they were just pulled from the trees. Apples in October are second to none.
Everyone knows how good an apple tastes fresh or dunked into caramel dip, but so many people are missing out on one of my favourite food combinations; fried apples and onions with kielbasa. I was first introduced to fried apples and onions as a kid when I read 'Farmer Boy' by Laura Ingalls Wilder. One of Almanzo Wilder's mom's specialties was apples and onions fried in bacon grease. It was, in fact, Almonzo's favourite dish. I didn't get past that page in the book before I begged my mom to whip up a pan full for us.
It was every bit as good as it sounded on paper. From that day on, it's been one of my favourite dishes, too… best served when apples are still explodingly crisp and fresh and hold up well to a little time in a hot pan. In my own home, I started frying cubed, garlicky kielbasa in the pan before adding the apples and onions and found that it turned a well-loved side dish into a better-loved main dish. This is one of those dishes that smells so good while it cooks that people congregate in the kitchen peeking at the contents of the pan, trying to sneak bits of sausage from the top of the pan and drooling like Pavlov's dogs.
There's something so special about crisp-about-the-edges kielbasa with tender, sweet apples and meltingly tender onions. I lack the vocabulary to explain just how perfect the dish actually is. It's salty, sweet, garlicky… it's wonderful.
You have options on how you want to serve it, provided you can keep folks' forks out of the bowl long enough to get it to the table. Our preferred method is to whip up a batch of mini puff pancakes… (the basic Pannukakku recipe here, but poured into generously greased muffin tins instead of a big pan.)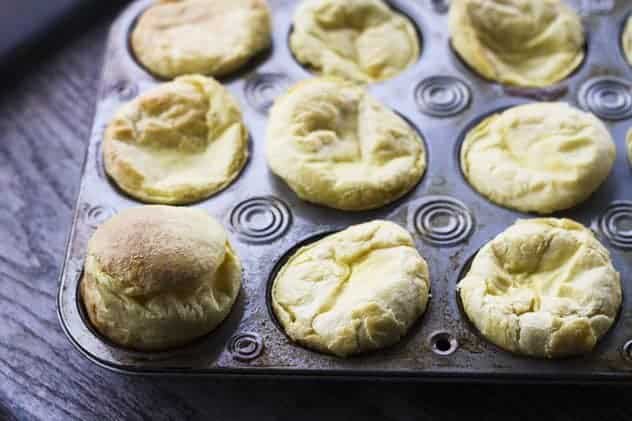 The soft, custardy puff pancakes sink a little in the center when fresh from the oven, making them the perfect vehicle to hold all those little deep-brown bits of sausage and tender apples and onions.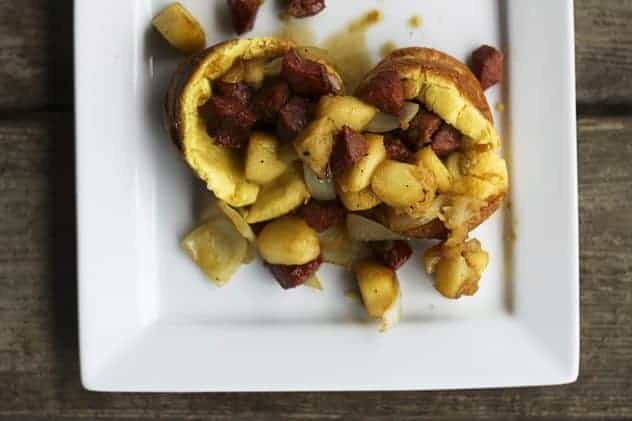 They soak up all the good sausage grease that might otherwise make an escape. I'd be remiss if I didn't tell you, though, that the stir-fry is equally delicious piled on top of hot egg noodles or fresh, hot rice. Any way you serve it, you'll feel warm all over. Happy autumn!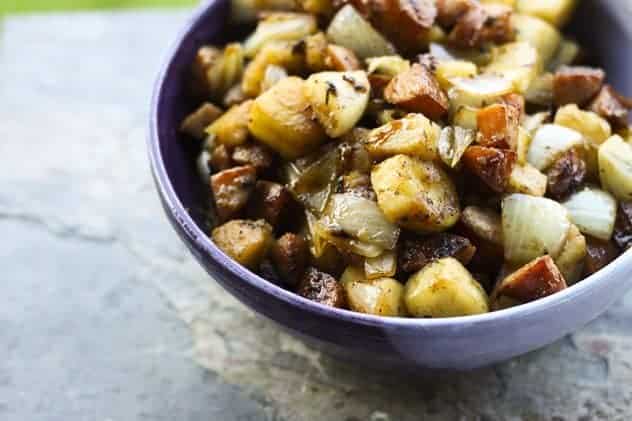 Kielbasa, Apple and Onion Stir-fry with Mini Puff Pancakes
Rate Recipe
Highly seasoned, garlicky, classic kielbasa pairs perfectly with crisp tender tart apples and sweet onions in this fall stir-fry. Serve over hot egg noodles, cooked rice or as we did on mini puff-pancakes.
Ingredients
For the Mini Puff Pancakes:
4

large eggs

1

cup

all-purpose flour

1

cup

whole milk

a pinch each of salt and sugar

non-stick cooking spray
For the Kielbasa, Apple and Onion Stir-Fry:
14 to 16

ounces

of Kielbasa or beef smoked sausage

cut into 1/2-inch cubes

4

large tart

firm apples (Use a variety good for cooking, such as Cortland, Spy, Gala, or Granny Smith.)

2

large cooking onions

ends trimmed and peeled

2

tablespoons

butter

Pinch

of salt

freshly ground black pepper

to taste

Optional: 1 tablespoon Maple Syrup
Instructions
To Make the Mini Puff Pancakes:
Preheat oven to 400°F. Generously spray a 12-cup muffin pan with non-stick cooking spray.

Add the eggs, flour, milk, and pinches of salt and sugar to the carafe of your blender*. Blend on high for about 30 seconds, stopping once to scrape down the sides.

*If you do not have a blender, whisk all of the ingredients together in a mixing bowl until completely smooth.

Divide the batter evenly between the muffin cups. Bake for 20-30 minutes or until they are very puffy, golden brown on top and set to the touch. Place the pan on a cooling rack and let cool for 3 minutes before removing the puff pancakes. If any are stuck, gently run a butterknife around the edge to help loosen them.
To Make the Kielbasa, Apple and Onion Stir-Fry:
Place a skillet over medium heat. When it is hot, add the cubes of kielbasa to the pan. Slide the pan back and forth a few times to distribute the sausage cubes. Let the pan rest on the heat without stirring for about 1 minute to help develop a little colour on the sausage cubes. Toss or stir the sausage until some fat has rendered and the sausage has browned evenly, about 3-5 minutes. Use a slotted spoon to transfer the sausage to a plate. Drain off all but about 1 tablespoon of the sausage fat.

Cut the onions in half, end-to-end. Cut each half in quarters and then each quarter in half again. Set aside.

Peel, core and halve the apples. Cut each half in quarters and then each quarter in half again.

Return the pan to the burner and lower the heat to medium-high. Add the butter to the pan drippings to melt. When they have melted, add the onions and toss gently to coat. Let them cook alone for about 3 minutes. Add the apples to the pan and toss to coat. Fry the apples and onions, tossing or stirring occasionally, until the apples are tender but still hold together, about 3-5 minutes. Season with black pepper to taste. If desired, drizzle the tablespoon of maple syrup over the mixture and toss to coat.

Serve hot over Mini Puff Pancakes, cooked egg noodles or rice.
Nutrition
Calories:
546
kcal
Carbohydrates:
43
g
Protein:
20
g
Fat:
33
g
Saturated Fat:
13
g
Cholesterol:
203
mg
Sodium:
808
mg
Potassium:
484
mg
Fiber:
4
g
Sugar:
18
g
Vitamin A:
488
IU
Vitamin C:
7
mg
Calcium:
97
mg
Iron:
3
mg
Nutritional information is an estimate and provided to you as a courtesy. You should calculate the nutritional information with the actual ingredients used in your recipe using your preferred nutrition calculator.