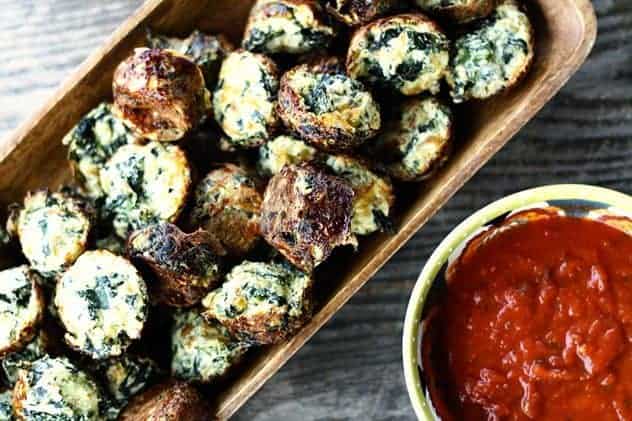 Today has  been a Monday kind of Friday. I overslept, didn't get to my tea until ten this morning, then dropped and broke a plate. I started writing this post earlier, got about two-thirds of the way through it and then somehow or another, the internet pixies deleted it. I know I didn't hit that delete button! So, after standing up, hiding in the bathroom and eating a very large chocolate bar, I'm making another attempt at finishing it because this recipe is just too good not to share. Maybe Popeye snuck in and botched my post while I was cleaning up the broken plate, the greedy Spinach hoarding twerp…
Or maybe I was over-complicating things -as I am wont to do and this was divine intervention. It was a rather long-winded draft and a rather convoluted morning. Either way, here I am and here you are and here is one of our favourite snacks. Obviously it's heavy on the spinach (read: Popeye reference above) which TOTALLY cancels out the insane amount of cheese (three different kinds!) and butter in it, right?
Of course it does! Besides, cheese does a body good and it makes spinach an easier sell to my anti-green-veg-contingent. In fact, the first time I made these, my most anti-green-veg of the bunch said, "What's da green stuff, Mama?" I responded, "Try it and tell me how you like it." He took a tentative nibble, smiled, and ate the rest while bouncing away from me. "Wait!" I called, "Didn't you want to know what the green stuff is?" "Don't care anymore! Dese are tasty!" he called from the other room.
All things considered, at least it is Friday. Around here, that means movie night. At this point in the day, I can't think of anything I'd like to do better than fire up the wood stove to eleven, pop in a movie, cuddle with my kiddos and eat my weight in these Cheesy Spinach Puffs. The beauty of this is that my kids munch right alongside me, eating scads of spinach without even thinking about it. I call that a win.
Oh, I know I've shared more than one cheese plus spinach plus egg combo before… Yes, I clearly have a thing for it. Obviously. Today's recipe, however, is just about the best thing you can do with that wonderful combination, and that is saying something. It's just plain crave-able. Moist, spinach-studded, cheese and egg puffs get toasty, crispy bits around the edges and taste great alone, but they really sing when dunked in warm marinara or pizza sauce. It's enough to turn a Monday-feeling-Friday into a Friday-all-the-way.
I can't even wait for tonight. Cheesy Spinach Puffs, here I come!
Two important notes:
I emphasize generously greasing the muffin pans for a reason. Eggs like to stick. Melted cheese likes to stick. Put the two together and you'll be weeping a thousand salty tears unless you have massive amounts of non-stick cooking spray and/or non-stick mini-muffin liners. Trust me. That'll totally mess up the Friday-all-the-way vibe!
Make extras! These freeze well, reheat beautifully and are great to have on hand for last minute snacks.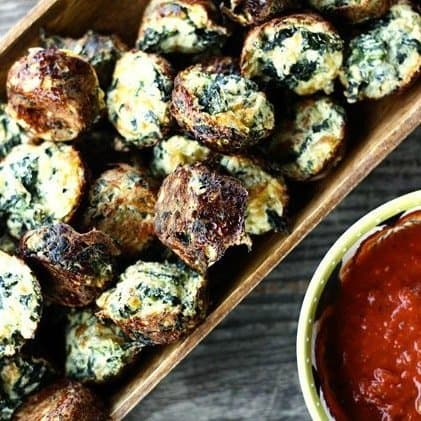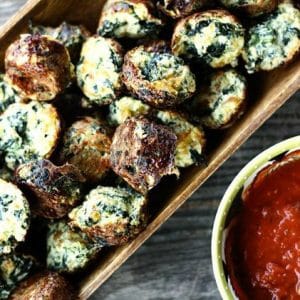 Moist, spinach-studded, cheese and egg puffs get toasty, crispy bits around the edges and taste great alone, but really sing when dunked in warm marinara or pizza sauce. This is a favourite movie-night snack at our house and has won over even the most ardent anti-green vegetable protesters in our family. The smaller you chop the spinach after squeezing it dry, the easier it is to get it past picky eaters.
Ingredients
4

tablespoons

unsalted butter

1

large onion

peeled and finely chopped or grated on a cheese grater

2

garlic cloves

peeled and minced or pressed

3

eggs

1

cup

ricotta cheese

2

cups

shredded mozzarella cheese

1

cup

grated Parmesan

Romano or Asiago cheese

½

cup

Italian style breadcrumbs

1

pound

frozen chopped spinach

thawed and squeezed hard repeatedly to remove as much liquid as possible (*See Note Below Instructions)

½

teaspoon

salt

Optional: warm marinara or pizza sauce or Ranch dressing for dipping
Instructions
Instructions
Preheat the oven to 350°F. Generously -and I DO MEAN GENEROUSLY- spray 48 mini-muffin wells with non-stick cooking spray. Eggs are culinary glue. If you don't grease the tar out of those mini-muffin wells, they will stick!

Melt the butter over low heat in a small saucepan or frying pan. Stir in the grated or finely chopped onion and cook on low, stirring frequently, until the onions are very tender, about 5 minutes. Stir in the garlic and cook for an additional minute. Remove the pan from the burner and set aside.

Put the squeezed-dry spinach on a cutting board and chop a few times with a knife to separate the spinach and make the pieces smaller.

In a mixing bowl, beat the eggs with a whisk. Whisk in the ricotta cheese until smooth. Switch to a wooden spoon, add the remaining ingredients –including the cooked onion mixture and the chopped spinach- and mix until evenly combined.

Divide the mixture between the mini-muffin cups. Bake the puffs until set in the center and lightly browned around the outside edge (begin checking at 20 minutes.)

Let them rest in the pans for about 3 minutes before trying to remove. If any of them stick, run a butterknife around the edge to loosen them.

Serve warm or room temperature with marinara or pizza sauce.
Notes
*Note: To get the most liquid squeezed from the spinach, put the spinach in a colander over the sink. Grab only as much as you can comfortably fit between your hands, cup your hands around the spinach and squeeze flat repeatedly until almost no more liquid can be squeezed out. Put that handful of spinach on the cutting board and repeat until you've finished squeezing all of it.
Nutrition
Calories:
314
kcal
Carbohydrates:
10
g
Protein:
19
g
Fat:
21
g
Saturated Fat:
12
g
Cholesterol:
125
mg
Sodium:
654
mg
Potassium:
321
mg
Fiber:
2
g
Sugar:
1
g
Vitamin A:
7345
IU
Vitamin C:
4.4
mg
Calcium:
445
mg
Iron:
2.1
mg
Nutritional information is an estimate and provided to you as a courtesy. You should calculate the nutritional information with the actual ingredients used in your recipe using your preferred nutrition calculator.
This post is my contribution to the efforts by Hidden Valley Ranch and the Chef & Child Foundation. According to their website: "The Chef & Child Foundation (CCF) and the makers of Hidden Valley® Original Ranch® dressings & dips are partnering to host the Lunch Break for Kids fundraiser to showcase how simple, good food can make healthier bodies and stronger family connections, as well as support CCF's national Childhood Nutrition Day in its mission to promote healthier eating to kids and their families through community-based initiatives." Please take a moment to visit their website and look for opportunities to help in your area!