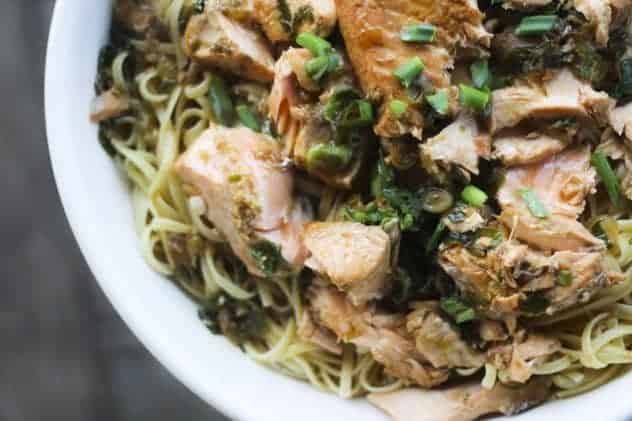 There are some dishes that come to define special occasions. We have a few of them…
The boys' birthdays almost inevitably have Sticky Chicky Bones and Pig Tails. Thanksgiving means Cranberry Upside Down Cake and Baked Chocolate Custards. Christmas Eve is our potsticker extravaganza.
Easter always brings Bunny Bread. Just as much as we can count on these dishes making an appearance to help mark the passage of the year, I can count on my husband's response to me asking him what he'd like for his birthday dinner.
"I'd love Japanese Salmon over Linguine, please!"
His answer comes as surely as rain in the spring. Since seeing this dish made on an episode of "Calling All Cooks" over ten years ago, it has become a staple festive dish for us.
Almost always served on my husband's birthday and every so often on Father's Day, it is also a dish we trot out when we want to serve the best we have to dinner guests.
To be sure, the appearance isn't as refined as some party foods, but it is lovely in its simple, unfussy appearance. The ease of preparation is a bonus.
There isn't a lick of engineering that goes into the dish, it is as simple to prepare as anything can be. As with many Asian foods, the bulk of the work comes before you turn on the heat under a pan.
When my two eldest boys did the 30 Hour Famine last week, they deliberately ate lightly at the breaking-of-the-fast-feast because they knew that dinner that evening was going to be Japanese Salmon over Linguine. The announcement of it for dinner always elicits happy moans. Even the anti-green-stuff contingent bends their rules and happily shovels green onion flecked salmon to their lips.
That salmon. Boy. It is exceptionally exquisite.
Moist, gingery, and garlicky, it cooks gently in a sauce made of its own juices, sake, soy sauce and green onions. The salmon is flaked over cooked linguine piled in a deep bowl and then the glorious pan juices are poured over the whole thing. T
hen there is silence because silence is the only option available to worshipfully eat a plate full of Japanese Salmon over Linguine.
And if, per chance, you have managed somehow to make enough of the dish to have leftovers, be aware that you will have to fight for them. The chilled, non-reheated leftovers of this dish command bidding wars of the ultimate urgency.
People offer to do chores for each other, hand over the remote control for a week, and/or go to bed early on purpose so Mommy can have free time just for the chance to have the last serving. It is really that good.
Salmon Over Linguine

You want the ginger ground or grated to a paste for the best results in this dish. I find it is easiest to accomplish this by wrapping a piece of fresh ginger root in plastic wrap and freezing overnight before approaching the grater with it.
As long as it is reasonably young ginger (one which you could scrape clean of its peel by using the side of a spoon) you don't even have to bother peeling it before grating it. When it is frozen solid, grate it on the finest section of a box grater or a microplane grater.
The garlic -much like the ginger- should be mashed, grated on a microplane or the finest setting of a box grater, or obliterated in a garlic press. The goal is to have a paste made of the ginger and garlic that you can smear over the fish.
Salmon Recipes
Try out my favourite Smoked Salmon Pasta Salad. It makes a great meal by itself, but it's also wonderful with main dish grilled meats!
My Best Way to Cook Salmon is air fryer salmon and BOY is that good. It'll simplify your weeknight salmon dinners!
And if you want an amazing dish to serve with this Salmon over Linguine, look no further than our tutorial on How to Cook Shishito Peppers. They add the perfect burst of flavour to the meal!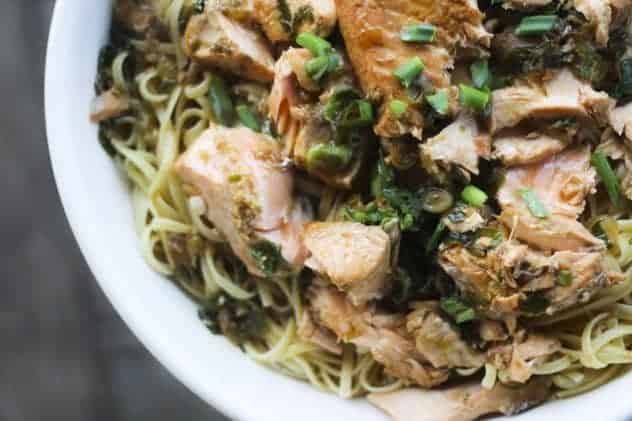 This moist, gingery, and garlicky salmon cooks gently in a sauce made of its own juices, sake, soy sauce and green onions. The salmon is flaked over cooked linguine piled in a deep bowl and then the glorious pan juices are poured over the whole thing. This is a true family favourite. Adapted from The Food Network
Ingredients
1/3

cup

olive oil

preferably plain olive oil, not extra virgin

4

skin-on salmon fillets

about 1 1/2 pounds

3

cloves

of garlic

grated, mashed to a paste or pushed through a press

2-

inch

piece of ginger

frozen and then grated

1

bunch green onions

scallions

1/4

cup

soy sauce

1/4

cup

sake

1

pound

linguine

cooked according to package instructions and drained
Instructions
In a 2 or 4-cup measuring cup, combine the soy sauce and sake. Set aside. Trim the hairy ends from the green onions and slice the green onions quite thinly on an angle. Add the green onions to the soy sauce and sake and use a spoon to toss them, making sure all of the onions are evenly wet.

Pour the olive oil into a 12-inch high-sided skillet with a tight fitting lid. Blot the salmon fillets with a paper towel and then lay the fillets skin side up in the olive oil. Flip the fillets skin side down divide the garlic and ginger evenly among the fillets and rub them gently. Spoon about half of the soy sauce/sake/onion mixture over the fillets, place the lid on the pan and turn the heat on to medium under the pan. Cook for 5 minutes, or until the fillets are cooked most of the way up the sides. Gently flip them, add the remaining soy sauce/sake/onion mixture, replace the lid and continue to cook for another couple of minutes: just until the salmon is opaque all the way through.

Remove the pan from the heat and pull the skin off of the fillets. It should come away quite easily. Discard the skin. Break the salmon up into large pieces and arrange them over the cooked linguine in a serving bowl. Pour the pan juices over the top of the salmon. Serve hot, warm, room temperature or cold.
Nutritional information is an estimate and provided to you as a courtesy. You should calculate the nutritional information with the actual ingredients used in your recipe using your preferred nutrition calculator.