A few weeks ago, my mom made the trek out to Michigan to visit her sisters (my aunties) and my Grandma.
One night while Mom and my baby sister were out there, the Shaffer girls (because that's what they become when they're all together again) and Grandma gathered around the kitchen table to talk food and enjoy one another's company. That's when Grandma brought out the game.
Boggle. My grandmother looks sweet and kind and delicate because she normally is. My beloved late grandfather was a pastor and Grandma fed every stray person and dog that Grandpa brought home; and that was many, many mouths.
She is kindness personified and I have never once heard her say a bad word or gossip about anyone she knows. She doesn't drink, she doesn't swear, and she takes care of everyone who crosses her path.
But you put Boggle in front of her and she morphs into a killer. Grandma has handily defeated engineers, teachers, doctors of theology, English majors, physicians, and housewives and has -so far as I know- an undefeated Boggle record in her 83 years of life.
Grandma is a walking thesaurus. Grandma is a a word creating machine.
And don't let her sweetness fool you. You don't want to write down a word incorrectly or make one up. She'll lower the boom; then offer you a bite to eat because you look famished.
Here's a fact; playing Boggle is the only time my Grandma talks smack. She challenged my mom and aunties by saying, "Come on. I'll wallop the dang out of you!" Seriously.
I learned to can at the collective elbow of these women. I don't even have to close my eyes to picture all five of them sitting around my grandmother's table or on her porch peeling peaches, snapping green beans, peeling and packing tomatoes, brining pickles or playing Boggle to unwind after a marathon canning session.
If I put the tiniest effort into the thought I can even feel the steam in the kitchen from the rocking canner on the stovetop. They would sit and talk and laugh and eat while helping put up the massive amounts of produce from Grandma's gardens for the winter.
Nothing was wasted. If it couldn't be eaten right away it was frozen or canned or fed to the wildlife surrounding their home that we had named 'Grandpa's Mountain'. All creatures great and small eat well when my grandma is around!
I am blessed that all of these wonderful women are still canning up a storm and ever present in my life. We regularly call (or email, these days.
And yes, my Grandma emails. She's a techno-Grandma!) to share our canning tallies. And honestly?
It's absolutely wonderful to pop down the basement stairs and struggle back up lugging those luscious jars of summery tomatoes and whatnot to make dinner on a dreary winter's day; But sharing what you've made is a more than half the fun.
My sister and I are carrying on the tradition. We make staples like tomatoes, salsa, pickles, jam and more, but also consult each other and try to make something new each year so we have something to swap that the other doesn't have. And we try to figure out a way to get stuff out to our Michigan family every year.
Just this past summer I knew I wouldn't get a chance to get up north in the mitt to see Grandma and the aunties. I got to see Aunt Sarah briefly and sent a heavy box of pickles and jam along with her to distribute amongst Grandma, Aunt Molly, Aunt Vicki and the cousins during one visit.
(Don't worry. I didn't burden some poor old thing with a massive box-o-jars. My Aunt Sarah is only a handful of years older than me and she agreed because I added an extra jar of pickles to pay her back for lugging them around.
Well, she might've also agreed because she loves me. The next time I talk to her I'll ask if it was for love or pickles.)
I wish I had laid my hands on tomatoes before our visit because I would have loved to send a jar full of one of our more recent favorites along with her: V-7 Juice. This is definitely a canning recipe that reminds me of my grandma.
This seven veggie juice blend uses up the odds and ends from a well stocked garden. No garden?
No problem! You can throw this together easily with vegetables that can be found at almost any grocery store or farmer's market.
Why not rustle up an additional ingredient to make it homemade V-8? Between my husband and kids and I we have seven people in our family, and I become symbolic-slash-nostalgic at odd moments. V-7 it remains.
Strange that may make me. Talking like Yoda am I. A V-7 I need. *
*Promise to stop talking like Yoda do I. Hard to quit it is…
This juice is a bit of a project. It's not hard, but it is time-consuming.
You'll want to block off about five hours total from start to finish. It can be divided up over a couple days, so those five hours don't have to be consecutive.
And the surpassingly fresh flavor is so worth the effort. It is infinitely better tasting and better for you than the stuff in cans at the store.
It smokes it. Dare I say it wallops the dang out of storebought vegetable juice blends?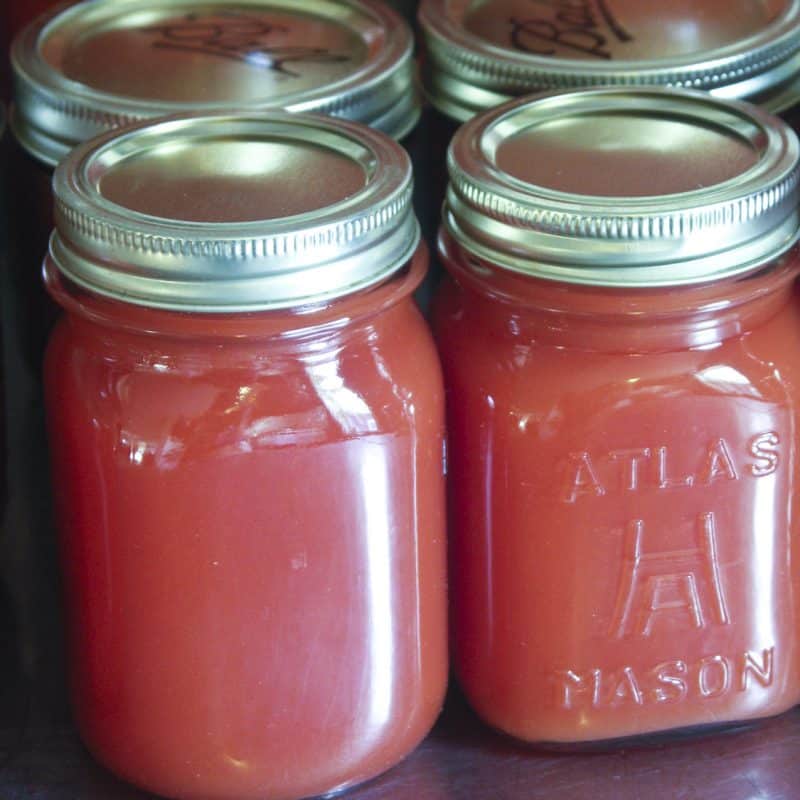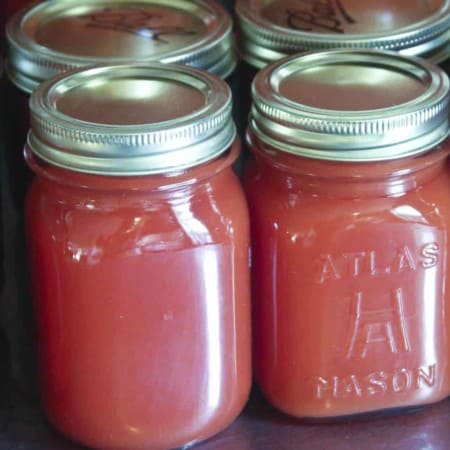 Homemade V-7 (not 8) Garden Vegetable Juice Blend
Rate Recipe
Make your own garden vegetable juice that wallops the dang out of storebought. This is so easy to make even if it is a little time consuming. Since you control the sodium in the juice, it's a far healthier option than the one on store shelves!
Ingredients
24

pounds

tomatoes

1

pound

carrots

scrubbed and diced

1

head celery

scrubbed and diced

1

cup

diced onions

1

large bunch parsley

washed (This can be found bundled at the store if it is not in your garden. If you grow it, firmly pack a measuring cup with washed parsley still on its stems.)

1

Tablespoon

Kosher or sea salt

optional

Bottled lemon juice

use the best stuff you can afford here.
Instructions
Wash the tomatoes and slice a shallow wedge out of the top, stem-end of the tomato to remove the core. If they are small or average size tomatoes, cut into quarters. If they are large, cut into eighths. Add a couple cups of the chopped tomatoes at a time to a large, non-reactive (glass, enamel, and stainless steel are all good choices) stockpot over medium-low heat. Lightly break it up with a large spoon or potato masher. Continue adding tomatoes and breaking them up after each addition until all the tomatoes are in the pot. Add the carrots, celery, onion and parsley to the pot and stir to combine. Raise heat to medium high and bring to a boil, stirring frequently to prevent scorching and sticking. Lower heat and simmer for about 35 minutes, or until carrots and celery are mostly tender.

Position a strainer over a large bowl or another large, non-reactive stockpot. Ladle the vegetables and their juice into the strainer. Once everything has been strained, return the liquid you've collected to the (rinsed) stockpot. Juice the remaining vegetables (or process until smooth in a food processor or food mill.) Strain over the stockpot to remove seeds and peels. If using salt, stir it in now.

Heat juice to 190°F. DO NOT ALLOW TO BOIL! If you don't have a thermometer,190°F looks like a great deal of steam coming from the surface of the juice with no bubbles breaking the surface. Hold at this temperature for 5 minutes.

Add 1 Tablespoon of bottled lemon juice to each sterile* pint jar and 2 Tablespoons of bottled lemon juice to each sterile* quart jar you will fill. Ladle the hot juice into the jars leaving 1/4? of headspace. Wipe the rims of the jars and add the lids, then tighten the rings just until resistence is met.

Fill your canner about halfway full of tepid water. Arrange the jars around the base of the canner and add water, if needed, to cover the jars by 2 inches. Cover and bring to a full, rolling boil. Start timing at that point. Process quarts for 40 minutes and pints for 35 minutes. Carefully transfer finished jars to a cooling rack or a towel on the countertop. Allow to cool overnight without disturbing the jars.

If the jars have sealed, the center of the lids will be tight when pressed gently. If the seal has failed, it will pop down and then back up when pressed. Any jars with failed seals should be stored in the fridge until used. The rest of the jars can be stored in a cool place such as a cupboard or basement for up to a year.
Nutritional information is an estimate and provided to you as a courtesy. You should calculate the nutritional information with the actual ingredients used in your recipe using your preferred nutrition calculator.