Of all of the desserts made anywhere in the world, Baklava is far and away my most favourite. I don't have much of a sweet tooth, but if you set a tray of lovely little baklava pieces in front of me, you may not want to stand between it and me. I can't help myself around it.
My husband often refers to baklava as being "anciently tasty"… He doesn't mean it tastes old and stale, he actually imagines ancient kings of Mesopotamia sitting around nibbling on it. I love my history nerd husband.
Our best loved version of it is a Cardamom Pistachio Baklava we make at home. Buttery pistachios have a starring role in this baklava and are supported by toasted almonds and walnuts, a cardamom and cinnamon spice mixture, and an orange, honey, cardamom scented syrup. If we weren't already home in our jammies sneaking more slices of this from the pan than we'd care to admit, this would be one to write home about.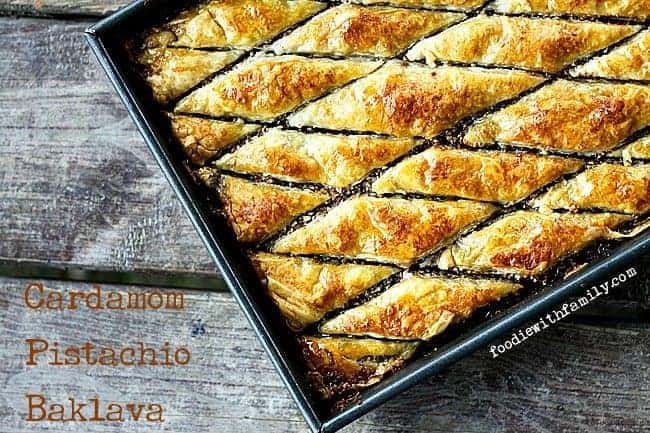 There's no doubt that baklava is just a touch fussy to make, but it's only on account of Phyllo dough and the dessert is so worth the effort. I have some handy-dandy tips to make the process much easier.
Tips for Working with Phyllo Dough
This may sound like a Captain Obvious moment, but it bears emphasis; make sure you choose a package of phyllo that is still within the "sell by" or "use by" date. The stuff is thinner than paper. This is one time when that "best by" date really makes a difference.
By the same token, try to get a package that looks like it's in good condition. You don't want a box that appears to have been delivered by Ace Ventura.
It's not a bad idea to buy double the amount of phyllo you need for your Cardamom Pistachio Baklava. Worst case scenario? You have an extra box in the freezer for a later batch. I call that good thinking!
Thaw your phyllo dough according to the package instructions. No. Really. Use whatever their most recommended instructions are vs. the "speed thaw" method some have on the boxes.
Once it's thawed and open, keep it covered with a moist towel at all times. This minimizes the exposure to air, thus reducing the amount of tearing and crumbling. It dries out more quickly than I can possibly express.
I prefer to gently lay the pan over the stack of phyllo to cut it to size before I start filling my pan. If you do this, just invert your baking dish over the stack of phyllo and use a very sharp knife to cut around the outside. Take care not to press down on the dough as this may compact it. That will lead to swearing under your breath as you attempt to pray apart hair-thick sheets of phyllo dough.
When you need to brush the phyllo with butter, you can reduce the tearing that occurs by drizzling the butter over it first, then brushing.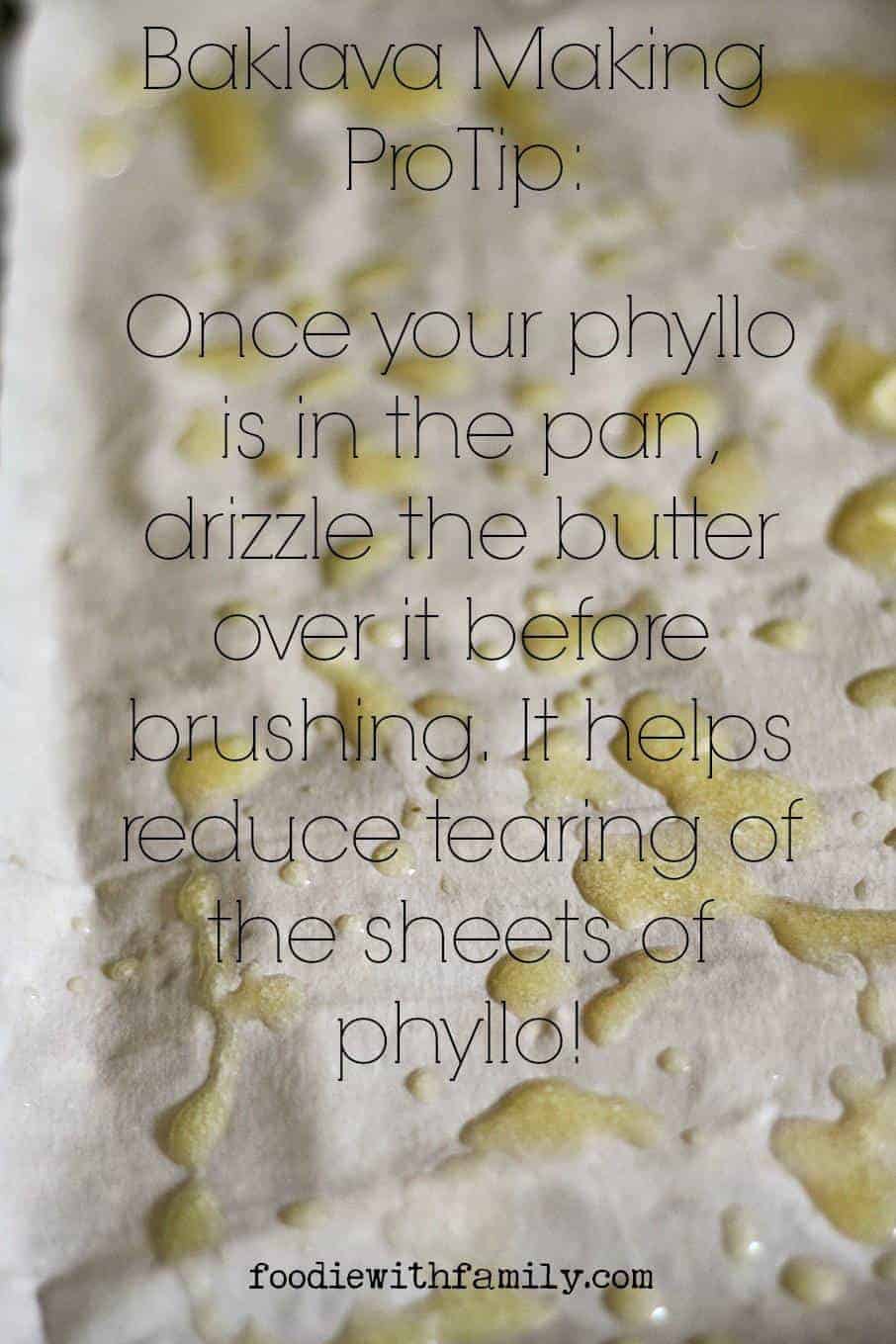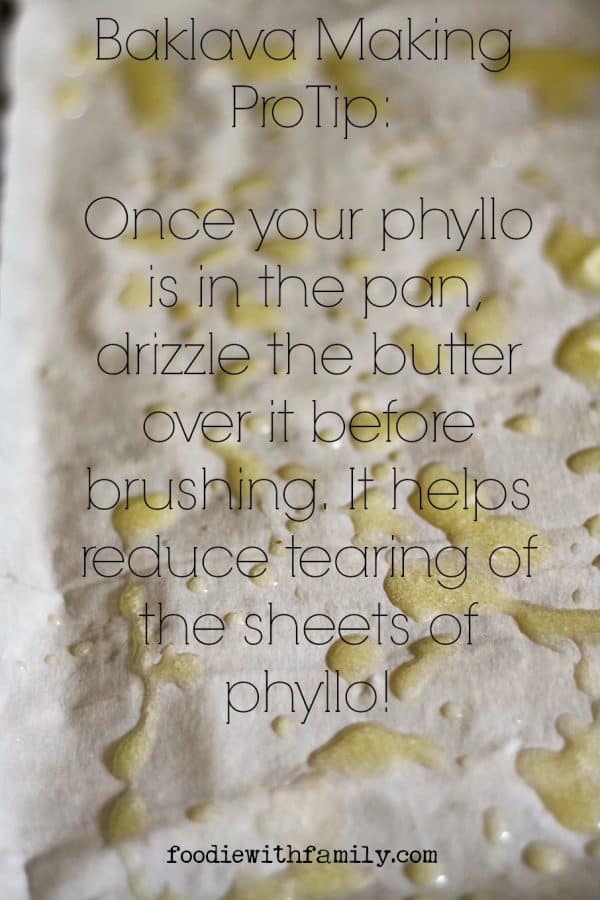 Cook's Notes
I've made the Cardamom Pistachio Baklava with salted pistachios and unsalted ones. If you can only find salted pistachios, simply omit the salt called for in the recipe. It will turn out.
When grinding the nuts, you're going for roughly the texture of Grape Nuts cereal or smaller. It should look like the texture of the nuts in the picture above.
Work quickly when assembling your Cardamom Pistachio Baklava. That will keep the phyllo from drying out as much.
After your Cardamom Pistachio Baklava is assembled, refrigerate it for at least 30 minutes but up to an hour before baking. This helps the butter set up so the baklava is easier to slice (think: wafer thin sheets of pastry wiggling and moving around vs. cemented together by butter. You decide which is more convenient.)
The first cuts should be 5 lengthwise cuts in the baklava. From here you have a couple of options. You can cut diagonally for a parallelogram/diamond shape, or you can cut perpendicularly across the first cuts then cut the squares from corner to corner to create triangles. Choose whichever is most visually appealing to you.
Be sure to pour the orange and cardamom honey syrup over the baklava when it's hot from the oven. This helps it to soak in better.
I'm sorry to be the bearer of bad news, but you absolutely need to let the syrup soaked baklava stand for at least 6 but preferably 8 hours after being made. This lets all the layers meld and makes it a much less messy to eat. Don't get me wrong, it'll still be untidy, but it's an easier thing to eat after sitting.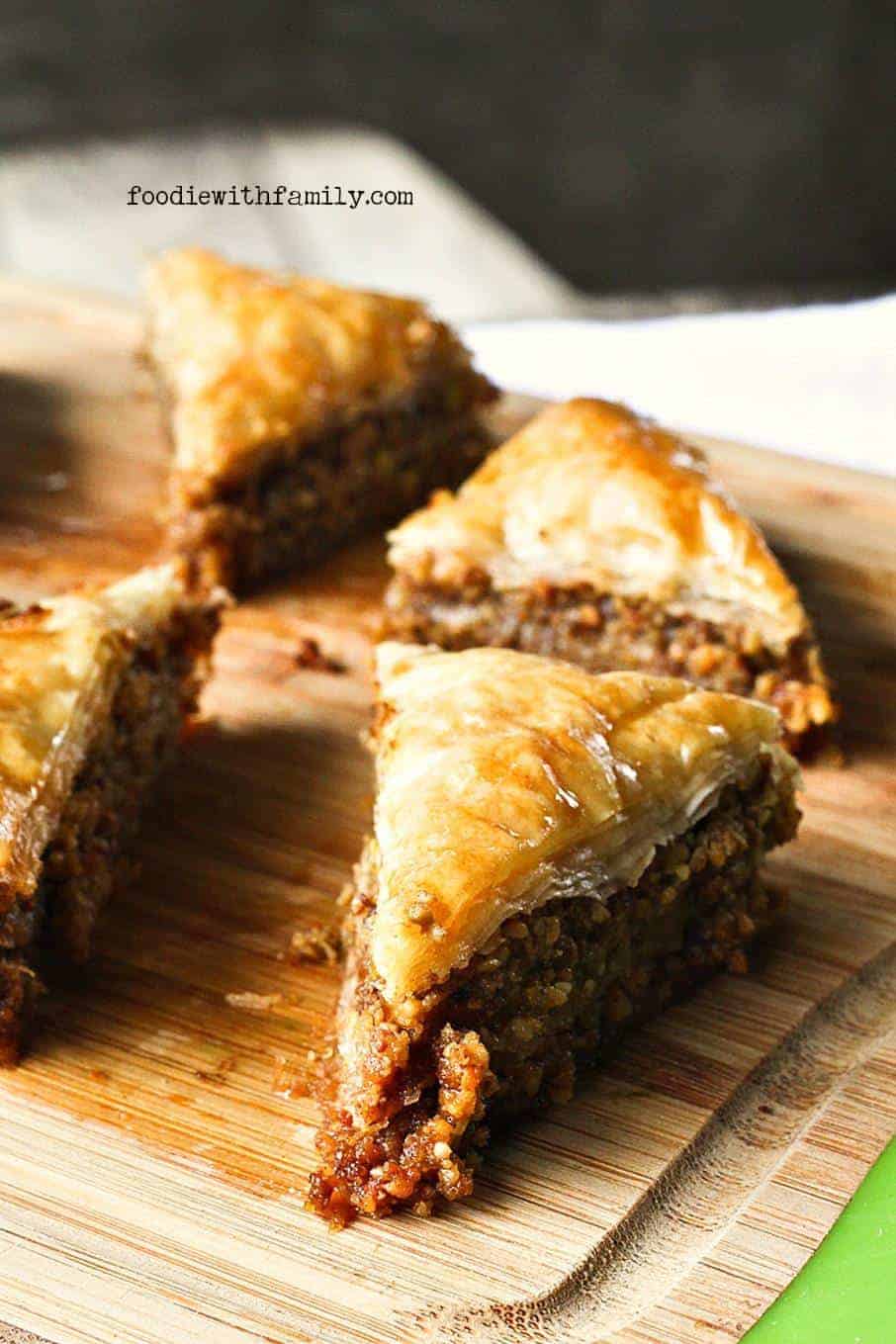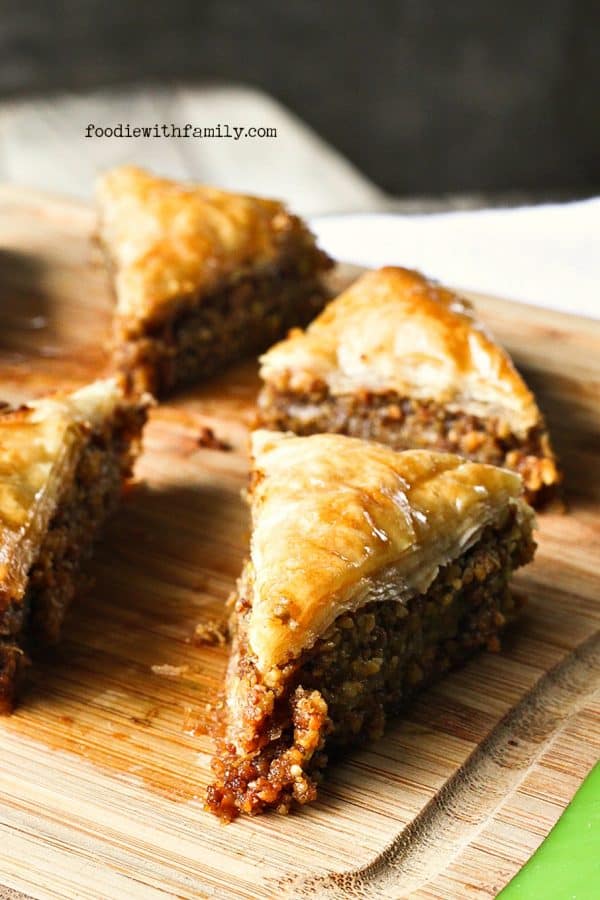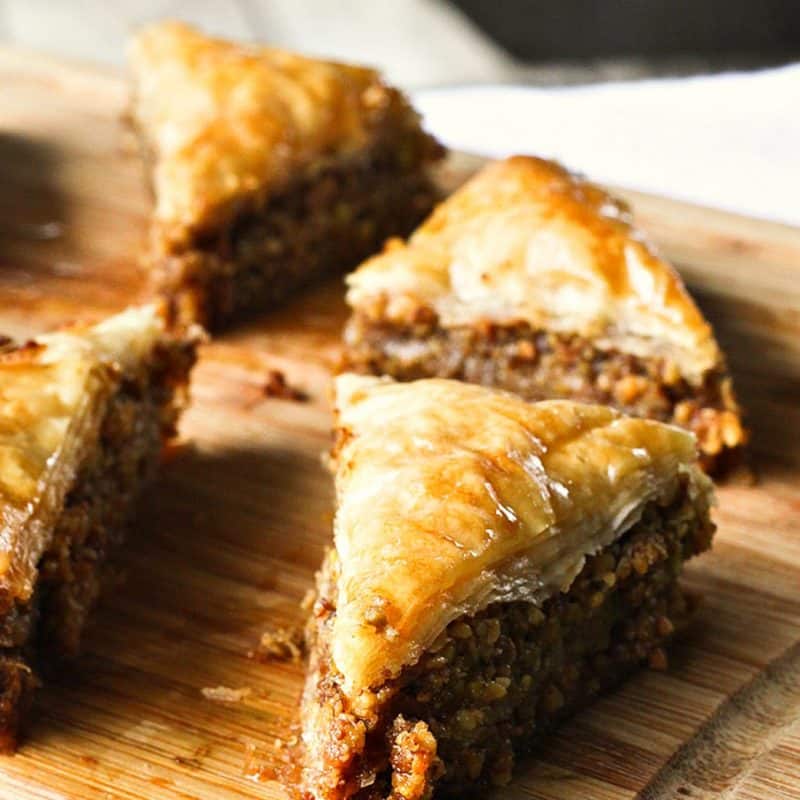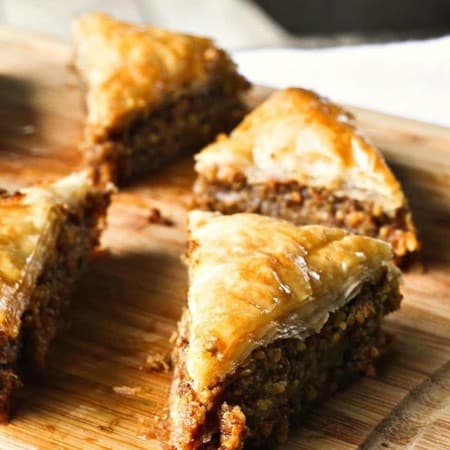 Ingredients
1

pound

shelled pistachios

toasted

1/2

pound

shelled walnuts

toasted

1/2

pound

blanched almonds

toasted

2/3

cup

brown sugar

1

teaspoon

ground cinnamon

1/2

teaspoon

ground cardamom

1/4

teaspoon

ground cloves

1/2

teaspoon

salt

only if using unsalted pistachios

1

pound

unsalted butter

melted

1

package phyllo dough sheets

thawed according to package instructions
Syrup Ingredients:
2

cups

sugar

2

cups

water

1/2

cup

of your favourite honey

preferably a mild one like orange blossom, apple blossom, or clover

1

teaspoon

vanilla extract

the juice of half a lemon

two long strips of orange peel removed from an orange with a vegetable peeler

1

cinnamon stick

broken into a couple of pieces

1

cardamom pod

lightly smashed with the side of the knife to gently crush it

1

whole clove
Instructions
Pulse the nuts in a food processor until they are finely chopped and about the texture of grape nuts or slightly smaller. Transfer the nuts to a mixing bowl and mix in the brown sugar, cinnamon, cardamom, cloves, and salt (if using). Set aside.

Position your phyllo sheets on a cutting board. Lay the 9-inch by 13-inch pan you'll be using on top of the phyllo to use as a template to trim the dough to the size of the pan. Take care not to press down on the pan, though, as that will compact the sheets of phyllo.

Cover the phyllo with a slightly damp tea towel to keep it from drying out. Brush the bottom and sides of with the melted butter. Lay one sheet of the phyllo on the bottom of the pan, gently brush with butter, and repeat layering until you have a base of 8 sheets of buttered phyllo stacked up. Add 1/2 of the ground nut and spice mixture to the pan and spread it out evenly to the edges of the pan, then lay a sheet of phyllo over it then gently brush with butter. Repeat until you have 4 sheets of buttered phyllo stacked. Add the remaining ground nut mixture and spread to the edges of the pan. Gently drape a sheet of phyllo on top, brush with butter, and repeat until you have a stack of 8 sheets of buttered phyllo. Drizzle any remaining melted butter over the top and use the pastry brush to distribute it evenly.

Refrigerate the pan for 30 minutes to help the butter set up firmly.

Preheat the oven to 350°F. Remove the pan from the refrigerator and use a very sharp knife to cut the firmed up baklava five times lengthwise. This will give you five very long rectangles. Then turn your pan and cut across diagonally, creating diamond shapes. You can do as few as 8 diagonal cuts or as many as 12, depending on the size of the pieces you want your baklava to be when done.

Bake the baklava for 40 minutes, or until golden brown and the edges of the phyllo along the sides of the pan and the cuts looks flaky.
To Prepare the Syrup while the Baklava Bakes:
Combine all of the syrup ingredients in a pan and bring to a boil. Drop the heat to medium low and simmer for 10 minutes, or until thickened somewhat. Strain to remove the orange peel, cinnamon stick, cardamom, and clove.
To Finish the Baklava:
As soon as you've removed the Baklava from the oven, remove one little corner piece with a spoon and scoop out any nuts that have fallen into the pan in that section. Set the pan on a heat-proof, level counter top, and drizzle the syrup evenly over the baked baklava. Let stand at room temperature for several hours before serving.

Leftovers can be stored in an airtight container at room temperature for several days.
Nutritional information is an estimate and provided to you as a courtesy. You should calculate the nutritional information with the actual ingredients used in your recipe using your preferred nutrition calculator.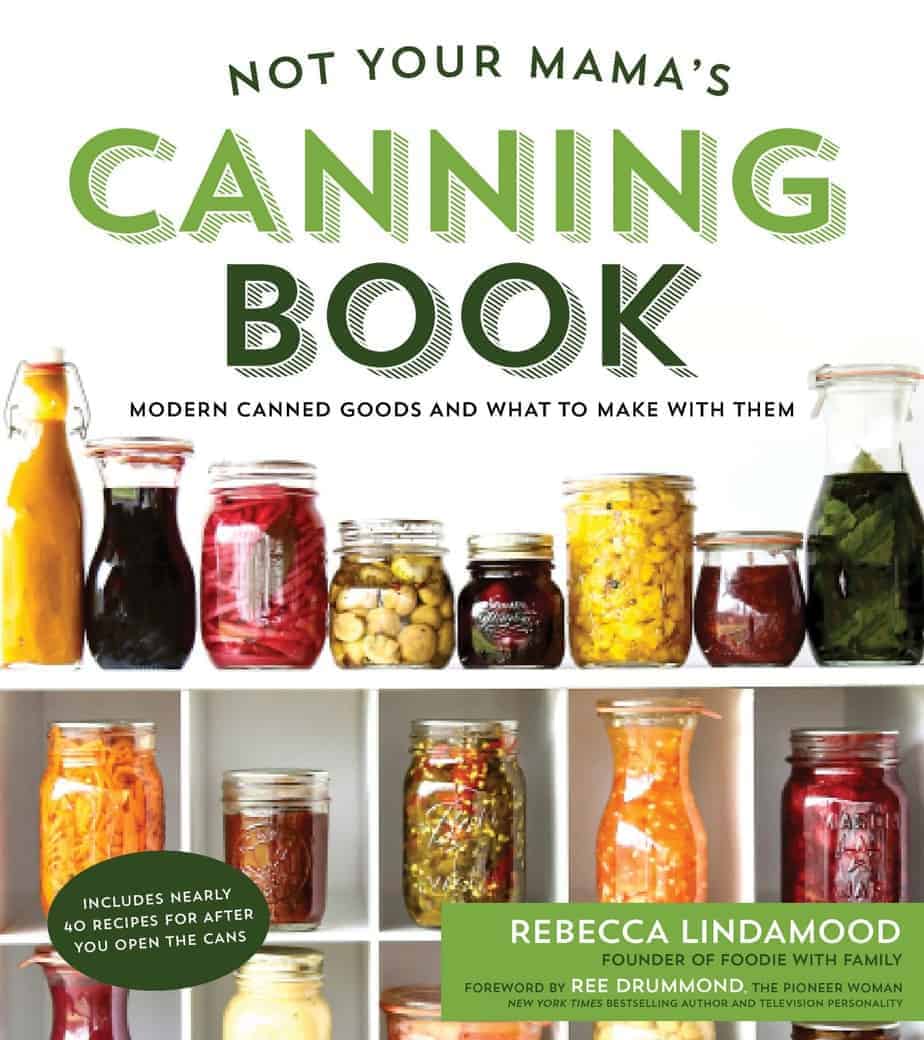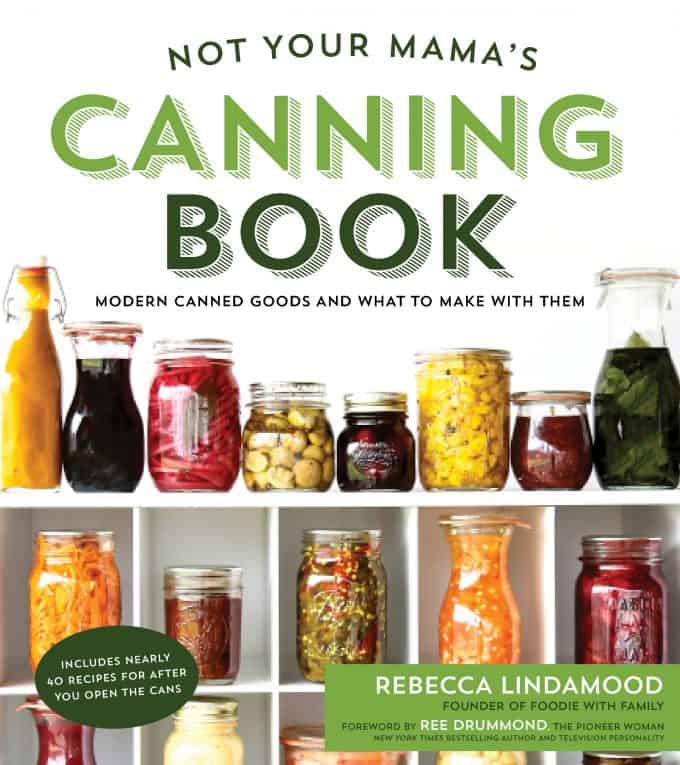 Not Your Mama's Canning Book: Modern Canned Goods and What to Make with Them is available to order through these fine retailers!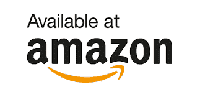 This post was originally published September 29th, 2014.