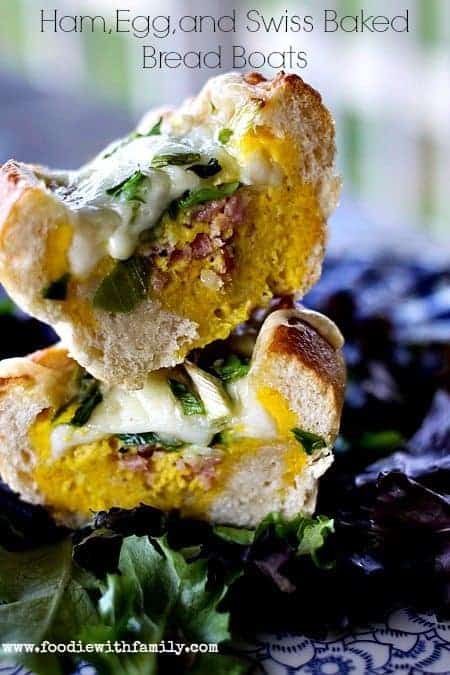 Meals don't get a whole lot easier than the one I'm going to share with you today. They don't come much tastier than this either. Goodness knows we all need something fast and fabulous from time to time. Mercifully, it's a quick and easy meal that E.V.E.R.Y.O.N.E. in my house likes. That makes it another Unicorn Meal which means we are up to two for the week. That's a pretty nice way to start a week, isn't it?
And oh my word, sometimes you just need something easy so you can shut your brain off, right? After a day full of whatever challenges you've faced, you want dinner and you want it fast and you want it to be comforting and tasty and filling and pretty. Or is that just me? Well, if it's just me, I'll own it.
I need it, friends. I so need it.
I need this specifically.
It all starts with bulk French rolls, those lovely little miniature versions of grown-up French bread that tantalize and call my name from the bakery of my grocery store. If you don't have a grocery store with a bakery available to you, most even basically stocked grocery stores carry frozen French rolls. If my little local gas station-slash-grocery store-place to buy water softener salt carries them, there's a great chance yours does, too.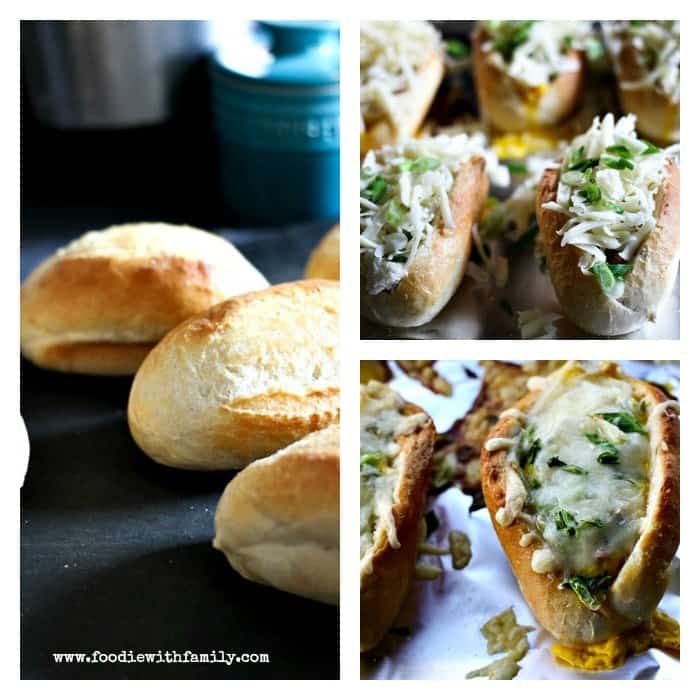 A little wafer is removed from the top of the roll giving access to the soft insides. I pull the insides out, leaving a little shell behind to hold goodies. I usually opt to deposit the insides of the roll directly in my mouth. I told you this meal was comforting, didn't I? If you choose to exert more willpower, you're welcome to pop the bread guts into a resealable bag in the freezer to use for fresh bread crumbs at a later time. Into the bread shells go finely chopped ham: the saltier, the better. A few eggs are whisked with a little milk, poured into the bread shells over the ham, then topped with generous amounts of grated Swiss cheese tossed with thinly sliced green onions. The whole tray gets popped into the oven and then -just twenty five short minutes later- out comes a pan full of toasted French bread rolls. Shatteringly crispy, paper thin crust with a tender shell of bread inside, holding what amounts to an omelet you can pick up with your hands: moist egg, salty ham, fragrant green onions, and melted, gooey, nutty Swiss cheese. Mercy. If that doesn't put your day right, I don't know what will…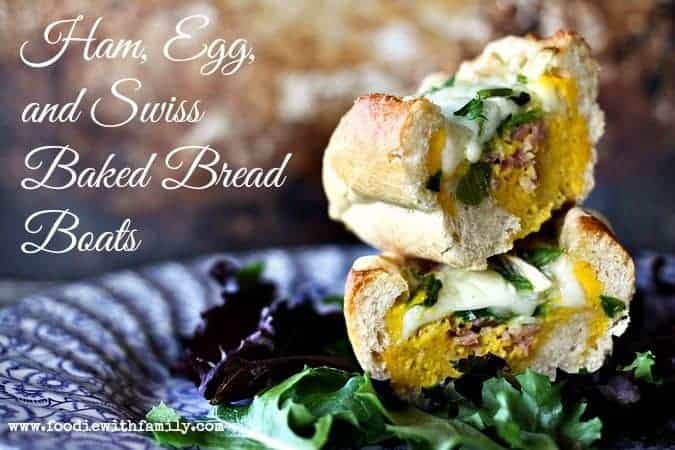 Sometimes when your brain is fried, you don't want your eggs to be, too. Omelets are for days you need a hug. Omelets baked in bread boats are for days when you need a hug and a vacation. Bread boats; take me away!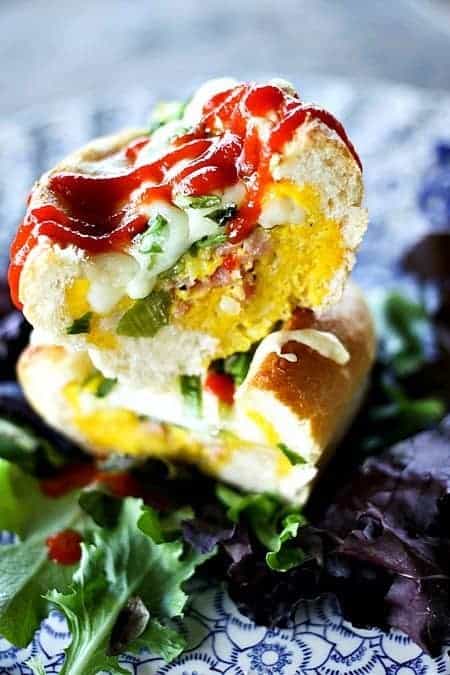 And should you happen to add a generous drizzle of hot sauce to the bread boat before conveying it to your mouth, well, then we're probably related. Or at least our tastebuds are. Here's to you, my tastebud relative. May our days be filled with comfort and hot sauce.
Cook's Notes
If you have roly poly rolls, you may want to slice a little wafer off of the bottom to stabilize them before lobbing the top off. This keeps them from tipping over on the pan once the liquid egg is poured into them. That's a good thing. Nothing stresses like trying to keep liquid filled open-topped balls from rolling around and spilling.
Similarly, it's better to cut the top third off of the rolls rather than cut a wedge into them then try to rebuild the ends with pieces of bread as pictured here. Trust me.
Be sure not to pull too much 'stuffing' out of the bread boats. Your goal is to leave a 1/2-inch of bread all the way around the inside of the boat.
Don't forget to spritz the foil or parchment with non-stick cooking spray. The disappointment that is leaving the bottom 1/2-inch of your bread adhered to the pan is deep.
I love, adore, and greatly prefer using country ham in this recipe. If you're familiar with it, you know why I don't call for any added salt in the recipe. If you don't have access to country ham, get the saltiest ham you can. If you can't find salty ham, add a little salt to the eggs when you beat them. Eggs need salt. It's truth.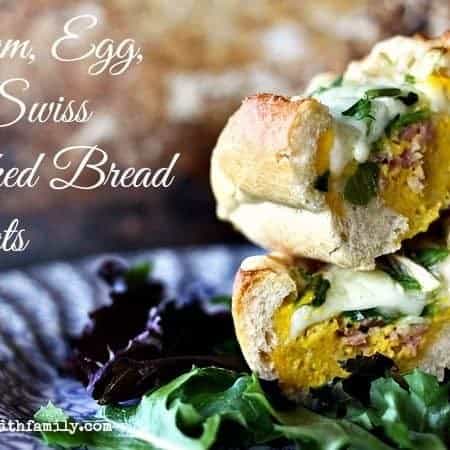 Ham, Egg, and Swiss Cheese Baked Bread Boats
Rate Recipe
Ingredients
8

French rolls

1/2

cup

finely chopped

preferably country ham, fully cooked ham

4

green onions

trimmed of the root end then thinly sliced

5

eggs

1/4

cup

whole milk

1/2

teaspoon

coarsely ground black pepper

1 1/2

cups

shredded Swiss cheese

For best results, grate your own cheese.
Instructions
Preheat oven to 350°F. Line a rimmed baking sheet with foil or parchment paper and spritz lightly with nonstick cooking spray.

If your rolls are unstable, slice a super thin wafer off of the bottom to keep it from rolling around on the tray. Carefully slice the top 1/4 of the rolls off and set aside for bread crumbs later. Use your fingers to pull bread out of the rolls, leaving a 1/2 inch shell all the way around the sides and on the bottoms. Divide the chopped ham evenly between the rolls. Set aside.

Whisk together the eggs, milk, and ground black pepper until even in colour. Pour into the ham filled rolls, taking your time to let it percolate down into the ham. Toss together the Swiss cheese and sliced green onions. Divide it between the egg filled rolls, letting some of it sit on the edges of the bread. Bake for 20-25 minutes, or until the bread is hot, the eggs are puffy and set, and the cheese is fully melted and bubbly. Remove the tray from the oven and let the bread boats rest for 5 minutes before serving.

If desired, serve with hot sauce!
Nutritional information is an estimate and provided to you as a courtesy. You should calculate the nutritional information with the actual ingredients used in your recipe using your preferred nutrition calculator.