We don't live in one of those mystical, magical places that can grow tomatoes all the live-long year. We have about a month, maybe two in exceptional weather conditions, where local tomatoes are worth eating.
I tell you this not to make you feel sorry enough for me that you'll send me crates of tomatoes in the middle of January (although if you feel so moved, I won't tell you not to send them.) but to explain to you why one cold March night a little over two years ago, I hit upon the best burger topping combination I've ever tasted.
It was late in the evening, the wind was howling and snow was blowing madly. And darn it all, we wanted hamburgers for dinner. We had meat and buns but it was much to dark and stormy out to make a run to the nearest store for the pink floor-hockey orbs they optimistically call tomatoes around here in mid-winter.
We figured we'd just have to do without. As The Evil Genius began grilling, I rustled around through the pantry and fridge to find something to put on our burgers in place of the missing tomatoes.
The idea that was forming in my head was to find something that had the same textural pop and juiciness that you get from tomatoes… And staring me right in the face was a big bowl of black seedless grapes.
Could it work? Fruit and meat have been paired together forever. But what would counterbalance the super-sweet grapes? Think. Think.
Gorgonzola cheese! Of course! If fruit and meat have been paired together forever, then grapes and cheese have been paired together forever and ever, Amen!
I put out a bowl of coarsely chopped grapes and another of crumbled Gorgonzola and waited for Monsieur Le Grill Chef Evil Genius to come in with the plate full of burgers.
The kids, unsurprisingly, did not want grapes on their burgers. Mr. Evil hesitated and looked at me a little funny, but decided maybe, just maybe I was onto something and loaded his plate accordingly.
The silky, rich and pungent Gorgonzola cheese melted ever so slightly on the juicy chargrilled beef burgers and coated the roughly chopped sweet, black grapes. The Dijon mustard laced mayonnaise on the buns added just the right amount of spiciness. To say the heavens parted and God smiled when we tasted those burgers might be just a touch on the side of hyperbole but it's not too far from how we felt.
We ate these burgers once every week for about 3 months. We called all of our food-obsessed friends and told them to make them exactly. as. we. said.
Furthermore, when tomato season got back up and running again we kept putting grapes and Gorgonzola on our burgers and stuck the tomatoes in vast batches of pico de gallo. Tomatoes on a burger? Pshaw.
The Evil Genius got downright insistent that I submit the recipe to the 'Build a Better Burger' contest that Sutter Home sponsors annually. I did.
And I didn't hear anything. He suggested I wait one more year and try again.
He was that sure that this recipe would net us the $50,000 prize bringing us that much closer to his plans for world domination. So I waited.
And again I did not get chosen. Well, that was enough for Mr. E.Vil. He said, "This burger is just too good to keep to yourself. Put it on the blog or run it in your column. No, wait. Do both!"
Just one more thing before I share the recipe. I know now why they didn't choose my burger for their contest. There are three reasons.
Reason #1: It's too dadburned easy a recipe to make to be a contest winner. You can make this with one arm tied behind your back. There are no fancy schmancy trendy skills or techniques required to create this masterpiece.
Reason #2:  It doesn't require any exotic ingredients; nothing you can't get at a marginally stocked grocery store. Most places that have grated cheese in bags have little plastic containers of crumbled Gorgonzola or blue cheese.
Reason #3:  The contest would be ended for all time the second they chose my burger. There would be no complicated, chi-chi, expensive-ingredient laden burger that could ever again compare to the simple perfection that is the Gorgonzola Grape Burger.
And please, even if you don't think you like blue cheese, try this on for size. In the amount I like it there is definitely a distinctive Gorgonzola taste.
If, however, you are a confirmed blue cheese hater, just try half a teaspoon on your burger. It will perform a magic trick and disappear on your burger leaving behind only a certain something that is completely non-identifiable but makes your mouth water.
Like all good umami combinations, you can't really put your finger on why it's so delicious. You just know that it is!
So here you go folks. Let's call this a $50,000 gift. Because these burgers are just that good. And I love you all.
Are you looking for more delicious and economical ground beef recipes? Try out our Ground Beef Fried Rice a.k.a. Cheeseburger Fried Rice as well as our 15 Minute Korean Style Beef and Cheater Sesame Beef.
Gorgonzola Grape Burgers
You can use whatever hamburger meat or frozen hamburger patties you want. Sirloin is the preferred burger around here, but do whatever flicks your Bic. The most important thing, really, is the toppings in this case.
Ingredients:
1 pound ground sirloin or ground chuck (or four 1/4 pound frozen hamburger patties)
Montreal Steak Seasoning
1 pound black seedless grapes (Red seedless grapes can be used if you can't find black grapes.)
4 large, bulk-style hamburger or sandwich rolls (Kaiser, Onion, etc…)
Gorgonzola cheese, to taste
Mayonnaise, to taste
Dijon Mustard, to taste
Preheat grill or heavy pan to medium high.
If using ground sirloin or chuck, divide into four equal portions, use light pressure to form into balls and gently flatten it out into patties. Don't squash the patties mercilessly! Do try to get it a uniform thickness so that it cooks evenly on the grill. Or skip all that and toss a few good quality frozen hamburger patties on the grill. I won't judge.
Cook the hamburgers to desired doneness. We start pulling them after about 4 minutes on each side for those of us who like ours medium and continue on down the road until we pull off the hockey-puck well done burger for the one child who unaccountably likes well done burgers and rock solid egg yolks. When burgers are done, remove to a plate and cover lightly with foil to rest.
Slice the grapes thinly and then roughly chop them.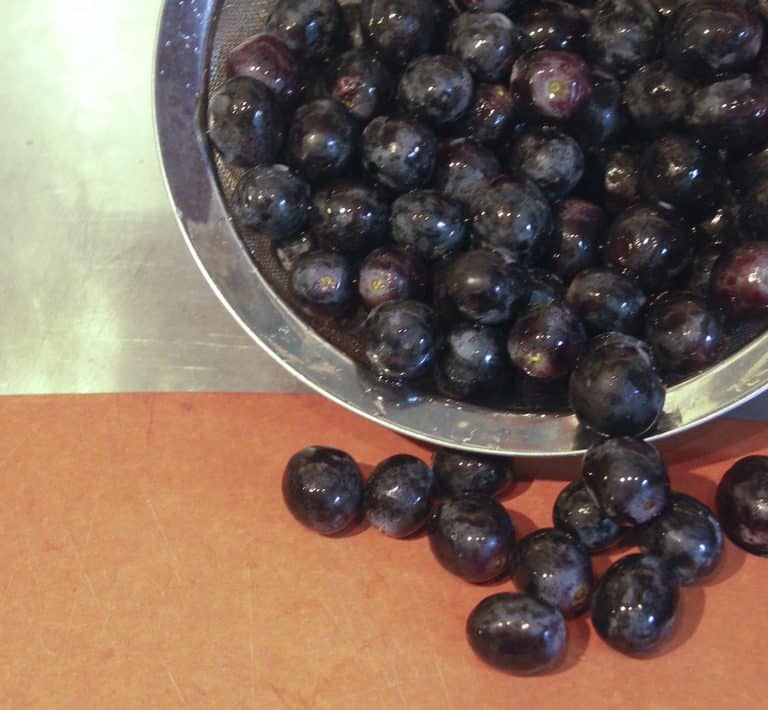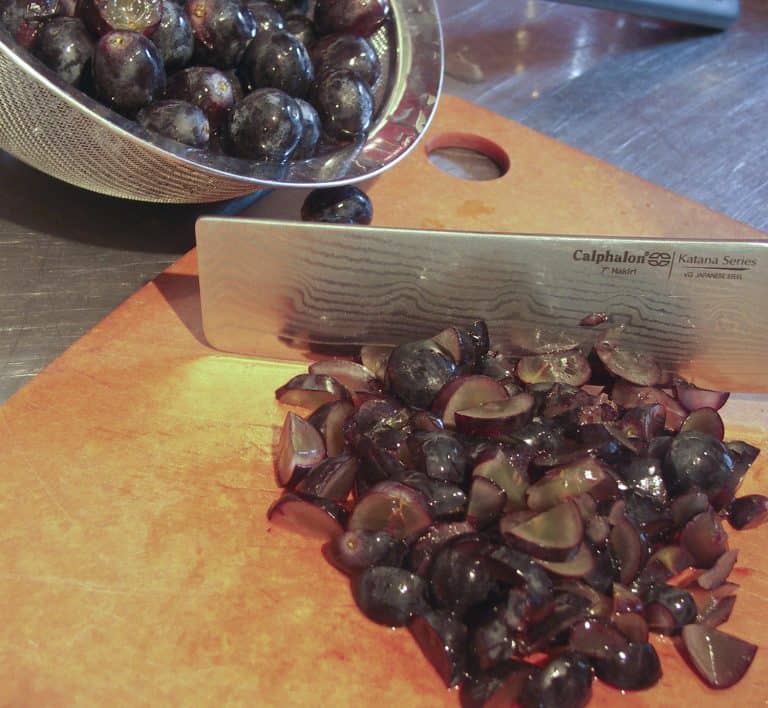 Slice open the buns and spread the cut side of both halves with mayonnaise and Dijon mustard to taste. Place a patty on the bottom half of the bun and crumble Gorgonzola over the top to taste.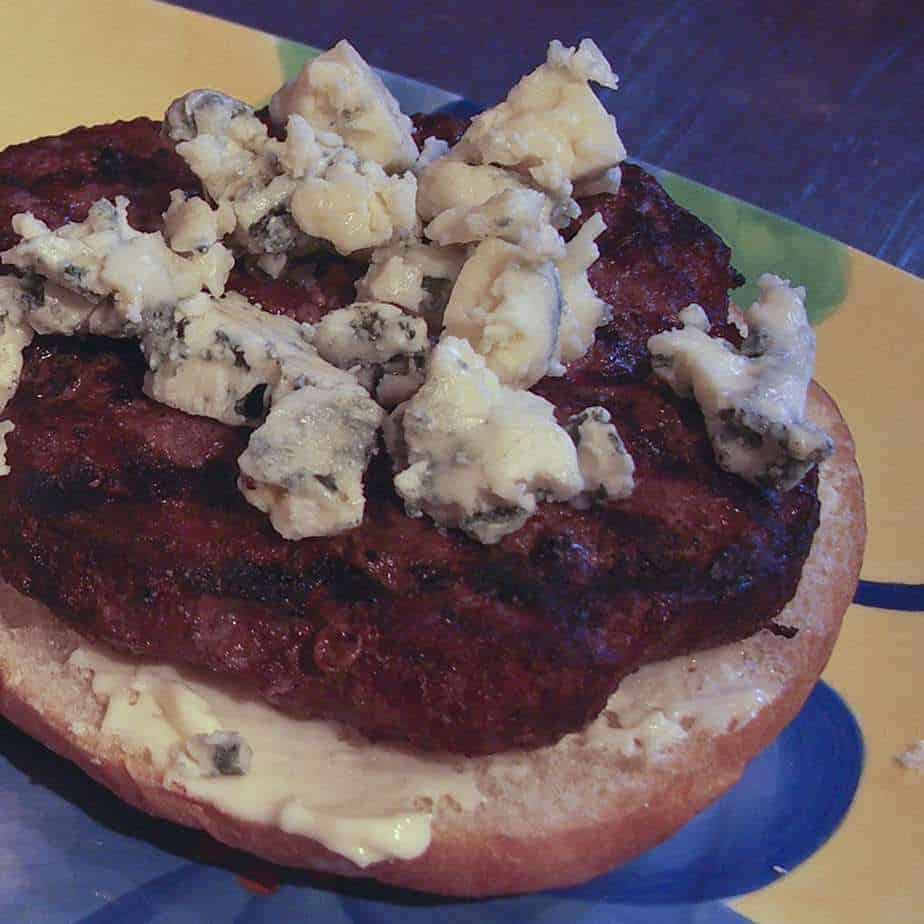 I like Gorgonzola a great deal and add about one tablespoon per burger. You can adjust that up or down depending on your affinity for bleu cheese.
Now grab as big a handful of the chopped grapes as you can and pile it on top of the Gorgonzola. Ever so lightly press the grapes down into the cheese and top with the other half of the bun. Eat. Be happy. You're welcome.