It's time to get cozy.
~~  ~~
The air has progressed past crisp to chilly and will soon be downright cold. The leaves have finally given up their tenuous grasp on the trees and -with one final gust of nearly winter wind- fallen to insulate the grass and ground against the coming snow.
~~  ~~
Thanksgiving and the feast have come and gone and we're still snacking and feeding on the almost-more-anticipated-than-the-meal-itself leftovers. A warm potato wheat roll dunked in hot turkey gravy is just the thing to bring warmth back to icy fingers after playing outside.
~~  ~~
There's a bustle and hustle going on almost everywhere. Crowds have pushed at store doors on 'Black Friday' with people rushing to snap up those spectacular deals they were promised. Malls and stores are teeming with holiday shoppers.
~~  ~~
The deer are treading lightly and making midnight mass crossings on the backroads and highways alike, trying to elude the daylight and its attendant hunters. My mighty hunter husband spends each morning and evening out in our  back field bundled from nose to toes in fleecy camouflage with his head and chest sporting blaze orange.
~~  ~~
The kids are wired from the excitement of the season; parties, gifts, friends, food. They're constantly discussing, formulating, planning, creating, and playing. Gifts for bosom buddies are made and given with care and anticipation.
~~  ~~
And I am finding the little pockets of quiet. The hush. The moment of silence when everything else falls away and I am left alone to admire the hawk circling the silver clouds in the late autumn sky and watch my husband making his way back to our yard and home through the tall dried weedtops.
When the timing is just right -the evening hunting is over, the kids are working on their presents, dinner is bubbling away on the stovetop, the dogs are napping- I throw a log on the fire,  a blanket around my shoulders, and meet The Evil Genius out on the porch with two small glasses of Yultide Spiced Brandy Liqueur.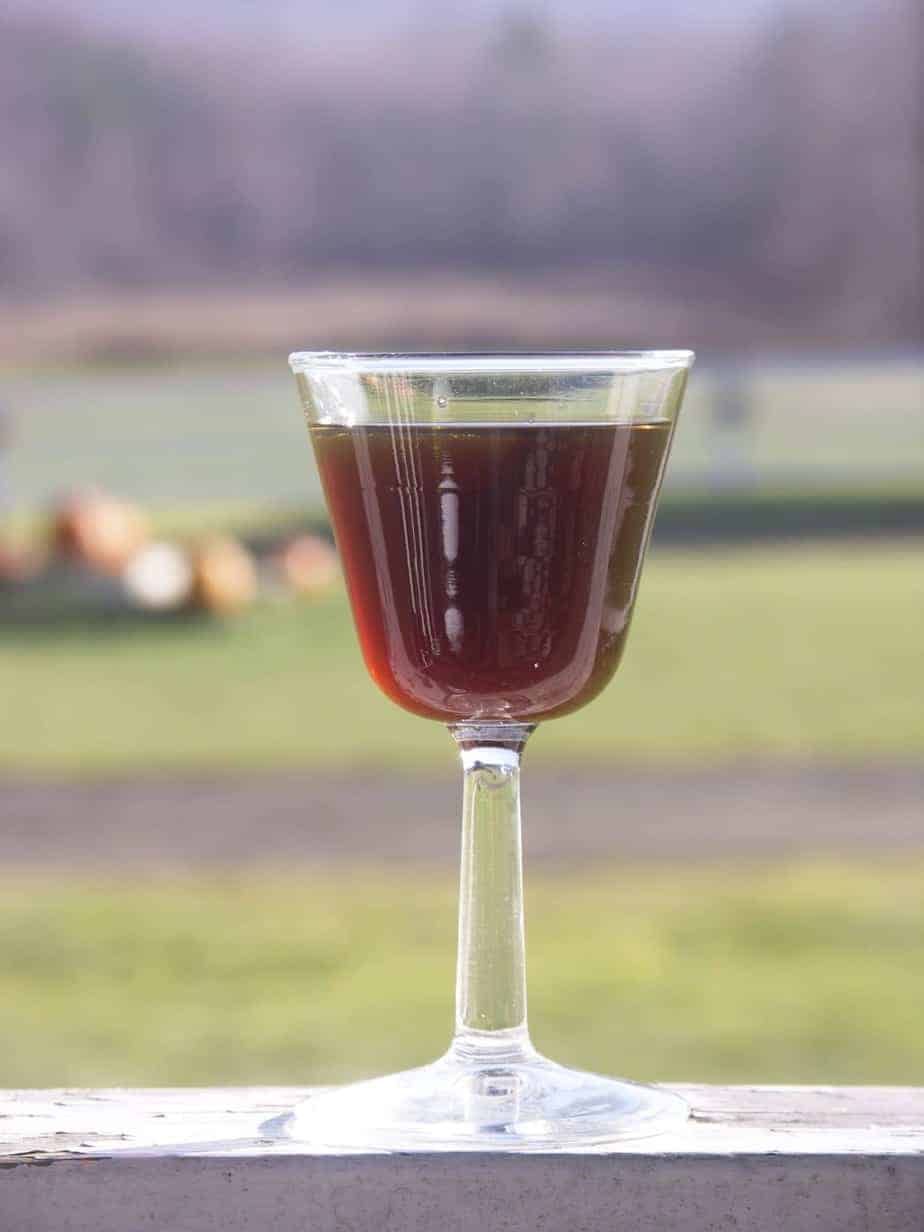 This gentle restorative or lightly orange and spice flavored brandy warms you enough to make you feel equal to a return to the rush. Serve this at a gala holiday event, an intimate gathering of friends, or in your own pockets of quiet. Whether basking in the glow of your loved ones or relaxing by the light of the fire in the woodstove, take a little sip. Just one. Then breathe.
~~  ~~
And remember it's Christmas time.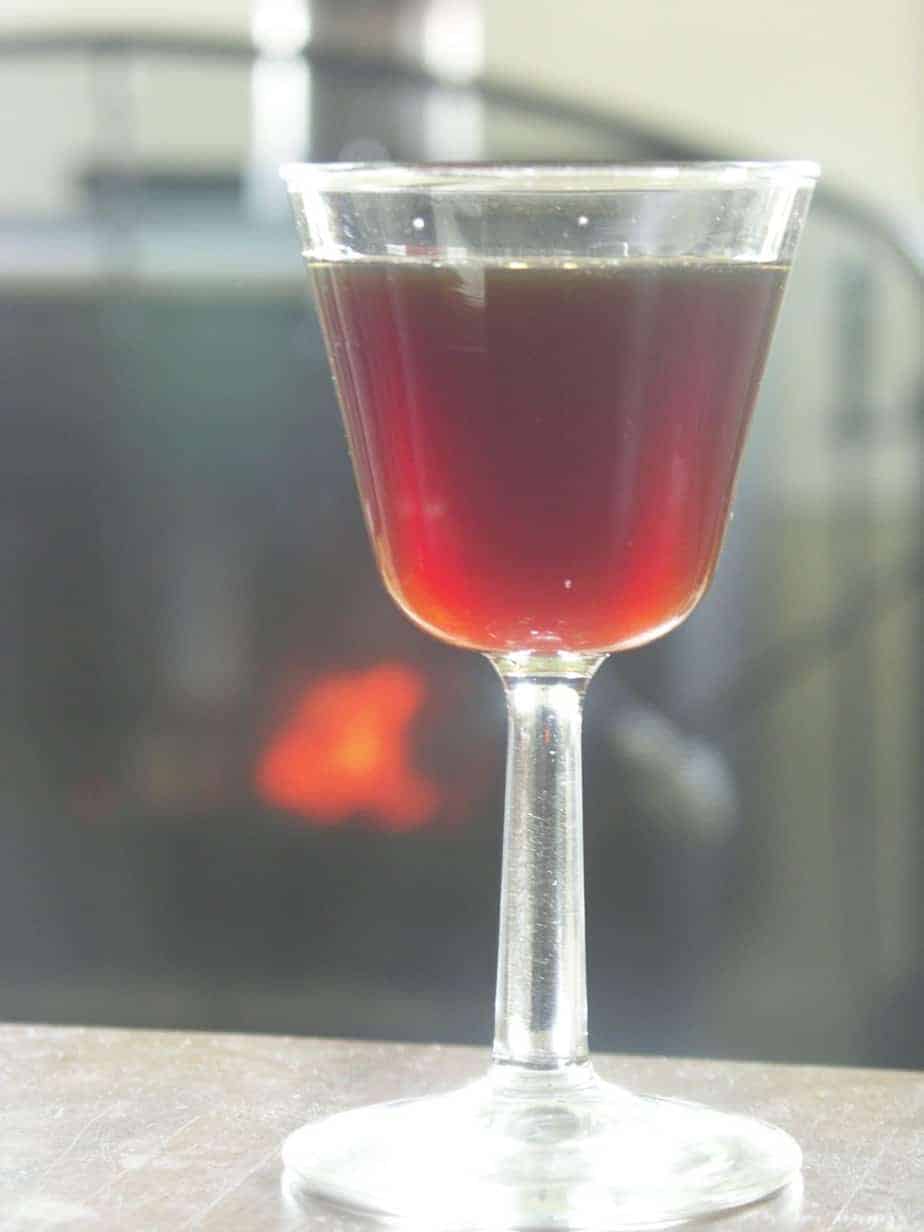 Pour this brown elixir into a beautiful bottle and wrap with a ribbon -satin, velvet or raffia- to make a one-of-a-kind culinary gift for the lovers of food and drink in your life.
For a printer-friendly, photo free version of this recipe, click here!
Yuletide Spiced Brandy Liqueur
Adapted from the Christmas Spiced Brandy recipe in "Classic Liqueurs" by Cheryl Long and Heather Kibbey
Ingredients:
The zest of half of a tangerine (Only use the colored part of the peel. Avoid the white pith.)
4 broken cinnamon sticks
2 whole allspice berries
2 whole cloves
2 juniper berries
a 2 inch piece of fresh ginger root, grated (or 2 Tablespoons dried ginger pieces)
2 black peppercorns
1 scraping fresh grated nutmeg
2 cups brandy
1/2 cup raw (turbinado or demerara sugar)
1/2 cup water
Add tangerine peel, cinnamon, allspice, cloves, juniper, ginger root, peppercorns, and nutmeg  to a clean and dry quart or half gallon mason jar with a tight fitting lid.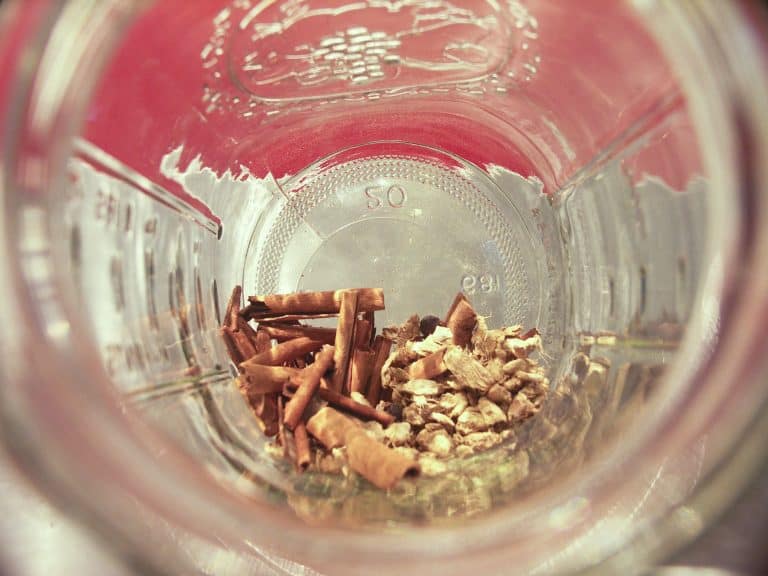 Pour brandy over spices and zest.
Shake the jar and put in a cool, dark place for fourteen days. Be sure to shake the jar every other day.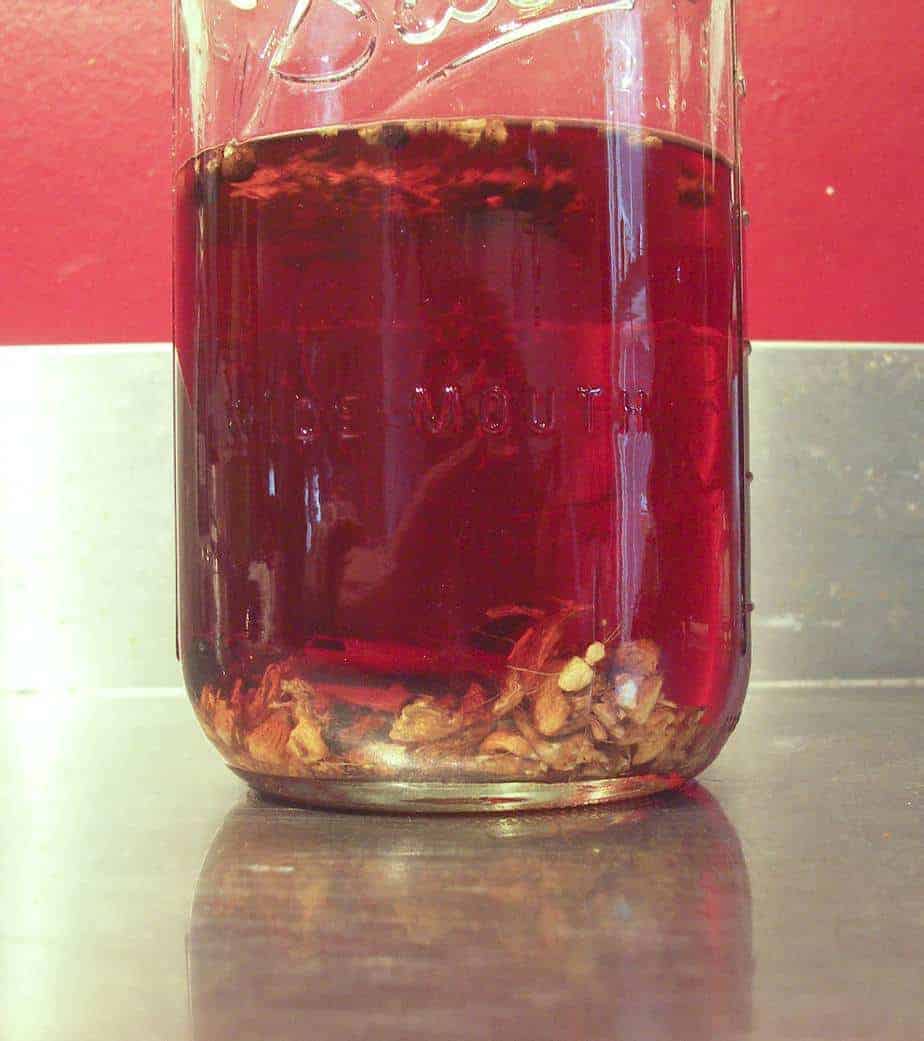 On the fourteenth day, combine the water and sugar in a saucepan over medium heat. Stir constantly until sugar is completely dissolved. Remove from heat and allow to cool, covered, to room temperature.
While syrup cools, arrange a fine mesh sieve (or colander lined with cheesecloth) over a bowl or clean pan. Shake brandy one more time and then pour through the sieve. Set the spices aside* or discard them. Transfer the strained liqueur liquid to a clean jar that you can use to further age and store the liqueur.
*You can discard the spices or you can put them in a small saucepan with water over low heat to make your kitchen smell wonderful.
When the sugar syrup is cooled, pour it into the jar with the liqueur liquid. Tightly fix on the lid and shake to combine. Return to the cool, dark storage area for an additional seven days to mellow. It only improves with age, but it is ready to serve at this point.