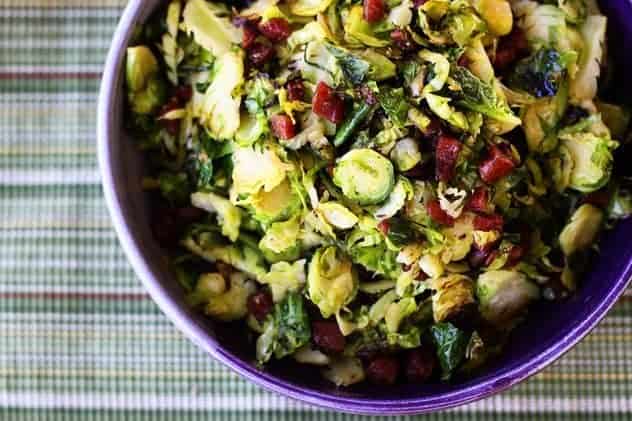 I don't know whether you're aware of this or not, but I have a serious Brussels sprouts fixation. I've shared my ultimate favourite way of eating them before but there is no such thing as too many good ways to prepare the sweet little cabbages so I have another gorgiferous and splendid Brussels sprouts recipe for you today.
AND THERE WAS MUCH REJOICING!
I think. I mean, I know I'm not the only one out there who gets an automatic and rather dramatic salivary response when they hear the words 'Brussels sprouts', right? My friends and I were talking about this the other day. Lisa (the one who introduced me to this recipe) wondered aloud why there was so much hate for the maligned vegetable. Amy nailed it: "It's because most people grew up eating them overcooked."
This recipe is a win-them-over one. Seriously. It's so ever-lovin' good. It is very much like cabbage and bacon, except CUTER. Because the cabbages are LITTLE! Okay, so I shred 'em and you can't see how little they are, but it's all mental. You knew they were tiny and adorable at the start of the process. Why not just use cabbage if you're shredding it? Because Brussels sprouts have a concentrated nuttiness that cabbage lacks. Just try them like this (or like this!) and I'm confident you'll love them.
While we're on the subject of things that you may or may not have tried, let's talk Chinese sausage. First, however, I need to wipe the drool from my mouth because this is another involuntary response much like the one I have to Brussels sprouts. These skinny little cured Chinese sausages (often labeled Lap Cheong or Lap Xuong) are available in Asian foods markets, well-stocked grocery stores and my beloved Amazon.com (if you click on the picture below you can purchase some for yourself at a pretty decent price through my Amazon affiliate link.)

These little sausages are all kinds of wonderful. They're studded with big pieces of fat that -when cooked properly- renders out leaving the sausages chewy on the inside and crispy on the outside. The flavourful fat that's left is perfect – PERFECT I TELL YOU- for stir-frying vegetables generally and Brussels sprouts specifically.
If you're already a sprouts lover, do yourself a favour and try this today! (Or at least as soon as you can lay your hands on some lap cheong!) If you're not yet sold on Brussels sprouts, be prepared. This one's going to do it!
Look at those festive colours, would you? Can"t you just see this on your Christmas table? Oh, and one final thought to share with you… Reheat the leftovers (if you've shown more restraint than I usually do) and serve with a perfectly fried egg on top. That's just about the happiest breakfast I can think of at this moment.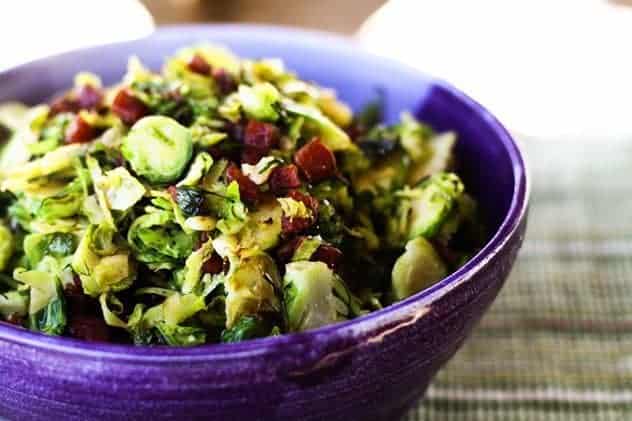 Stir-Fried Brussels Sprouts with Chinese Sausage
Rate Recipe
Nutty, crisp-tender, stir-fried Brussels sprouts pair perfectly with salty-yet-sweet chewy bits of Chinese sausage. This is a super fast side dish that I often crave as a midnight snack. Adapted gently from and with thanks to
Jaden of Steamy Kitchen
Ingredients
4

ounces

Chinese sausage

1 1/2

pounds

fresh Brussels sprouts

shredded with a large knife or on the thin slice disc with a food processor

2 1/2

tablespoons

water

1

teaspoon

soy sauce or fish sauce

2

teaspoons

rice or cider vinegar

Optional:

Raisins for garnish
Instructions
Cut the sausages in half lengthwise, lay the flat sides down on the cutting boards and cut in half again lengthwise. This will leave you with 16 long strips of sausage. Stack them up and cut them cross-wise into small cubes. Put the cubed sausage in a COLD frying pan or wok. I repeat DO NOT PRE-HEAT THE PAN.

Turn the heat to medium under the sausage and let it slowly heat up. When you see it start looking oily and hear it starting to sizzle be sure to stir. This is where the magic happens. The fat renders out (escapes from) the sausages and begins crisping the exterior of the sausage pieces. Stirring frequently, watch the sausage carefully as it goes from zero to burned very quickly!

Use a slotted spoon to transfer the sausage niblets to a paper towel lined plate without removing the fat from the pan. Turn the heat to medium high and immediately add the shredded Brussels sprouts. Stir while frying (in other words, stir-fry) the sprouts for about 2 minutes, making sure all pieces are coated with a little sausage fat.

Add the water to the pan all at once and stir gently once or twice. Let the sprouts cook for another 2 minutes. They should be crisp tender (still have a little bite to 'em but not be raw). Add the soy sauce and rice vinegar and sausage bits and toss to evenly distribute everything.

Serve hot or warm. My husband loves his with a handful of raisins stirred in to echo the sweetness of the Chinese sausage!
Nutritional information is an estimate and provided to you as a courtesy. You should calculate the nutritional information with the actual ingredients used in your recipe using your preferred nutrition calculator.