Update:  This recipe was submitted as an entry in the NYC Eggland's Best Recipe contest…
Yesterday, Bacon Toffee. Today? Eggs in a Basket. Bacon and eggs. See? I'm practical…
And this dish? It hits all the right buttons. It is flavorful, cheap, easy to prepare, simple to customize, cheap, and kid friendly. And did I mention it's easy on the wallet? Seriously. Can you think of a less expensive complete protein than eggs? We're talking about bread, eggs, and cheese in the dish's simplest form. It is a classic combination that doesn't need much tinkering. You can, of course, add anything else you want to the mix; crispy bacon, diced ham, a spoonful of lentil soup or beef stew, sauteed or caramelized onions… Let your tastebuds be your guide. And you can vary the overall flavor by playing with the type of bread you use; rye, whole wheat, white sandwich, cinnamon raisin… The sky is the limit.
I would be remiss if I didn't emphasize just how easy this dish is to customize for various members of the household. Around here we have three who like their yolks runny and four who like the yolks firm. Since I cook these in ramekins, I put the runny-yolk lovers' ramekins in the oven several minutes after I start baking the ones intended for the firm-yolk camp. No ramekins? No problem. Use a muffin tin. When the runny-yolk E-I-Bs are done, pull out the muffin tin and carefully remove the requisite number of toast cups. Return the tin to the oven and finish cooking the other eggs to the desired doneness.
Tangent Alert: This is a great recipe to get your kids cooking in the kitchen. I prepared this with the group of nine to twelve year old kids to whom I teach cooking. Combined with Purple Cows and Ranch Topped Iceberg Wedges, it created a meal these kids could prepare almost entirely by themselves for their families.
This is the go-to dish on super busy activity laden nights. No one gets tired of it and with the aforementioned salad and smoothies you've made a complete and nutritionally well-rounded meal. How about that? You saved your family money while preparing a delicious, well-rounded, meal that was quick to prepare. Buy yourself a dark chocolate bar. You deserve it.
For a printer-friendly, photo-free version of this recipe, click here…
Eggs in a Basket
Scale this recipe up as needed. Around these parts, that means I prepare nearly 20 eggs per meal. My chickens work hard.
Prep and Cooking Time: Between 15-25 minutes
Ingredients per person:
2 eggs
2 slices fresh bread (We used homemade whole wheat sourdough. Mmmmm… Sourdough…)
butter
shredded cheese (You can use Cheddar, Swiss, Munster, Smoked Gouda, etc…  Whatever flicks your Bic.)
Chopped ham or crispy bacon, optional
thinly sliced green onions, optional
Preheat oven to 375F.
Butter each slice of bread.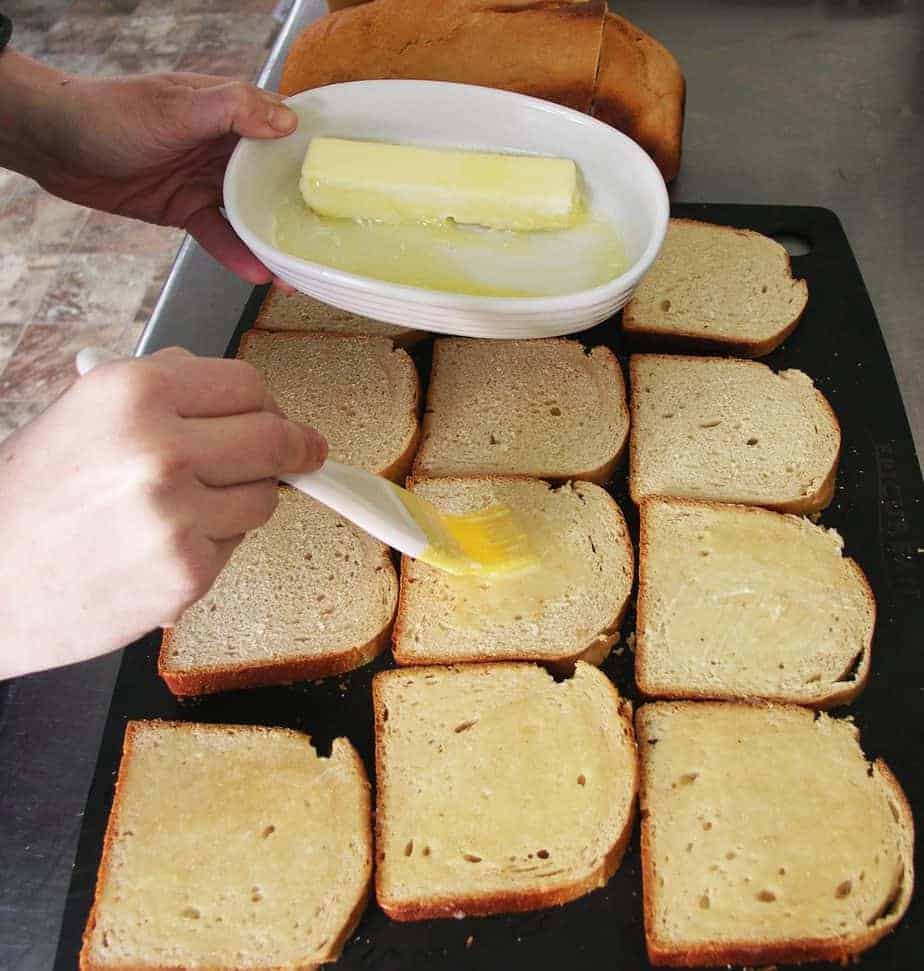 Squeeze into the ramekin or muffin tin, buttered side down. Press bread against sides of dish to push crust above the rim and make enough room for the egg.
Because the bread doesn't always go where you want it to without tearing, you may find yourself with some pretty big holes.
Don't sweat it. Just patch it with a buttered piece torn from another piece of bread.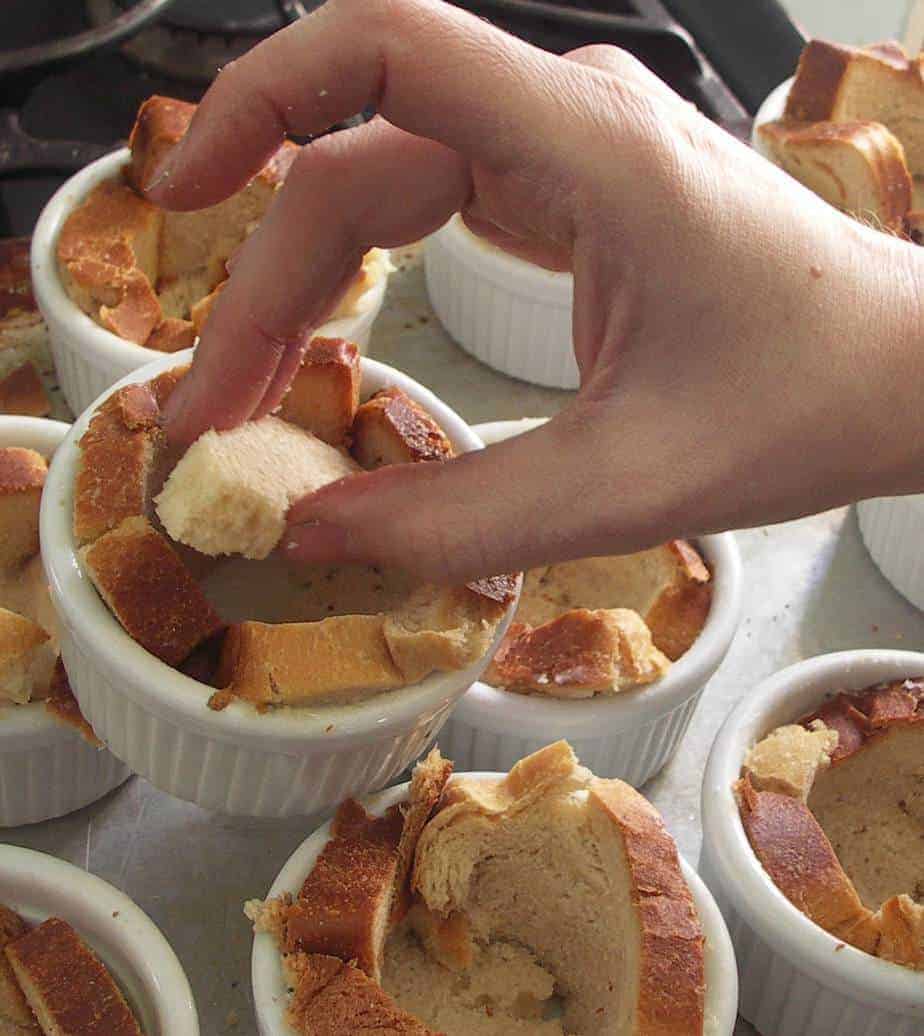 Sprinkle about 1 Tablespoon of shredded cheese into each bread lined dish.
Top with 1-2 Tablespoons chopped ham or bacon, if using.
Break one egg into each ramekin and grind fresh pepper over the eggs.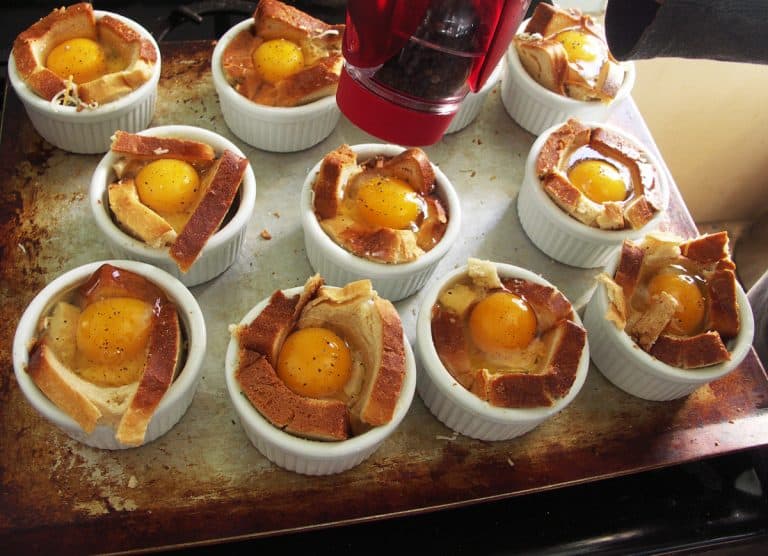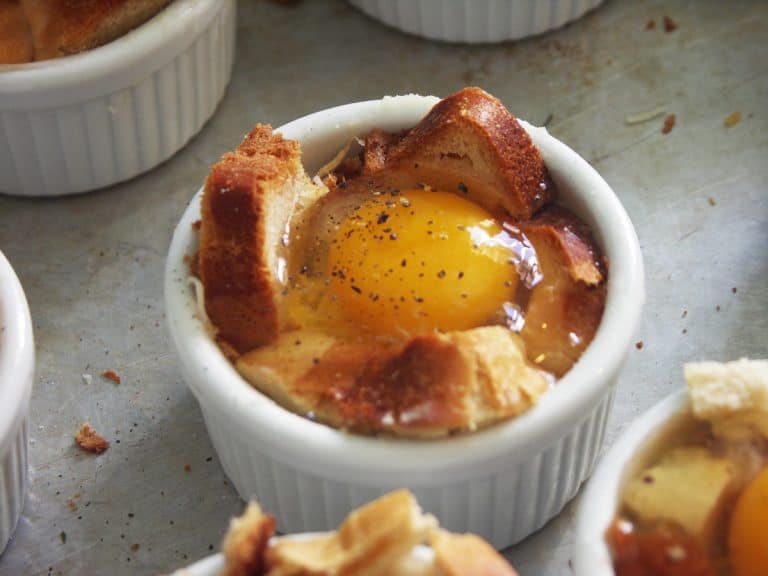 Sprinkle evenly with about 1 additional Tablespoon shredded cheese and any other desired seasonings.
Bake 15 to 25 minutes, till cheese is browned and eggs are cooked to desired consistency.
If you prefer runny yolks, pull the eggs from the oven closer to 15 minutes.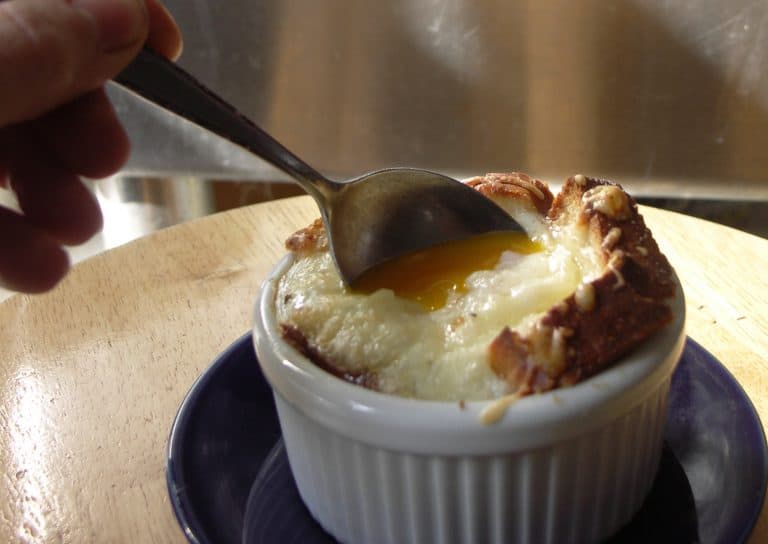 If you prefer medium yolks remove at about 20 minutes.
If you like yolks that are firm all the way through, cook closer to the 25 minute mark.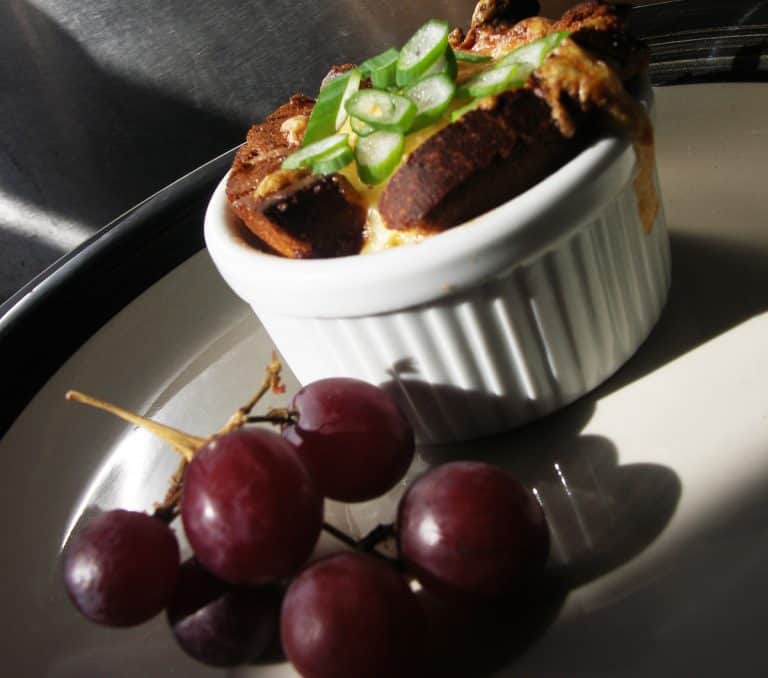 Remove toast cups from the dishes and serve. (These can also be served in the ramekins if they were cooked in them, but can pose a burning hazard for small hands. Use your discretion.)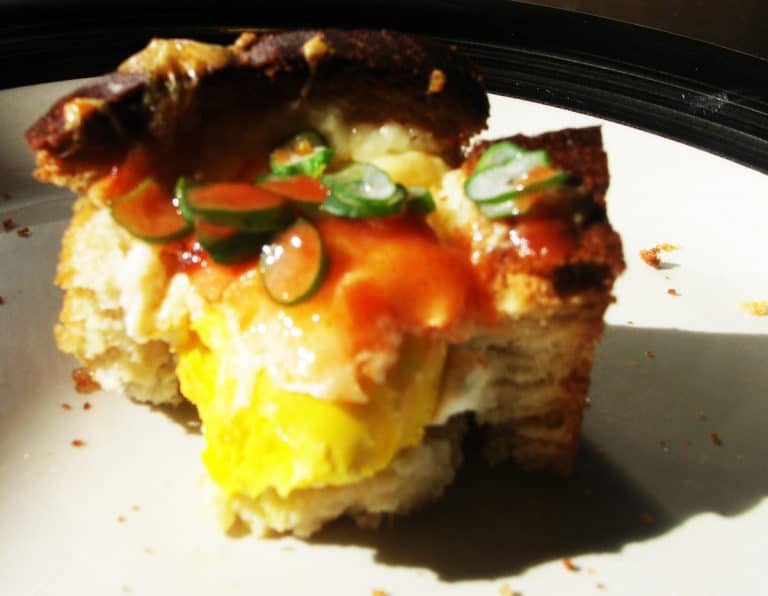 Serve hot, warm, or room temperature.