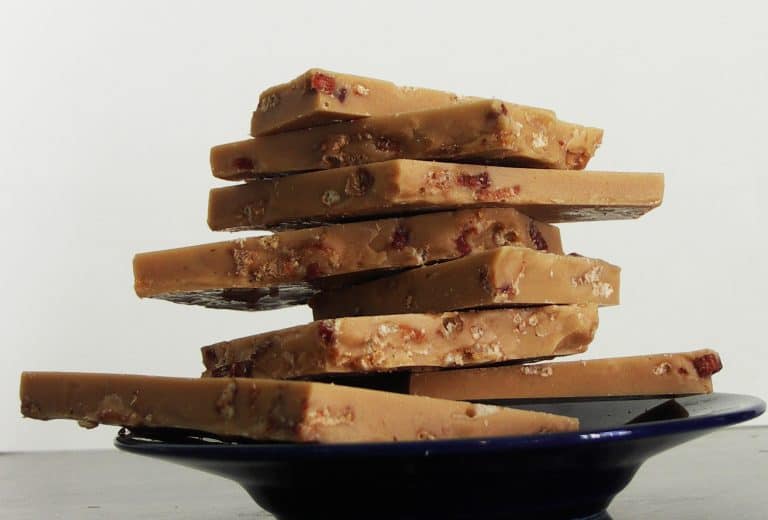 Did you see the Maple Bacon Cake over on Thursday Night Smackdown? Michelle, the proprietress of TNS, is a true lover of the bacon and made ample use of bacon toffee on her cake. I've been meaning to make a sweet bacon dish for about a year. A few months ago sweet bacon recipes started popping up all over the place. I drooled over the bacon ice creams and cried massive croccodile tears over the thought of munching on a pound of candied bacon. The only reason I didn't make any of this stuff is because I made an error of epic proportions. I talked about the idea with The Evil Genius first.
Don't get me wrong, he's brilliant, but if there's one place in his superhuman-smartitude that The Evil Genius has a blindspot it is the application of beloved foods in new and wonderful ways. By way of proof, I offer you the examples of him finally switching from Goya coffee (to which he swore fealty for many years) to Cafe Altura's French Roast. I also offer this bacon-laden example.
Several months ago I pointed excitedly to a picture of bacon ice cream on Tastespotting and said, "Hey! Doesn't that sound amazing? I might make that this weekend." He pulled a face that can only be described as 'blond puppy dog" and begged out of me a promise that I wouldn't 'go and ruin a perfect batch of vanilla ice cream that way.'  What can I say? When he looks at me with those gorgeous, evil blue eyes I melt like so much ice cream. I promised. And immediately regretted it as the bacon wave swept the blogosphere.
And then a couple days ago I saw Michelle's Maple Bacon Cake. And I had enough. I had a pound of bacon, a pound of butter, sugar, and everything else that was necessary. I went to work. As my Grandfather was wont to say, "It's easier to do and get forgiveness than to get permission first…" Besides, I knew the man would love the stuff. I mean, really, how can you go wrong with bacon?
I whipped up the batch, poured it onto my silpat and let it firm up. I broke little pieces off the edges as they firmed. Ohmygoodness. It was so much better than I had even imagined. And even though I used a whole pound of bacon in the toffee, the first thing you got when you bit into the toffee was not bacon. It went sweet, salty, smoky, bacon. It embodied 'umami'.
When Monsieur Le Evil Genius came home he used his spidey-sweets sense to find the tray in the kitchen and had stuck a piece in his mouth and commenced chewing before asking me what it was with a very blissful look on his face. "BACON TOFFEE!" I yelled triumphantly. With many verbal exclamation points. He stopped chewing, used his brilliant brain to calculate whether this was an appropriate time to express humility and said, "Wow. You were right. This is great!" Then he ate a half of a pound of it. I win. But I'm not rubbing it in much. Only when he eats it. Which is frequently. So I guess I am rubbing it in much.
Bacon Toffee
As made with the English Toffee recipe from Thursday Night Smackdown
1 pound of bacon, sliced into very thin strips, fried until very crispy and drained on paper towels
1 pound unsalted butter
2 1/3 cups granulated sugar
1/4 cup light corn syrup
1/4 cup water
1 teaspoon pure vanilla extract
Line a rimmed half-sheet pan with a silpat or parchment paper. Set aside.
Put all the ingredients except the bacon into a large, heavy saucepan over medium-high heat. Go with a larger pot than you think you'll need because the toffee has a tendency to boil up the sides. You really don't want that to happen. Have you ever had hot toffee on your skin or tried to clean it off the stove? Don't go there.
Bring to a boil, stirring frequently. Cook until the mixture hits 300F on a candy thermometer. This goes fast once you hit about 200F, so don't walk away from the pan. You will regret it if you do. Trust me and the big, sooty, burned sugar mess I had to clean up once.
Once the toffee mixture hits 300F, stir the crispy bacon in and pour immediately into the prepared pan. Use a silicone or offset spatula to gently spread the toffee into an even layer. And do not, no matter how BADLY you want to, lick that spatula if you want to keep your tongue. Again, I ask you to trust me here!
Allow to rest at room temperature until the toffee has cooled and firmed completely. When completely cool, break into pieces with your hands. Store, refrigerated, in a zipper top bag in the back of the fridge to discourage people from snitching it when they think you're not looking.
What to do with this bounty of bacon toffee? Well, I'm going to make some bacon toffee chocolate chip cookies, and some bacon toffee vanilla ice cream, and I'm going to eat a lot of it all by itself. Just because I can.
Keeps in the fridge for weeks.