These Easy Crispy Pork Tenders or Pork Fries will be your new go-to party and game day snack. Make a huge pile of irresistible crispy-breaded pork from just two New York (boneless center cut) pork chops.
You know when you eat something new and fireworks go off in your brain and angels begin to sing and there are unicorns leaping over leprechauns and rainbows in the room?
…I mean you really, really like it?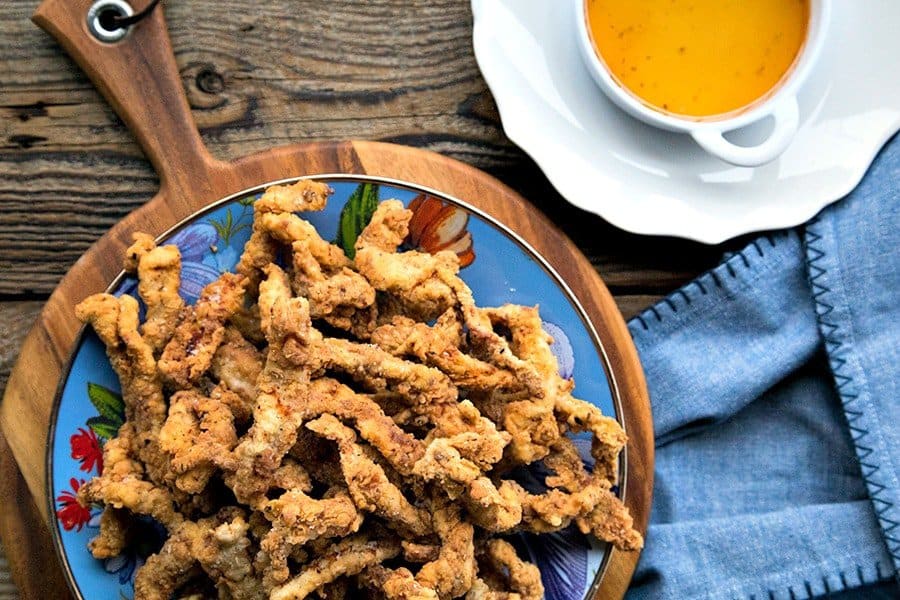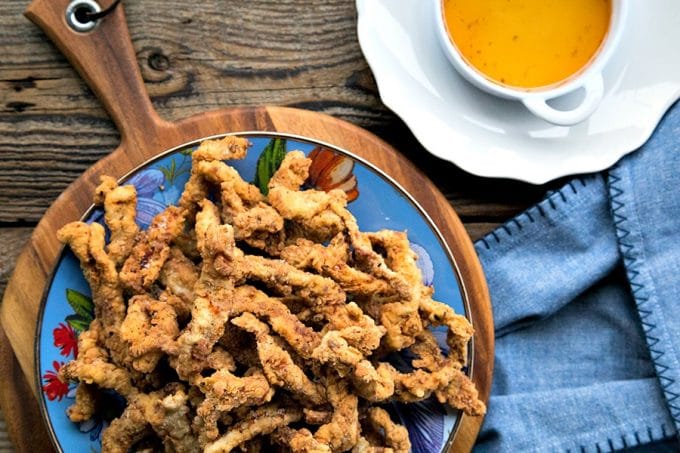 These Easy Crispy Pork Tenders or Pork Fries are just that recipe. When Chef Neel from the pork board served this to a room full of food bloggers and we all basically freaked out, I knew I'd be making these for my guys as soon as I got home.
Then I was on a press trip the following week and was part of an impromptu cooking contest. Since pork was one of the ingredients, I immediately decided to whip up a version of this using The Evil Genius's patented extra-crispy fried chicken fingers breading. Guys. It was a marriage made in heaven. My partner and I won the cooking contest.
It's hard to capture just how incredible these things are but here's a short list of why you need to move these to the top of your "Make This Recipe Immediately" list. You do have one, don't you?
They're easy. I know. The title tells you that. But basically, you thinly slice inexpensive, lean pork, bread it, and fry it. Done.
They're crispy and tender. Hey. I realize I named it Easy Crispy Pork Tenders, but I mean there is CRRRRRUNCH from the fabulous breading, then there's the tender pork inside.
It's the best of all textures. And the name suits it!
They're inexpensive. Guys. You grab a couple boneless New York pork chops, or a small New York pork roast and you get piles and piles of irresistible, salty, savoury, crunch-tastic Easy Crispy Pork Tenders a.k.a. Pork Fries.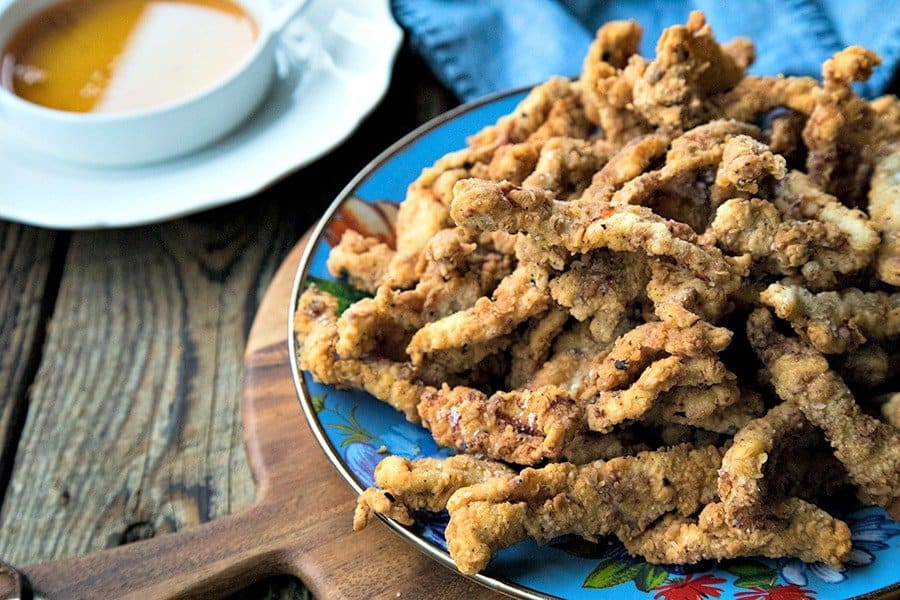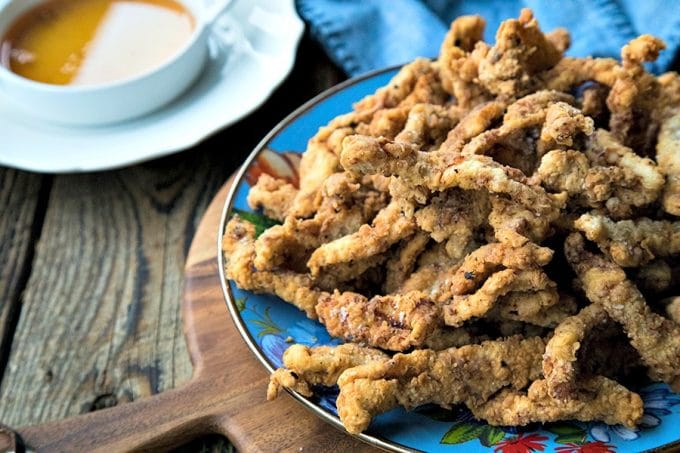 Obviously, Pork Fries (or Crispy Pork Tenders) would make you the undisputed Queen or King of Party Snacks or Game Day Food. That much should go without saying.
But you can also trot out Crispy Pork Tenders as the centerpiece of a casual dinner when paired a big green salad for a meal that will please kids and adults of all ages.
Which cut of pork should I use for pork fries?
Crispy Pork Fries are best when made with a lean, boneless cut of pork like New York pork chops or New York pork roast. They can also be made with the less lean pork sirloin chops, but you'll need to cook them a little longer.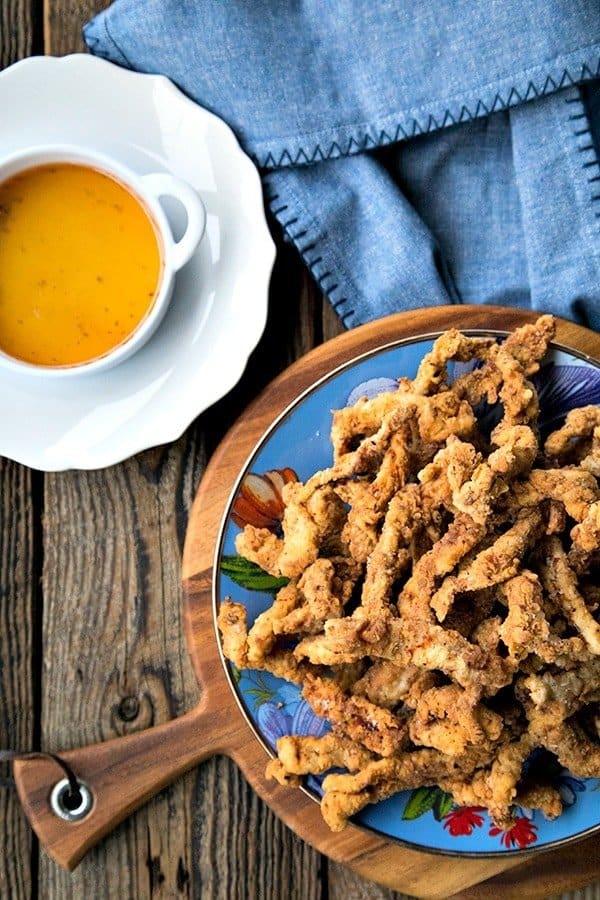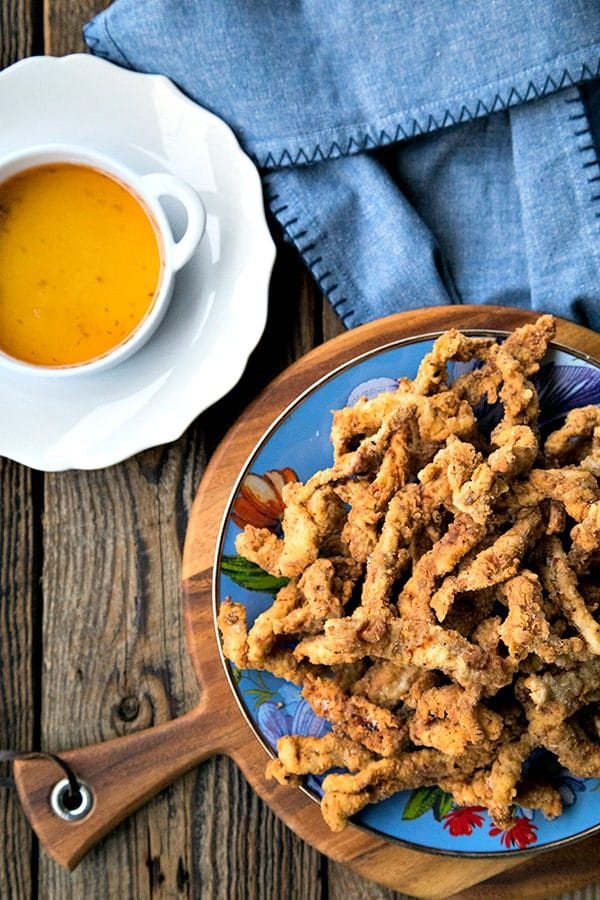 Crispy Pork Tenders or Pork Fries Cook's Notes
As with most fried foods, Crispy Pork Tenders are best eaten within an hour of being made. If you need to make them ahead of time, though, fry only until the breading is set but not yet coloured.
Drain in a single layer on paper towel lined plates or pans. Just before serving, transfer them to a cooling rack on a rimmed baking sheet and put into a pre-heated 350°F oven until golden brown and heated through.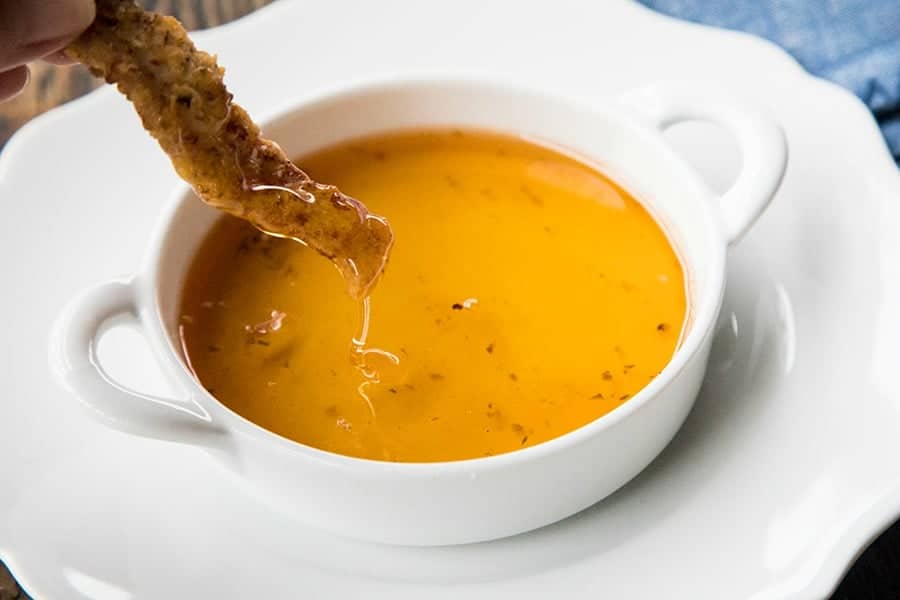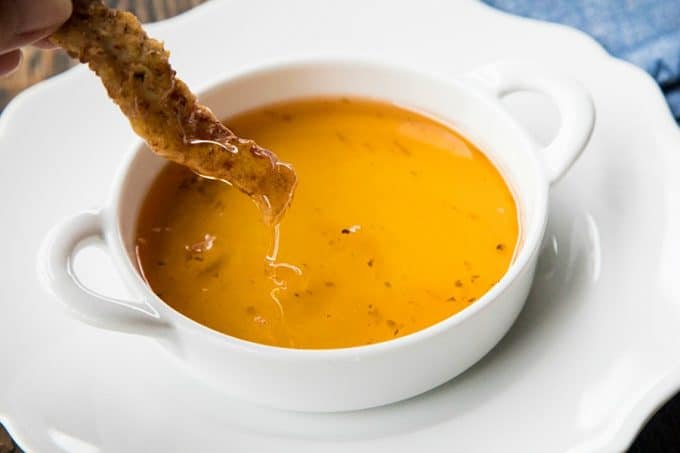 I have only tested this crispy pork tenders recipe with all-purpose flour and all-purpose gluten-free flour blend which both work well. I do not have advice on how to substitute any other types or blends of flours.
You can serve crispy pork tenders with any old dip you like, but my preference is for honey or honey mustard. If your tastes run to creamier dips, try your pork fries with this Smoked Paprika Chipotle Sauce or Burger Sauce.
No law says Burger Sauce is only for burgers. I say go for it!
But honestly, one of the best things in the world to serve these fried pork tenders with is brown sugar homemade pancake syrup. It's sweet to pair with the crunchy, salty pork fries. It's heaven.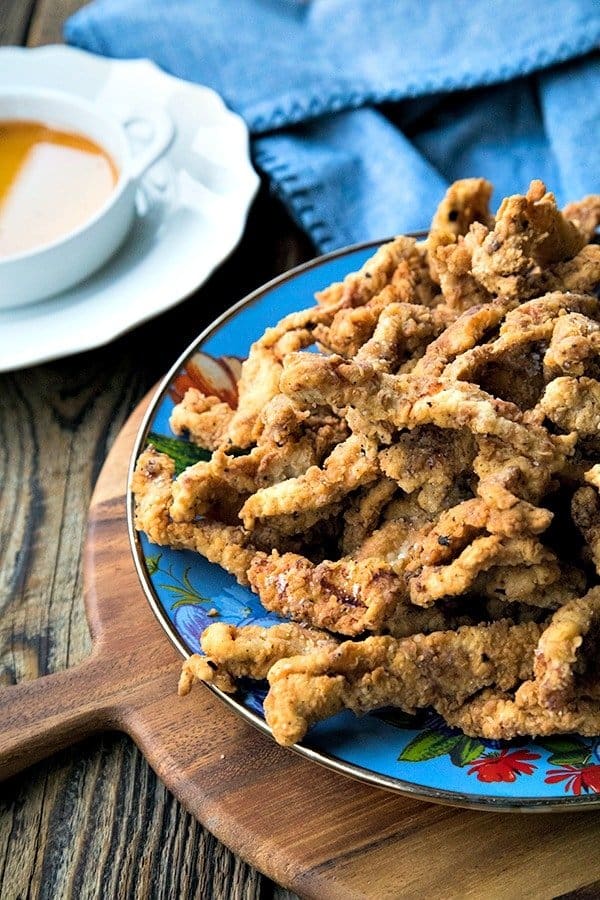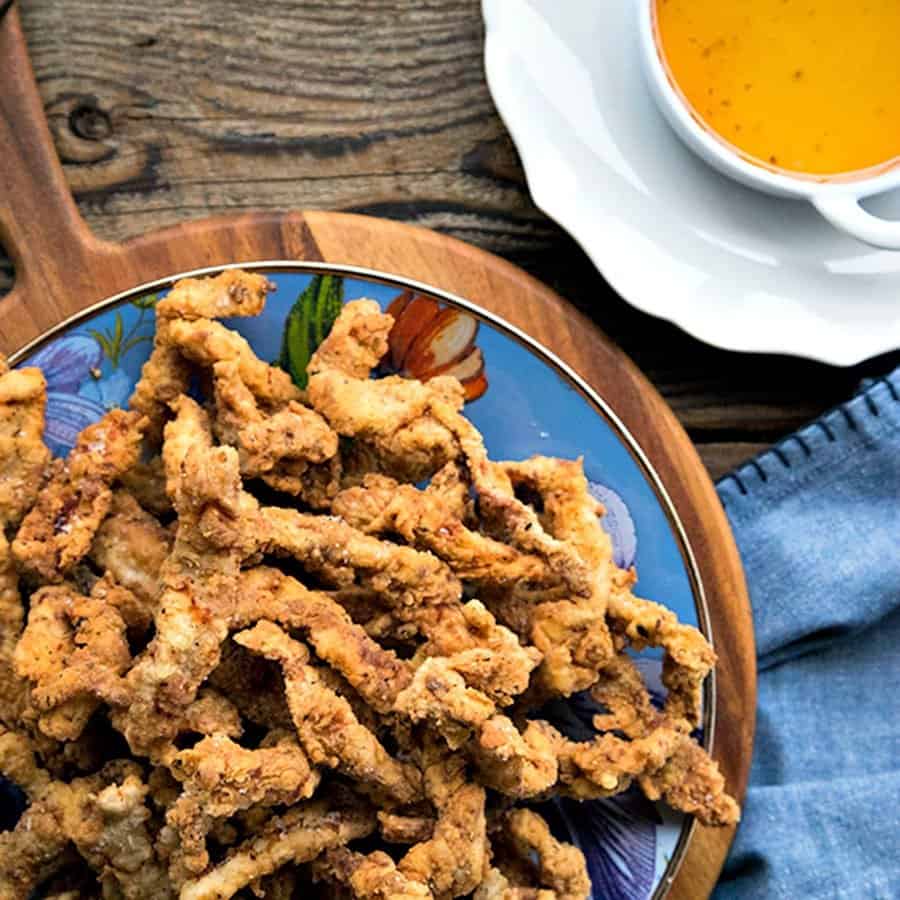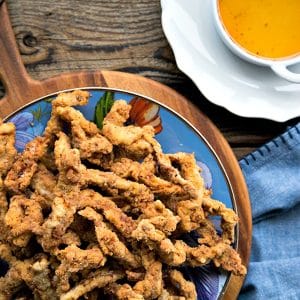 These Easy Crispy Pork Tenders or Pork Fries will be your new go-to party and game day snack. Make a huge pile of irresistible crispy-breaded pork from just two New York (boneless center cut) pork chops.
Ingredients
oil for frying

2

boneless New York pork chops

about 1 inch thick

1

cup

whole milk

1

egg

2

cups

all purpose flour

1 1/2

teaspoon

kosher salt

plus extra for sprinkling over pork fries

1

teaspoon

black pepper

1/2

teaspoon

crushed red pepper flakes

1/4

teaspoon

freshly grated nutmeg
Optional for serving, use any of these:
honey

ranch dressing

honey mustard

barbecue sauce
Instructions
Pour two to three inches of oil in a cast-iron skillet or heavy-bottomed stockpot or saucepan. If you have a deep-fryer, you could use that in place of the frying pan. If using the pan, place over medium high heat and bring oil to 375°. Line a plate with several layers of paper towels and set aside.F

Whisk together the milk and egg in a medium sized mixing bowl. Whisk together the flour, salt, pepper, crushed red pepper flakes, and nutmeg in a large mixing bowl. Set these aside.


Slice the pork chops lengthwise into paper thin strips, about 1/8-inch thick at the thickest points. Separate the slices and toss in the flour mixture until the strips are coated evenly in flour. Lift and shake the excess flour from the strips and lay out in a single layer on a clean baking sheet lined with parchment paper.


Working with one strip at a time, dip it into the milk and egg mixture, lift and allow the excess liquid to drain off, then toss once again in the flour mixture before carefully lowering into the oil. Repeat until you have a single layer of the pork fries in the hot oil.


Let the pork strips fry for about 3 to 5 minutes, or until the breading is crispy and the internal temperature of the pork reaches at least 145°F at it's thickest part on an instant read thermometer. Use tongs to transfer to the paper towel lined plate. Repeat with the rest of the pork.


When the pork fries or crispy pork tenders are fresh from the fryer oil, sprinkle lightly with kosher or sea salt. Serve immediately with the dip of your choice.

Nutrition
Calories:
241
kcal
Carbohydrates:
25
g
Protein:
17
g
Fat:
6
g
Saturated Fat:
1
g
Cholesterol:
59
mg
Sodium:
487
mg
Potassium:
293
mg
Sugar:
1
g
Vitamin A:
115
IU
Calcium:
45
mg
Iron:
1.9
mg
Nutritional information is an estimate and provided to you as a courtesy. You should calculate the nutritional information with the actual ingredients used in your recipe using your preferred nutrition calculator.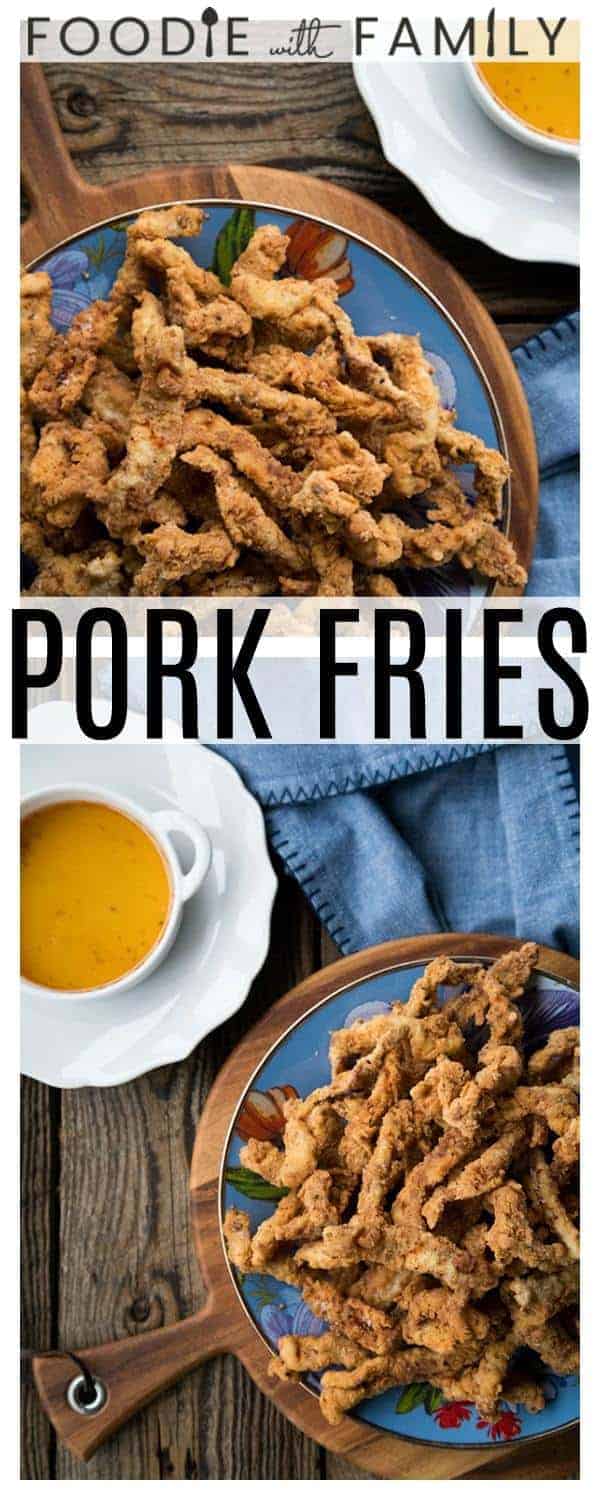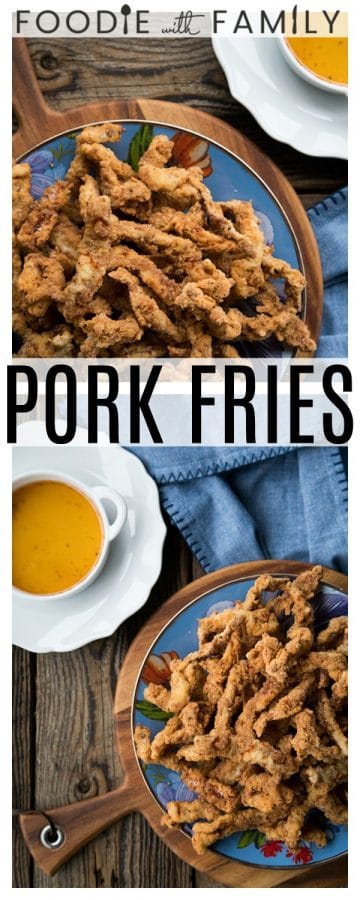 This post was originally written for and sponsored by Pork.org October 8, 2018 was inspired by those served to us by Chef Neel Sahni of the Pork Board. It was revised October 2020.