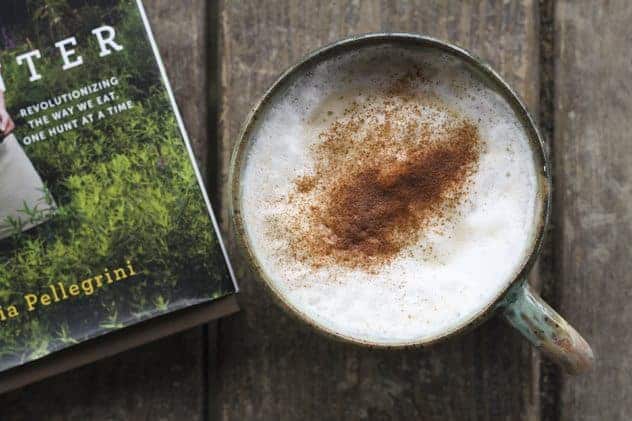 Dirty chai sounds kind of wrong, doesn't it? In a sense, really, it is. It's the marriage of tea and coffee. …And in another sense, it's a metaphor for my marriage. I am a tea drinker. My husband is a coffee drinker. In fact, he never voluntarily drank tea until he met me. I lived in a boarding house while attending college and one of the fellow boarding house residents was a part-time drummer who was sitting in with The Evil Genius's band. When I met him, I thought he was cute and offered him a cup of tea. He accepted. Little did I know at the time that he hated tea, but he was apparently smitten enough with me to say yes.
In the years to follow, I realized just how much that gesture meant. In short, it was like a giant hubba hubba.
Anyway, back to the dirty chai. Dirty Chai is what happens when you spill an espresso into a perfectly good cup of chai, or -as my husband would say- pour a perfectly good espresso into a cup of chai. You see? It's compromise. And this compromise is mighty tasty. Somehow they work -kind of like The Evil Genius and I- against all intuition. I guess it's because it's the strongest of both worlds. Chai packs a punch and so does espresso. It's fortified chai (or espresso, depending on who in the Foodie With Family household you ask.) It wakes you up and gets you going.
This delightful concoction takes advantage of our homemade Spiced Orange Chai Concentrate which makes this the perfect Make Ahead Mondays post. Make double the concentrate and freeze half, two-thirds or three-quarters of it in mason jars. Pull out before parties or on Christmas morning and be so glad you're the think-ahead type.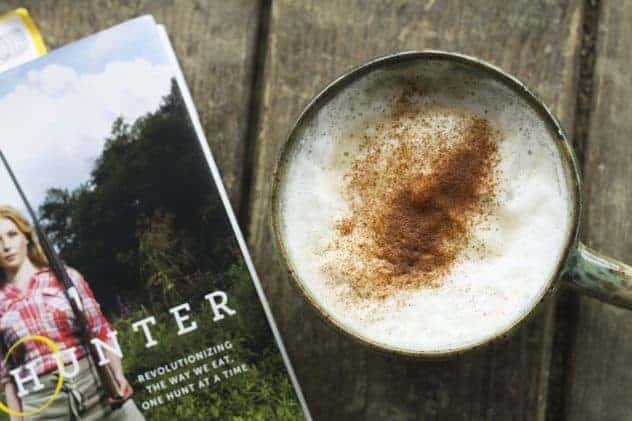 Dirty Chai is what happens when you throw convention to the wind and marry tea and coffee. Earthy, sweet, spicy, creamy chai latte gets a high-octane kick from a shot of espresso. Drink adventurously!
Instructions
Heat the Spiced Orange Chai Concentrate with the milk and pour in the shot of espresso. Stir gently just a couple of times. Dust the Dirty Chai with ground cinnamon just before serving if desired.
Nutritional information is an estimate and provided to you as a courtesy. You should calculate the nutritional information with the actual ingredients used in your recipe using your preferred nutrition calculator.
This is the perfect time for me to tell you a little something about the Syntia Focus
espresso machine that the good folks at Philips Saeco sent to me because they wanted my opinion on their super automatic espresso maker.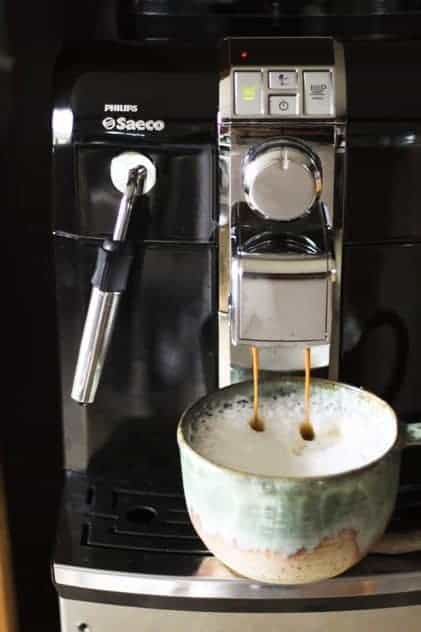 I'm just going to get right to it and break down what we thought of it.
Pros:
It grinds coffee beans for you! No pods, no k-cups, no messy refillable versions of either of those. You buy the beans you want, pour them in the top, refill it when it empties, and empty the dregs receptacle when it fills. I like that. We used to fuss with re-fillable pods and the grounds were everywhere which caused me no end of crabbiness.
On the subject of the grinder. It's quiet! We used to use a stand-alone grinder for my husband's refillable pods and that beast made NOISE. I can't hear the Syntia Focus's grinder from upstairs but the other grinder used to wake me up.
It brews one cup at a time (or two cups of espresso. Or one long coffee! Options!!) As a one-coffee-drinker household, that is fabulous. No wasted coffee from pots brewed and over-aged.
It cleans up beautifully and easily. Again? No messy grounds going everywhere. You empty the dregs container into the garbage, rinse it and the brew unit and let it air dry. Ta da!
It dispenses hot water! YAY from the tea lover. Now, granted, the water is not hot enough for a proper black tea (because that should be boiling), but it's absolutely, positively perfect for green tea and white tea. That's pretty amazing.
The steam wand froths milk perfectly which makes fabulous steamers for the kidlets. They love their milk frothed with a little chai syrup or boiled cider syrup.
This is from my husband (since I already outed myself as a tea drinker): The flavour of the coffee is without compare. He advises you to pick the best coffee bean you can, but whichever one you choose, the Syntia Focus will brew the best cup of espresso or long cup of coffee that it can possibly make.
The strength of the brew is adjustable with simple controls.
There is a little pre-ground coffee chute into which you can pour pre-ground coffee that's different than the whole beans you keep stocked in the machine. If you like caffeinated coffee in the morning and decaf in the evening, this is the perfect solution!
Once you've read the manual, the controls are very intuitive.
Cons:
There's no getting around it, it's expensive. But if you're addicted to coffee house drinks and buy them frequently, I can see this actually paying for itself in pretty short order.
Unless you preheat the coffee cup with a little steam from the steam wand, it brews a little cooler than my husband would prefer. He says if you drink it right away, it's perfectly fine, but if you want to tarry over it a bit, you may need to reheat it. I had no such complaint, but I'm not the coffee drinker.
This is a machine that requires you to read the manual before you use it the first time. Is that REALLY a con? Only if you're a manual hater. Like I said, once you've read the manual the controls are intuitive.
The Bottom Line:
It's a cool piece of kitchen equipment and it makes my coffee drinking husband kind of giddy. Our former one-cup brewer to which my husband was absolutely devoted  has been relegated to the basement to make permanent space for the Syntia Focus.
Disclosure: Philips Saeco sent me a Syntia Focus for review but did not compensate me for this post. The opinions are all my own.