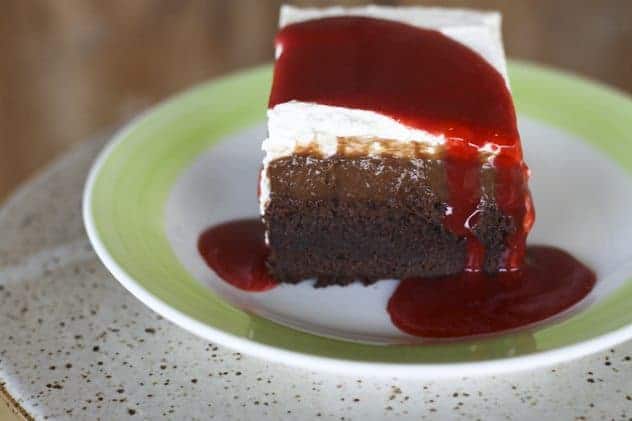 Mamas, don't let your babies grow up to be zombies. Isn't that how the song goes?
Something like that, yes?
My eldest baby is just about to turn fifteen. It's kind of freaking me out a little bit. I hit major freak out territory when I realized -thanks to his observation- that he'll be old enough to vote in the next presidential *CHOKE* election *HACK*. I'm sorry. It's just kind of giving me respiratory distress to think that this sweet little chubby boy I birthed is not only nearly old enough to vote, but is only a year away from driving. (Another of his observations, thankyouverymuch.) Eek!
I'm going to fan myself for a minute. Or get some smelling salts. Do they sell smelling salts any more? I kind of think they should come standard issue for mothers of sons.
The aforementioned son had a few of his best and biggest friends (because WHEN did they all get taller than me? Salts. Gimme my smelling salts.) over to celebrate ahead of time. The guys had a few simple requests.
Food. Lots of food. Mostly Cheddar Tailgating Bread, please.
They wanted to watch Napoleon Dynamite and Inception.
More bread? Maybe more than one loaf per person?
They wanted an epic Nerf battle.
They wanted cake.
They wanted to play Zombie Apocalypse.
I was all in 'til they got to the last part and said, "What?" Zombie Apocalypse, it was explained to me, was pretty much just tag. Well, except that it had to be after dark and the one who was it pretended to be a zombie and eat others' brains turning them into zombies and thereby… Blah blah blah. That's where I tuned it out. I asked a the only question I could think of other than 'why?' , "Does anyone actually get hurt?" They assured me no one's brains were actually eaten in the process, so I gave it my stamp of approval and started baking a cake.
Chocolate Tres Leches sounded about right to me. My plan was to hit it with a little chunky strawberry sauce before plating. I got a little distracted by the  screams of horror from the faux zombies inmy front yard while I was blending the strawberries with the other ingredients, though, and ended up with a silky smooth puree. Those Vitamixes are super efficient.
When the Zombie Apocalypse was finished, the newly minted un-dead came in for the cake.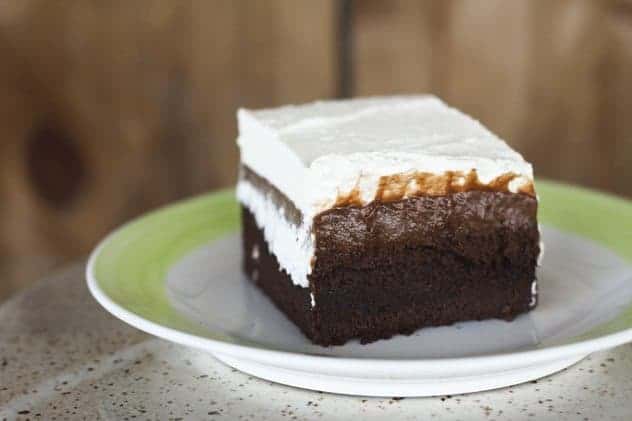 As I drizzled the strawberry sauce over the cake, someone remarked, "HEY! That looks like BLOOD!" and thus, Zombie Apocalypse Tres Leches was born.
Clearly the zombies hadn't been satisfied by their recent brain feast, because I got exactly zero pieces of the cake before they polished it off.
Nine out of nine zombies agree, this cake is better than brains.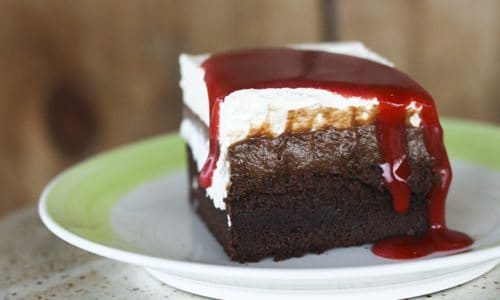 This chocolate tres leches cake is decadent devil's food cake topped with chocolate pudding, whipped cream and drizzled with a smooth and punchy strawberry sauce. Perfect for special occasions and birthdays for your favourite zombies.
Ingredients
For the Chocolate Cake:
1 1/2

sticks

12 tablespoons butter, softened to room temperature

1 3/4

cups

granulated sugar

1/2

teaspoon

salt

1 1/2

teaspoons

baking soda

2

teaspoons

real vanilla extract

2

cups

all purpose flour

3/4

cup

dutch process cocoa powder

4

large eggs

1 1/2

cups

evaporated milk

can substitute whole milk if necessary
For the Good Stuff on Top:
3

cups

of your favourite chocolate pudding (I use a double batch of Nana's Spanish Style chocolate pudding.

3

cups

heavy cream

3

tablespoons

confectioner's sugar

1

teaspoon

pure vanilla extract
For the Zombie Apocalypse Strawberry Sauce:
1

pound

frozen strawberries

partially thawed

1/4

cup

sugar

1

tablespoon

balsamic vinegar
Instructions
To Make and Bake the Cake:
Preheat oven to 350°F.

Grease and flour a 9-inch by 13-inch by 2-inch baking pan.

In the bowl of a stand mixer fitted with a batter blade, or with a hand mixer in a large mixing bowl, beat together the butter, sugar, salt, baking soda, and vanilla until it is fluffy, about 5 minutes. Scrape down the sides of the bowl. Add the eggs one at a time, stopping the mixer and scraping down the sides after each addition.

In a separate bowl, whisk together the all-purpose flour and cocoa powder until no lumps remain. If you can't whisk out the lumps, push it through a sieve or sift it.

Add about 1/3 of the flour mixture to the contents of the mixing bowl. Beat it in on medium low until no dry pockets remain. Add 1/3 of the milk and beat until combined. Scrape down the sides of the bowl and continue adding the flour and milk alternately, mixing until combined and scraping down the sides of the bowl each time. The last addition should be milk. Mix just until evenly combined.

Spoon the cake batter into the pan. Smooth the top of the batter and bake for 30-35 minutes, or until the cake pulls away from the edges of the pan a bit and a skewer or toothpick inserted in the center comes out clean.

Let the cake cool in the pan on the rack completely before proceeding.

When cake is cool, use a skewer or chopstick to poke holes all over the cake. Pour the pudding on top of the cake, cover with plastic wrap directly on the surface of the cake and let it soak for at least an hour but up to overnight before proceeding.
To Make the Zombie Apocalypse Strawberry Sauce:
Put the partially thawed berries, granulated sugar and balsamic vinegar together in the blender and blend on high until smooth. Store in a tightly covered container in the refrigerator until you're ready to serve the cake.
To Top and Serve the Cake:
When ready to serve, whip the heavy cream, confectioner's sugar and vanilla extract together until you reach soft peaks. Spread the whipped cream over the cake evenly. Cut the cake into pieces of desired size. Drizzle individual servings with the Zombie Apocalypse Strawberry Sauce.

Store leftovers tightly covered in the refrigerator for up to 3 days.
Nutritional information is an estimate and provided to you as a courtesy. You should calculate the nutritional information with the actual ingredients used in your recipe using your preferred nutrition calculator.
P.S. Don't feel too badly for me. I made another one and ate a third of it by myself.