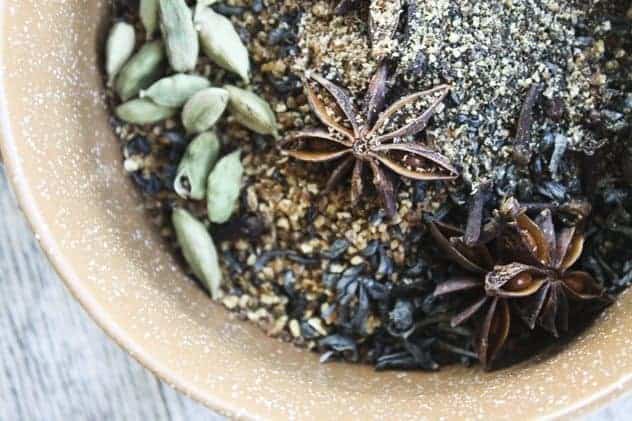 This is the time of year when I want nothing more than to traipse through the woods. The leaves have hit the deck and between the satisfying rustling sound they make, the scent of pine needles and apples, and the brisk air, a walk yields something that just might be the best feeling in the world. I'm getting ready to hunker down along with the bears, groundhogs, hobbits, squirrels, and other woodland creatures.
With last week's snowfall, I feel a little like Robert Frost 'Stopping by Woods' on a snowy evening even though it has all melted. It's just something in the air.
Coming back from those walks, we turn to warm fires, family, good books, old movies, quiet music and great  roasts, mashed potatoes, pie, cookies and hot tea.
I know coffee is a perennial darling, but let's talk tea for just a moment. Have you read the Little House books by Laura Ingalls Wilder? I remember them taking the edge off of the long, hard winters with strong, hot tea more than once. There is something about tea that makes you slow down and relax because there is just something about tea.
The gnarly dried leaves unfurl and stretch in the hot water the way you do in the bath after a hard day. It's impossible to watch that and not feel at least a little tension melt away. I think it must have something to do with the intensive manpower that goes into every cup of tea. Hand-picked leaves dried lovingly, packaged carefully and shipped to those who stand by, kettles in hand, ready to bring the water to a boil and coax every bit of flavour out of those tiny but potent shriveled leaves.
The glow of citrus, subtle sweetness and round but gentle heat of spices makes this Spiced Orange Chai Concentrate do exactly what all chai –all tea, for that matter- should do; it fills your belly and warms you from the inside out. Handily, the recipe makes a large amount and is good for up to a month in the refrigerator or up to three months in the freezer.
Chai is one of my favourite teas, but I don't often get it when out and about because a.)I'm in the middle of nowhere and there's no one to sell me one; b.)They often cost far more than I'm willing to pay for a cuppa; and c.)They're often far too sweet. "C" is important. Great glugs of syrup cover up the flavour of the tea. You might as well just have hot spiced sugar water as many chai lattes available on the market.
An obvious advantage to making your own is controlling the amount of sweetness you add. Adjust it. Play with it. Get it perfect for your preferences. I suggest starting with less sugar and tasting it in milk. If it's not sweet enough, simply add more until it is, as Baby Bear said,  "Just right!"
While I prefer it served hot with banks of steam rising from it on chilly autumn and winter days, it is superb served over ice, ice cream, or yogurt just to keep things interesting. I've even been known to stir a tablespoon or two into an apple pie or galette. If a walk in the woods is the best feeling in the world, a Chai Apple Pie comes in pretty closely behind it.
Yes, this is caffeinated, but that's no reason to deprive the kids out of the delicious warming powers of chai. Use a trick from the Little House books; cambric tea. When Laura Ingalls Wilder was young, tea was considered too stimulating for children (although coffee, interestingly, was often not.) Mothers would stir a hint of tea into hot milk to warm their chilled chilluns and make them feel like grown-ups. That seems like a pretty wonderful tradition to revive to me. Put a much-more-milk-than-tea mug of this into your young ones' hands and let them sit to warm through and through with you after a fall hike. It's a memory in the making.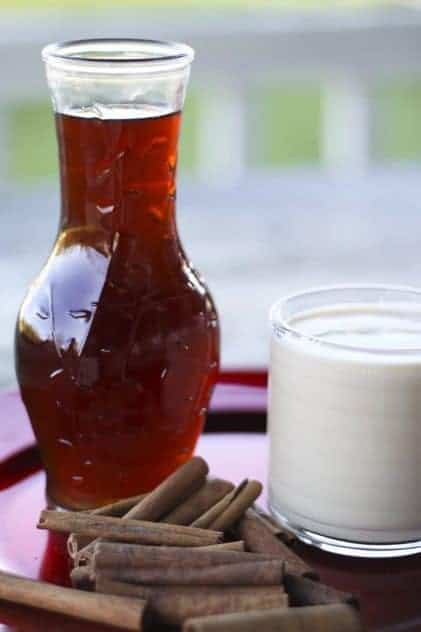 With spice and the glow of citrus, this Spiced Orange Chai Concentrate stands at the ready whenever you need a seriously fast dose of warmth.
Ingredients
4 ½

cups

water

1

stick cinnamon

broken into large pieces

1

piece

fresh ginger root

2-4 inches long (according to taste), unpeeled and roughly chopped

8

whole cardamom pods

2

whole star anise pods

10

whole cloves

8

whole black peppercorns

½

teaspoon

freshly grated or ground nutmeg

1-3

slices

of a fresh orange

according to taste, peel and all

10

teaspoons

green or black tea leaves ~or~ 10 green or black tea bags ~or~ an equivalent amount of green and black tea combined

½

cup

brown or raw sugar

1

tablespoon

honey

1

tablespoon

pure vanilla extract
Instructions
To Make the Concentrate:
Bring the water to a boil in a pan with a tight fitting lid.

Add all of the spices and tea, remove from heat, cover tightly and let steep 15-20 minutes, depending on the desired strength of the tea.

Strain into a large container and add the brown or raw sugar, honey, and vanilla. Stir to combine. Transfer to a large canning jar with a tight fitting lid. Store in the refrigerator for up to one month.
To Serve:
Mix 1 part of the concentrate to 1 part milk. You can mix it with steamed milk or with cold milk and then heat it together. Alternatively, you can serve it cold over ice. Brrrr
Nutritional information is an estimate and provided to you as a courtesy. You should calculate the nutritional information with the actual ingredients used in your recipe using your preferred nutrition calculator.
Stopping By Woods on a Snowy Evening

by Robert Frost

Whose woods these are I think I know.
His house is in the village though;
He will not see me stopping here
To watch his woods fill up with snow.

My little horse must think it queer
To stop without a farmhouse near
Between the woods and frozen lake
The darkest evening of the year.

He gives his harness bells a shake
To ask if there is some mistake.
The only other sound's the sweep
Of easy wind and downy flake.

The woods are lovely, dark and deep.
But I have promises to keep,
And miles to go before I sleep,
And miles to go before I sleep.