Update: The Pick A Giveaway Plugin chose "jessie" and "Caitlyn"… Check your emails, ladies. Congratulations!!
I don't usually do a straight giveaway, but this is fun, people. I just couldn't say no! The fine folks at Fannie May Berries offered to send me a box of their chocolate covered strawberries. Just tell me, how could I possibly say no? Furthermore, they said that if I liked them, they'd give away a box to my readers. That's YOU ALL, folks! I always get excited when people offer to give things away to you guys. It makes me kind of giddy. But I also have a rule… I don't give it away unless I think someone would be really thrilled to get it. While Fannie May Berries have many indulgent flavours -Sea Salt Milk Chocolate Caramel, Pink & White Champagne, Toasted Coconut & White Chocolate (Trinidad©), Milk Chocolate Caramel & Nuts (Pixies©) and Holiday flavors—Dark Chocolate Gingerbread, Candy Cane and Eggnog- I opted for the Sea Salt Milk Chocolate Caramel. What I really wanted to say was, "SEND ME  ONE OF EVERY SINGLE FLAVOUR." That wouldn't have been very nice of me, though, and I strive for niceness when people are giving me chocolate and strawberries.
I got my box of strawberries yesterday…
It couldn't have come at a better time. Mama needed a treat. I opened it immediately. And by immediately, I mean with my teeth. Just look at this people.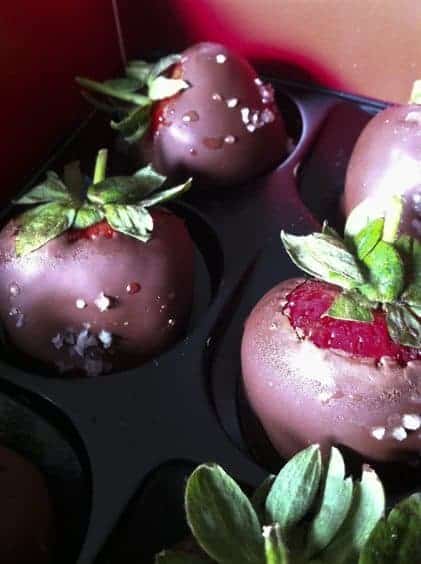 I don't think you can fully grasp the gargantuan size of these strawberries in the box. Maybe it'll help if I show you what this one looked like moments before it met a very rapid demise due to me inhaling it.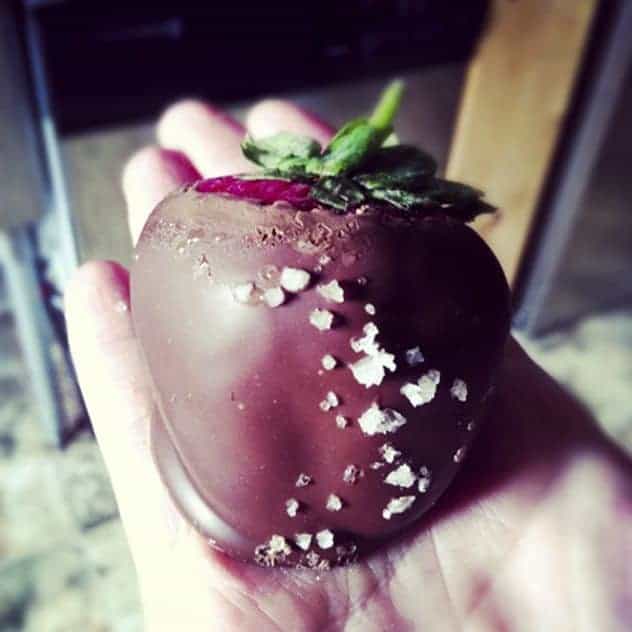 Can you even? I mean honestly. Just. Words fail me. Good golly. It was gigantic.
Was.
And then it was gone.
These berries are BURSTING with juice. It's incredible really. And when you order the berries through their website, they are in your home or the home of your wondrously lucky gift recipient within twenty four hours. What a great holiday or last minute gift option!
But here's the point. They're going to ship a box to not one -which would be nice enough- but TWO very blessed Foodie with Family readers. How do you win? I have a couple of ways for you to win. Here they are:
Mandatory Entry:
Leave a comment on this post telling me what you'd do if you won. Would you have them shipped to you? To a friend or relative?
Want some extra chances to win? Who wouldn't, right? Do any or all of the options below and leave a separate comment below for each one you do! Each of them will earn you an extra entry. Whatever you do, be sure to get those entries in before Monday at 9 AM EST when I draw the winner and announce it on Monday's post. Two of you will win. I'm SO EXCITED!!!!
Extra Entries:
I've been leading a 30 Days of Gratitude on the Foodie With Family Facebook page. Join the discussion and come back here to tell me!
Tweet the following: I want to win Fannie May Chocolate Covered Strawberries from @foodiewithfam #spon
Disclosure: Fannie May Berries provided a sample to me for review and is promising to send a box to two readers (approximate retail value $34.99) but all opinions are my own and this post is not compensated. Giveaway is open to US addresses only. All prizing provided by Fannie May Chocolates.