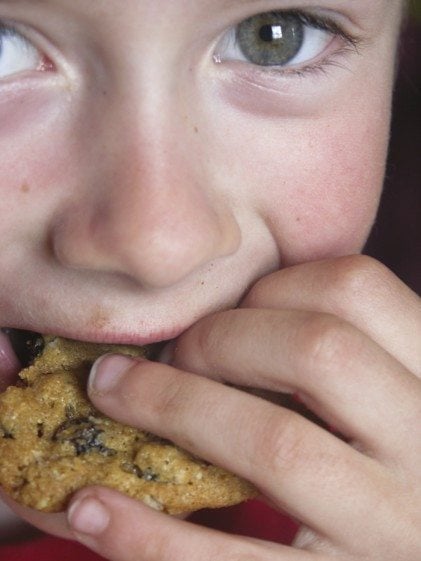 This is the face of a monster.
Merciless.
This is a face that destroys on a whim.
Unyielding.
This is a face that -without pause- devastates the entire population…
Of cookie jars.
This is my cookie monster baby.
Allow me to illustrate. The Evil Genius and I went to Houston before Christmas and the boys' soon-to-be-nominated-for-sainthood Nana (a.k.a. My Mom) babysat the entire mini-horde. My Mom is fun. All kinds of fun. Proof? This is her just last month.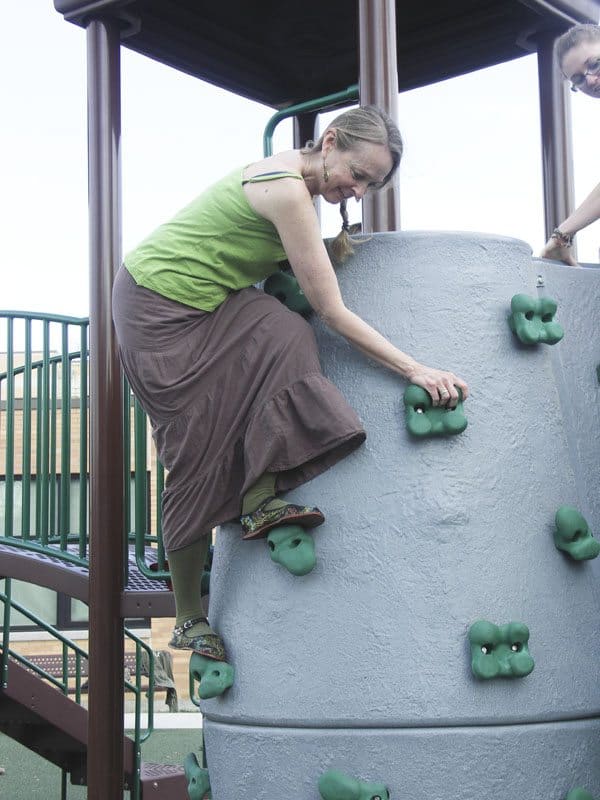 That's right. That's MY mom, on the climbing wall of a playground, wearing a skirt and cotton shoes. I told you she was all kinds of fun.
But I was telling you about the cookie monster.
Nana had plans for these boys. They were going to sled, camp in the living room, hike through the snow, play board games, make glue and poster board collages, eat homemade pizza, go to her favorite coffee house,watch movies, make Christmas ornaments and decorate Christmas cookies while having a frosting war.* And they were going to accomplish this in three days. Did I mention my mom is fun?
*A frosting war is a Christmas tradition started by my mom wherein she flings frosting at the children and they fling it back at her. It involves a great amount of butter, laughter, sugar and paper towels.
The time came for the Christmas cookies. According to reports, the boys all enthusiastically decorated a double batch of sugar cookies shaped like trees, bells, gingerbread men and whatnot. When the job was done and the cookies were stacked to be nibbled after dinner, the whole company retired to the living room to fulfill the 'watching movies' portion of the programme.
Forty-five minutes into the movie, Liam asked, "Where's Leif?"
Leif was discovered in the kitchen with a plate empty of cookies (save one), sticky fingers and a smile that stretched from the tip of one pink ear to the other. And a fierce sugar buzz. Leif killed the Christmas cookies.
Today's cookie recipe is one that I watched my Grandma make hundreds of times at the camp where I lived as a child.* Hey. My Grandma is fun, too. (My Mom learned from the best, you know.) I ate my way through more of these cookies than I could ever count as a kid and I'm still in love with them.
*Lake Louise United Methodist Camp. Shout out to Boyne Falls, Michigan!
What goes in Amish cookies?
I'm not sure why these were called Amish Cookies but I have a guess. They make abundant use of humble ingredients to turn out a cookie that manages to be delicately caramel flavored, crisp on the outside, chewy on the inside and surprisingly sturdy all at the same time. These cookies don't fall apart when you dunk them in a tall glass of cold milk. And they hold together beautifully when crammed into my apron pockets for stolen bites when the kids aren't looking. I do believe these are the perfect cookies.
The recipe, as written by my Grandma, suggests chocolate chips, raisins, nuts, chopped dates, coconut and other goodies as stir-ins. Around these parts, I split the cookie dough into two bowls and stir raisins into one half and chocolate chips into the other. This makes everyone happy; including the cookie monster.
And if I find that I've let down my guard and left the room before securing the cookies I don't panic. If my little monster eats his way through a cooling rack of these, at least I'll have snuck some fruit and oats into him.
…And for the love of all that's holy, don't leave this little guy in the room alone with a batch of these cookies…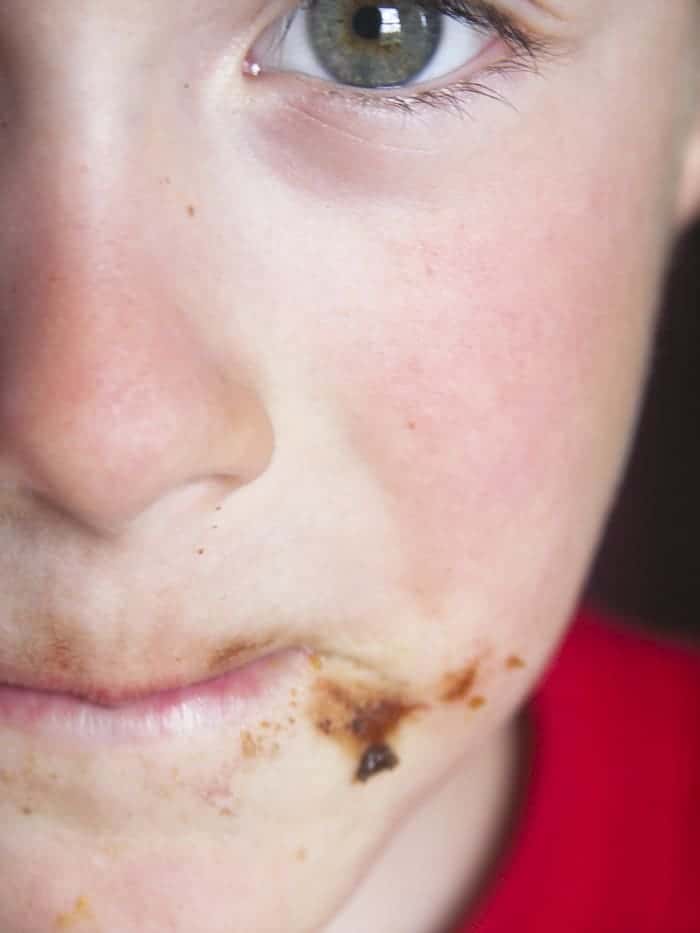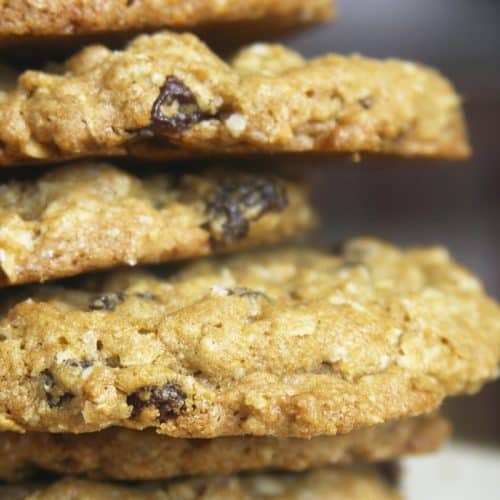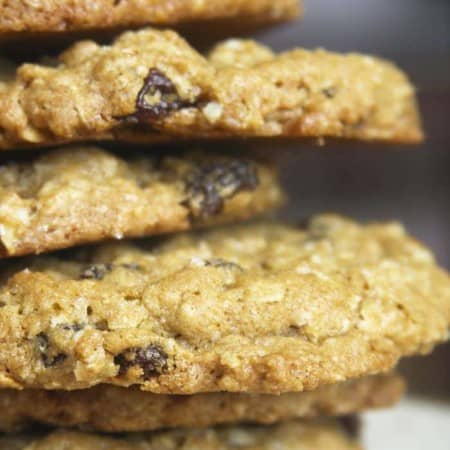 Adapted from my Grandma Shaffer's Lake Louise Amish Cookies recipe.
Ingredients
3/4

cup

softened butter

6 ounces

3/4

cup

coconut oil or shortening

6 ounces

2

cups

granulated sugar

14 ounces by weight

1

large egg

1/3

cup

molasses

3 1/2 ounces

2

teaspoons

vanilla extract

3- 1/2

cups

all purpose flour

15 ounces by weight

1

teaspoon

salt

2

teaspoons

ground cinnamon

1

Tablespoon

baking soda

not a misprint!

1

Tablespoon

baking powder

also not a misprint!

3

cups

old-fashioned rolled oats

1/2

cup

buttermilk

Don't forget, you can make your own!

Optional: 1 -1/2 cups of any of the following ingredients: chocolate chips

nuts, raisins, coconut, chopped dates, dried cherries, or chocolate chunks.
Instructions
Preheat oven to 350°F.

In the bowl of a stand mixer or in a large mixing bowl with a hand mixer, cream together the butter, and coconut oil or shortening on low speed until they the sugar starts combining with the fat. Turn the mixer to medium high speed and whip until the mixture is fluffy and the sugar is completely distributed.

Add the egg, molasses and vanilla extract to the butter and beat on medium speed until even.

In a separate bowl, use a whisk to combine the flour, salt, cinnamon, baking soda and powder, and the rolled oats. Add this to the butter mixture along with the buttermilk and beat until thoroughly combined. Stir in the optional goodies.

On a greased or parchment lined cookie sheet, drop generously rounded tablespoons of the cookie dough three inches apart. Form the cookie dough into balls.

Use a flat bottomed drinking glass dipped in sugar to gently flatten the cookie dough.

Bake for 10 minutes, or until the bottoms and edges of the cookies are lightly browned and the cookies are set. Allow cookies to rest on the cookie sheets for one minute before transferring to a cooling rack. Store cooled cookies in an airtight container at room temperature.
Nutritional information is an estimate and provided to you as a courtesy. You should calculate the nutritional information with the actual ingredients used in your recipe using your preferred nutrition calculator.