I don't know what's going on with my computer today, but half of my photos are out of whack. Please pretend they're all centered. Thank you.
Colcannon: Mashed potatoes studded with tender cabbage or kale, onions, salt, pepper, butter and cream. Oh my. It's the stuff of dreams. This wondrous concotion graces our St. Patrick's Day table, but it also makes frequent dinner appearances throughout the colder months. We love our colcannon recipe. We adore it. And in the name of my pet theory that you can never have enough good potato recipes I messed with it.
The usual way we go about preparing our colcannon is pretty straightforward. Peel, chop and bring potatoes to the boil. Add cabbage. Drain, mash, add butter, salt and cream. Stir in chopped green onions. And occasionally add an indecent quantity of shredded Cheddar cheese then stir. Okay, not so much occasionally. We pretty much do that every time. And normally, I would then add this to a buttered casserole, top with an equally indecent quantity of Cheddar cheese and pop in a hot oven until bubbly and lightly browned on top. That makes colcannon pretty hard to beat. Wouldn't you agree?
But let me clue you in about how my brain works. My brain is a pendulum swinging wildly between the two extremes: "If it ain't broke, don't fix it" and "To boldly go where no man has gone". (Even though that requires me to split an infinitive. Anathema I tell you.) As I was gathering the ingredients to make colcannon my eyes flitted across the Guinness and Cheddar Potted Cheese in the fridge. A little voice inside my head said, "Hey! Wouldn't that potted cheese be good dolloped on a baked potato?" And from there the grey matter skipped lightly over twice baked potatoes and straight to colcannon stuffed twice baked potatoes topped with Guinness and Cheddar Potted Cheese. Why the heck not?
And boy, did these things end up being good. I'm afraid to admit how many of them I ate, because they're not really, er, diet friendly. Not that I'm on a diet, mind you, but I might need to be if I eat too many of these. They're just plain good. And even though I could just save myself the trouble and strap them to my thighs, the flavor and texture makes it all worth it. Please make some of these and eat them with me. I don't want to be the only one not wearing corduroy slacks because my thighs whisper "Po-ta-to. Po-ta-to" when I walk.
Oh! I should mention that you can whip these up ahead of time and then bake them just before serving. How handy is that? Delicious and flexible. All food should be so friendly.
Speaking of friendly, be sure to come back tomorrow for my corned beef recipe to end all corned beef recipes. It is amazing. It is delicious. It just might help achieve world peace. Yes, it is that good.
Oh so yummy. Totally worth my thighs rubbing together and whispering, "Po-ta-to. Po-ta-to…"
For a printer-friendly, photo free version of the recipe, click here!
Colcannon-Stuffed Twice Baked Potatoes
14 medium sized all-purpose potatoes
1 small head white or green cabbage
1 cooking onion
1 cup warm whole milk
½ cup warm cream or half and half
3 TB butter (for cabbage)
¼ cup butter, melted (for mashed potatoes)
1 cup shredded extra sharp Cheddar cheese
3 Tablespoons Guinness and Cheddar Potted Cheese
salt and pepper to taste
Optional for serving:
Preheat oven to 425F. Wash potatoes, prick all over with a fork, and place on a rimmed sheet pan.
Bake for about 45 minutes or until they pierce easily all the way through with a skewer. Allow to sit and cool slightly while working on cabbage.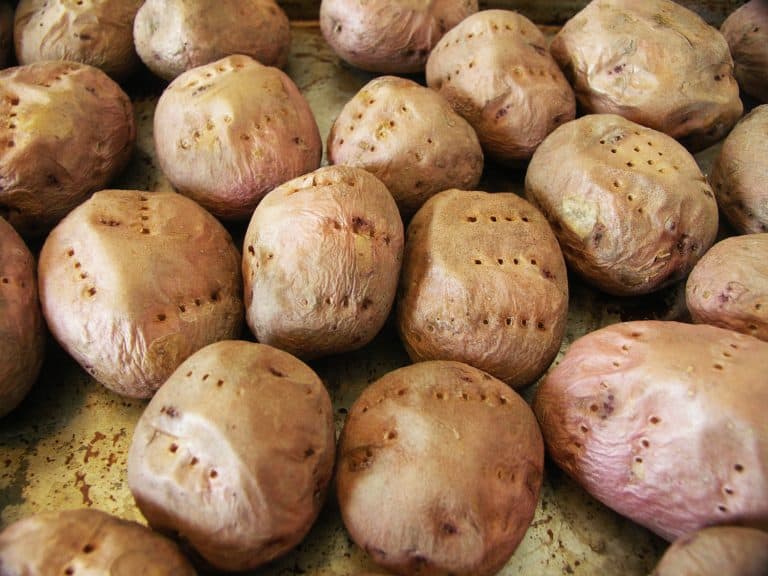 Cut the blossom end off the onion, stand on the flat spot, and cut in half. Lay halves on their cut sides, slice down from about ½" below the root end all the way to the cut end at ¼" intervals. Turn the onion 90 degrees and cut across the slices you already made to dice the onion. (For step-by-step photo instruction on how to do this, see this post!) Add the onion to the cabbage in the pan and toss to coat.
Slice a round off the stem end of the cabbage to make it stand sturdily on the cutting board.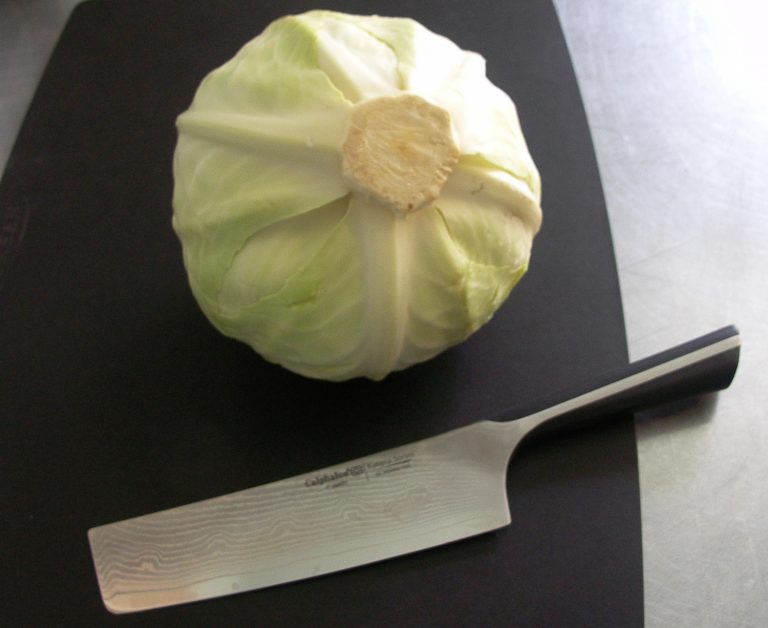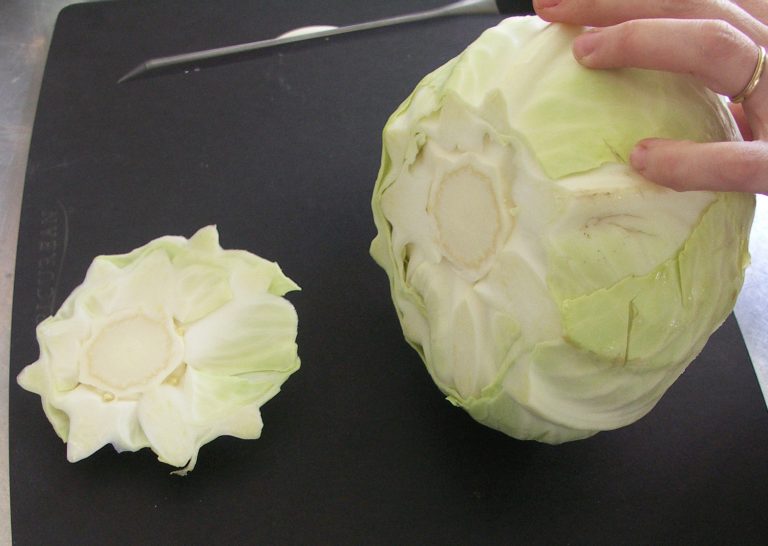 Place cabbage, cut side down, on the board and cut in half.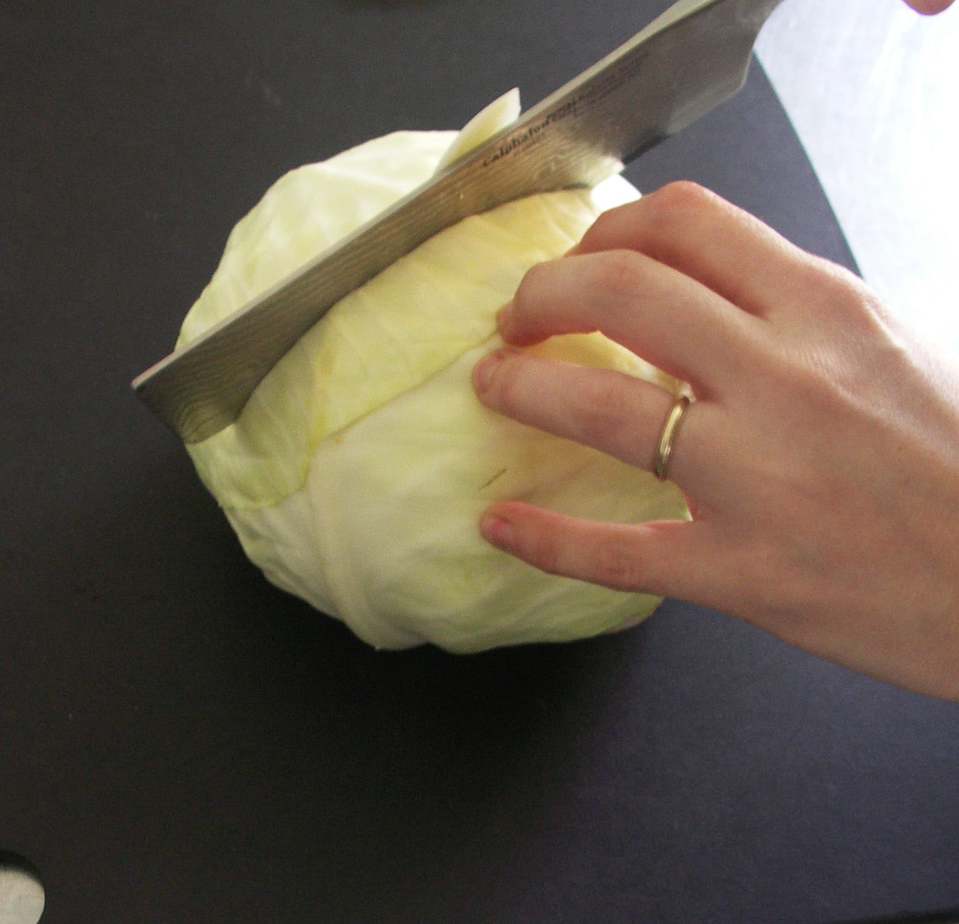 Carefully cut the core away from the cabbage. Lay the half on its side and slice as thinly as possible without getting out the ruler. We're just slicing cabbage here, folks.
Turn knife (or cutting board) 90 degrees and cut your thin slices into small squares.
Melt 3 TB butter in a heavy-bottomed skillet over medium-high heat.
Add cabbage to the pan.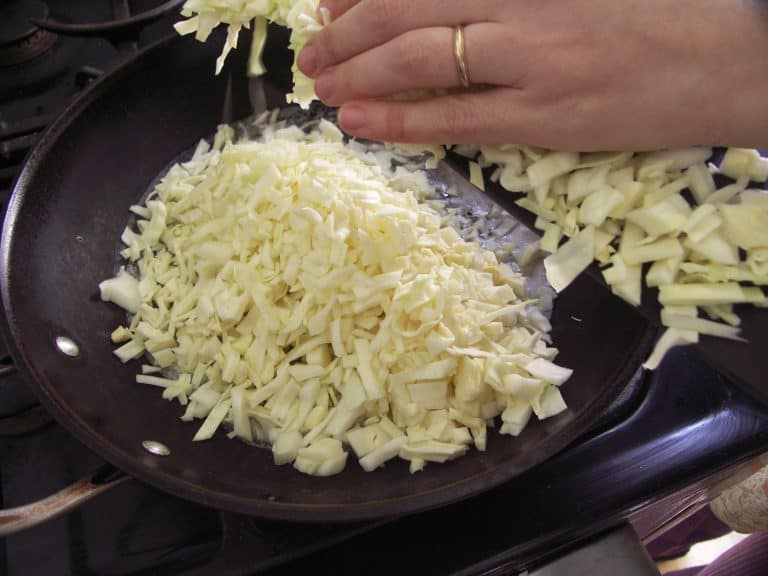 Sprinkle with salt and pepper to taste and toss to coat.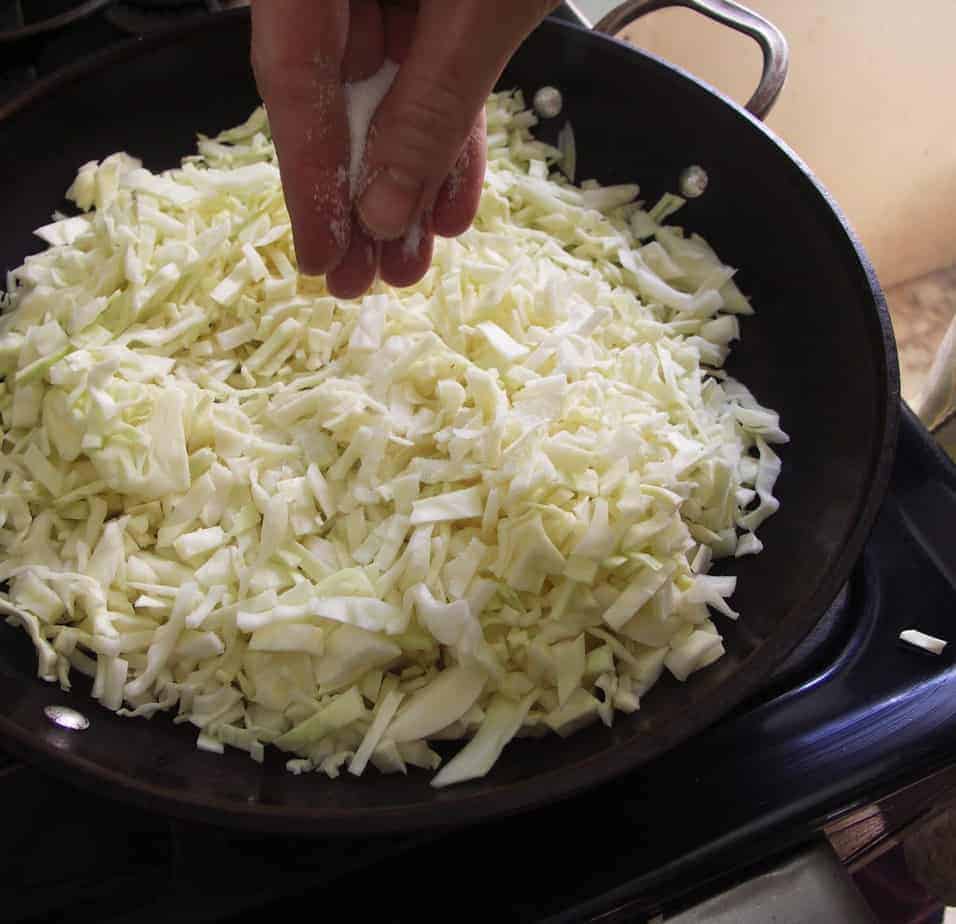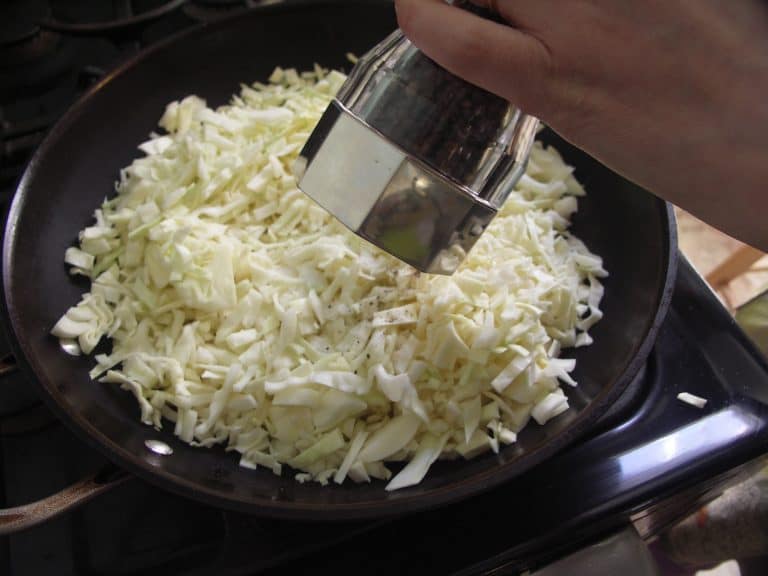 Cook, stirring occasionally, for about 5 minutes. Add diced onions and toss to coat.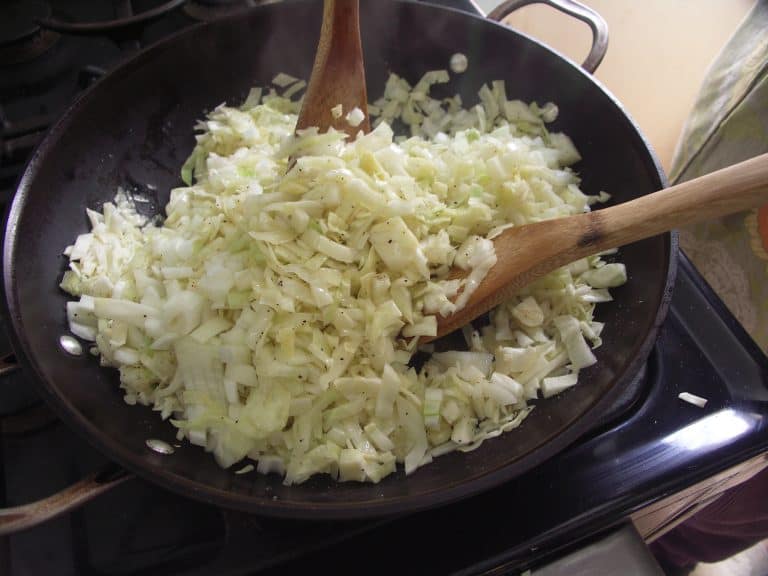 Continue to cook, stirring occasionally, until the cabbage is tender and beginning to brown.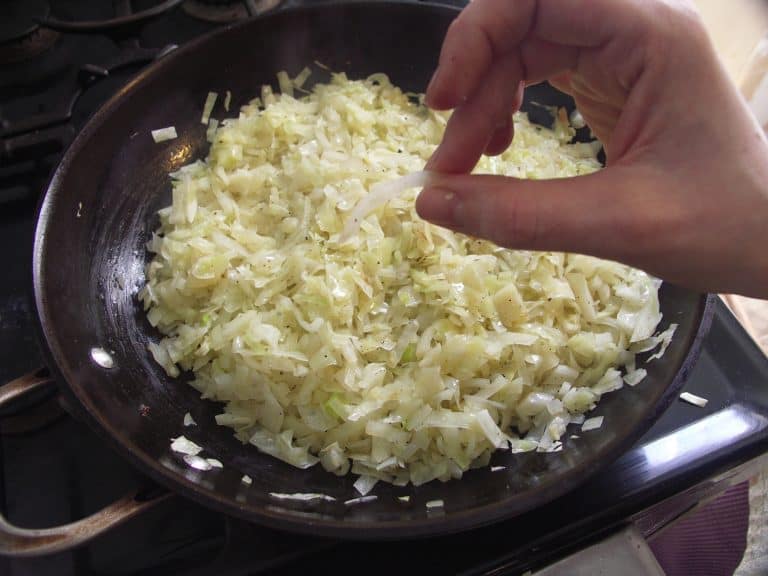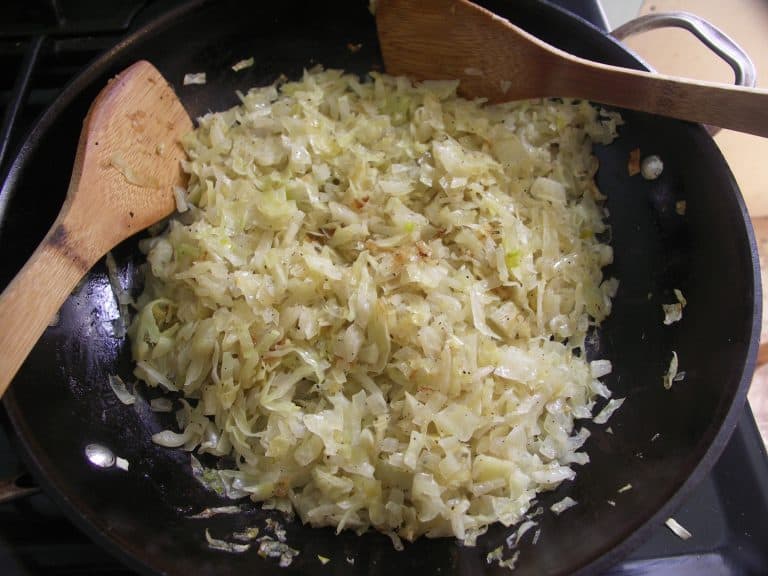 Remove from heat and turn your attention back to the potatoes.
Cut each potato in half so that they will lay, cut side up, on a sheet pan. With a spoon, scoop most of the insides of each potato into a bowl, leaving a ¼" thick potato shell.
Mash or rice the potatoes in the bowl.
Add the warm milk, cream and melted ¼ cup of butter to the potatoes and toss with a fork until evenly mixed. Add the potted cheese, the shredded Cheddar, and the cabbage and onion mixture to the potatoes and stir to combine.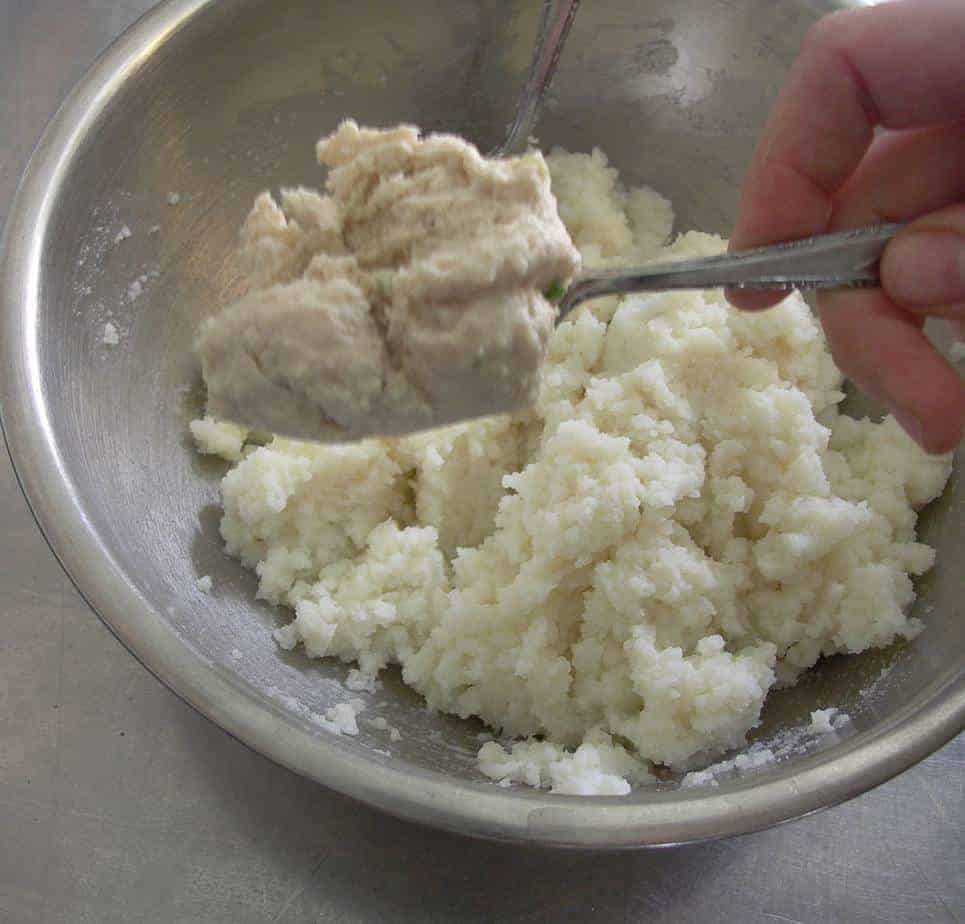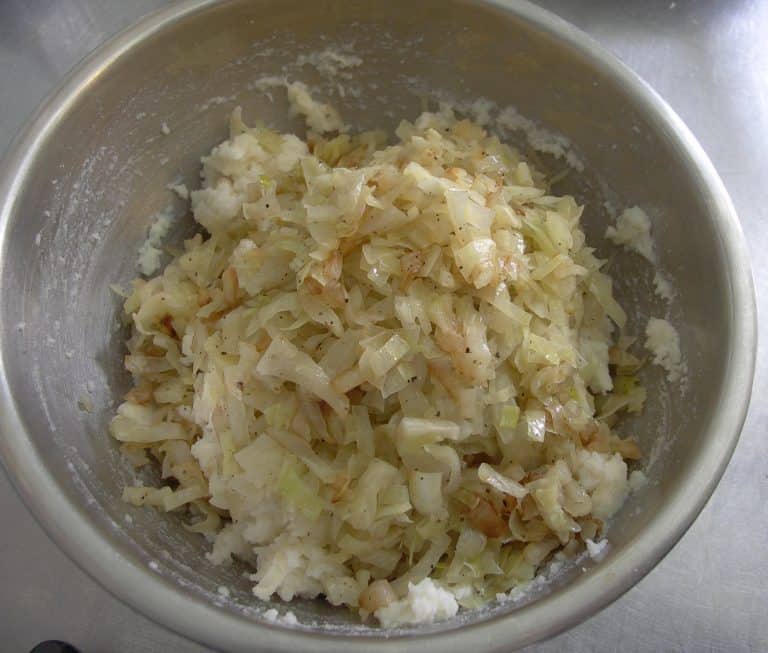 Preheat your oven to 375F (or simply lower the heat if it is still going from baking the potatoes.)
Use an ice cream scoop or a spoon to fill the potato shells.
Lightly spread the colcannon filling so that it mounds and covers the entire cut surface of the potato.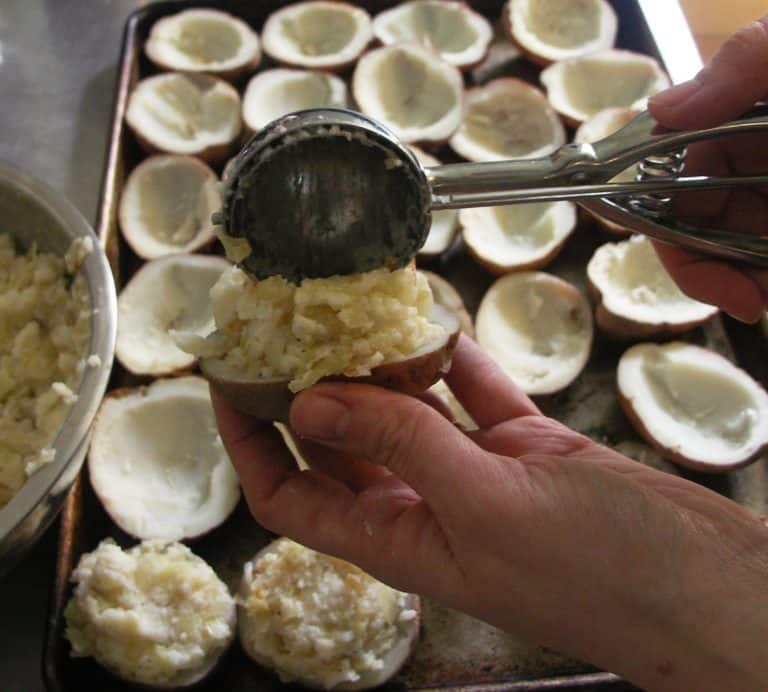 If you wish to freeze some of these to prepare later, place desired portions on another sheet pan.
Cover lightly with plastic wrap and place in freezer until frozen solid. Transfer frozen potatoes to a zipper top bag and store in freezer for up to three months. See cooking instructions for frozen stuffed potatoes below.
Otherwise, return to the sheet pan with the potatoes to the oven and bake for 30 minutes or until hot all the way through and lightly browned on top.
Serve topped with Guinness and Cheddar Potted Cheese, finely chopped cooked corned beef and thinly sliced green onions. Yum. Store leftovers (minus toppings) tightly wrapped in the fridge for up to a week.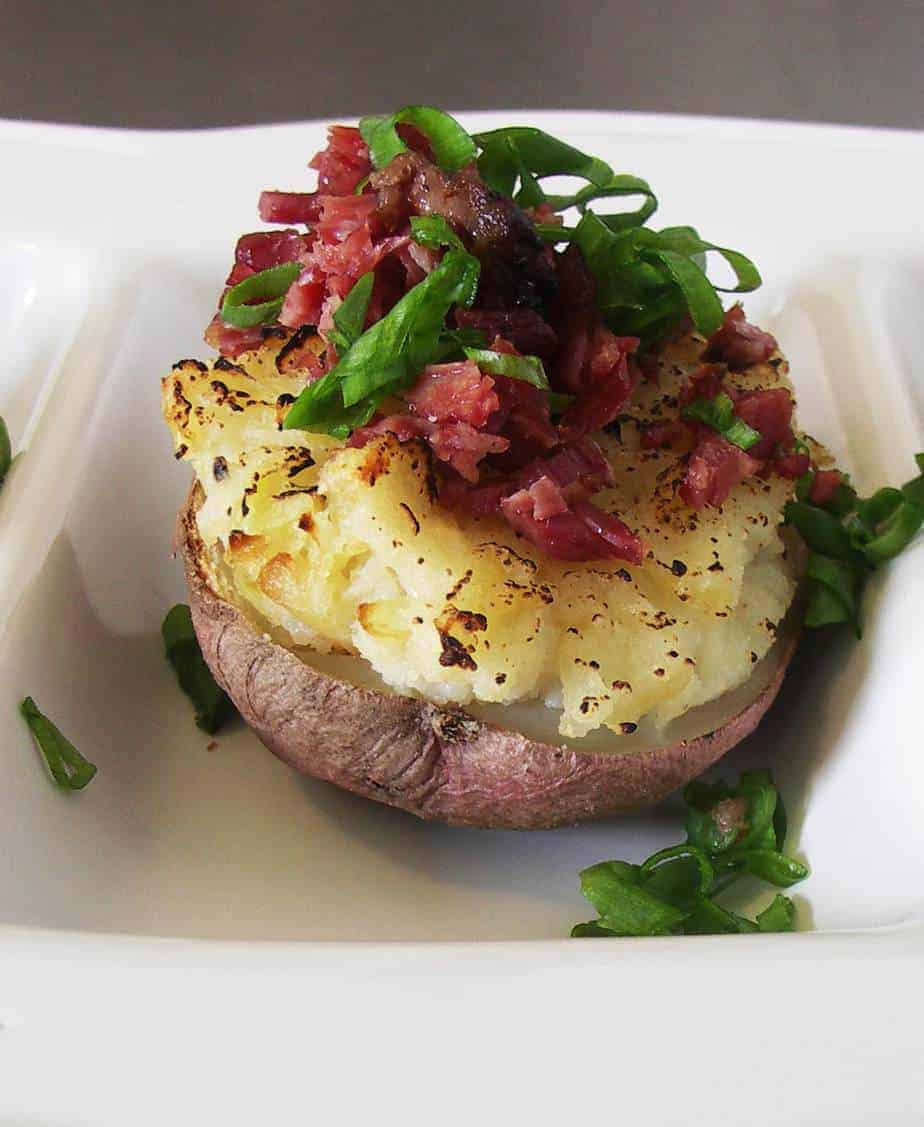 And minus everything but the green onions for the honyak who inexplicably decided to dislike Corned Beef.
To Cook Previously Frozen Stuffed Potatoes:
Preheat oven to 350F. Place desired number of potatoes on a sheet pan and loosely cover with foil. Bake for about 45 minutes, remove foil and bake an additional 15 minutes or until they are hot all the way through.
Not as good, but much quicker, is microwaving these potatoes from frozen on high for about 8-10 minutes. Like I said, it won't be as good, but it's still a sight better than fast food.
Don't forget to come back for the corned beef tomorrow. I'll save you a slice. Maybe.