Update:  Mea culpa, mea maxima culpa. I made a mistake on the quantities for the recipe. It should've read '1 pound extra sharp cheddar'. A friend pointed out that her cheese ended up 'pourable'. My apologies and this recipe can be saved by adding an additional 1/2 pound of cheddar and re-processing or blending. It should freeze jim-dandy, too, so the extra quantities shouldn't be a horrid burden. And if they are, ship 'em to me. I'll eat my mistakes.
I am, like most people I know, a true American mutt. I know we can account for Irish, German and Native American ancestry. And I believe I've heard tell of some Romany and Scots heritage tossed in for good measure. I love being the melting pot personified. There's something romantic about knowing there are all of those wonderful cultures with me, before me, behind me, within me.*
Growing up, my parents always made a very big deal of St. Patrick's Day. I don't know if it was because our family tree is vastly dominated by Irish roots or if it was because it was just plain fun, but green was definitely the theme! My Mom managed to make everything at the table some shade of green. We looked forward to it for weeks ahead of time. Around here, I save the green for the ubiquitous Shamrock Shakes but the fun continues in other ways. We read "The Last Snake In Ireland" in our best Irish accent, play The Chieftains at top volume on the stereo, read a certain piece of historic literature*, and put on a massive Irish/Irish American feast. Each year we have a massive corned beef -boiled then glazed to crispy topped perfection- along with creamy colcannon, and soda bread studded with raisins.
*Bonus points if you catch and name the literary reference…
Are you ready for a week of St. Pat's worthy recipes? I know there are more than just a few of you out there getting ready to entertain for St. Patrick's Day either this weekend or next Tuesday. I have all the components needed for an Irish shindig whenever the fancy strikes you. Since some of you may be planning your fete for this weekend, I'll share these with you in super scientific order so you can be better prepared. In other words, the order that I like the best.
Let's start with something new!
This year the repertoire is expanding just a wee bit with a cheese course. Oh yeah. The Irish do cheese very well. Irish Cheddar and Dubliner? I'm in love. Have you ever had Dubliner? It's like a Cheddar crossed with a Swiss crossed with a parmesan. It's a beautiful thing. And what goes with Irish cheese? Well, Irish beer, of course. Specifically, Guinness.
This cheese spread is inspired by several recipes (here, here and here) for the delicious fromage fort -a spreadable French concoction of wine and cheese. I sallied forth and created this Guinness and cheese laden tribute to my Irish heritage and it was too good not to share. A little bit of this spread on onion or rye crackers would be meal enough in itself, but the Guinness and Cheddar Potted Cheese  will appear on our table in the potato recipe I'll share with you tomorrow. Trust me. You'll want to come back for our potato dish. I mean it. Really.
But back to our Guinness and Cheddar Potted Cheese… This is so incredibly complex in flavor, but so incredibly simple to make it's rather shocking. In addition to reminding me of the French concotion of Fromage Fort, it is also reminiscent of the American South's pimiento cheese (another heaven-inspired creation). And that just goes to prove that every great culture has a distinct cheese dish. And if they don't, perhaps they should get one. Perhaps the road to historic greatness is paved with cheese. 'Do you have a cheese? No? No cheese, no country!'*
*And more bonus points if someone other than my sister can tell me from which comedian I am shamelessly stealing material…
Even if you don't make the rest of this week's St. Patrick's day offering, make the Guinness and Cheddar Potted Cheese. You'll be so glad you did.
Guinness and Cheddar Potted Cheese. A match made in heavenly Ireland.
For a printer-friendly, photo-free version of this recipe, click here!
Guinness and Cheddar Potted Cheese
This versatile cheese spread can also be molded into shapes like logs or balls or SHAMROCKS and coated with finely minced parsley. Pretty food doesn't have to be hard!
Ingredients:
1 pound extra sharp Cheddar Cheese (or 1/2 pound Dubliner cheese for a stronger flavored spread)
1 bottle Guinness Stout
1 yellow onion
1/4 teaspoon dry mustard powder, like Coleman's
fresh ground black pepper to taste
If there is any rind present on your cheese, trim it away and save it for other purposes (like flavoring soups or currying favor with your otherwise immovable and useless dogs.)  Cut the cheese into 1/2″ cards…
Then cut into rough 1/2″ cubes.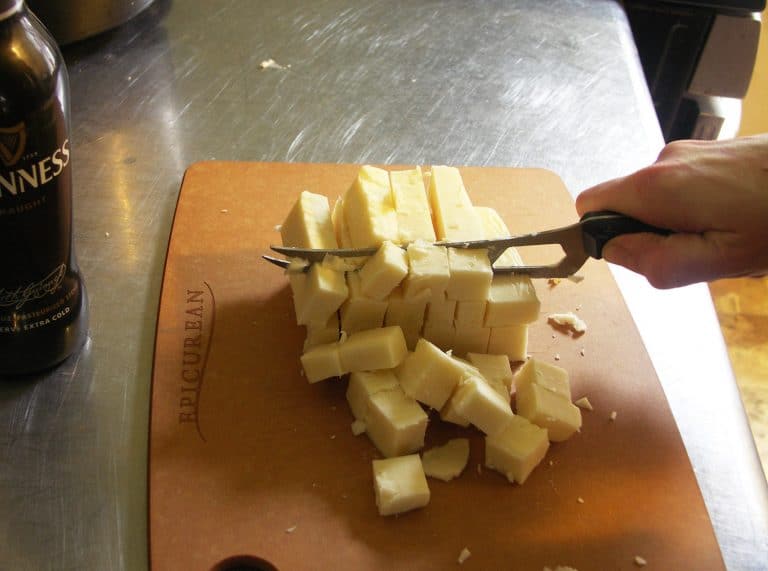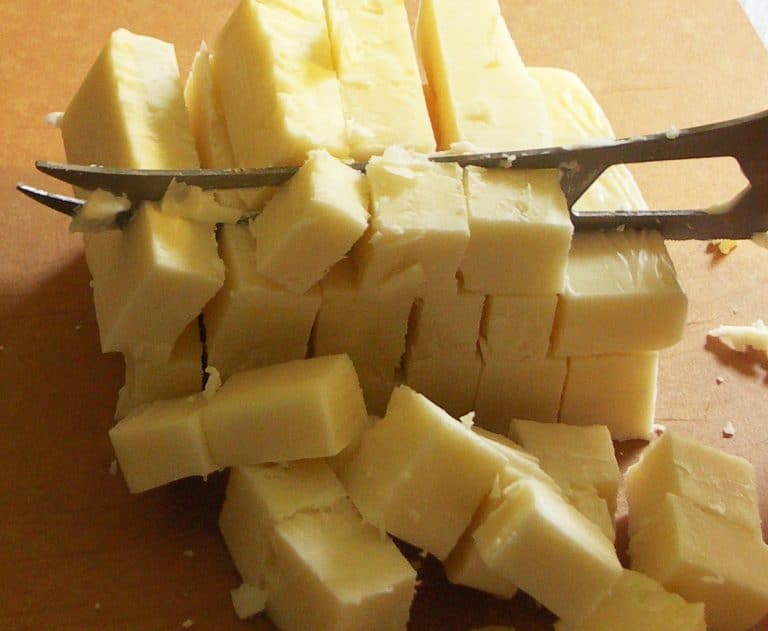 Now it's time to turn your attention to that onion. Slice the blossom end off of the onion. If you don't know which end that is I'll clue you in. It's the not-hairy end. You want to leave the hairy end intact. I'll show you why in a minute.
Now set the onion up on it's newly leveled flat spot and cut it in half from top to bottom.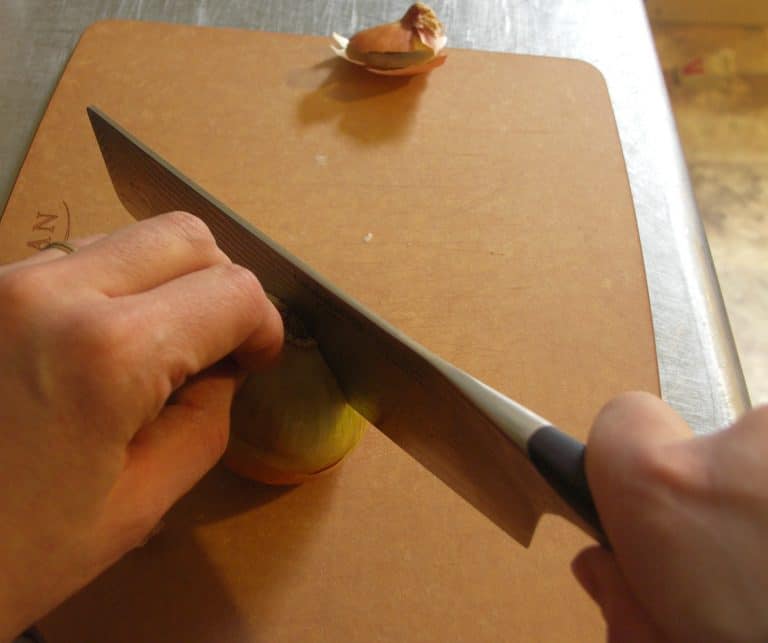 Peel away the outer skin of the onion and lay it down on its flat side. Holding the hairy, root end of the onion (aren't you glad you left it now?) use your knife to make perpendicular slices 1/4″ from the root all the way to the end at 1/4″ intervals. Like this: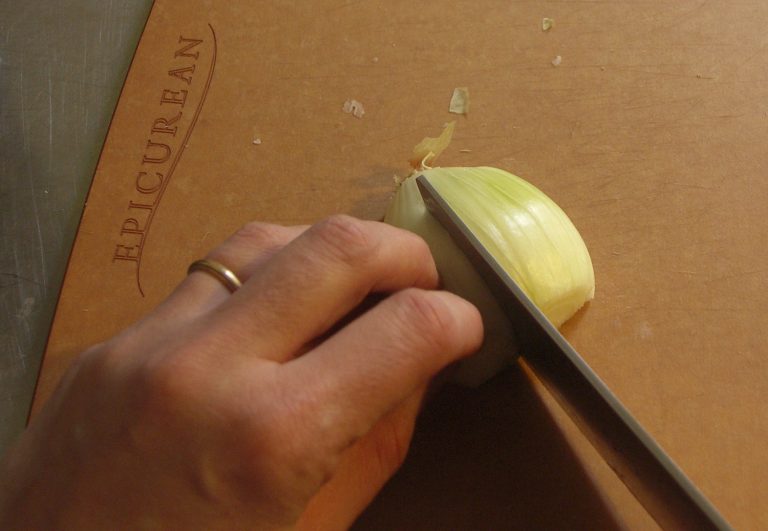 Turn the onion 90 degrees and, holding your knife perpendicular to the slices you already made, cut down through the onion at 1/4″ intervals. Like this: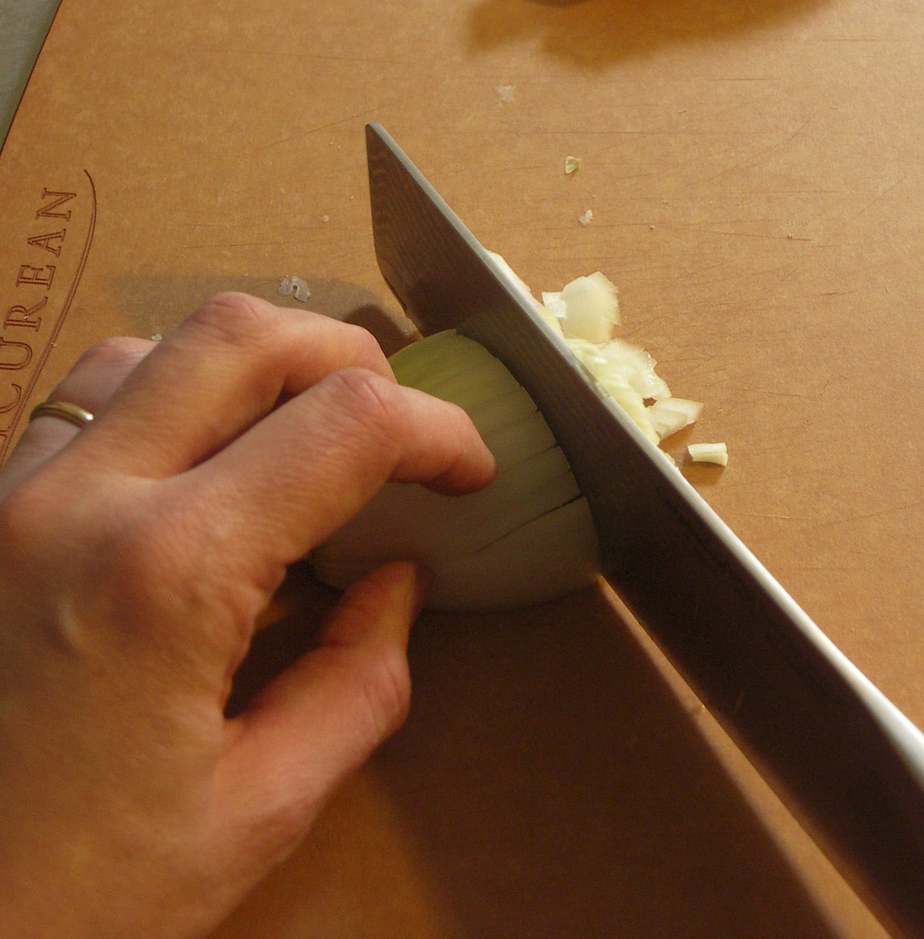 Please don't throw out that root end of the onion. Stuff it in a specially marked zipper top bag and stick it in your freezer. I'll tell you why next week. Believe me it's worth looking eccentric with a bag of onion roots in the chill chest.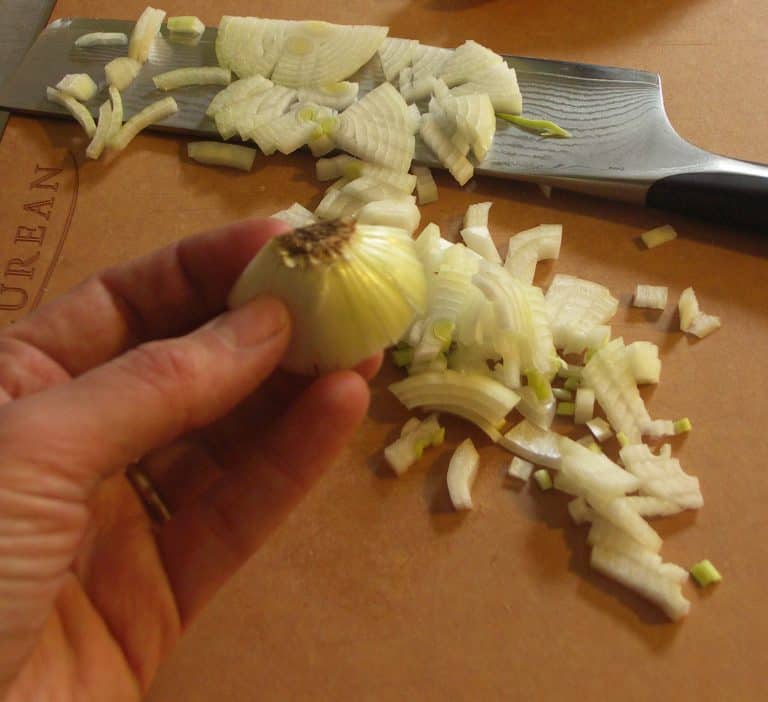 (If you don't have a food processor, see alternate instructions below the recipe.)
Measure one cup of Guinness.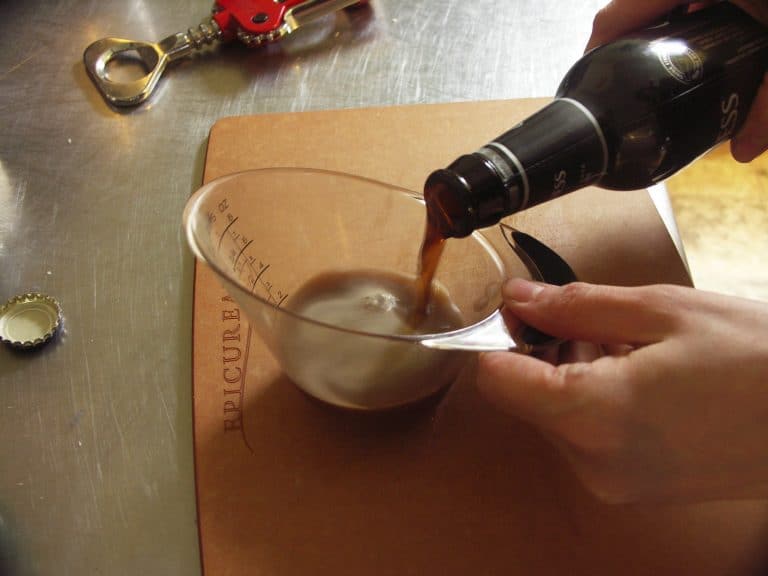 Add the stout, onion and black pepper to the bowl of a food processor.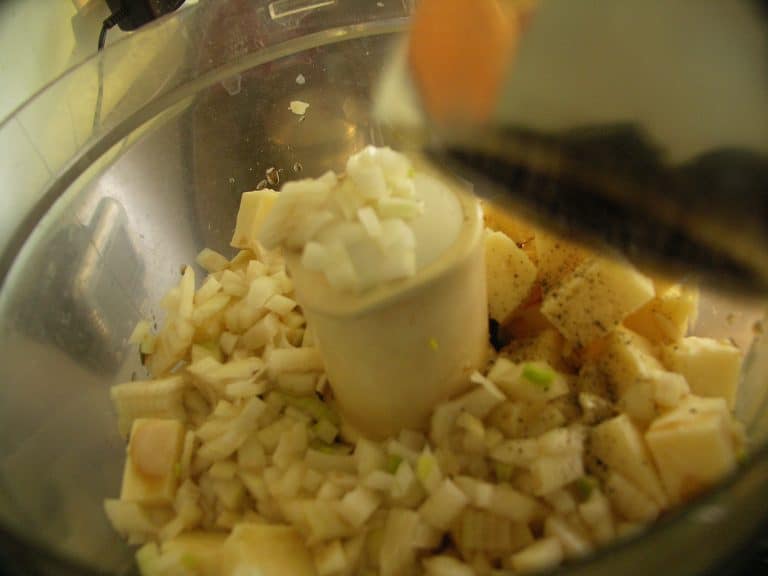 Put the lid in place and process until the contents are a spreadable consistency. Transfer the potted cheese to a container with a tight fitting lid and refrigerate for at least an hour, but preferably two or more hours to allow the flavors to intermingle.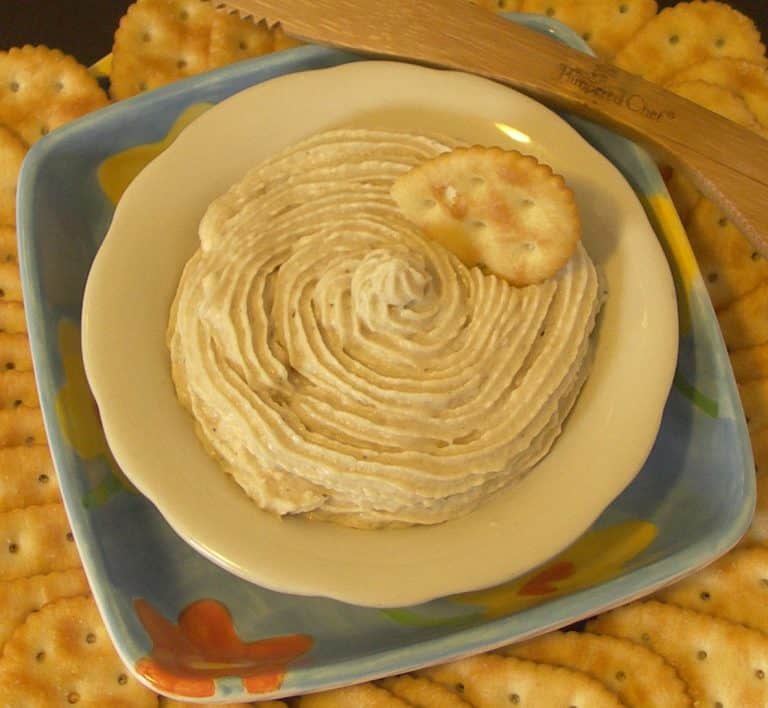 This spread will be good, refrigerated and covered tightly, for at least two weeks.
Assuming it lasts that long.
Which it won't.
Serve on crackers, bread, or on *whoops*… I almost told you about tomorrow's killer potato dish. Do come back. Your thighs won't thank me, but your tastebuds will!
Instructions for preparing without a food processor:
I won't lie. Preparing this without a food processor is going to be a bear, but it can be done. Chop the cheese and onion together as finely as you can on your cutting board and scrape into a large, sturdy mixing bowl. Add the stout and pepper to the bowl and use a pastry cutter or the bottom of a jar or measuring cup to squish the mixture together until it holds together nicely when a small amount is pinched together. Transfer to a container with a tight fitting lid and follow instructions above for storage.