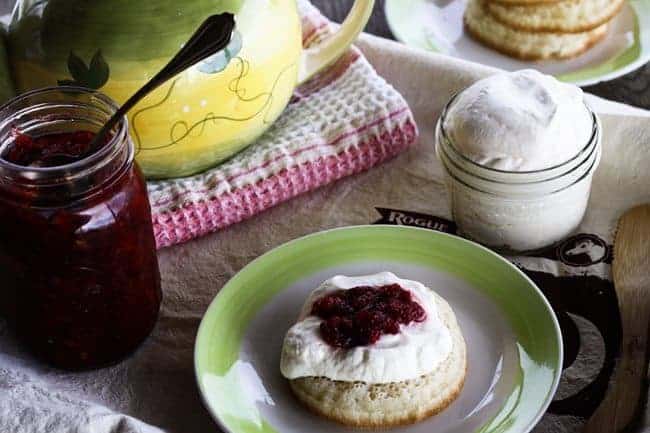 This is the second installment of the Downton Grub Files (the first can be seen here) wherein I share a Downton Abbey worthy recipe so we can all have appropriate snacks to sustain us whilst we alternately cheer and shake our fists at our television screens at 9pmEST each Sunday. This week's question: Who is your favourite character? I'm on Team Dowager Countess! Again, I plead with you all- NO SPOILERS!!! Do NOT tell me or anyone else what happened if you are one of those who saw all of Season 3 already. Let us have our fun like you did!
What would you say if I told you there was something even butterier than butter? Creamier than cream? Would you say I was crazy?
Well, I am crazy. Crazy like a FOX. An English fox, that is…
That magical substance that's creamier and butterier than cream and butter goes by the name of Clouted Cream. It is also referred to by the names Devon Cream and Clotted Cream. I prefer 'clouted' because -let's be honest- clotted anything sounds pretty unappetizing. Clouted makes the cream sound like it has clout. And believe you me, when the cream is done like this, it has clout!
It's made from cream (not ultra pasteurized) that rests at room temperature for twelve to twenty four hours and then is cooked at a very low temperature for another eight to twelve hours. The result is that the richest, creamiest bits of the cream rise to the top and 'clot' into a thick, buttery, creamy spread. As we said, 'clot' is not something that usually sounds appealing when it comes to food. Once you're past the name and biting down into a toasted crumpet or scone topped with clouted cream and jam, I promise you'll forget whatever misgivings you had. If you think of the creamiest mascarpone or the thickest whipped cream you've ever had, you're on the right track. It's a fabulously thick, creamy spread that is dotted with miniscule deposits of butter that melt almost instantly when they hit your tongue.
Clouted Cream is an integral part of a cream tea; the meal, not the drink. Cream tea is one of those fabulous English inventions that more Americans need to have in their repertoire. It's not complicated; it usually consists of a scone -split in half and toasted- smeared with clouted cream and topped with strawberry jam and a pot of tea. Doesn't that just about sound like the best thing ever? Now that you have scones in your possession (You DID make scones, right?) all you need is the Clouted Cream.
It is terribly simple to make, although planning ahead is necessary since the process takes about 48 hours (all but 10 minutes of that is resting, hands-off time.) Starting with a quart of unpasteurized or pasteurized and homogenized (but never ultra-pasteurized) cream, you go through the steps described above. When all is said and done, the clouted cream rises to the top and the liquid sinks to the bottom. You cool it down in steps, scrape the good, thick stuff off and pop it into the refrigerator. There isn't much, really, of the clouted cream… maybe you get between two-thirds and a cup of it. The rest of the cream that sinks to the bottom of the dish can be saved to use in baking more scones*. If you bake more scones, you need more clouted cream. It's a self-perpetuating cycle of creamy deliciousness.
*If you're lucky enough to have access to farm fresh, raw cream (as I am), the remaining cream that was at the bottom of the pan is still whippable. In other words, you can still make whipped cream from it. I did!
There is some regional disagreement as to which ought to come first on the scone (or crumpet, as I'm using here today). Some folks say jam first, cream second. The other contingent -to which I belong- prefers cream first and jam second. The reason I like this arrangement best is because the thick cream melts ever so slightly into the toasted scone or crumpet and then the jam settles nicely on top. Do it whichever way makes you feel happy and decadent. Just DO do it, would you?
Let's clot some cream, shall we, and position ourselves firmly on our couches with sustaining treats all around us. It's Downton Abbey time and we will not be moved.
(Pssst. This is so NOT British, but if you were to smear some of the Clouted Cream on a slice of toast made from the world's best Cinnamon Swirl Bread, you just might die of happiness. So don't do it. I can't be responsible for that.)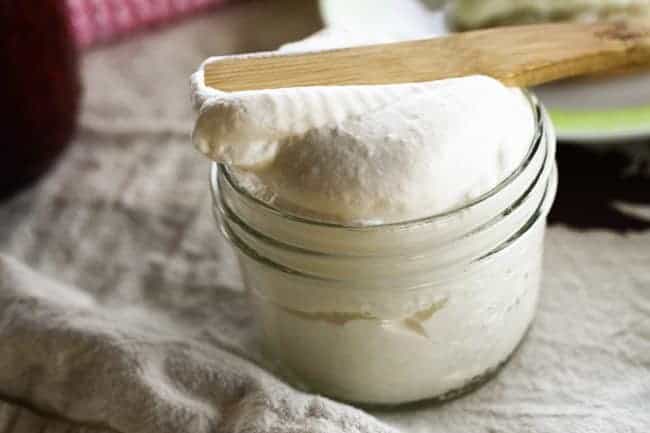 Clouted Cream a.k.a. Devon or Clotted Cream | Downton Grub Files
Rate Recipe
Clouted Cream -an integral part of the English cream tea- is a creamier than cream, butterier than butter, thick spread made from raw or pasteurized heavy cream. This indulgence is usually topped with strawberry jam. It is terribly simple to make, although planning ahead is necessary since the process takes about 48 hours (all but 10 minutes of that is resting, hands-off time.)
Ingredients
1

quart

raw or pasteurized and homogenized heavy cream

Do NOT use ultra-pasteurized. I have not tested this recipe with it because I have been told it will not 'clot'
Instructions
Set the cream (in a lidded jar or the container in which it came) on the counter at room temperature for 12-24 hours.

Pour the room temperature cream into a glass, stoneware or stainless steel pan. The cream should be about 2 to 3-inches deep in the dish. Cover with foil or a tight fitting lid and place in an oven set at 180°F for 8-12 hours, or until there is a thick layer of cream collected over the top with yellow pools of butter fat on it.

Let the covered dish cool to room temperature and then move to the refrigerator for at least 8 hours.

Scrape the thickened layer from the top; this is your clouted cream. Keep in a tightly covered container in the refrigerator until ready to use. This should last about 3 days. Apply generously to your scones, crumpets or toast.
Nutritional information is an estimate and provided to you as a courtesy. You should calculate the nutritional information with the actual ingredients used in your recipe using your preferred nutrition calculator.